When Tim and I moved to our very own home in 2010, it wasn't long before I started filling the house with bookshelves. It was a lot of fun decorating any available surface

.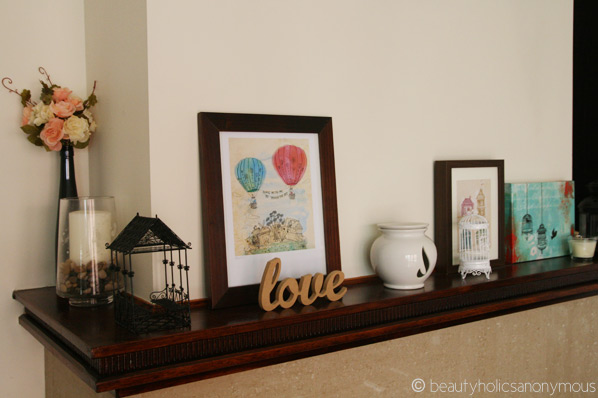 The mantlepiece. El-cheapo plastic roses in a repurposed wine bottle, illustrated artwork from craft markets, jewellery organisers-turned-decorations, unfinished LOVE from Spotlight (much cheaper than buying from furniture shops).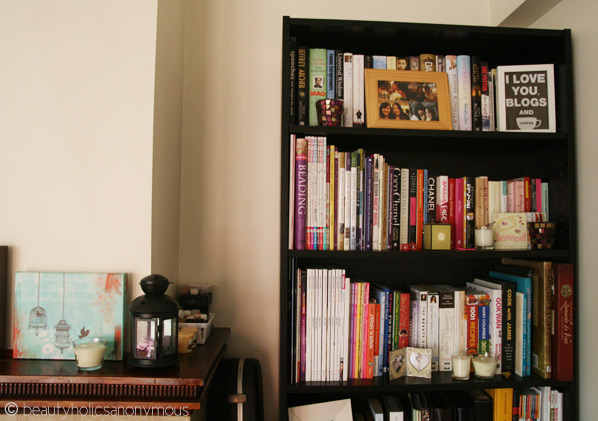 Art canvas (I have this odd fascination with trees, birds and cages. I don't know why). Lantern from IKEA. Black bookshelf was also from IKEA. The mini scrapbook on the second shelf was a precious gift from a dear friend. I love this bookcase. Next to the couch, it's my second favourite thing in the living room.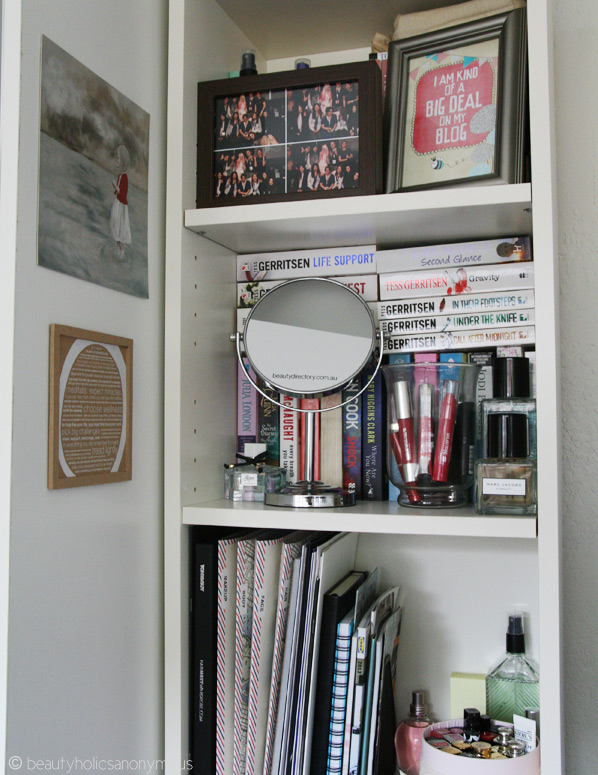 Bookcase in the study. Photo on the top shelf was taken at the Australian Beauty Bloggers Weekend last year. Glass jar on the second shelf holds my lip crayons and favourite Marc Jacobs fragrances.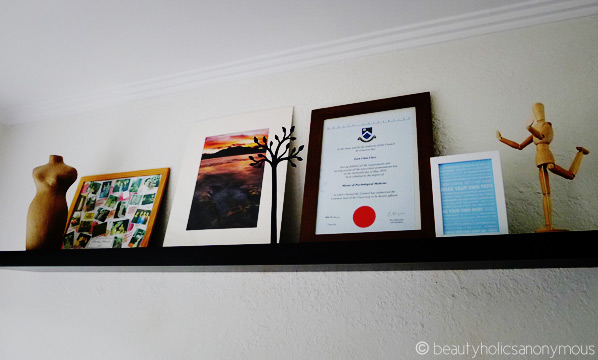 The only built-in shelf in the study. There's no support below the shelf, which is why I don't put books on it. The collage at the left end was a gift from Beetrice. I didn't have any wedding portraits printed before I left for Melbourne, so she printed photos taken on her camera and made this collage for me. Our wedding portrait's been long ready but it's not up on the wall because it cannot beat this precious collage. The photograph next to the collage was purchased at Salamanca Market, Hobart. The "tree" is supposed to be a jewellery stand, but I preferred to leave it as is.
Another bookcase in the study. Pictures of my family. The official wedding portrait. Illustrated artwork I got one of the Finders Keepers markets. The "tree" is another jewellery stand (this was a gift from my sister-in-law). Candle, made by yours truly.
Hope you're enjoyed the short tour of my shelves

.
What's on yours?