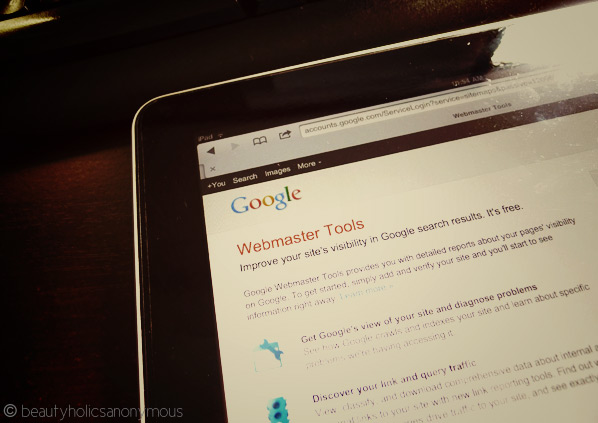 In a nutshell, Google Webmaster Tools provides you with detailed reports about your webpages' visibility on Google. It shows you what keyword searches on Google are that lead to your website. It shows your how Google indexes your website, along with any discovered errors during indexing.
I found it to be a great tool for my blog. I discovered it last year when I was searching for tools to let me know who links to my blog. Sure, WordPress offers trackbacks and pingbacks from websites linking to specific blog posts, but I wanted to know who linked to my homepage and other internal links too.
When I tried the Webmaster Tools out … woah. Suddenly I found blogs from unknown countries linking to mine. I discovered a lot of link love and what my keyword searches were. I also found other websites "lifting" my images and content. There was a lot of information to swallow.
Yet, it was important information for me to know. I believe it's important for you too. If you haven't had the opportunity to check out your Google Webmaster Tools, I highly recommend you give it a go.
So, how do you sign up with Webmaster Tools? If you already have a Google account, then it's very easy.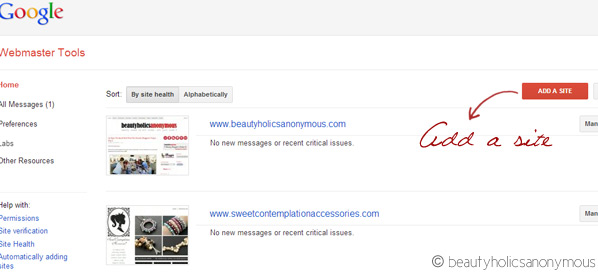 First of all, go to Google Webmaster Tools.
You'd need to add your blog to the Webmaster Tools to monitor. Click on Add a Site.
Google will ask you to verify your ownership of the link by either using your Google Analytics account (if you have one), or to add a HTML tag or upload a HTML file to your site. If you already have Google Analytics, it's much easier to just use that.
Once everything's properly verified, voila! You've successly added your site to the Webmaster Tools.
Next, click on your website to view any messages or recent critical issues.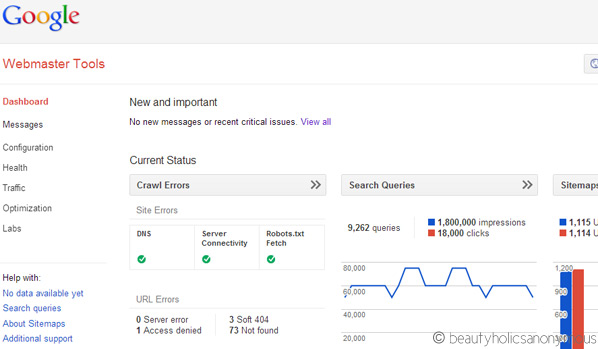 Give Webmaster Tools some time to gather and process data for your blog. If you have just only added your website, you may not see any data under Traffic. This is normal. But if after a few days and there still isn't any data, do check if you added the right domain. E.g. http://www.yourblog.com is not the same as http://yourblog.com. If you're not sure, just add both versions to your Webmaster Tools account.
There are so many things about your blog that you can view on Webmaster Tools. Have a play around the features on the left sidebar.
Go to Traffic. Under Search Queries, see what people are searching when they land on your blog (I recently had "reeses peanut butter cups" )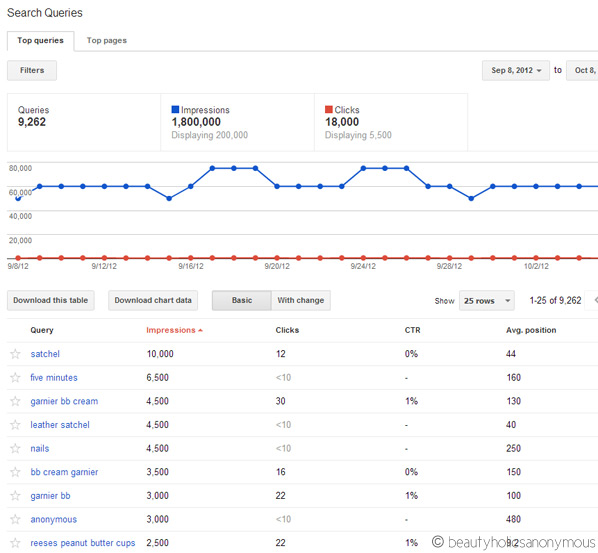 Go to Links to Your Site. You'll see how many links there are to your blog, who links to you the most, etc. For me, the star of the month is Norlin!
You can see what your most-link content is. I've noticed a number of my nail polish swatches ending up on Polyvore and Pinterest.
I find that with this tool, you can also see who are the ones who's been stealing your content. It's not going to be quick and easy sifting through the links, but you'll be able to tell if a lot of your content is linked to the same domain and with further digging, to the same websites. Time to get your radar on

There is so much you can do for your blog with Google's Webmaster Tools. It's a traffic monitoring tool; it's not so much the number of people on your website, or how much time they spent on it. That's Analytics' job. This monitors any crawl issues, clicks on search queries, links to your website and many more. Like I said, if you want to know who's been stealing your content, high chances are that with some digging, you'll find them here (provided there's a linkback).
Have fun playing with Google Webmaster Tools! Do let us know if you discovered anything interesting, yes?

Bloggie Wednesdays
is a series of articles just on blogging. They contain tips, how-tos, discussions about anything and everything you need to know about blogging and how we can be better bloggers. If you have any suggestions, tips and tricks about blogging you would like to share with us, or if you have any questions you would like me to address, please let us know in the comments.