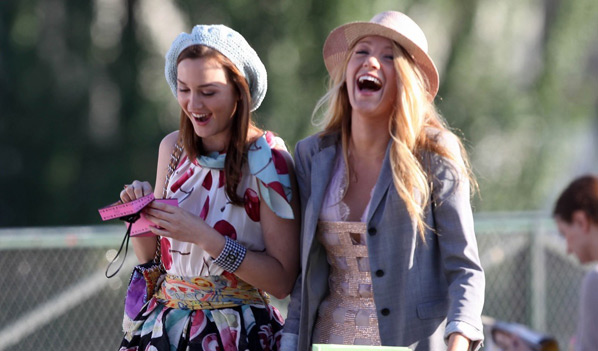 Oooh did you catch the finale of Gossip Girl? Don't worry, no spoilers here (that includes the comments, so no spoilers from you too, yes?), but I'll say this. It's a good one.

Anyway, in honour of the season finale of Gossip Girl (and because I couldn't find a more appropriate image for the topic), I thought we could chat about a topic that's been playing about in my mind recently. No, it's not about Gossip Girl (although daaaammn, the clothes, the bags … sigh).
I wonder, do you adjust your makeup and dress up according to the people you meet?
Example 1
You see, I have this friend who's always immaculately dressed. I've known her for over 4 years now and I have never, EVER, seen her without full makeup on. I've been to her house many times for dinners and even in her own home where she's cooking up a storm, she always had full makeup on and was beautifully dressed.
She's a gorgeous lady and a lovely friend but I'll tell you this. I can't help feeling a tad inadequate every time I'm in her presence. A couple of years ago, we met up for tea. I remembered it was an exceedingly hot day, a day for shorts, tank tops and sandals with minimal makeup on. The kind of day when it's so hot, foundation would melt off your face. She came with expertly-applied makeup, in a gorgeous silk frock and 4-inch heels. As much as I enjoyed her company that day, I felt like the most underdressed person in the whole room (even though pretty much everyone dressed like me that day).
So whenever we meet, oh I make an effort all right. I carefully put my makeup on. I accessorise. Even if I'm in jeans, I put the heels on. She's a beautiful friend who has never intentionally made me feel small or inadequate in any way. It's just my silly insecurity, I know, but I can't help it.
Example 2
On the other hand, I have also, er, "dressed down" for another friend. A dear friend whom I have minimal makeup on and smart casual attire whenever I meet up with her for a meal. She doesn't wear makeup at all and dresses very casually each time we meet. It's like the other end of the spectrum. Even wearing blush and lipstick would be overdressed on my part. So whenever I catch up with her, I keep my makeup to a minimum. I still make an effort but it's not full-on.
Example 3
Beauty bloggers. Enough said.

It's funny how we (okay, maybe just me) adjust what we wear for the people in our lives, isn't it?
What about you? Is there anybody in your life you would go out of your way to make yourself look real good for? Do you also tone down what you wear for certain people?
PS: No List of Lusts today because Christmas is coming and there are just waaaaay too many things to lust over.