Image Credit: methodshop.com
If you're a blogger, then one of your most used tools (apart from Blogger, WordPress, Tumblr, etc) would most likely be email. Even if you don't deal with brands and PRs, high chances are you'll be communicating with other bloggers too. That's why sometimes our blog emails resemble work emails after some time off. So many you just want to click Mark All As Read or Delete.

When using our work emails, we sign off with our work signatures. So with our blogs, why not add our blog signature at the end of our emails too?
I tend to insert my blog signature at the end of my more, how would you put it, official emails. For example, when I reply emails from PRs, when I email a blogger I've not communicated with before, when I reply potential advertisers, etc, I like to finish the email with my name, where I'm from, where people can contact me and my blog's logo.
It's always interesting to see how other bloggers refer to themselves at the end of their emails. Some says blogger, editor, owner, writer, winner of X award, etc. Me, I have a poncy title for my signature. I call myself an editor. I figured ah heck, I write, edit, photograph and create almost everything you see on the blog, I want something fancier than just Blogger. I know. Poncy.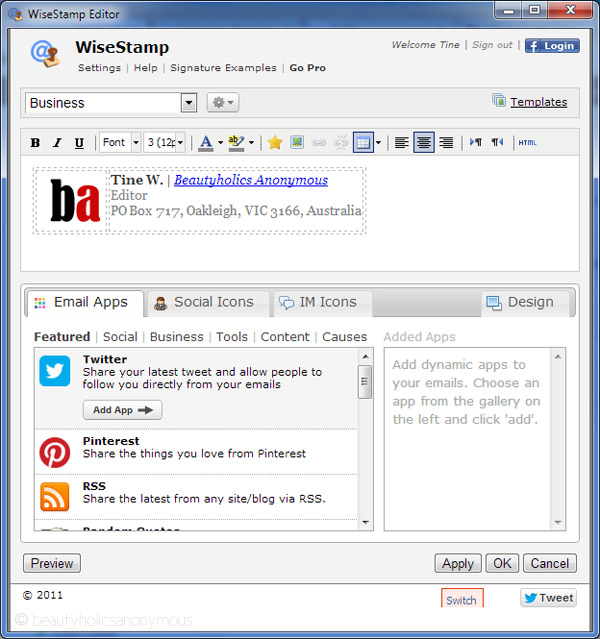 Most of us use Gmail as our go-to email for blogging needs. Gmail has a Signature feature that you can use for your emails. Previous versions of Gmail didn't allow you to add any images to your signature. Those days are now over. You can add your blog's logo to your signature if you like to personalise it further.
As for me, I prefer to use Wisestamp for my blog signatures. I use the Mozilla Thunderbird mail client for my blogging emails as well as Gmail. With Wisestamp, I'm able to consolidate to one signature for all of my emails. Any changes I make to the signature on Wisestamp is saved on the cloud and is reflected on any mail clients I use. There's no need for me to make any manual changes to each one.
By the way, I'm not affiliated with Wisestamp nor did I receive any endorsements for this post. It's a good tool to use and something worth sharing with you.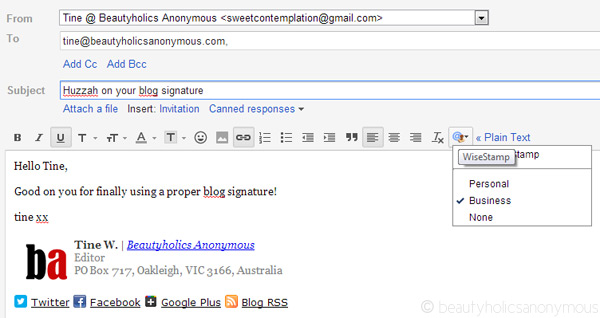 Wisestamp is available as add-ons and extensions for popular web browsers like Firefox, Google Chrome, Safari and Internet Explorer. It integrates with your Gmail, making it very easy to create and insert a signature to your emails. What I like about it is that I can easily add my social media links to my signature without having to code one by one manually.
If you haven't tried adding your blog's signature to your blogging emails before, do give it a go. Whether it's using your email's signature feature or Wisestamp, you're giving your emails your blog's seal. It shows that you take what you do seriously and that people should take you seriously too. It adds a touch of professionalism to your bloggie emails.
Do you use a signature for your blog emails? What do you refer to yourself? Editor? Blogger? Freelance Writer? All Time Awesome Person?

Bloggie Wednesdays
is a series of articles just on blogging. They contain tips, how-tos, discussions about anything and everything you need to know about blogging and how we can be better bloggers. If you have any suggestions, tips and tricks about blogging you would like to share with us, or if you have any questions you would like me to address, please let us know in the comments.