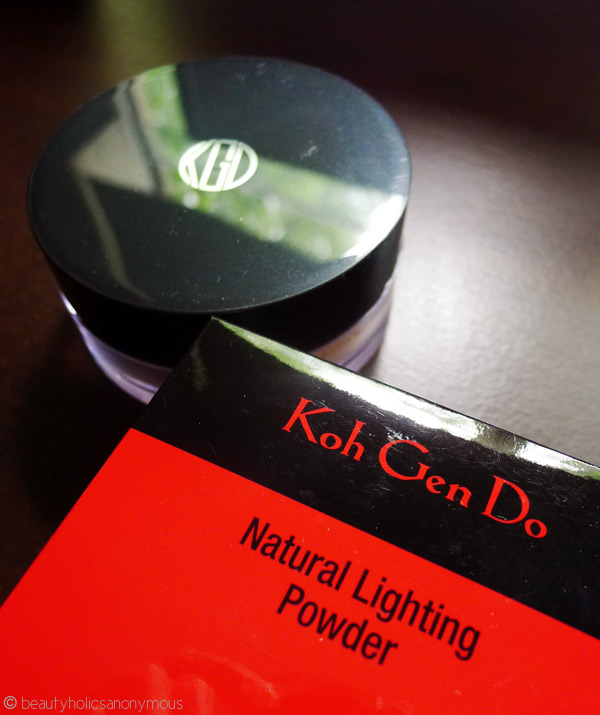 I've read a lot about Koh Gen Do cosmetics on beauty blogs but haven't the opportunity to see what they have to offer as they aren't available in Australia. They're available on international webstores like Barneys but with the high shipping fees or having to use parcel forwarding service to buy from Sephora, etc … gah, it's too much work just to buy one item to try.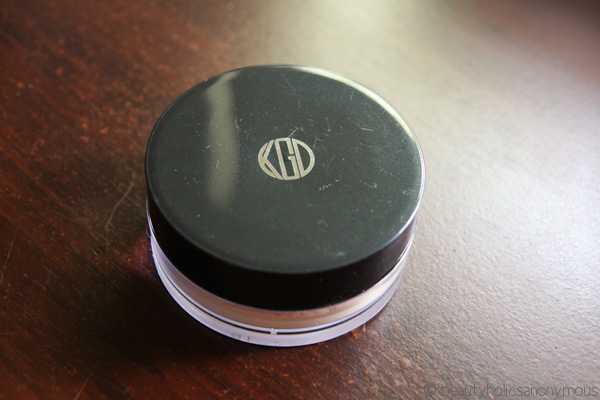 So when I saw Koh Gen Do makeup in Japan, I was eager to have a play with the makeup to see what it's like. They don't have a wide variety of colours to play with as they're more popular for their base makeup anyway. After swatching and reswatching, I only ended up buying one item, which is the Maifanshi Natural Highlighting Powder. In hindsight, I should have purchased a foundation as well. Silly me only read the rave reviews about their foundation AFTER I was back from the holiday. Grrrr. *facepalm*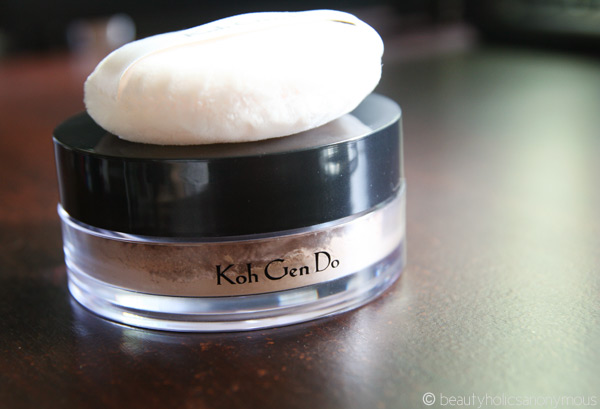 Description:
The soft, refined pearls diffuse light to cover pores and balance skin surfaces for a natural, luminescent glow. This micro-fine silk powder can be worn by itself for a nice soft glow or as a finishing powder to set your foundation. Contains natural moisture-retaining hyaluronic acid, making it an ideal powder for those with dry skin.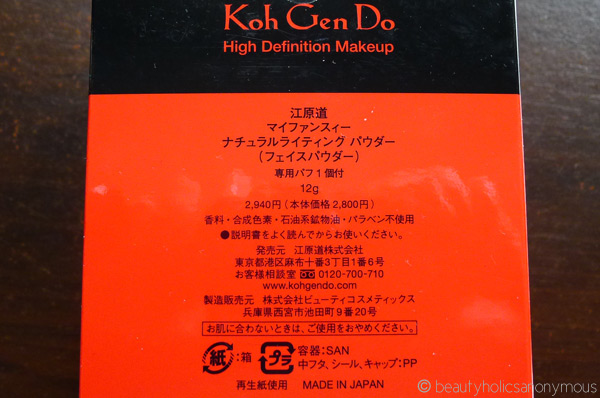 Anyway, back to the natural highlighting powder. I had a bit of a play with it in store and was quite intrigued. The powder is incredibly fine-milled. It's basically loose powder with shimmer. This comes in only one shade.
I didn't think I'd like it. I'm not a fan of shimmery loose powder because most of the ones I've tested in stores are far too shimmery for my liking (this includes the La Mer loose powder). So when I bought this, I have to say I was still a bit apprehensive in using it for fear of looking like a shining disco ball.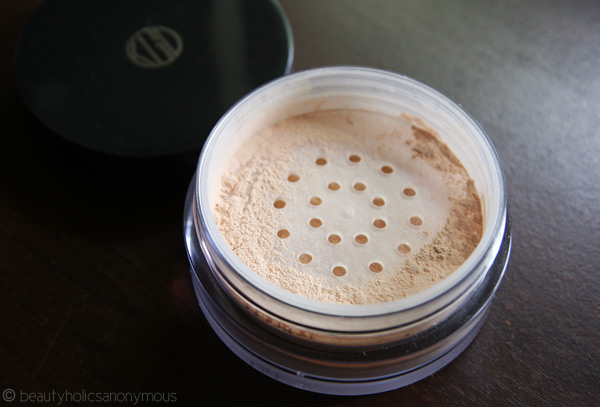 I'm glad to report that it doesn't make one look like a shining disco ball. In fact, the finish is subtle yet enough to give the face a beautiful glow. It reminds me very much of the finish you get from Guerlain's Meteorites. It's less powdery than the Meteorites, of course, since the brush does pick up a lot more product than the Meteorites unless you tap the hell out of your brush.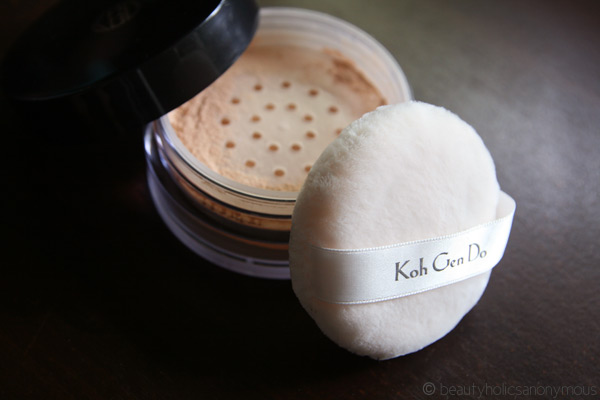 Speaking of which, the jar comes with a powder puff. It's a very soft one; none of that cheap, scratchy puffs you get out of $2 stores :P. However, I prefer not to use the puff on my face because it does pick up a lot more powder than you actually need on your face. It's a waste of product plus if you're not careful, you'll end up with a very white and shiny face (unless that's your thing. Hey again, no judgement :P). I prefer to use a large fluffy brush to apply on my skin.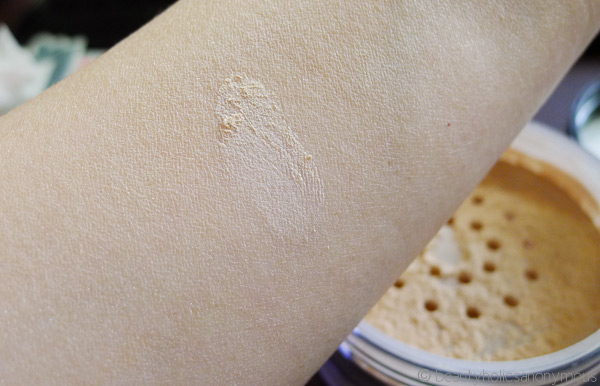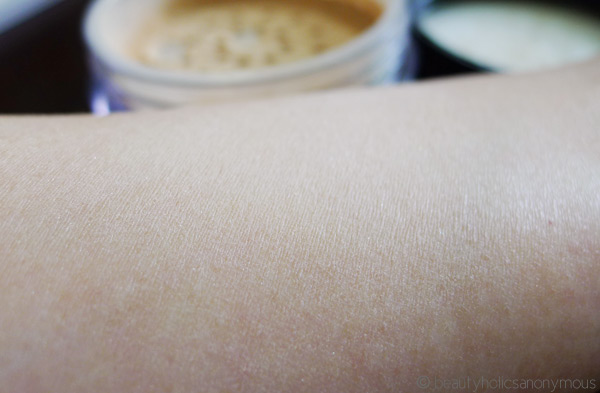 Even though the description says it's ideal for dry skin, I'm inclined to disagree. I swatched this on the undersides of my arm and the back of my palm. These areas are unfortunately rather dry and have more lines than my face. I find that the powder sinks into the fine lines and accentuates them rather than just provide a silky flawless finish to the skin. For oily/combination skin, yes this would definitely work but for dry skin, I honestly don't think so.
Is this something you need in your makeup repertoire? If you already have the Guerlain Meteorites (*cough* reminder to self that I have 3 *cough*), then no, you don't need it. If you don't, it might be something you might like to consider this or something similar as it does make your skin wake up and say howdy. The 12g jar is going to last me yonks. Does that mean I don't need to buy another similar product or the Meteorites?
… *sound of crickets* …
Koh Gen Do Maifanshi Natural Highlighting Powder retails at ¥2940 (approximately US$33). It's available on the Koh Gen Do website (does not ship internationally), Sephora (use parcel forwarding service for this) and Barneys (ships internationally). It retails at US$42 in the USA.
What I like about it: Fine-milled powder gives a subtle, yet beautiful glow to the skin
What I don't like about it: Not easily available
Have you tried anything by Koh Gen Do before? What would you recommend?