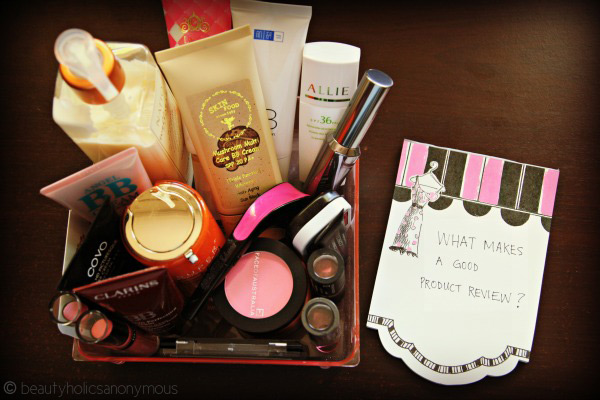 That's a good question. It was an idea for a Bloggie Wednesdays topic by Beauty Swatch (thanks Yishan!) and I thought I'd write about it.
As bloggers who blog about beauty, needless to say that a majority of the blog posts we write are on product reviews. We write about the cosmetics we love, we dish out the ones we don't. What's your take? As a reader and/or blogger, what do you think makes a good product review?
There are so many ways to do it. Many seasoned bloggers like Christine from Temptalia and Karen from Makeup and Beauty Blog have set high standards on how product reviews are written. Christine writes her reviews in a very structured manner. Every product has categories it must fulfil. Karen's style is more casual and loosey-goosey. She likes to talk about cosmetics in the form of stories. There's no fixed style as to how she writes her reviews. It's like she's having an intimate beauty chat with her readers.
Both write reviews very differently yet they do incredibly well in the blogosphere.
Regardless of how these bloggers write their product reviews, there is almost always a set number of points they adhere to and areas to address when reviewing a beauty product. Incidentally, they are also what I like to read in product reviews and how I like to write them too. Break out the dictionary, folks. It's time to brush up on your adjectives. 🙂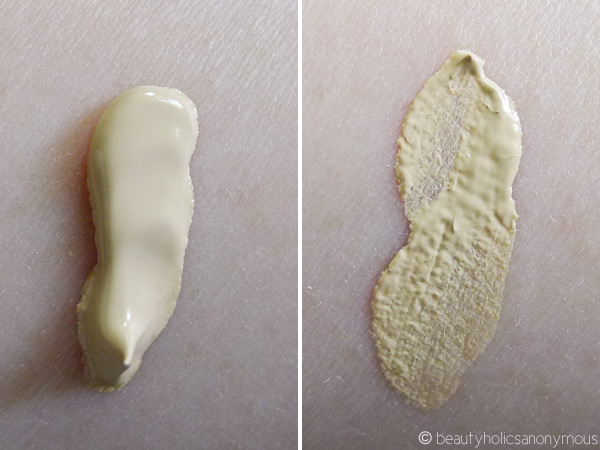 Description: What the brand claims the product does. Between you and me, I make it a point to disprove their claims if possible. Muahahaha! 😛
Texture: Gel, cream, lotion, light, heavy, greasy, non-greasy, etc.
Scent: Scented, unscented, smells like the toilet, etc.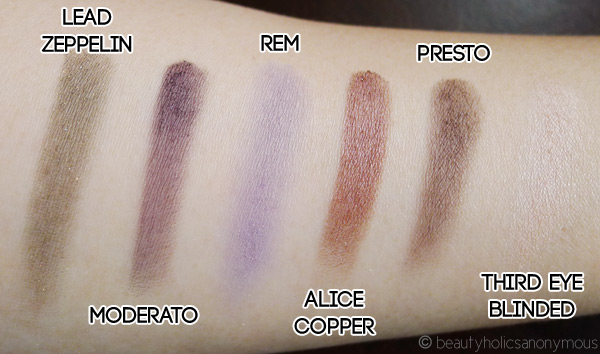 Colour: Description, undertones (suitable for warm, cool or neutral), highly pigmented, barely pigmented, etc.
How it applies on the skin: Smooth, grainy, absorbs quickly, sits on the skin doing nothing, etc.
How it looks on the skin: Powdery, matte, dewy, natural, cakey, etc.
Longevity: How long the product lasts on the skin, whether it stays on strong or fades off during the day, etc.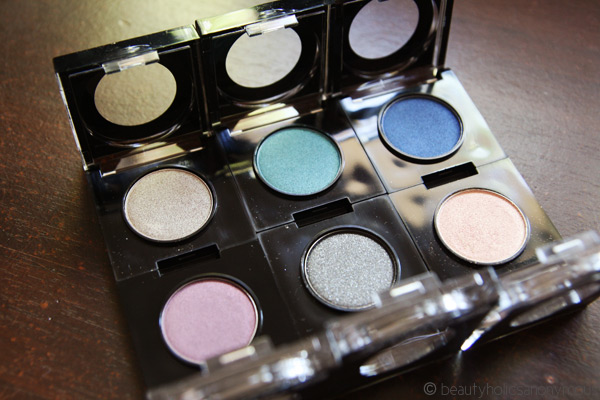 Results: For makeup – how it looks like at the end of the day, if it's still on the skin, if base makeup oxidised, etc. For skincare – what's the difference on the skin after 4-6 weeks, etc.
Ingredients: This wasn't a popular addition when beauty blogs first came along. However, more and more readers are requesting lists of ingredients. People are educating themselves with what's in the products they're applying on their skin and it's a good thing. I find that if it's difficult to photograph the ingredients list, it's best to type them out even though the spelling of the words will drive you nuts.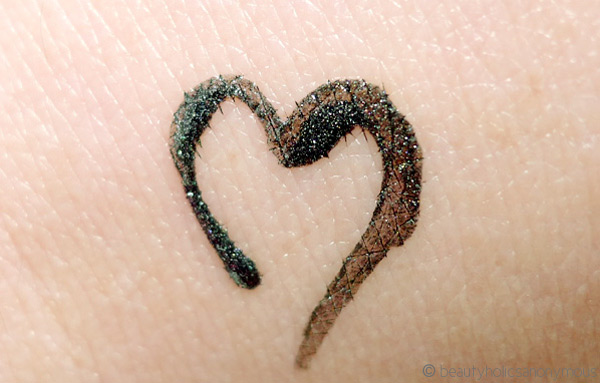 Pros and cons: What you like about the product, what you don't like about it. There's almost always something you may not like about a product, no matter how small. What can I say? People like to read the juicy how-the-eyeliner-spit-in-my-eye shizz. 😛
Price: The retail price of the product (if there's a sale going on at the time of writing at a particular store, readers will appreciate the heads up, so do write the sale price down as well and when it ends).
Availability: Where can your readers buy the product? Usually local retailers are mentioned first then international ones if available.
Good-quality images make a big difference in product reviews too. If you're reviewing a mascara but the close-up of the mascara on your lashes is blur, it's difficult for the readers to tell how good or poor the mascara is. If makeup swatches are done and photographed under poor lighting, a great product can end up looking pretty crappy. The truth is that images can make or break a product review, no matter how well it's written.
Having said all these, I don't think there's a set formula or rules on how one should do product reviews. I've read concise product reviews that work as well. These information should guide you on how you could judge and review a product but it shouldn't restrain your blog. Just remember that the more information you give your readers, the more they'll appreciate your review and all the more to help them in deciding their purchase.
With these important points addressed, how a product review should be written depends very much on the personality of the blogger. There's no right or wrong. It depends on the style of writing you enjoy. For me, I like to read reviews with a bit of humour and wit in them. I like beautiful pictures followed by good writing. Best of all, I love reading product reviews that make me laugh (not at the blogger but with the blogger). Product reviews aren't exactly the most fun articles to write but if you can make them interesting to the reader then that, to me, is a great review.
What do you think makes a good product review? 🙂
Bloggie Wednesdays
is a series of articles just on blogging. They contain tips, how-tos, discussions about anything and everything you need to know about blogging and how we can be better bloggers. If you have any suggestions, tips and tricks about blogging you would like to share with us, or if you have any questions you would like me to address, please let us know in the comments.