Last month, I got bitten by the shopping bug and went a tad overboard at Mecca Cosmetica :P. I can't remember what got into me that day. I guess I just needed a bit of retail therapy and I found it at Mecca. It's a monthly pilgrimage to my version of Mecca. Hee hee!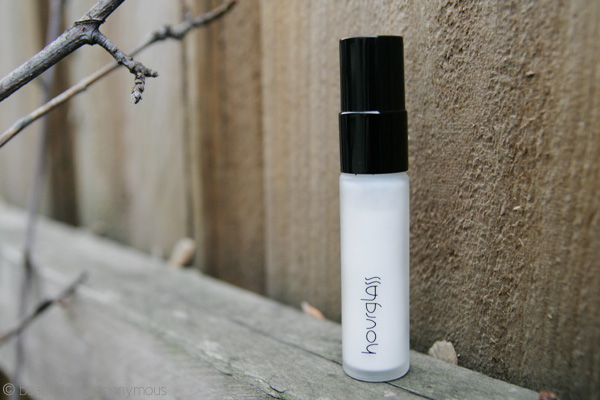 Anyway, one of the items I bought was Hourglass' Veil Mineral Primer. I have a couple of lipsticks from Hourglass and they're beautiful. I've been meaning to try out more products from Hourglass as I've read very positive reviews of the brand. The Veil Mineral Primer comes highly recommended by a slew of beauty bloggers, editors and YouTubers so quite naturally, it's something I too have to give a go.
The Veil Mineral Primer comes in 2 sizes, 10ml and 30ml. I only bought the 10ml to try because I didn't want to splurge on an items that may or may not work for me. Plus, if it does work well, it's a great travel-sized item to have in my makeup bag.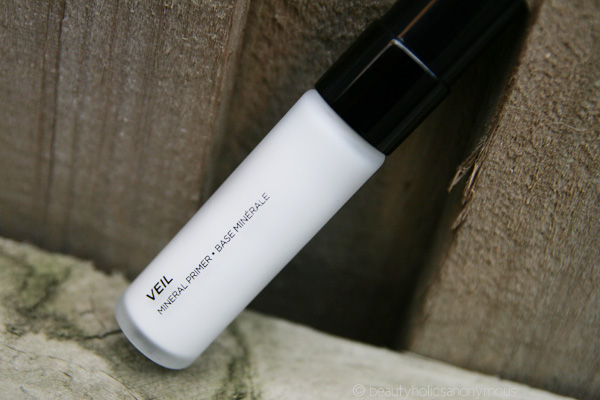 Description:
A clean, satin-finish mineral primer formulated with SPF 15, Veil Mineral Primer restores moisture to dehydrated skin while providing protection from the sun and minimizing shine. It helps minimise the appearance of large pores and fine lines, and preps skin for makeup application while extending its durability. Naturally-derived Titanium Dioxide and Zinc Oxide protects skin from UVA/UVB rays. Oil Free, Fragrance Free, Paraben Free, Water Resistant.
The primer comes in a white, frosted matte glass bottle and a pump dispenser. Two big plusses for me as the frosted bottle makes it look quite luxurious (well, with that price, it has better also look good!) and the pump makes it very easy to dispense the sufficient amount of primer on the skin. It's a light, white cream that is velvety smooth to touch. It contains a high amount of silicone hence the slippery, velvety texture. Having said that, it's not as smooth as Smashbox's Photo Finish Foundation Primer. My skin can take quite a lot of silicone without experiencing any breakouts so I have no issues with the silicone, but I thought I'd let you know in case silicone isn't something you like in your beauty products.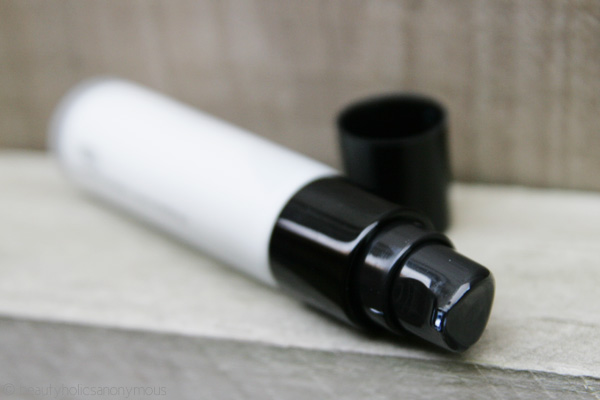 Now, it's been a long time since I've used the Smashbox primer or any primer with that amount of silicone in it so I'm afraid I can't make a comparison between the two. However, I have used Face of Australia's Face Base Primer and Napoleon Perdis' Auto Pilot Pre-Foundation Skin Primer and I have to say, the Veil Mineral Primer outperforms these two primers by a mile.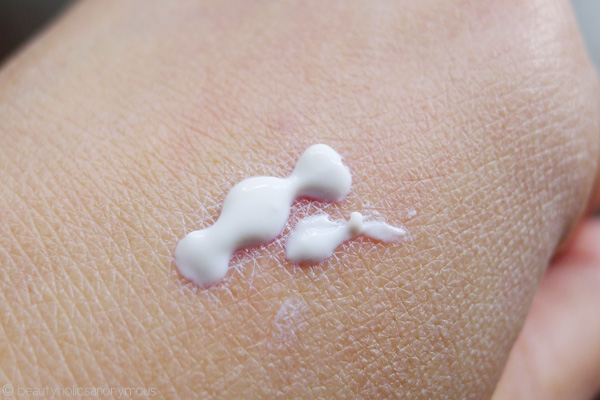 Foundation and BB cream apply very well over this primer. I only need very little at a time (think half the size of a pea). It works like spackle on holes and base makeup just glides over the skin giving it a beautiful finish without any drag marks on my nasolabial lines.
My combination skin is normal on the cheeks, chin and sometimes the forehead but the area that oils up the quickest and the most is my nose. It's rare that foundations and BB creams last past an hour on my nose without greasing up. Even with other primers on, the most oil control they can do is for the oil to only appear after 2-3 hours. That's how oily my nose gets.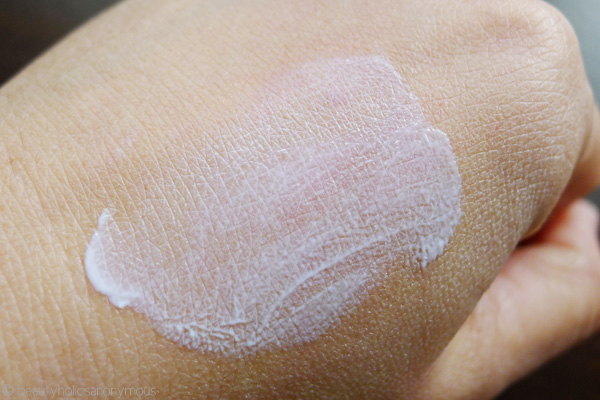 Which is why it blows my mind when I found out that when I had the Veil Mineral Primer under my foundation or BB cream, my base makeup lasted at least FOUR whole hours before any hint of oiliness started to show on my nose! I don't remember the last time this happened to me. I'm so chuffed at how well this primer works for me. Holy Grail status? Without a doubt.
Will I repurchase this primer once it's finished? Most definitely. That $25 "testing fee" was money well spent indeed.

Hourglass Veil Mineral Primer SPF 15 comes in two sizes – 10ml (AU$25.00) and 30ml (AU$79.00) and is available at Mecca Cosmetica stores nationwide.
What I like about it: Fights oil on my T-zone like a ninja (4 hours strong!), keeps my makeup looking flawless all day long.
What I do not like about it: Nothing
Have you tried the Hourglass Veil Mineral Primer before? Did it work for you as well as it did for me? If not, what's your favourite primer?