Okay, I know that I've been babbling a lot about my holiday which was over a month ago but as I've been using a few new products during the trip, I thought post-holiday would be a good time to let you know what I thought of them. This is the last "new" item I used on holiday so I promise (*fingers crossed behind my back*) that this will be the last time I talk about the holiday.

Whenever I travel, I find my usual shampoos and conditioners a hassle to bring with me. So, I bring whatever samples sachets I have in my stash with me to use just so I can chuck 'em when I'm done. I use all sorts and sometimes, they aren't even really meant for my hair (e.g. shampoo for fine hair when I have thick and coarse hair) so after a while, it does get very dry and look like fried grass. This time, I thought I'd bring a proper full-sized leave-in hair conditioner to make sure my hair gets as much hydration as possible. I decided to pack a bottle of the David Babaii Miracle Elixir Nourishing Spray. I'm glad I was given an opportunity to try this out because I've never heard of David Babaii hair products. Or who David Babaii even is.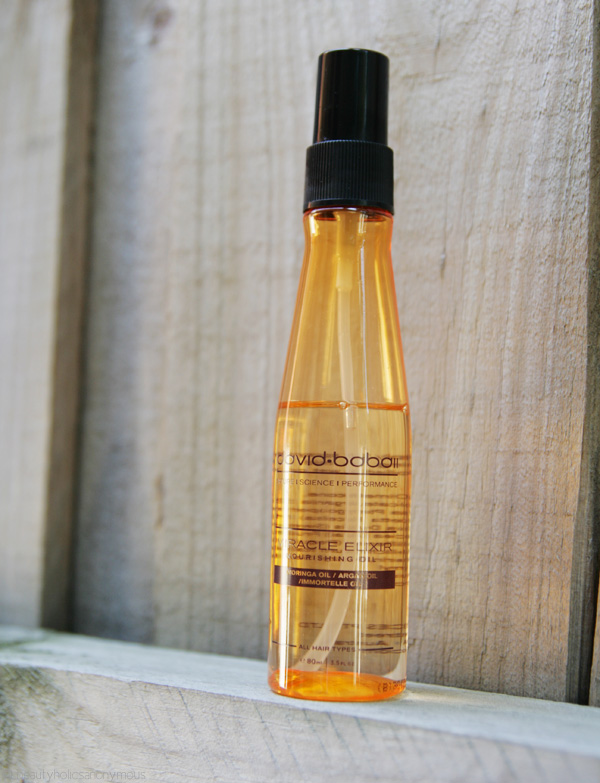 Description:
A true hybrid product, this ultimate hair oil is a treatment and styling product in one. The lightweight elixir combines 7 key oils for a nutrient-rich mist which boosts hair health, protects from heat styling and also adds instant shine and gloss to hair. Packed with an exotic blend of ingredients, this little miracle protects from humidity, seals and smooths ends and banishes frizz.

Ingredients:
Cyclomethicone, Dimethicone, Trimethylsiloxysilicate, Argania Spinosa Kernel Oil, Moringa Pterygosperma Seed Oil, Brazil (Bertholetta Excelsa) Nut Oil, Prunus Amygdalus Dulcis (Sweet Almond) Oil, Euterpe Oleracea (Acai) Fruit Oil, Caryocar Brasiliense (Pequi)Oil, Immortelle (Helichrysum Italicum) Oil, Parfum, Coumarin, Benzyl Salicylate, Linalool, Butylphenyl Methylpropional, Eugenol, Alpha-Isomethyl Ionone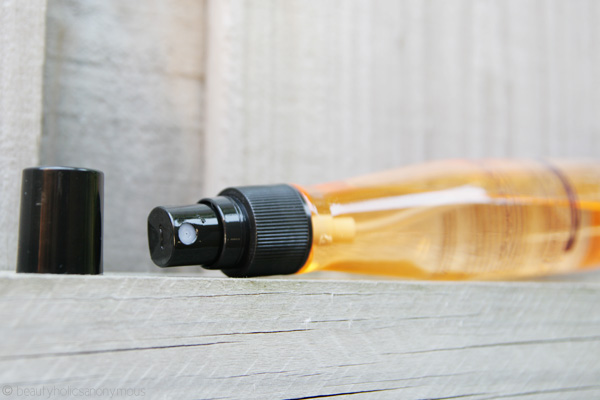 As much as I liked the Moroccan Oil Treatment and a few other argan hair oils, I find them a tad rich for my hair. Even though I only needed very little per application, after months of using them, my hair felt flat and listless. These argan hair oils stopped giving me the results I want, which isn't just soft and shiny hair but most importantly, lightweight hair as well. My hair was very long back then and the more argain hair oil I used, the heavier it felt the next day.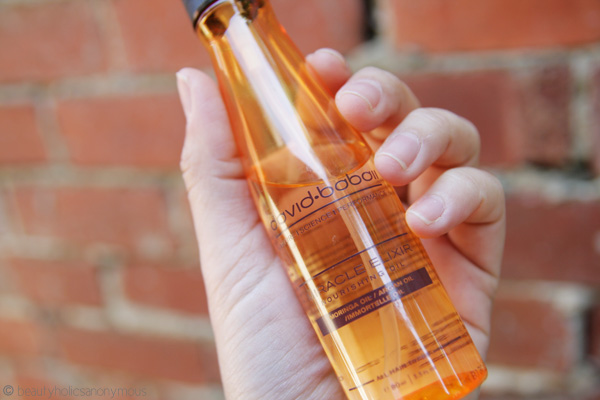 This hair spray is actually a mix of 3 different oils, which is the argan oil, moringa oil and immortelle oil. These are plant-based oils and together, they work to leave the hair soft, bouncy and shiny. Unlike other argan hair oils that dispense in a thick oil, the Nourishing Spray actually sprays out like water. Usually when it comes to hair products that come with a spray, I spray product onto my palms first before working it into my hair to avoid applying too much product. With the Nourishing Spray, it's lightweight enough for me to spray directly onto my hair.
A really good thing about the Nourishing Spray is that even though it's an oil, once you work and comb the product through your hair with your fingers, it leaves zero residue on your hands. There isn't even a hint of oil left on the skin! Even though the bottle tells you to spray once or twice on damp hair, I go to town with it by spraying it directly on my hair at least 6 times. It isn't a problem at all since it doesn't weigh hair down.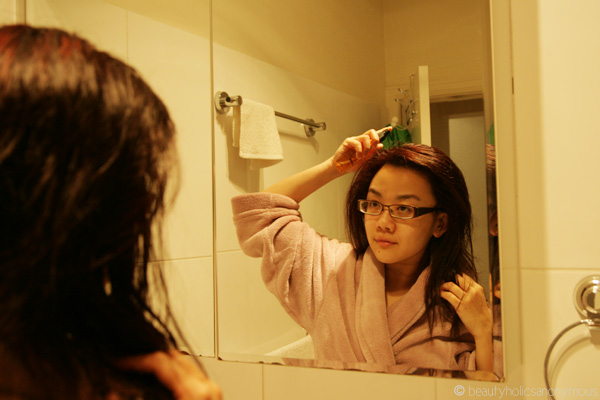 It leaves my hair soft and smooth, and while it doesn't reduce the frizziness much, it doesn't leave my hair feeling and looking like shit as it always does after a holiday. Big love for the Nourishing Spray. It's definitely worth a repurchase.
David Babaii's Miracle Elixir Nourishing Spray retails at AU$29.95 for 80ml and you can get it online at DavidBabaii.com.au. By the way, David Babaii also has a rapid blow dry spray called the Blow Out that can actually shave off blow-drying time. I tried it out and holy moly, it works. If you'd like me to review that too, let me know!
What I like about it: Very lightweight, keeps hair nourished and hydrated, leaving it smooth and shiny.
What I do not like about it: Doesn't fight my frizz.
Do you use argan oils on your hair? Do they work for you or are they a tad too heavy on the hair? What's the best that you've used?
Note: This product was provided for editorial consideration.