Happy Monday, folks!
Instead of starting the week with a product review, I thought I'd share what my weekend was like with you. I'm rather tired of writing reviews today so let's talk about something else for a change, eh?
How was your weekend? If you follow me on Twitter, you'll know that my last 4 days have been pretty darn awesome. Remember last week when I told you I was having a guest over for a few days? Lo and behold, it was Paris B!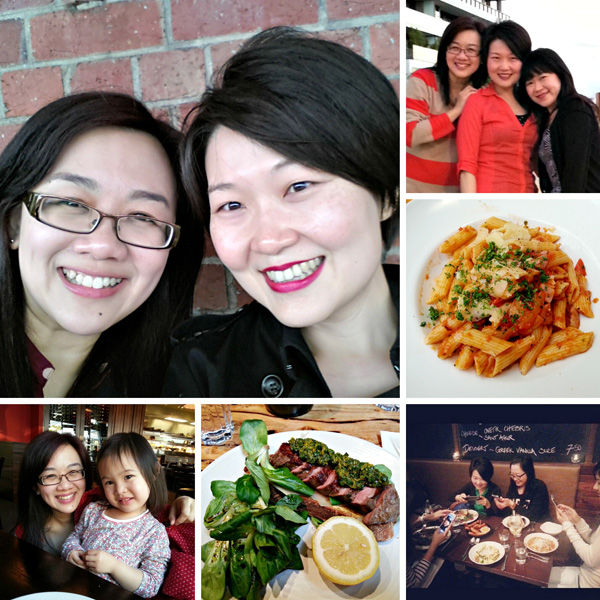 Clockwise: Selfies at South Yarra station, the 3 bag ladies, yummy pasta at Chadstone's Bouchee, doing what bloggers do (image courtesy of LeGeeque), delicious lamb sandwich at Dukes Coffee, my friend's lovely daughter.
There had been heaps of eating, a bit of shopping (I may have gone a little overboard with candles) and catching with good friends. When you get 2 bloggers staying under the same roof for a few days, there's bound to be a lot of bloggie and makeup discussions. We even came up with topics to blog about! "Ooooh we should blog about this!" and "OMG that's exactly how I feel! Let's blog about it!". Oh yeah, bloggie talk. It happens.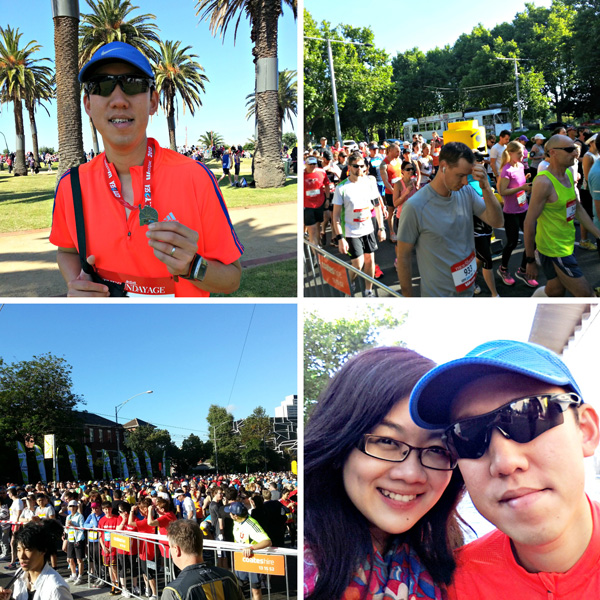 The weather was glorious on Sunday and it was great timing too because that was when Tim went for the Melbourne City to Sea 14km fun run. There were over 13,500 runners in the city that day and boy was it crowded. Such interesting characters to see running though. I saw a lady wearing a body suit with an anatomically-correct neck to ankle print of the muscles in the body. I saw Lego Man running (wearing a huge Lego head). There were superheroes, a lady in a chicken costume (complete with chicken head and body of feathers) and even Captain Jack Sparrow in full pirate garb (he was even holding a rubber knife!). Even though I didn't run, it was fun enough watching people run. Next year, LeGeeque and I may tackle a 5km run. Baby steps, people. Baby steps.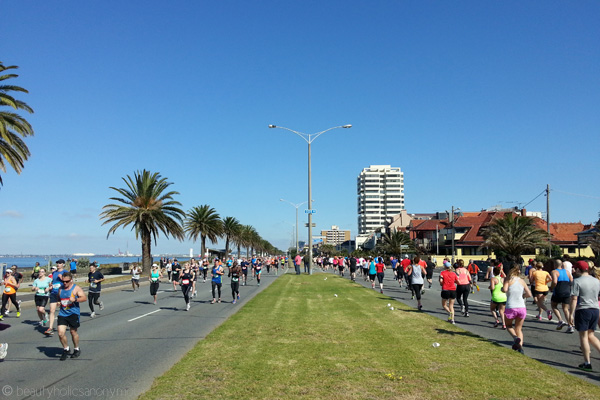 I'll be replying comments and emails, and doing some housekeeping on the backend of the blog today before tackling on product reviews for tomorrow. Sometime this week, I'll be going to the hospital for a laparoscopic procedure. It's just going to be a quick one (I hope!) so will be in and out in a few hours. I'll tell you more about that soon but for now, if you've had it before, here comes the million dollar question: does it hurt? I know I'll be under general anaesthetic, which I've had before, but oh you know. It's still something to worry about nevertheless.
So that's my weekend and coming week for you. How was yours? What do you usually do on your weekends? I'm usually very curious as to what other people do on their weekends off.

Have a good one!