Bourjois' Healthy Mix Serum Gel Foundation has been a favourite of mine ever since it was launched a couple of years ago. In fact, it became my Holy Grail of foundations at some point, snatching to stay on the spot with Rimmel's Match Perfection. When I heard on the blogging grapevine that Bourjois has come up with a new foundation called the Happy Light, I was excited to check it out at my local Priceline. And then I forgot that that part of the grapevine was from the UK and they get the good stuff first!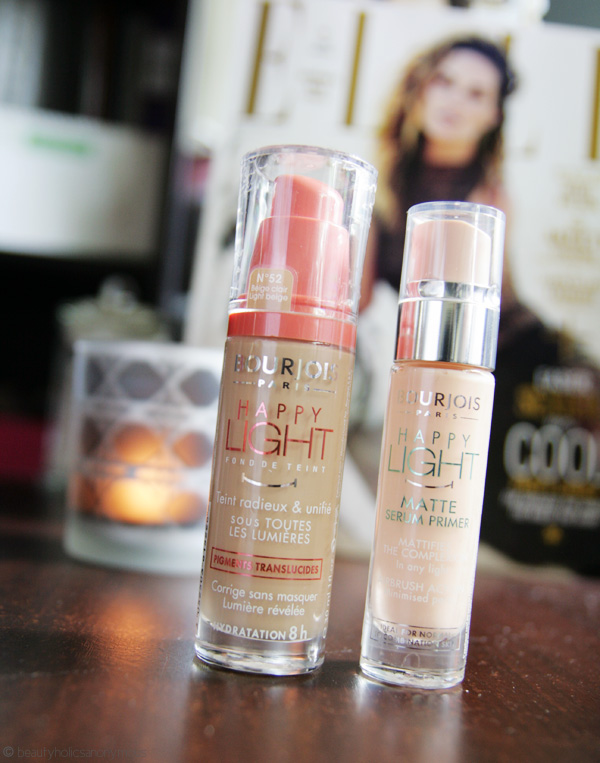 So I waited and waited. When Priceline finally stocked the Happy Light foundation, I pounced like a ninja and picked up a bottle. Since I was already there, I also picked up a bottle of the Happy Light Matte Serum Primer to try out. It's been a few weeks and I thought it's a good time for me to share with you what I think of the foundation and the primer.
By the way, I'm making some slight changes to the way I review base makeup like foundation and BB-goodness-knows-what-double-alphabet creams to a simple point form review in terms of shade, texture, fragrance, finish on skin, coverage and longevity. I find that it makes it easier for people to read and understand than having to go through paragraphs of descriptions. What do you think? Would you prefer it too?
Bourjois Happy Light Foundation
Shade: 52 Vanilla (neutral to peachy undertones). Also available in 51 Light Vanilla, 53 Light Beige, 54 Beige
Texture: Light and runny, similar to the Healthy Mix Serum
Fragrance: Artificial floral fragrance, not as strong as the Healthy Mix Serum (although I still prefer the latter's scent)
Finish: Dries quickly and leaves a semi dewy finish on the skin
Coverage: Light to medium
Longevity: Lasts for many hours without leaving drag marks or streaks on facial lines. Looks even better on the skin as the hours go by.
When the Happy Light was launched, word on said blogging grapevine was that this is supposed to replace the popular Healthy Mix Serum Gel Foundation and that the latter will be discontinued. I've checked with the brand and can confirm that the news is false. Both products will continue to sit on Bourjois stands.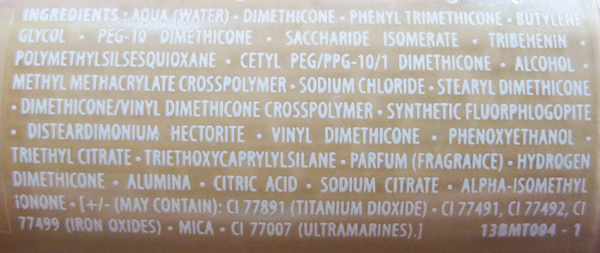 Bourjois Happy Light Foundation ingredients
Bourjois Healthy Mix Serum Foundation ingredients (click to enlarge)
Having said that, the Happy Light is very similar to the Healthy Mix Serum. The only difference is in the lighter fragrance, that the finish is a bit more dewy than the Healthy Mix Serum and the coverage is slightly less. Other than that, the difference is pretty hard to tell.
One thing though, the Happy Light did break me out in tiny whiteheads. I don't get them every time I have the foundation on but I have to say, I do get it 3 out of 5 times. The Healthy Mix Serum never broke me out, not even once. Hmm.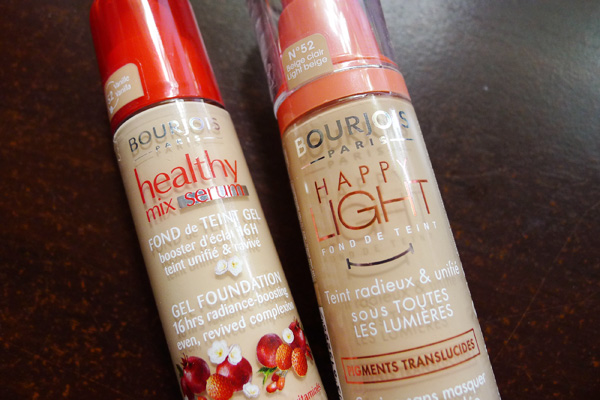 Funny story: one day, after I applied the foundation, I freaked out a little because I thought the foundation has gone bad. When I applied it on my face, my face became ORANGE! I lamented to LeGeeque that the Happy Light must have gone wonky or something because it was all right before. I decided to try it again a few days later; lo and behold, it was back to normal. Then I remembered that that day when my face was supposedly orange, it was a dark and gloomy day, and I had the warm lights in my room on. Hence, my "orange" face. Ooooops.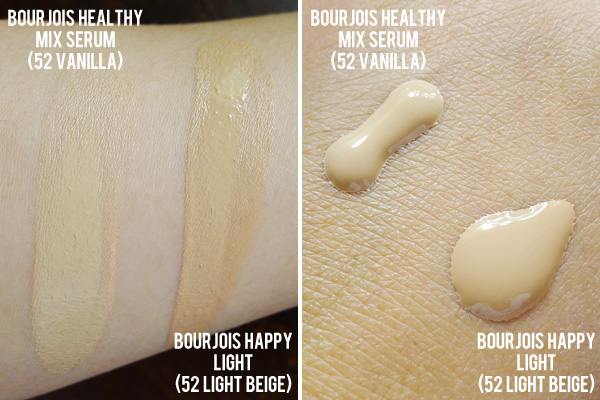 Oh and one thing I should mention, don't assume that the foundation shades are going to be the same across the board. I'm a 52 Vanilla on the Healthy Mix Serum. I purchased the 52 on the Happy Light but it's actually a shade or two darker than my skin tone. I was in a bit of a hurry when I picked these up so I didn't test it out properly on my jawline. Bugger. Anyway, it's also strange because my bottle is labelled No 52 Light Beige, when 52 should have been Vanilla. So did I actually get the 52 or the 53, which is supposed to be the Light Beige? Did anyone else encounter the same issue?
I do like the Happy Light foundation but to be honest, I'm happier to stick to the Healthy Mix Serum. At least I wouldn't have to deal with extra whiteheads on my face that I certainly don't need.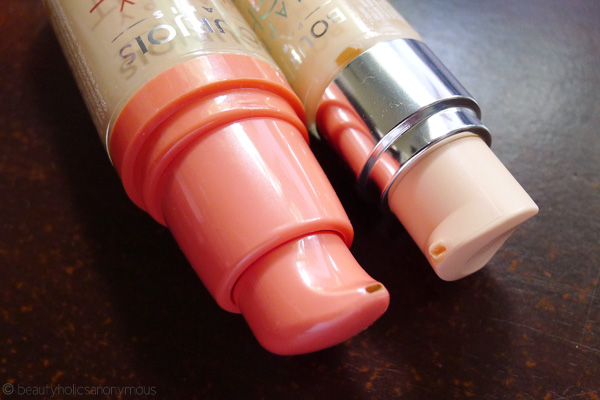 Bourjois Matte Serum Primer
I've used the Happy Light primer with the Happy Light foundation and with other foundations/BB creams and I can say … meh. It's not bad, but not great either.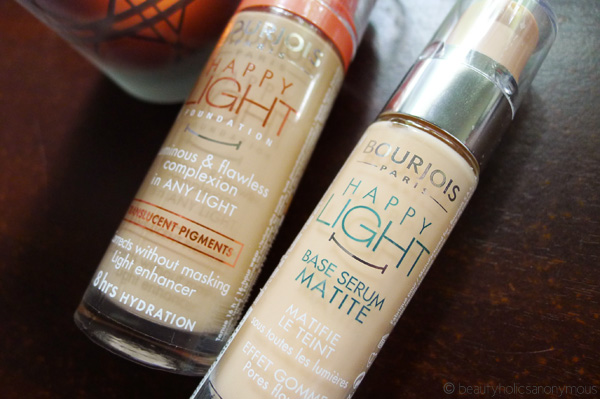 The Happy Light primer leaves a matte finish on the skin. When used with the Happy Light foundation, it makes the foundation almost semi matte but not fully matte. When there's a primer and foundation under the same umbrella, the common assumption is that you use them together. Unfortunately, I can't use them together because it makes my foundation flake and peel badly on my skin. However, when I use the primer with another foundation, there's no flaking.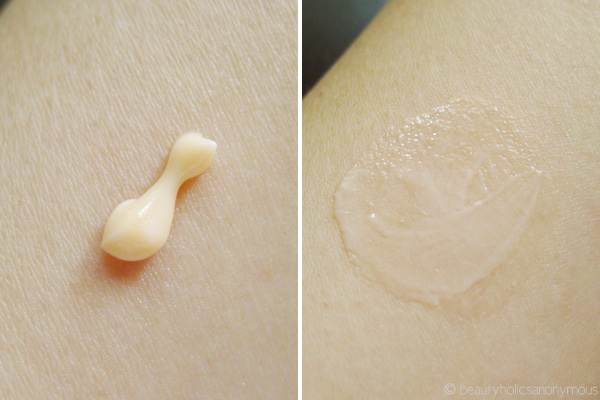 Having used the Happy Light primer and foundation together, I didn't notice the foundation lasting any longer on my skin than it would on its own. It doesn't have good oil control on my skin either; my T-zone oils up after a couple of hours.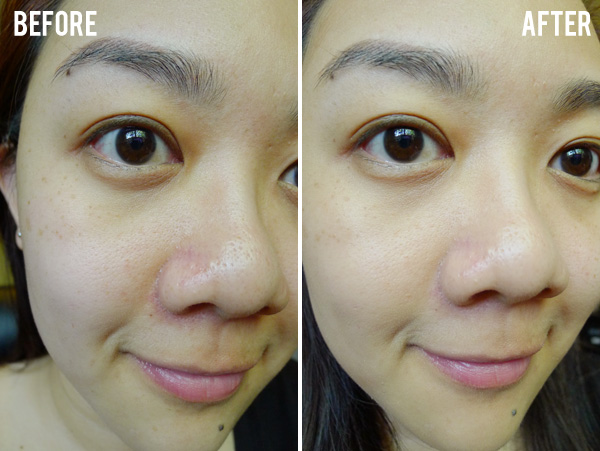 Bourjois Happy Light Foundation Before and After
All in all, I have to say I was slightly disappointed in the Happy Light foundation and more so the primer. I was expecting better results with at least the foundation. It's awfully similar to the Healthy Mix Serum but it does come with a whitehead-y cost for me. I'll just stick to what works for me and that's the good ol' Healthy Mix Serum. It smells nicer too.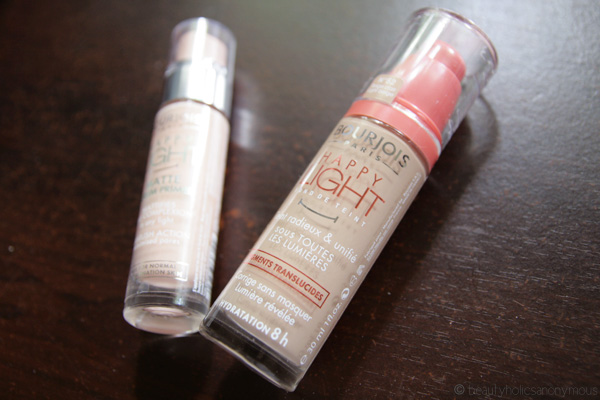 Bourjois Happy Light Foundation retails at AU$29.00 for 30ml and the primer at AU$21.00 for 15ml. They're available at Priceline pharmacies nationally.
What I like about them: Lightweight, natural finish on the skin, not cakey. Primer leaves a matte finish, which is helpful for those with oily/combination skin
What I do not like about them: Foundation breaks me out at times, too similar to the Healthy Mix Serum (happier to stay with the latter). The combination of the primer and foundation flakes badly on my skin (combo with other foundations is not a problem), doesn't make any difference to the longevity of foundations/BB creams.
Have you tried the Bourjois Happy Light foundation and/or primer? What did you think? Did you like it?