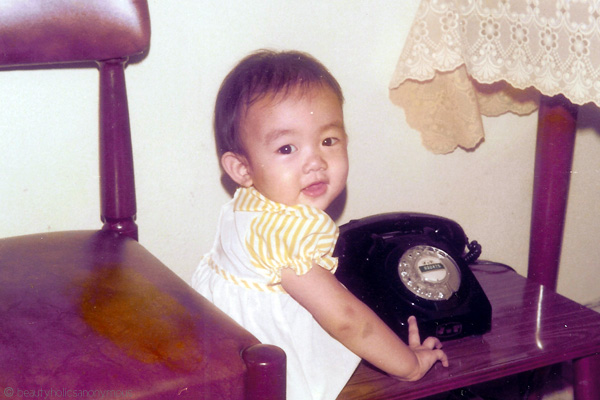 Oh, so that's the reason why I can't live without my phone now.
I love reading random things about bloggers on the Internet. Of all the memes and tags, this is the one I enjoy the most. It can get quite personal and you learn a lot about the blogger (in a non-stalkerish way) behind the niche she blogs about.
I haven't done one in ages and so I thought let's dust the ol' 50 Random Things About Me tag off the shelf and get cracking once more. If you've been a long-time reader from way back when, you'd find some of them familiar. There aren't that many random things about me that has changed over the years. 😛
In no particular order,
1. I love doing word search games. You know the kind where there's a grid of random letters and you're to find hidden words in the letters? I've been doing them since I was young. And I have to say, I do kick ass at it (even the ones with tiny fonts).
2. With word search games, I also enjoy hidden object games. I think it sharpens one's observation skills and not a waste of time (at least, that's what I keep telling myself when I spend far too long in the loo with my iPad).
3. I can be very messy and organised at the same time.
4. I can't function without lists. I absolutely adore the Google Keep app because it allows me to create list upon list upon list for free.
5. I even have lists for my lists.
6. I have an obsession with rice. The smell and taste of it … mmm …
7. Unless I'm absolutely drag-myself-into-bed exhausted, I'm quite a light sleeper.
8. I'm married to someone who can sleep through the neighbour's heavy bass music parties for 14 hours without needing to wake up.
9. Once I'm up, I'm up. Very seldom do I fall back to sleep.
10. I'm a morning person. I'm a lot more productive in the morning.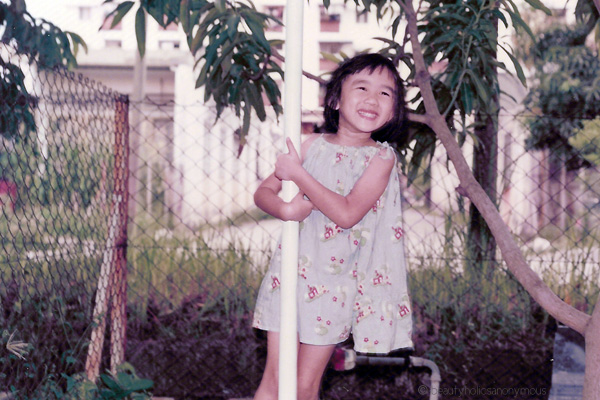 Scraped my knees many times trying to climb that laundry pole
11. Afternoons are the worst for me. Least productive times.
12. As I'm a morning person and require things to be done in the morning, it shits me when Tim's still asleep, especially when I need his help with something. I get really antsy waiting for him to get out of bed.
13. Having said that, when I do need my lie-ins, all is at peace once more.
14. I make a pretty mean spag bol from scratch. Years ago, the only way I'd make spag bol was from a Prego jar.
15. I used to not watch YouTube videos but now I'm hooked, especially to vlogs. It's like reality TV + drama series that don't have season finales.
16. I love reading but realised that as I grew older, I'm starting to read less. Not good. This year, I strive to read a lot more.
17. If a book hasn't gripped me within the first 10 pages, I most likely won't read it anymore.
18. I still haven't gone past the 10th page of Tolkien's Lord of the Rings. It's been almost 7 years of trying. Still can't do it.
19. When I was about 12 years old, I sneaked and read one of my mum's books that had adult content in them. During a random game of Scrabble, I once used a word that I learned in that book – the 4-letter C word. Suffice it to say, my parents were absolutely horrified. In my defence, I had no idea what the word meant.
20. Having said that, I detest the C word. Especially when said in Hokkien. I think it's highly offensive.
Wait, what? My brother wore Nike back then?!
21. On the other hand, I do drop the F bomb. A LOT.
22. I can speak English, Malay, Mandarin, Cantonese and Hokkien.
23. People think I can't speak Mandarin but I can, even though I find the words hard to flow out of my mouth naturally.
24. I speak Cantonese at home with my family.
25. In order for me to speak Mandarin, my brain works this way: translate Cantonese to Mandarin, then say it in Mandarin. The words don't come out naturally, which is why it's just easier for me to say the Chinese version of "me no speaking Mandarin".
26. I think it's perfectly fine to have cake for breakfast.
27. In fact, I don't understand why people look at me in surprise when I said I had a slice of cheesecake for breakfast. What, you don't do that?
28. I can knit.
29. I can make you a beanie and a scarf. A very long scarf if you like. But nothing more.
30. I have immense admiration for people who have the flair in art, e.g. graphic design, drawing, painting, scrapbooking, etc. It's what I love to do but don't think I'm good enough.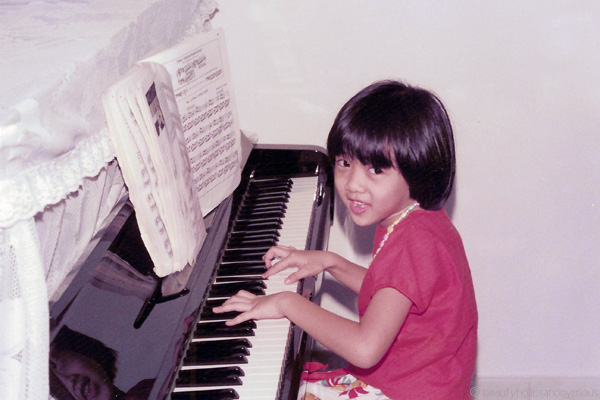 Ah, the road to piano hell was paved with good intentions.
31. I can play the piano.
32. I learned the instrument from the ages 6 to 20. Did the whole exams thing up to the Performance Certificate.
33. I failed the Performance Certificate but tell people I'm up to that level because if I have to learn the damn thing for 2 years (which I absolutely HATED), I'm going to say I got it.
34. It's not that I don't enjoy the piano. I just don't enjoy playing boring classical music meant for exams and not venture to new styles of playing, e.g. jazz (which I love). The teachers I went to weren't interested in teaching me anything else. It was all just to pass the exams.
35. I used to play the piano for the church I went to in Malaysia. I never enjoyed it because I could never be heard (maybe it's because they thought I wasn't good enough). I was simply there to "fill in the space" on stage as the synthesiser would always drown my not-as-good playing. What a way to be "sisterly", huh?
36. The only time I truly enjoyed playing the piano was during my years in Dundee, when I used to play at the Christian Fellowship. I didn't play well at first but everyone supported and encouraged me. That was enough to get me off my butt to practise and do better. It's a big lesson to learn here, folks: encourage and support.
37. I have a degree in electronic engineering and a postgraduate degree in computing. I did the latter because engineering was never my thing to begin with and I wanted to do something I truly enjoyed before I enter the corporate world.
38. I worked in a MNC as a R&D engineer for 4 years before moving to Australia.
39. Moving to Australia was the biggest thing I've ever done in my life thus far. It was also the best for my career because I could finally break away from what I never enjoyed doing for years.
40. I used to wear contact lenses very often but when I came to Australia, I found wearing it for many hours made my eyes feel really dry and uncomfortable. Maybe it's the dry air?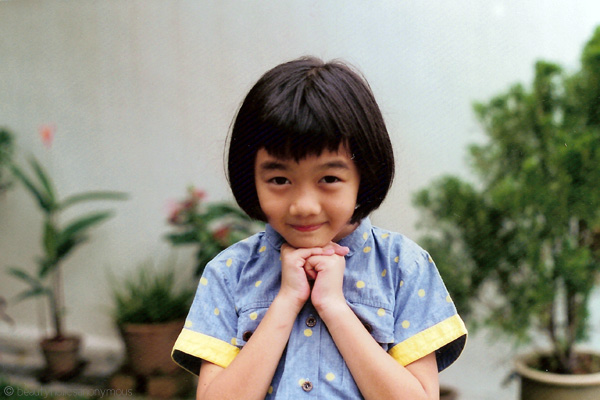 Gee, what a poser.
41. I can't see without my glasses at all. I'm blind as a bat without them. It's like a rave at night without my glasses because of my astigmatism. Wooooo!
42. I have way too many bags than I need and still want more. Tsk.
43. I also have way too many shoes than I need and still want more. More tsk.
44. I feel weird walking barefoot in my house, which is weird because in Asian households, we take our shoes off at the door. I'm almost always in my bedroom slippers.
45. I recently developed an obsession for the drink, Michael Jackson. Y'know, soy milk and grass jelly makes it black and white? *wink wink nudge nudge*
46. I'm a super cranky cow when it's hot. This is why I'm happy to tell people I love the cold weather and hate summer. Australians seem to find me weird that way.
47. The only people in the world that I'm truly myself (burps, farts and all) are my parents, brother and Tim. Although I did tell LeGeeque when I had explosive diarrhoea. Twice. Gotta appreciate a girlfriend who was more concerned about my wellbeing than laughed her head off.
48. I think my late 20s to now being in my 30s rock. My 20s sucked the big one.
49. I'm addicted to stationery stores. Forget makeup, I'm happier perusing Officeworks, MUJI and Daiso's stationery department (shh, you didn't hear that from me!).
50. My dog, Janey, drives me nuts but I love her to bits.
I hope you've enjoyed that random insight about me. I thought it was going to be difficult to come up with 50 things because I remembered at number 16, I was going to write "Oh this is going to be hard!". Turns out, it wasn't so hard after all!
This isn't really a tag for me but if you would like to do it, please do. I'd love to know more about you. If you do do this tag, please share the link in the comments below so that I may check it out.
Have fun!