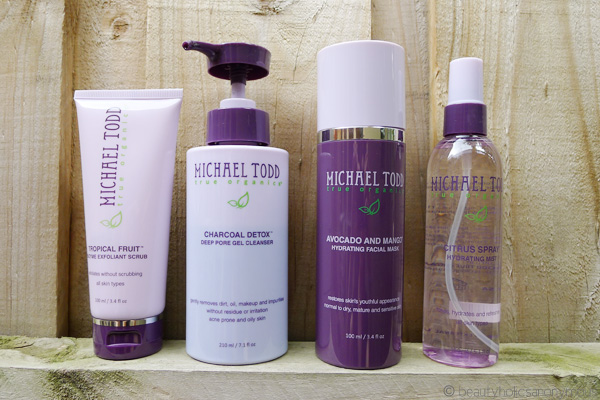 Note: Get a cuppa ready, this is one loooong post.
Michael Todd is one highly, HIGHLY raved skincare brand on the blogosphere and in YouTube-land. The amount of positive reviews about the range is astounding. Granted, many beauty bloggers and YouTubers were sent Michael Todd products to review so perhaps I'm just cynical about how good the products actually are (I'm sure you'd probably think the same too when I give positive comments on products sent to me for review. Hey, no judgement here. I'd think the same too.

).
Anyway, I digress. To try them out myself and find out if some of the products are really as good as they're claimed to be, I hought 4 products in the normal/combination skin range: the Charcoal Detox Deep Pore Gel Cleanser, the Tropical Fruit Enzyme Exfoliant Scrub, the Avocado and Mango Hydrating Facial Mask and the Citrus Spray.
A good thing about the Michael Todd website is that they ship internationally and their shipping rates aren't exorbitant for the bottles of lotions and potions that I purchased. I paid US$9.95 for USPS shipping to Australia. The downside would be that if you do opt for the cheapest shipping option that is USPS like I had, the package does take quite a while to arrive. Mine was delivered after a minimum of 3 weeks after I placed my order.
I didn't order any moisturisers, serums or heavy duty creams this time. The way I usually dip my toes in new skincare products would be to try out the cleansers and masks first. These would be skincare items that I can easily wash off after having them on for a maximum of 15 minutes, just in case the heavier duty items don't agree with my skin.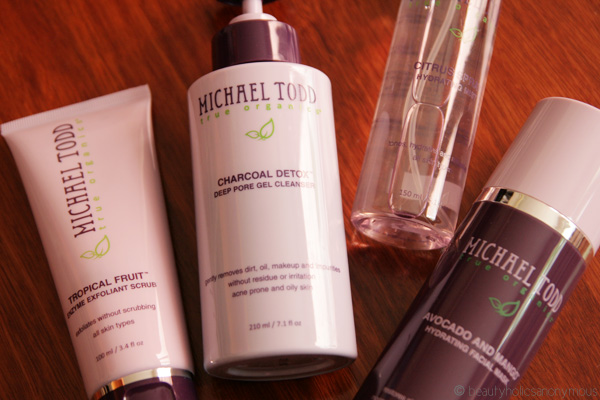 This cleanser is probably the most popular and highly raved Michael Todd product on the blogosphere. The cleansing gel looks like it's entirely black when dispensed but if you look at it carefully, it's actually very fine pieces of black bits in clear gel (which I'm guessing is the activated charcoal). When it's spread on the skin with water, the black bits disappear leaving the gel clear. As for the fragrance, I can't put my finger on an exact scent. I wouldn't say it smells like charcoal but it does smell quite spa-like.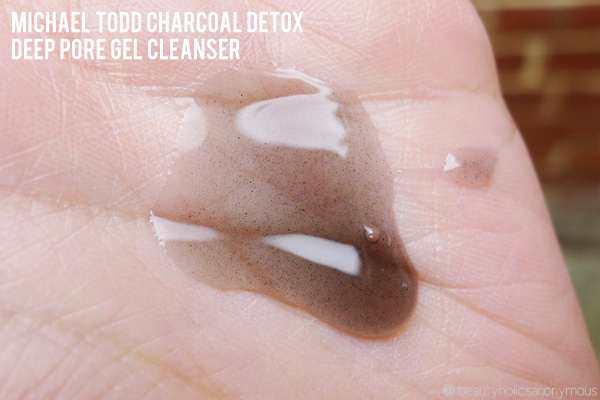 I can't claim that this gel cleanser deeply cleansed my skin and pores thoroughly but I'll say that it's one fine cleanser. It feels good on the skin, doesn't strip the skin dry or leave a detergent-like squeaky feeling on the skin. It didn't irritate my skin at all and makes my skin feel very refreshed after use. Will I repurchase this? Oh most definitely. The positive reviews on this cleanser was spot on.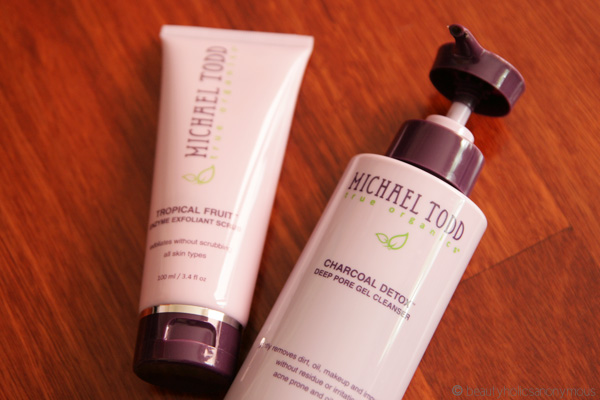 I don't remember reading or watching many reviews about this scrub but I thought I'd add it into my shopping basket as well. Every girl needs a facial scrub, doesn't she?

It's a thick cream with very fine jojoba wax beads that are used as a physical exfoliating agent. It also contains papaya and pineapple enzymes as chemical exfoliants. It has a delicious fruity scent which is quite sweet but not cloying. The instructions on the tube tells you to be careful not to over-stimulate the skin when using the scrub so I massage this on my skin in slow, gentle circular motions.
I love this scrub. Like the Charcoal Detox, it's not drying, doesn't irritate the skin, the beads are not harsh and leaves the skin feeling fresh, smooth and super soft. Will I repurchase this? Oh yes. It smells really good!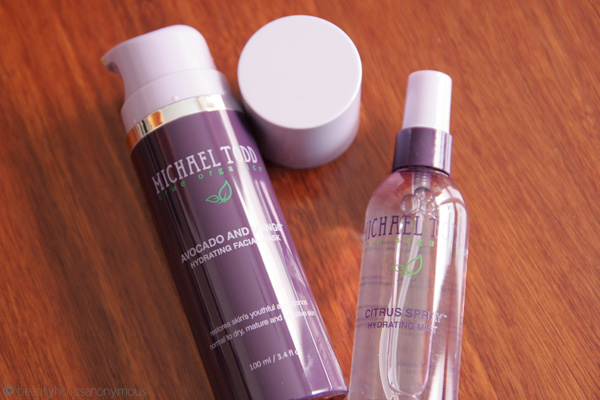 This was the reason I finally bit the bullet and placed an order for Michael Todd stuff. Kristina from Pretty Shiny Sparkly spoke highly about this mask, mentioned that it was very good and that it smelled of mangoes. I was sold when she said "mangoes" because next to citrus scents, mangoes are my favourite.
It's a light lotion and orange coloured like mangoes (although it kind of looks like bird poo in the photo. Hmm). It's very smooth and creamy. It does smell like mangoes but I thought it smelled a tad artificial like a room freshener. It wasn't offensive to me. Having said that, sadly this did not work for me as well as it did for Kristina and a lot of people.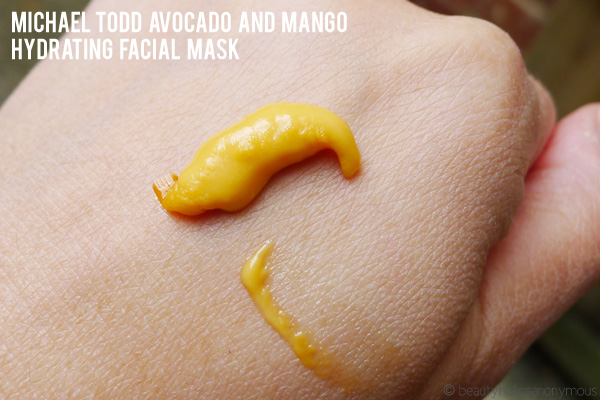 The mask was hydrating on my skin but I'd prefer more, e.g. what facial sheet masks do for me. After about 10 minutes of having this on, the skin feels tight as the mask dries. The problem I have with this mask is that it breaks me out every time I use it. Every. Single. Time. I must be allergic to one of the many ingredients in the mask or something because I'd be sure to find a couple of pimples sprouting the next morning after using the mask the night before. It's such a bummer because out of all the products I purchased and tried out, I expected this to be the best. It turned out to be the disappointment of the lot. Sigh.
Will I repurchase this? Nope. If anyone wants to take this off my hands, please let me know. It probably won't break you out like it did me but hey, no guarantees.

I must admit, I bought this on a whim. I mean, I already own tubes of thermal water sprays; do I need yet another facial mist? Well, when it says CITRUS on the bottle, oh hell yes I do.

This facial spray smells like a mixture of lemongrass and lime. I didn't think I'd like it when I first sniffed the bottle (you know how you open the top and just sniff the nose?). But when it was sprayed on the skin, it actually smells really good!
I didn't find this facial spray to be any more hydrating than my thermal sprays, which are cheaper. It just smells a lot better, that's all. This can also be used as an aromatherapy pillow spray. I think I prefer it as a pillow spray.

Will I repurchase this? Probably not. I'll save my money for other "spur of the moment" purchases instead.

Conclusion
If you've gotten this far to this super long post, good on you! Boy, I sure talk a lot, don't I?

It's a 50-50 on these Michael Todd products that I purchased. There are two that I really like and two that are just so so. Having said that, I'm now very keen on trying out other products from the brand and this time, I'll be getting the moisturisers and serums. I'll be placing another order once the Charcoal Detox cleanser runs out.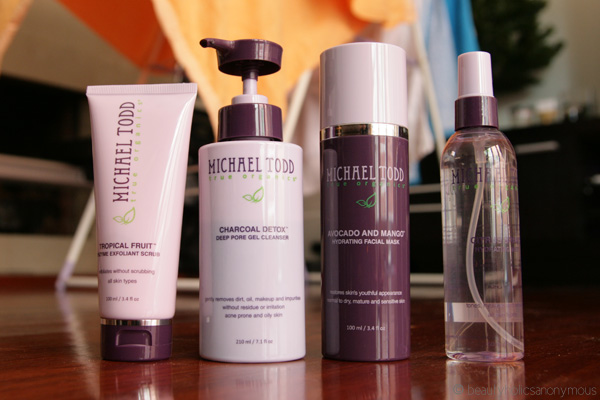 If you're new to Michael Todd and would like to try out their products, do sign up to their mailing list as you'll get a 10% discount coupon for your order. You can always unsubscribe later.
The skincare products are actually pretty affordable for organic products so they're definitely worth checking out. Plus the shipping fees aren't bad either. Australia Post, please revise your shipping fees because it's ridiculously high.
If you've tried Michael Todd products, are there any particular ones you'd recommend I try?