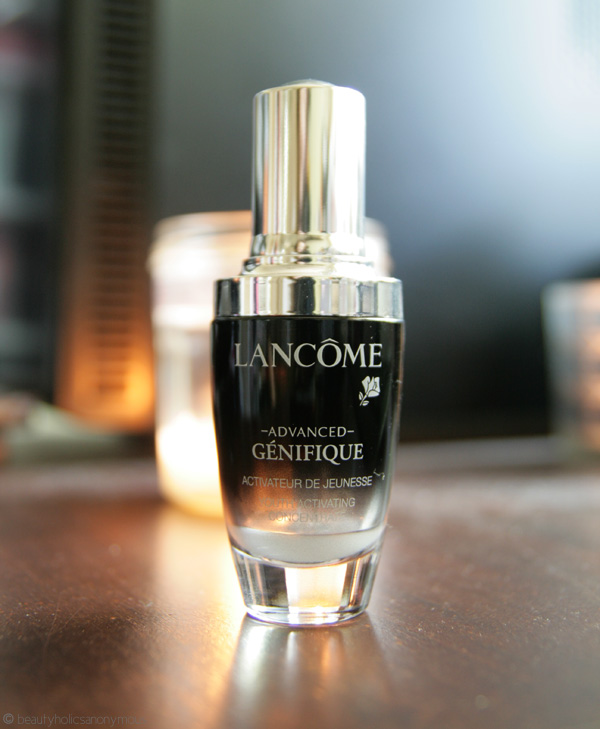 When I used up the last drop of Lancome's Advanced Genefique Youth Activating Concentrate a couple of days ago (y'know, after whacking the back of the bottle a few times for the rest of the "juice" to come out?), I realised that I didn't even review this. I thought I did! *scratches head*

Oh well, now that I've finished the 30ml bottle of serum in 2 months, this is a good time for me to let you know what I think of it.
The Advanced Genefique is the reformulated version of the original Genefique (launched in 2009) with extra oomph. Now, I've not used the original formula so I can't compare the two. I can only tell you what I think of version 2.0.
And it's actually pretty darn good.
Description:
Inspired by the latest discoveries in gene science, our research laboratories have revealed more about key skin functions that help to maintain its youthfulness. With age, these functions are altered and the recovery ability decreases. Enriched with new active ingredients, Advanced Genefique has been formulated to boost visible signs of youthfulness and to help skin's recovery during the day and night.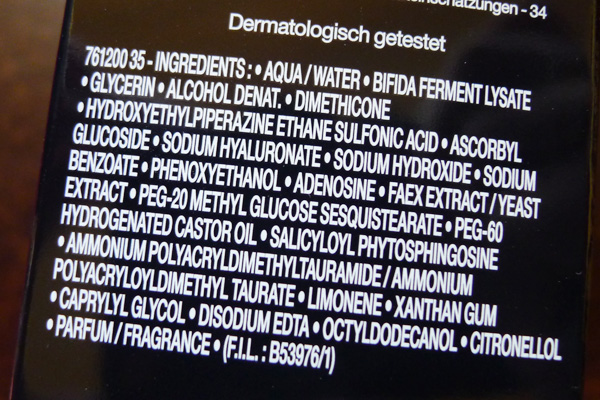 The serum has a very light, translucent lotion that looks a little like barley water. It's very runny which made me think I might need a lot of it on my skin for it to work. It's quite the contrary as one pump of a pea-sized amount is more than sufficient for the face, neck and decolletage.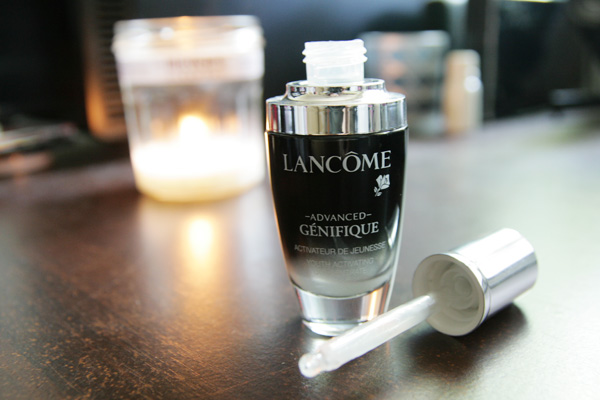 The serum applies on the skin like watered down lotion at first but it becomes slightly viscous after it's spread out on the skin. It absorbs quickly to the skin without leaving any greasiness behind.
The Advanced Genefique claims to target fine lines, coarse wrinkles, radiance, clarity and evenness of the skin. So, let's see if those areas are addressed, shall we?
Fine lines: I've used the entire bottle and the fine lines are still there. I've noticed slight improvement on the naso labial lines which leads me to point 2.
Coarse wrinkles: This is where I saw the difference. While it used to be quite apparent before after I laugh, it has reduced somewhat. It's still there but it doesn't appear that deepset any more. I also have quite a deep line in between my eyebrows from excessive frowning (smile, ladies!) and it's not as obvious now.
Radiance: This is where I saw the biggest difference. I love serums that give me bright and radiant skin (note that I didn't mention whitened skin) and this one delivered results. It looks healthier too.
Clarity: I wouldn't say that this helped clear my skin of breakouts completely because I still experienced the odd breakout, especially during that time of the month. But as an all-rounder, my skin does look clearer than before.
Evenness: My skin tone does appear more even toned after using the serum.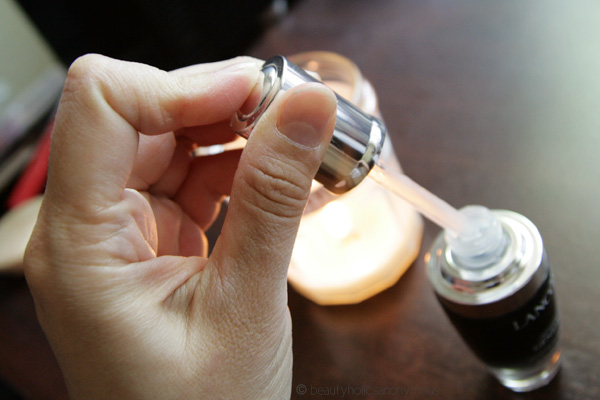 Another interesting point of the serum is the self-loading dropper that was inspired by automatic droppers used in research labs to precisely administer the perfect dose. You don't even have to press it like a dropper to pick up the serum. With one twist, it takes up just the right amount of product for optimal application. All you have to do is unscrew the top and press the button on top to deliver the amount of serum you need for your face, neck and decolletage.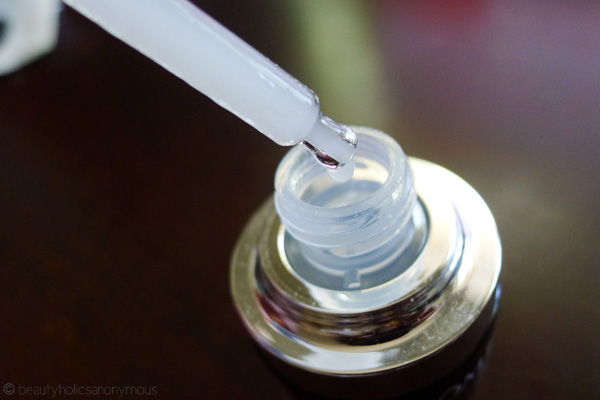 The only thing I'm not a fan about the serum is the fragrance. It has quite a heavy floral fragrance that I find highly unnecessary in a serum that does a lot for the skin. The added fragrance didn't irritate my skin but it's definitely worth noting especially if you're not a fan of scented skincare.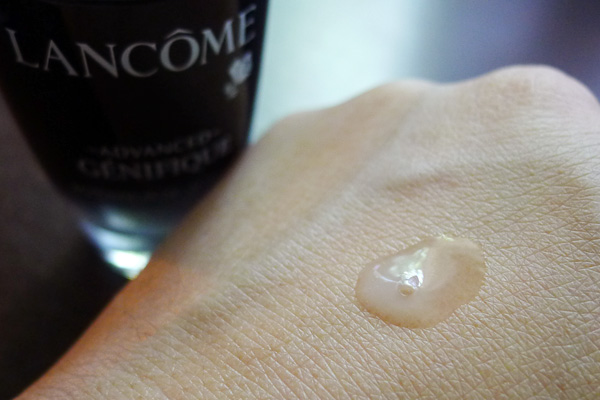 The Advanced Genefique (known as the little black bottle in Asia) is often compared to Estee Lauder's Advanced Night Repair Synchronised Recovery Complex II (funny enough also known as the little BROWN bottle). I've tried the two serums and personally, I prefer Estee's Lauder's. In terms of results, both deliver pretty much the same thing, and that's well-hydrated, smooth, radiant and all-round better looking skin. I'm more drawn to the ANR's physical attributes, e.g. the scent (not as strong as the Advanced Genefique) and the texture (not so runny).
It's up to you to decide which serum you'd like to try out. Lancome's Advanced Genefique has a slightly better price point to Estee Lauder's ANR (you can try a 20ml bottle for AU$55 which is actually a pretty good price). If budget is an issue, then I'd say give the Advanced Genefique a go.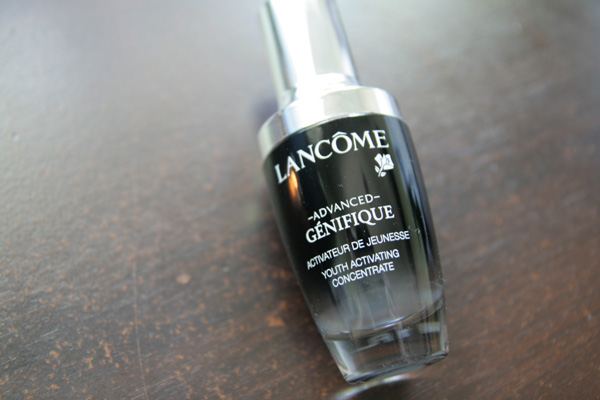 Lancome's Advanced Genefique Youth Activating Serum retails at AU$55 for 20ml, AU$88 for 30ml, AU$125 for 50ml and AU$170 for 75ml. The price difference between US and Australia for the 30ml is minimal; it's US$80 for the 30ml. That's very good news especially when it's a well-known fact that a lot of products are marked up so highly in Australia.
What I like about it: It's a good all-rounder serum for skin hydration and radiance.
What I do not like about it: Unnecessary added fragrance, which is quite strong.
Have you tried the Lancome Advanced Genefique? What are your thoughts? Did it work out well for you?