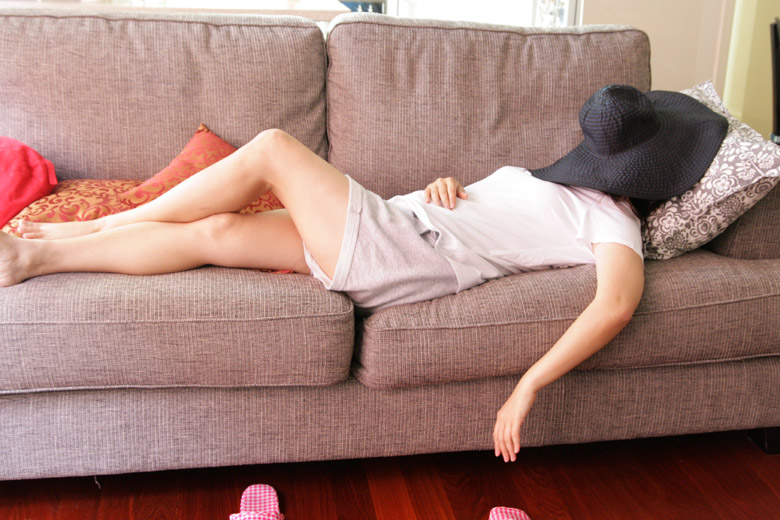 Melbourne weather, you're a tease, is what you are. You throw me in hot pan with the stinking heat. Then you tantalise me with your cool change. Just when I thought I love you for that delicious cool breeze, you pick me up and drop me in the oven again. Gah, tease!
Please excuse the rant. We've been going through weeks of over 35C heat and stretches of over 40C for a while now and it's driving me crazy. Now I know, South Australia and Western Australia have it a lot worse. Seriously, I take my hat off to you SA and WA folks because I don't know how you do it. I'm a terribly sook when it comes to the heat. It's like my brain ceases to function normally when it's so hot outside.
I'm the sort of person who thrives in cold weathers. It's funny because I grew up in Malaysia, where it's hot and humid 24/7. It wasn't easy, let me tell you that. My favourite past time after doing my homework would be to literally lie on the marble floor. I may be reading, listening to music or even napping but it must be on the floor.
As I work from home, it's imperative that I come up with solutions to cooling oneself mainly because I have no working air conditioning at home. Our AC had stopped working towards the end of last summer and we forgot to get it fixed until we were smacked with the 40+ degree heat. *facepalm*
These are some of the ideas I came up with. If you're suffering from the heat too, join the club and we can do these things together. 🙂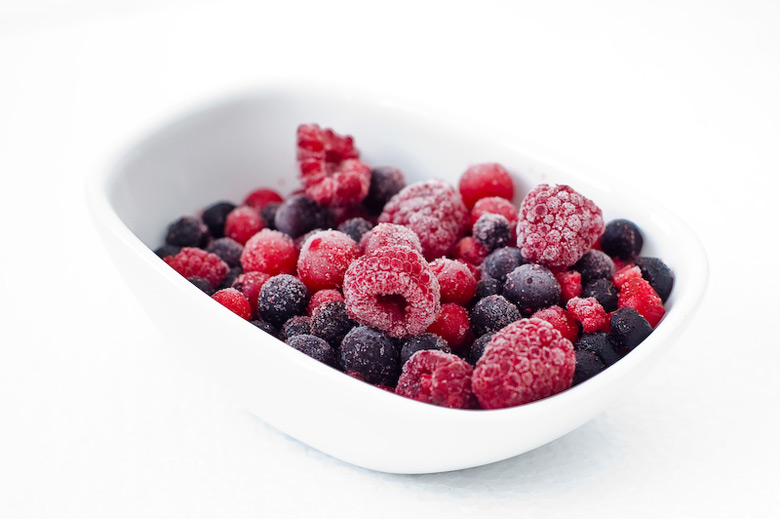 Enjoy frozen fruits
Ooh I like this one. I don't mean rock-hard frozen fruits. Simply cut up bite-sized pieces, put them in the freezer for 30-45 minutes and enjoy the icy crunch of the fruits. For the rock-hard frozen bits (it happens. I put them in the freezer and only realise they're there the next day!), add them to lemonade. They serve as ice and makes the lemonade taste even better. Delish!
Use a foot spa
If you have a foot spa (or borrow from mum or gran), use it at the end of the day. Fill the foot spa with warm or even hot water and epsom salt. Be careful using the epsom salt in the foot spa. Read the manual first to check if it's possible for you to add any form of salts onto the appliance. I know, it's downright insane for me to suggest dipping your feet in hot water when it's stinking hot outside, but when you take your feet out, they'll be met with this awesome cool air. Plus the hot/warm water and epsom salt will take the weariness out of your feet after a long day.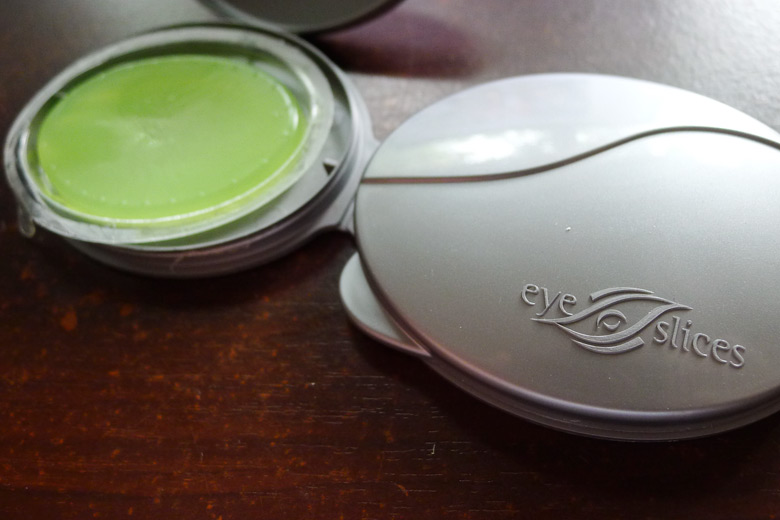 Apply an eye mask
When it's stinking hot outside, you'll want to dunk your head in cold water and probably keep it there. Why not do something similar AND treat your skin at the same time?
I like the EyeSlices* for this. They're small gel masks that go over the eyes. I keep them in the fridge so that they're cold when they go on my eyes. Pop them on and ahhhhh…feels so good. Great for reducing eye bags too.
Apply a facial sheet mask
If you're going to put on an eye mask, why not go all the way and put on a facial sheet mask as well? You won't be able to see for a while with the eye mask on as well but hey, it's hot outside. Relax! Put the mask in the fridge 30 minutes prior to application. It feels ah-mazing on the skin and you keep your skin well hydrated in the dry heat.
Stay indoors as much as possible
Okay, this is going to be another rant but I just have to get it off my chest. I've been living in Australia for 6 years now and every summer I have to hear silly news reporters say on TV "it's going to be a scorcher today; best place to go is the beach!".
Er, sorry but no. When it's so hot outside and the UV rating very high to extreme, the best place to be is indoors. I never understood (will probably never understand) the it's-hot-let's-go-to-the-beach culture. When it's at 40C, you don't even brown. You burn within minutes despite the amount of sunscreen you use.
It's highly irresponsible to encourage the public to go to the beach when it's so freaking hot. Sure, you might enjoy the water for a short while but when it starts to feel like drool and the pain from sunburnt skin is unbearable, it's not worth that short enjoyment period. Let's not even mention how much quicker you'll age.
Okay, now that I've gotten off my high horse, let's move on.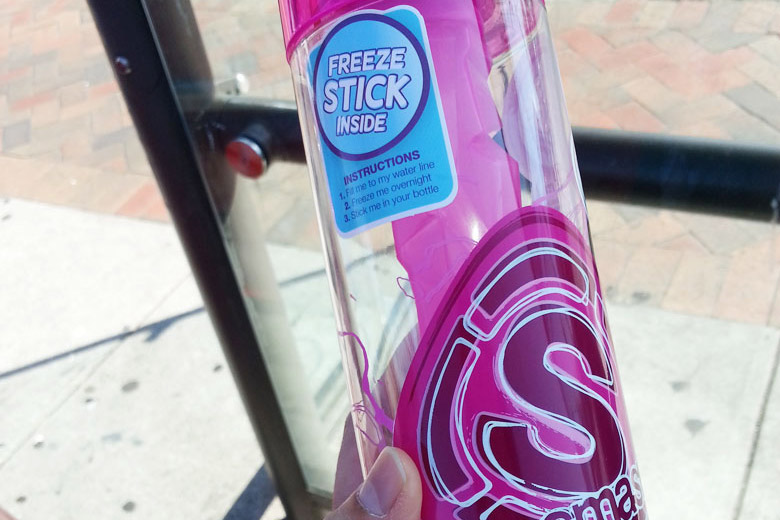 A freeze stick in the water bottle = brilliant idea
Stay hydrated by drinking a lot of water
I used to be rubbish at remembering to drink water. Kid you not, I've gone a day drinking only one glass of water once, and that's because I finally remembered to drink something. Terrible, I know. I now keep a bottle of water with me at my desk at all times. I usually forget to refill my glass or cup but at least with a bottle, I'll be drinking at least 750ml before I forget.
Keep a can of facial mist in the fridge and spray away!
This is my favourite. My weapon of choice is Uriage's Thermal Spray but you can use the one by Avene or Evian. Heck, go ahead and just spray yourself with good ol' water if you like. Best if kept in the fridge first.
Wear a wide brimmed hat when you're out and about.
Hat hair may not look good but it's a lot better than a baked head (which also comes with headaches and one cranky mood).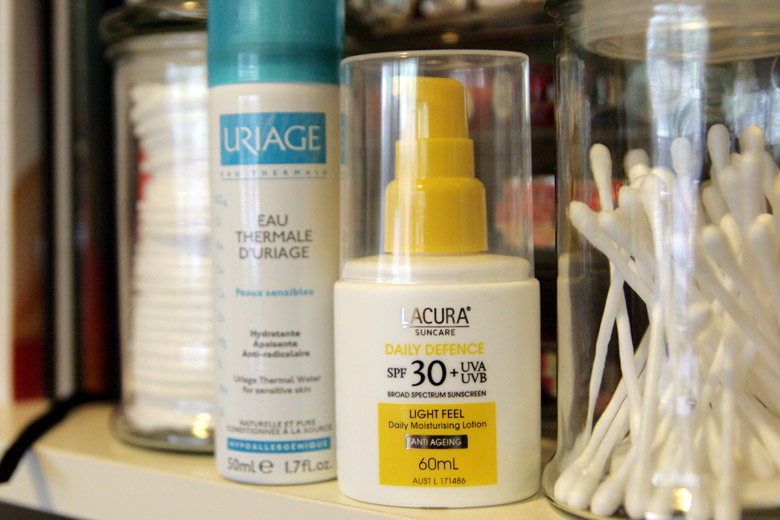 Make sunscreen the most important thing in your skincare
It's not a way to stay cool but you have to protect your skin nevertheless. Carry a travel-sized version with you when you're out so that you can reapply after every few hours. Cancer Council Australia has handy travel-sized ones that are really good.
Tim and I sleep with 3 fans in the room. Now that we have Janey, we leave one of the fans out in the living room for her where she sleeps. Our best fan purchase this summer was this mighty fan we bought just a day before the first forecasted 43C day. We could have a small Dyson that not only cost us a fortune but will take ages to cool the room down, or we could have a big-ass fan. We opted for the big-ass fan. 😛
Big ass fan is big
Good Lord, this post is long. If you've read all the way down and it's super hot now, I salute you. This post was written a few days ago when the cool change came. Knowing me, I'm probably lying on the floor next to Janey now trying to keep cool. Or I'm in Chadstone enjoying the free AC. Who knows? 😉
If you live in areas where it's constantly very hot, how do you keep your cool? No really, I want to know because this sook is melting here.
Note: The product marked with * was provided for editorial consideration.