Last week, I tweeted this:
Sometimes I looking at this blogging thing and I wonder if I'm doing it correctly. Or am I just over thinking things like I always do?

— Tine (@fortheloveofme) March 3, 2014
I drafted this post soon after I tweeted that but I debated on whether to actually publish it or not. I don't want the post to come across as feeling absolutely sorry for myself, oh poor me, I'm an ungrateful blogger, boo bloody hoo. After sleeping on it for days, I've decided to publish it because even though it does sound very boo bloody hoo, I have a niggling feeling that I'm not the only blogger who feels this way from time to time.
So here goes nothing. You can probably feel my nerves here from miles away.
I wasn't having the best of the days that day. Everything irked me. It wasn't PMS, mind you, although I can understand why that can be a potential reason since I can be a cranky cow during that time of the month. No, it sure wasn't PMS. I was reading tweets and Facebook status updates from bloggers on how well they're doing, how much traffic they've achieved (and we're talking about tens of millions here) … and that pretty much sent me over the edge.
Truth be told, I was insecure and frustrated about my blog.
I took to Twitter and in my shallow insecurities, I sought after validation. And I got them. Many thanks to you who replied my tweet with words of encouragement. It was the slap in the face I needed to stop wallowing in self pity and look at what I have, not dwell on what I don't.
It's only human to be question yourself if what you're doing is right. It's only human to be envious of other people's achievements and for a minute or two, forget what your own. It's like a green blanket over the eyes and it feels downright petty. Yet, I'm only human. Call it an advantage or even a downfall of mine, but I do tend to over-think things from time to time. Shower times should usually be relaxing but they're also the times when my mind starts wandering and it tends to think of the worst that could happen.
At the risk of being candid and also a total sook, I thought I'd share some of my blogging insecurities and frustrations with you.
My total web traffic is pretty abysmal. You might think it's not, but it is. I've been blogging for 7 years and, it pains me greatly to even admit this but it doesn't go over a total of 3 million views. A lot of bloggers I know who started much later have well surpassed that figure. Of course, I did mention last week that my web stats aren't all that accurate but after doing the math, that's the figure. I also had to take into consideration that year that I barely blogged and almost called it quits. My traffic is a lot better now but many a time, it's like watching grass grow.
My mind goes on worry overdrive every time I accept a sponsored post. Will my readers like it? What if they don't? What if they think I'm a sell-out, even though I am doing this full-time now? Will they understand that I always put them first? Will they also understand that I have bills to pay? Will the advertorial turn out all right? Will all these questions in my mind ever stop?
My photos are okay but they can be a lot better.
My writing is okay but they can be a lot better.
Every time I receive an email notification that a reader has unsubscribed from my blog, I want to cry out to them "Y U LOVE ME NO MORE?"
There's so much I want to do all at once but due to some health issues I want to sort out first, I wonder if I'll be able to do them all. One thing at a time, I know, but do you ever get the feeling that sometimes, you just want to do it all?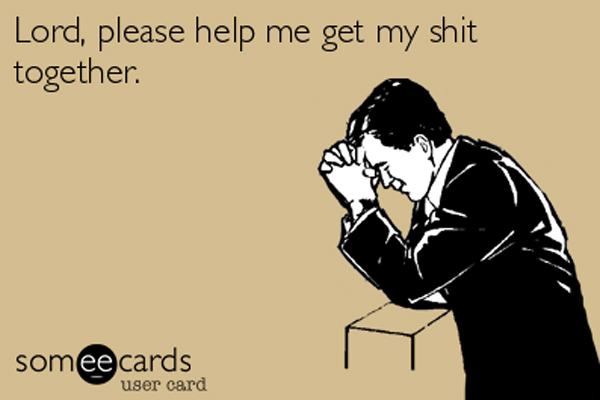 There's a lot more but I'll stop for now. Most of the time, I'm just overthinking things. I hear it can be a good thing and that I'm constantly evaluating myself to do better. At least, that's what I keep telling myself.
I'm not writing today's post to complain, to seek your validation nor ask for your words of encouragement although I do highly appreciate them. If you're a blogger, you may feel all these too and worry that it's probably just you. No, it's not. It's something a lot of bloggers go through but seldom talk about it. If you're not a blogger, then this is just a little insight of the insecurities I go through on a daily basis when it comes to blogging.
I thought this might be a good time for you to share one insecurity and frustration you have about blogging if you're a blogger. Just one will do although please feel free to share more only if you feel like it. If you're not a blogger, do share one insecurity and frustration you have in your job. There's absolutely no judgement here. Hey, I already told you my web traffic is shite. 🙂
Better yet, what did you do to overcome those insecurities and frustrations? What did you focus on to pull through?
Bloggie Wednesdays
is a series of articles just on blogging. They contain tips, how-tos, discussions about anything and everything you need to know about blogging and how we can be better bloggers. If you have any suggestions, tips and tricks about blogging you would like to share with us, or if you have any questions you would like me to address, please let us know in the comments.