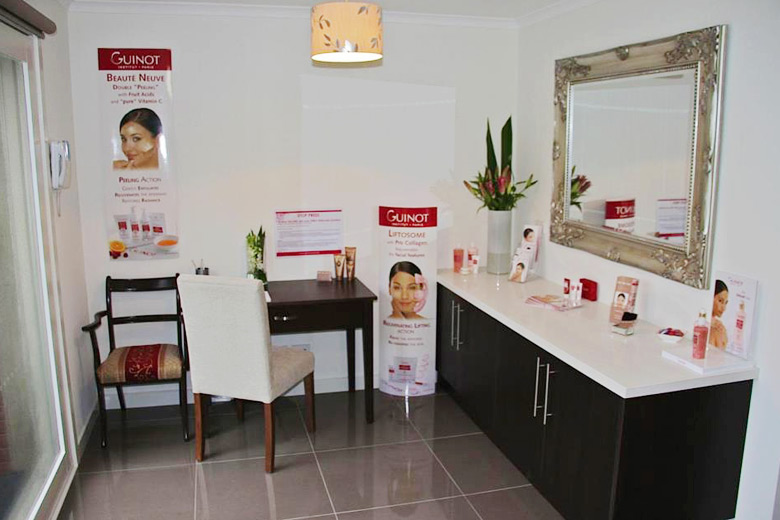 © Bare Skin Bliss
What: Guinot Beaute Neuve Facial
Where: Bare Skin Bliss, Hughesdale
Duration: 60 minutes
Beauty Therapist: Alexandra (Alex) Collios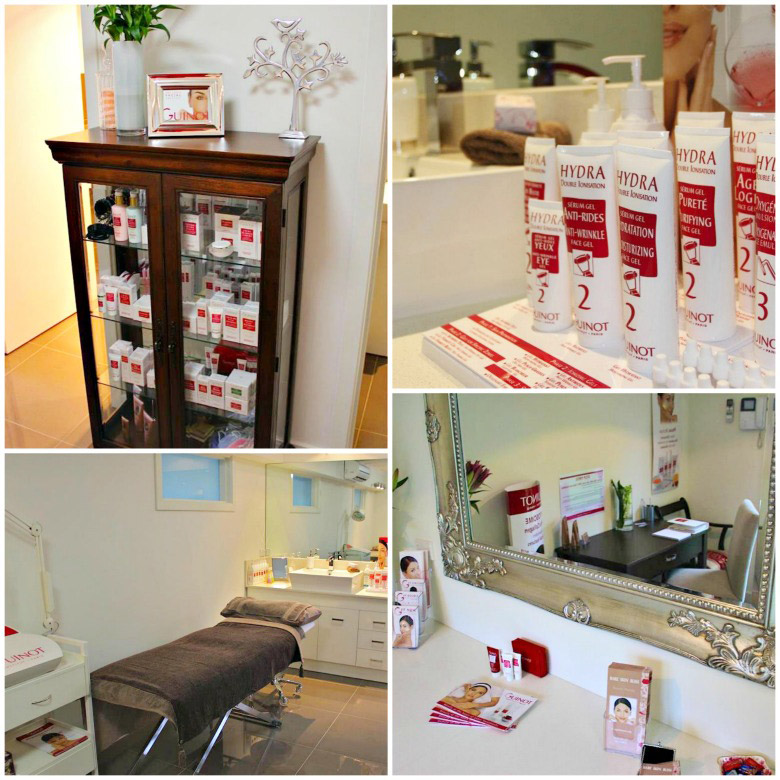 © Bare Skin Bliss
Experience:
My first experience with Guinot's Beaute Neuve Facial wasn't actually at Bare Skin Bliss. A month prior to my facial at Bare Skin Bliss, I was given a complimentary facial by Guinot as an introduction to the new Beaute Neuve facial at the Australian College of Hair Design and Beauty in the city.
As the facial was conducted at the college, it didn't have the comforts and relaxation of a proper salon or spa (think perpetual bright lights overhead during a facial). To be honest, I was pretty darn sure I wasn't going to enjoy the facial at all.
Funny thing was, even though the environment wasn't exactly conducive for a relaxing time, I ended up loving the results of the facial so much that I booked another Beaute Neuve facial a month later much at a home salon closer to where I live.
Guinot's Beaute Neuve is pretty much a fruit acid peel facial. According to Guinot, using fruit acids, the treatment begins with the Peel In gel that separates the dead skin cells from the living ones, followed by the Peel Out foam that exfoliates the skin to eliminate the dead cells and stimulate cellular renewal. A Vitamin C mask completes the peeling effect, lightening brown spots and boosting radiance to the skin.
As it was a peel, I was apprehensive at how much this was going to sting my skin. I've only had a peel once and it was a chemical one that stung the skin quite badly, even though the results were very good. I was very pleasantly surprised that I barely felt any stinging on my skin with the Beaute Neuve. I had a mild tingling that wasn't uncomfortable at all.
My experience with Alex at Bare Skin Bliss was good. She explained everything to me clearly, told me what she was doing to my skin every step of the way and her home salon was relaxing. During the facial, while the mask was on, she gave me a lovely neck, arm and hand massage as well. I love it when beauty therapists use what I call "mask down time" to work on other parts of the body, even though it's just a facial. For most facials I have in Malaysia, the beauty therapist leaves the room during "mask down time" without giving you that extra bit of massage. If only I had a dollar every time I wanted to call out to them with a sheet mask over my face, "oi you're not finished!". 😛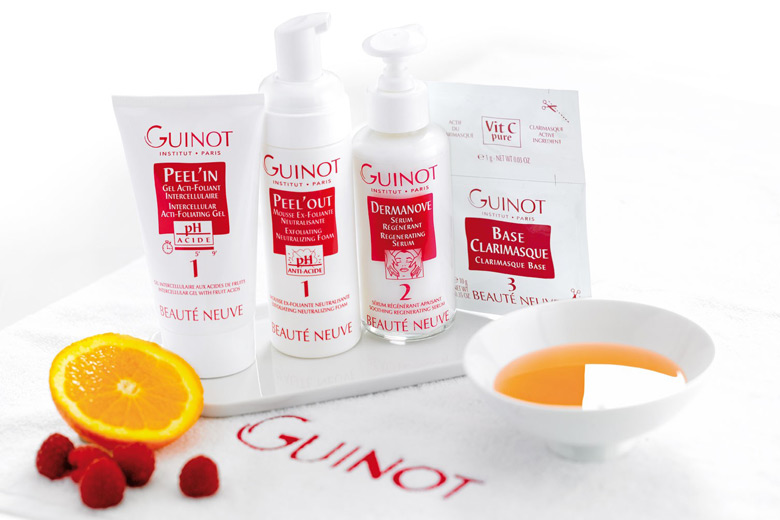 Products used:
Guinot Beaute Neuve Peel In Intercellular Acti-Foliating Gel, Peel Out Exfoliating Neutralizing Foam, Dermanove Regenerating Serum, Clarimasque Base, Beaute Neuve Radiance Renewal Cream. There were more but I completely zoned out during the facial to remember what they were. 😛
Verdict:
Here's why I had to go back for a second facial – instant smooth and soft skin that lasts for almost one week. ONE WEEK! I very rarely have facials that last more than one day, unless they're the more intensive ones like microdermabrasion or skin needling. That's why for years I believe that facials are pretty much just a long pampering session of your skin that you pay someone else to do for you because most of the time, the results don't last after your next facial cleanse.
I'm glad to say that the Beaute Neuve changed my mind. The results I got from the facial was fantastic. It was visibly smoother, felt a lot softer, looked more radiant and I couldn't stop touching my skin right after the facial (up to a point when Alex had to ask me to stop touching my face!). It allowed my serums to sink in better too. Well, colour me impressed.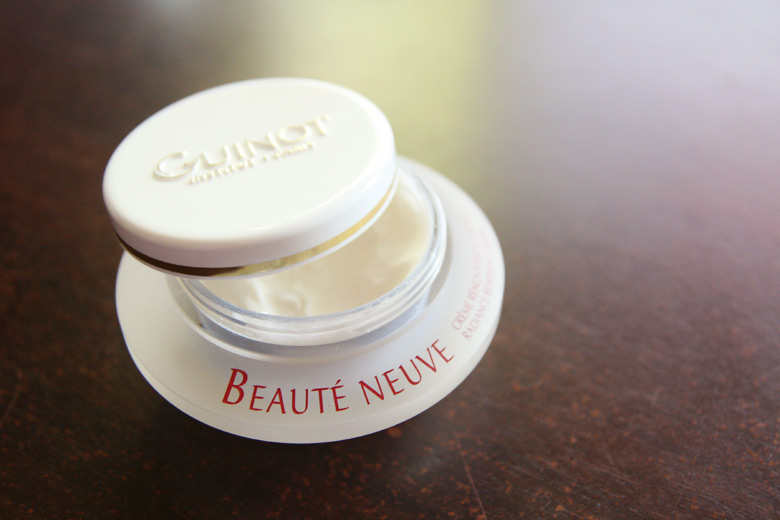 During my first Beaute Neuve experience at the beauty college, I was also given a press sample of the Guinot Beaute Neuve Radiance Renewal Cream, which is a moisturiser that complements the facial well. I've been using it for over a month now and find it a decent moisturiser. Smells really good too.
Is the Beaute Neuve suitable for sensitive skin? During my introduction to the facial, I was told that the facial is suitable for all skin types, even sensitive ones. They had a client who had terribly sensitive skin and when she went for the facial, her skin was already very red. During the facial, even though she experienced very mild tingling, it wasn't uncomfortable. When the facial was over, the redness on her skin had reduced significantly.
Of course, I only heard about this and as I don't have sensitive skin, I cannot tell you firsthand that sure, this is absolutely fine for sensitive skin. If you do have sensitive skin, please double-check with the beauty therapist first prior to booking an appointment.
Having said that, will I go back for another Beaute Neuve facial? Heck, where do I sign up? YES! 😉
Hook me up!
Bare Skin Bliss
2 Brine Street
Hughesdale
VIC 3166
Tel: 0403 489 629
Was this a complimentary service? The introduction to the Guinot Beaute Neuve facial was a complimentary treatment. I paid for my second facial (and will have subsequent ones) at Bare Skin Bliss (AU$110 for 60 minutes).