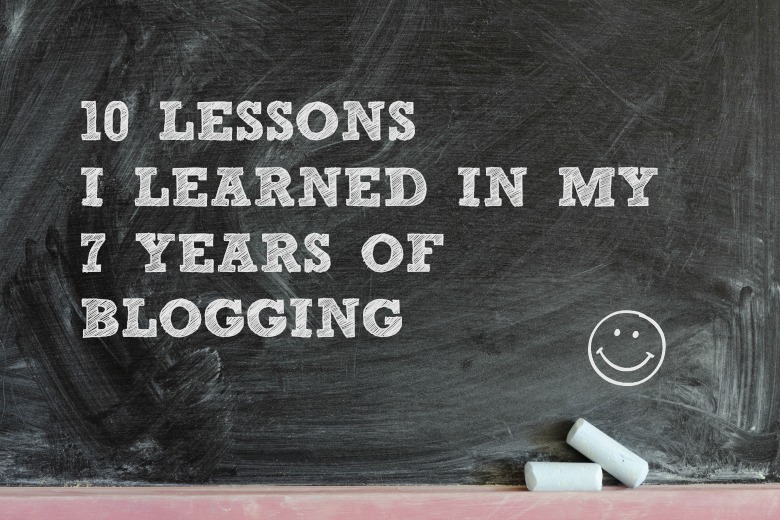 © Yury Zap
Whaddyaknow, this year (and this month in fact, hence all the giveaways I've been running in May) Beautyholics Anonymous celebrates her 7th anniversary. I didn't think the blog would stay on for so long and go this far. In fact, I was more than ready to give it up in 2010 when I had completely run out of blogging juice (I blog almost daily now but back then, it was something like 3 posts a month). Who knew that I would continue on for the next 4 years? Who knew I'd actually turn it into my full-time job? Who knew I'd be meeting so many people I never thought I'd even get the chance to?
I certainly didn't. And what an adventure it has been.
Seven years may seem like a long time but I've met bloggers who have been doing it for well over 10 years and they're still loving every minute of it. For all its ups and downs, blogging has brought me more friends and opportunities that I never thought I'd get. It got me out of my rut when I first moved to Australia 6 years ago. It made me lifelong friends that I wouldn't give up for the world. It gave me wonderful experiences that I would carry with me for the rest of my life.
I've learned a lot going about this blogging journey and I thought I'd share 10 lessons I've learned about blogging with you. Some I had to learn the hard way, the others were thankfully better.
My blog is only as good as my last blog post
If a magazine editor is only as good as her last cover, then I can say the same for a blog and its last post. I can produce the best content that I believe I could write but at the end of the day, what anyone who stumbles upon my blog will see my last post first and if it's not a good one, then my blog will not be good enough. It's a harsh reality and a lesson I've learned to always write the produce the best blog post that I can.
It's a privilege to receive products for review and never something to be taken for granted
I'm thankful for every single product I've been given. Without them, this blog cannot function 100% the way it is now because I don't have unlimited funds to always be buying new products to try and review. Without them, I wouldn't have stumbled upon so many fabulous products that I've overlooked. While I cannot possibly review every single product that I've been given, it's a privilege that I don't take for granted.
When ads make the blog look like crap, I have to let them go even if I make less money
For years, I've been having on-and-off issues with my advertising network and lately, I've been seeing a couple of unsightly ads on my blog where the background was re-skinned to fit the advertisement and my content pushed down to accommodate a video above the banner. This is a premium advertisement that would bring me higher revenue than Google Adsense but I opted to take it down because, quite frankly, it just made the blog look like crap. It distracts readers from the content. I'm very proud and possessive of my baby and I would rather earn a lot less than lose my readers to a few more advertising dollars.
If I don't ask, I don't get
This is something I've struggled with almost all my life and I have blogging to thank for to push me out of my comfort zone, to open my mouth and ask. Ask for ideas, ask for help and ask for opportunities. I can't even begin to tell you how much the blog and I have grown just because I finally dared to open my mouth and ask. And not, in the words of my mum, "be a timid mouse".
Lots of storage space is needed because where the heck are you going to put all 'em lipsticks?!
If you're a beauty blogger, you'll know what I mean. And that's all I'll say about that. 😛
It's okay to be envious of other bloggers' achievements
It would be foolish and highly unrealistic of me to say that I don't feel even the tiniest twinge of envy when my fellow bloggers win awards, get amazing opportunities to go places, have sky-high traffic to their blogs and so on. I'm human after all. I'm happy and excited for them but that doesn't mean I don't feel envious and sometimes wonder, why not me? Whenever the green monster surfaces, I tell myself that it's not a matter of why not me, but what it is that I can do better for it to BE ME. Don't let envy be what stops you from blogging or let it allow you to resent other bloggers. They've put in the hard work on their blogs and they deserve their achievements. But hey, it's okay to be envious.
Writing product reviews alone is boring as arse
I've mentioned this before but I'll say it again. As a reader, wouldn't you find it boring as arse to only read product reviews on a beauty blog? I do, and I sure finding writing them alone dull. Don't get me wrong; I enjoy reviewing products but when you've written, photographed and published 10 reviews back-to-back (and probably don't want to look at another beauty product for a while), it's time to come up with something different. I find it so important to mix the blog up with different types of stories. While a beauty blog is usually mostly about product reviews, it doesn't have to be. Throw in a few beauty stories, anecdotes and even just pictures (Wordless Wednesdays used to be very popular) and it breaks up the mundane. I took a risk in writing my Bloggie Wednesdays series because it is quite strange to suddenly read about blogging amidst beauty stories and 2 years later, it's still a hit.
Meeting new people is awesome
I used to be very awkward when meeting new people. I wouldn't know what to say and most of the time, I'd either be a wallflower or I'd stick to my circle of familiarity like glue. Blogging completely shoved me out of my comfort zone and taught me lessons on how to meet, socialise and network with different people. While I wouldn't say I'm really good at it now, it's a vast improvement from sticking to the wall. And meeting readers like you is pretty damn awesome, if I may say so myself. 😉
It's important to know the basics of web design like CSS and HTML
I know it's probably a bit silly for me to ask you to learn the basics of web design like CSS and HTML when I could just ask you to hire me to fix your bloggie technical problems for you (the Chinese calls it "breaking my own rice bowl" 😛 ) but I cannot stress this enough – a blogger has to at least learn the basics. In a blog's lifetime, there will be times when something goes wrong somewhere. There'll be times when you'll want to tweak your fonts, change the width/height of your sidebar, change the banner, etc. What happens when you accidentally make a mistake? Learning basic CSS and HTML will ensure that even if that happens, you'll be able to at least understand what's going on at the backend of your blog. I've had plenty of hair-tearing moments throughout my years of blogging troubleshooting code, plugins, widgets and so on. I can assure you, when you know the basics and are able to fix problems on your blog, that feeling of immense satisfaction is amazing.
Step back and take a break
The problem with working for yourself is finding it hard to take "annual leave" like we would if we're working for someone else. Many a time I'd be pushing through with blog post after blog post till my brains are almost fried from burning out. I don't like taking breaks from the blog because it would seem like a massive change from almost daily posts to zero posts for the next few weeks but when it needs to be done, it needs to be done. It's good to take a step back once in a while and take a break, just like you would at work. Come back, refreshed, brimming with ideas and start tackling again.
I hope you've enjoyed reading the 10 lessons I've learned in my 7 years of blogging. It hasn't been an easy journey but it's one that has made me grow so much. Most importantly, I have all of you to thank for where the blog is today.
Please stay tuned to Friday for the final giveaway of the month. I think it's going to be a good one! 😉
Bloggie Wednesdays
is a series of articles just on blogging. They contain tips, how-tos, discussions about anything and everything you need to know about blogging and how we can be better bloggers. If you have any suggestions, tips and tricks about blogging you would like to share with us, or if you have any questions you would like me to address, please let us know in the comments.