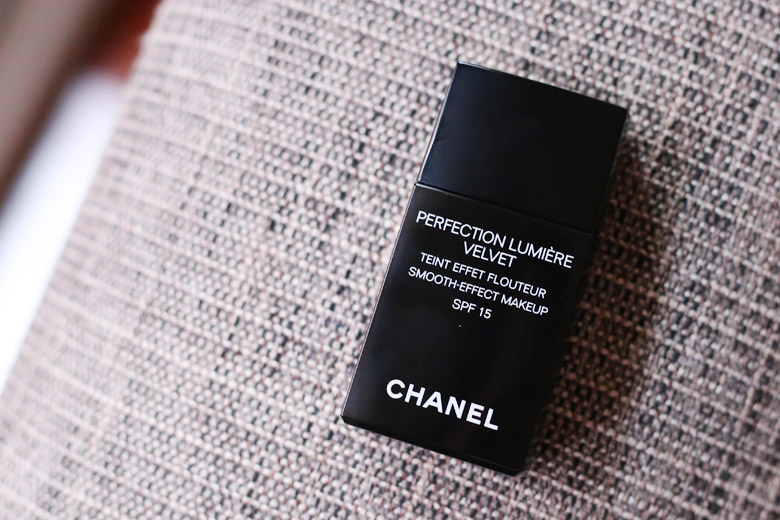 You've probably seen the Chanel Perfection Lumiere Velvet foundation in lots of blogs and heard about it in plenty of YouTube videos. It's one of those foundations next to the Vitalumiere Aqua that has been talked to death on the blogosphere. Oh look, here I am, talking about it as well. Ahem, herd mentality much?
Ahem. 😛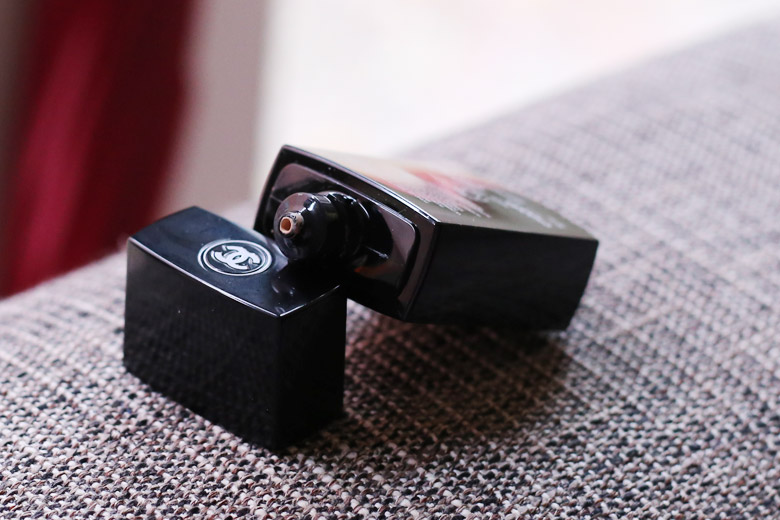 I first tried out the foundation when it came in a sample sachet in a magazine. I can't remember what shade that sample came in but I remembered that it was darker than my skin tone and had strong pink undertones. Weeks later, I bit the bullet and bought one that matched my skin tone much better. Thank goodness I got the shade properly matched and I tried the foundation out again because my first impression of it via the sample sachet was not that good.
Now, I get the hype. It's actually a pretty decent foundation, I must say. Methinks all you oily to combination skin folks (whose skin can take silicone) will like it too.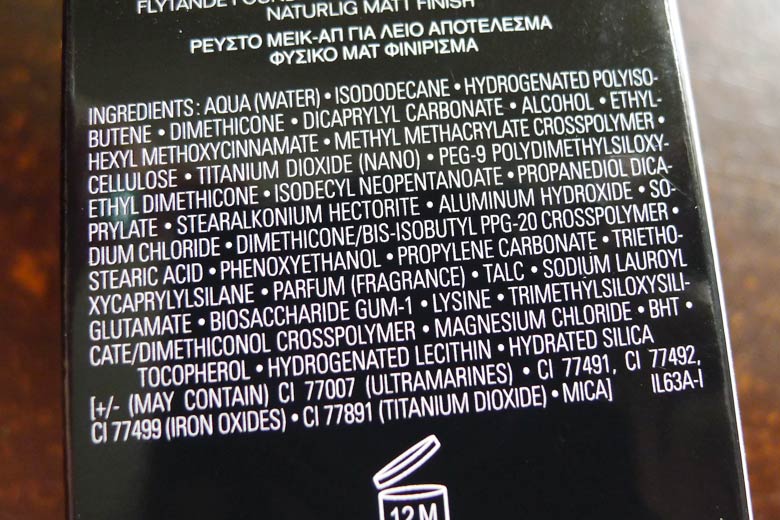 The Perfection Lumiere Velvet foundation is a liquid-to-powder foundation. As the name suggests, it feels like velvet on the skin (due to the high content of silicone) and dries to a matte finish. Coverage is about a medium. As the foundation is very light in texture, it's buildable to higher coverage without looking cakey on the skin but I wouldn't say it'll give you a full one.
The Perfection Lumiere Velvet's scent is very similar to Bourjois' Healthy Mix Serum gel foundation. In fact, if you put them side by side and give the bottles a good whiff, you'll probably think they smell exactly like each other. It has a strong floral fragrance that, to be honest, can be cloying at times.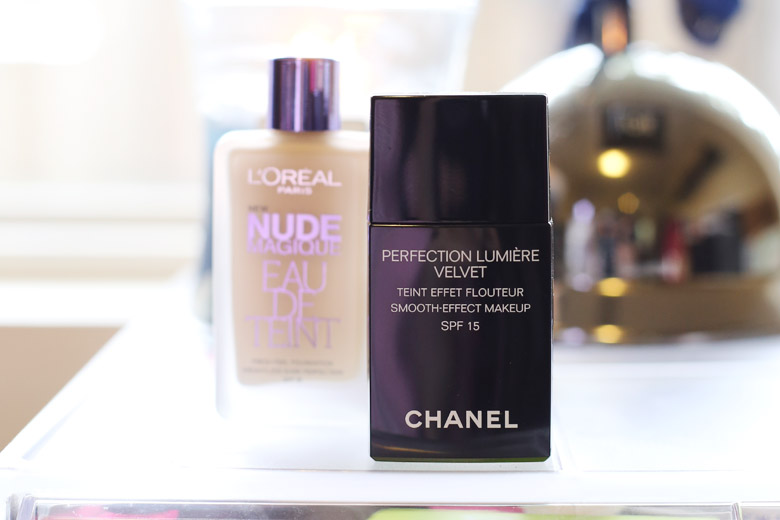 A lot of bloggers mentioned that the Perfection Lumiere Velvet foundation is very similar to the Vitalumiere Aqua that is also by Chanel. I beg to differ. Yes, the Perfection Lumiere Velvet is very light and watery and so is the Vitalumiere Aqua but that's where the similarity ends. The texture and finish of both foundations are different. The Perfection Lumiere Velvet feels like liquid powder; it's very smooth and silicone-y to the touch and when it's blended on the skin, it feels like powder. On the other hand, the Vitalumiere Aqua feels like light lotion and blends like lotion. It feels like conventional light foundations with a semi-dewy finish on the skin. Other than both being very light, I can't say that they're that similar to each other.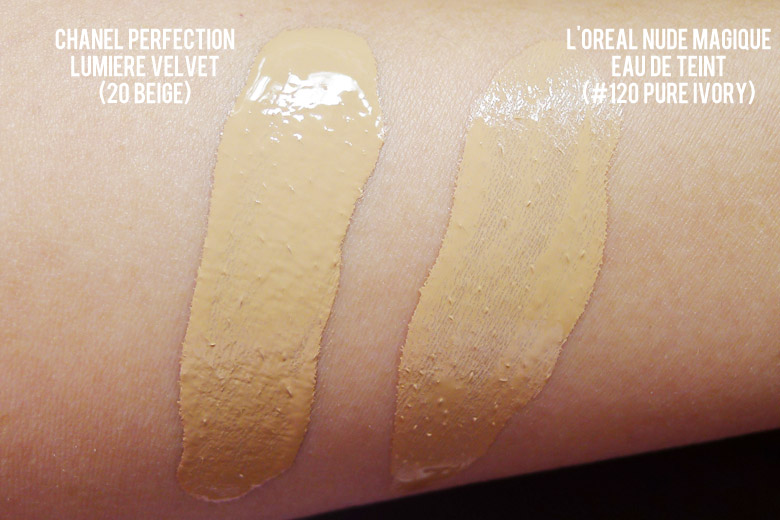 Speaking of similarities, I'd say that the L'Oreal Nude Magique Eau de Teint is a lot closer to the Perfection Lumiere Velvet than the Vitalumiere Aqua. The textures are exactly the same for both liquid-to-powder foundations. Even L'Oreal's shade #120 is very similar to the PLV's 20 Beige (with the same neutral to slightly cool undertones).
In terms of longevity, the L'Oreal Eau de Teint surpasses the Perfection Lumiere Velvet. It stays on longer on the skin without fading. The Perfection Lumiere Velvet showed signs of fading after 8 hours, whereas the L'Oreal Eau de Teint stayed put on the skin even at the 10th hour mark. As for packaging, you know how much I hate the one by L'Oreal so even though the Chanel bottle is a fingerprint magnet, the small spout makes the foundation a whole lot easier to dispense.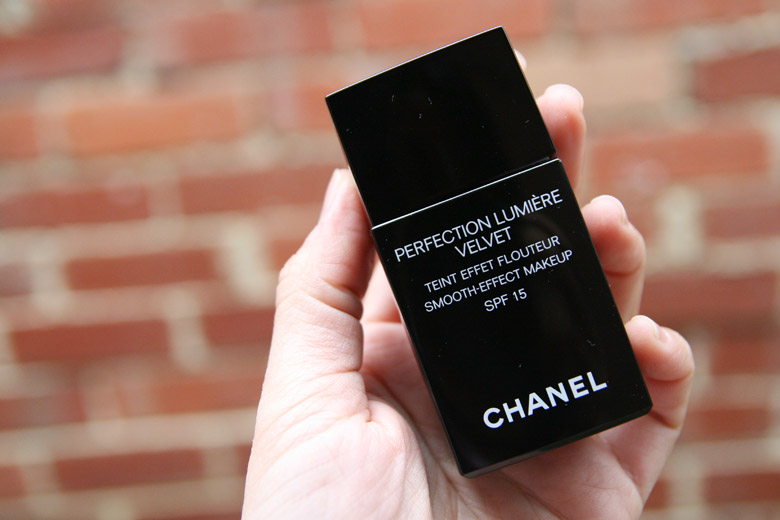 Chanel's Perfection Lumiere Velvet foundation retails at AU$77.00 for 30ml and is available at MYER, David Jones and selected pharmacies nationally.
What I like about it: Looks like second skin but much better, doesn't sink into fine lines, doesn't leave an oily sheen on the skin.
What I do not like about it: Packaging attracts fingerprints, doesn't last on the skin as long as the cheaper alternative, pricey.
Have you tried this foundation before? Do you think it lives up to its hype?