Hands up, who's tried the very popular cult product YSL Touche Elcat? Another show of hands, who amongst you found said popular product didn't work for you as well as you'd expect?
*hand shoots right up*
For the past 6 years, I've been trying out the real thing and plenty of similar highlighting pen thingamjigs, and while the Touche Eclat is actually not that bad, it's a bit lacking for me. Lacking in what, you ask? Funny thing is, I don't really know! I expected more coverage, smoothness and oomph, I suppose. To me, it was only just … meh.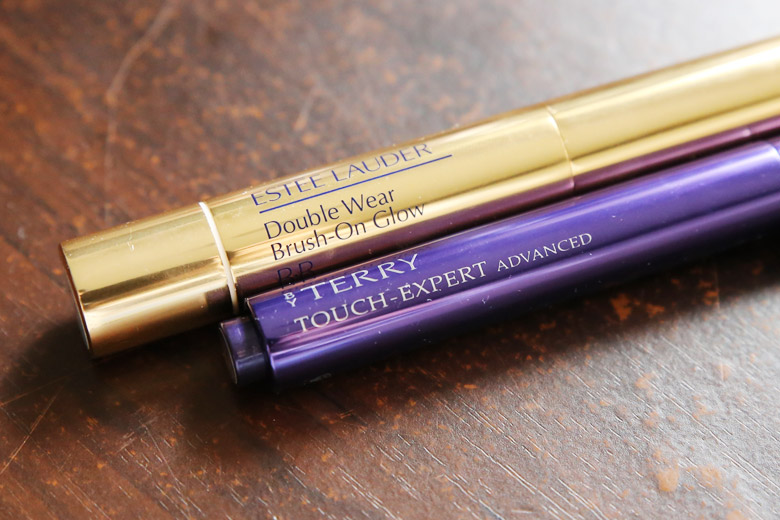 What I couldn't get in the Touche Eclat, I happily got in the By Terry Touch Expert Advanced Ultra-Radiance Active Concealer, whose creator was actually the same creator for the YSL Touche Eclat! It's a more refined and vastly improved version of the Touche Eclat and I love it. But this isn't just a review on the By Terry Touch Expert Advanced.
Come on Tine, what are you going on about?
See, a couple of months ago, I got to try out Estee Lauder's Double Wear Brush On Glow BB Highlighter and whaddyaknow, I like it just as much as the one by By Terry!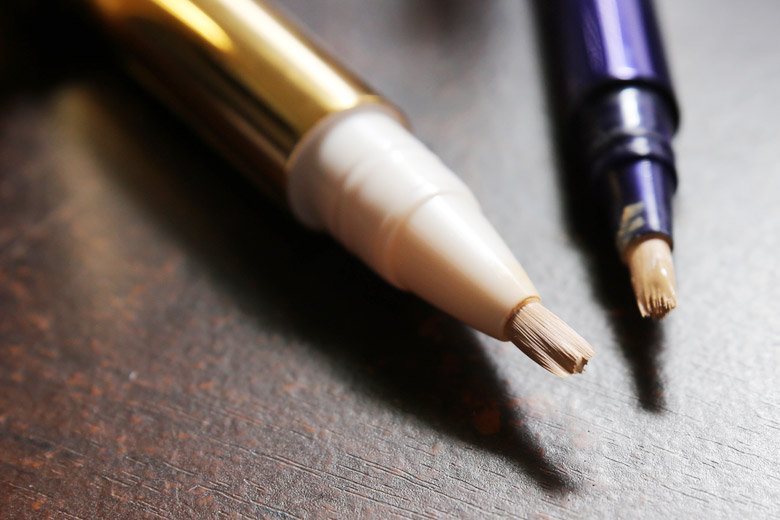 Instead of a clicky pen to dispense product like By Terry's, the one by Estée Lauder is a twisty pen. Both dispense concealer to a small brush at the tip. The Estée Lauder BB highlighter has a slightly rich but creamy texture that dries to a satin finish. By Terry's is light and creamy and leaves a matte finish on the skin. The shade I'm using for the Estée Lauder BB Highlighter is 1C Light, which has cool undertones whereas By Terry's (I'm using shade #3) has warm yellow undertones.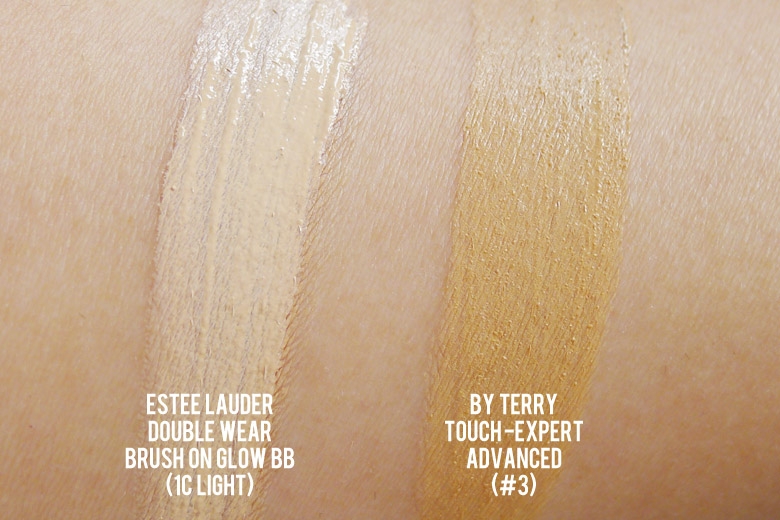 As you'll know by now from the photos you see of me on the blog, I have crepe-y skin under my eyes no thanks to aging and a bad habit of eye-rubbing, which I really am still trying to get under control. You may not notice it in real life (sometimes, even I don't see it) but they're often magnified significantly in photos. I'm wary about using under-eye concealers because most of the time, they exacerbate the lines and droopy skin.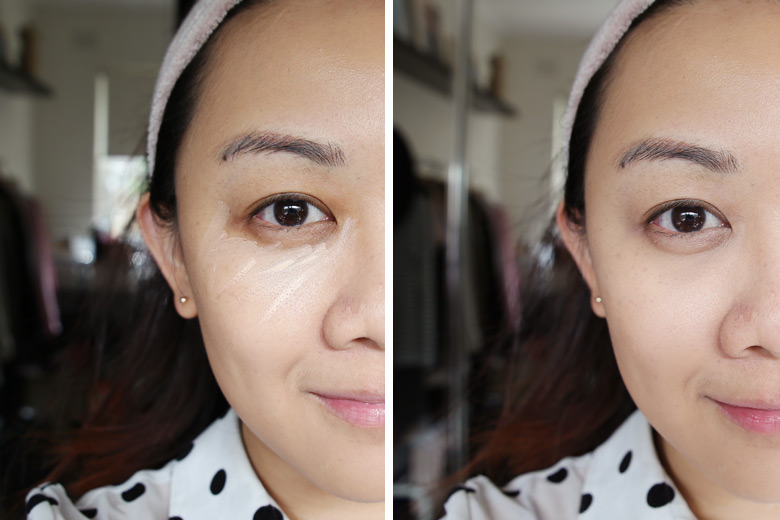 Estee Lauder BB highlighter on my skin
Even though the After photo shows that I still have droopy, lined skin under my eyes, in reality they look much better than before I used either the Estée Lauder or By Terry highlighting concealers. They hide the darkened area below my eyes and don't make me look like a reverse racoon with too much highlighting.
After using both pens, I must say that I actually do prefer the Estée Lauder BB Highlighter to the By Terry one. Even though it's richer and takes slightly longer to dry, the cool undertones make my undereye area look better. Having said that, I do like the By Terry one as well and would still recommend that.
If you were to ask me which one I'd recommend for you, I suggest that you try them both out in store to see which one suits you better. They're both good products and while they're both pretty pricey, you only need a little under each eye. I never understood why some women apply such generous amounts of concealer or highlighter under the eyes. You really don't need that much, especially when that much highlighter can make you look like you've had sunburned skin with white patches below the eyes!
Estee Lauder's Double Wear Brush-On Glow BB Highlighter retails at AU$38.00 whereas the By Terry Touch Expert Advanced Ultra-Radiance Active Concealer goes for AU$68.00 at Mecca Cosmetica.
Have you tried any of these highlighting pens before? What about other highlighting concealer pens? What's your favourite?
Disclaimer: The Estee Lauder highlighter was provided for editorial consideration.
Shop the post!