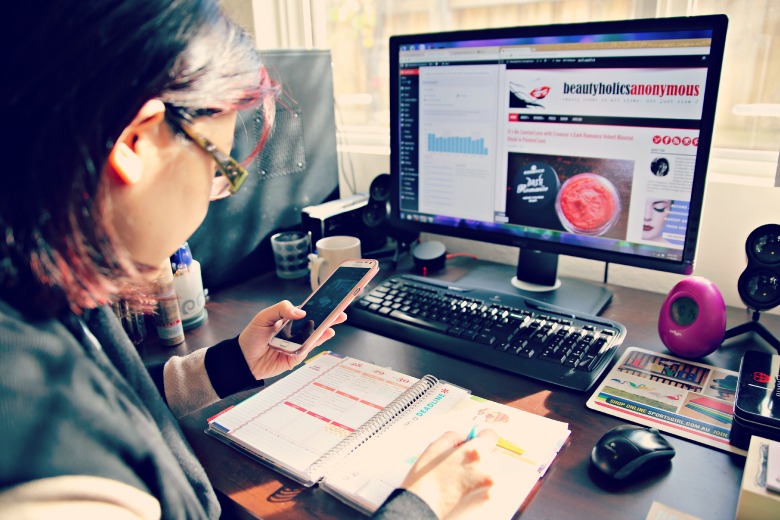 Happy hump day, folks!
First of all, thank you so much for your input in last week's Bloggie Wednesday topic where I was struggling with disclosure of affiliate links on individual blog posts vs. just a Disclaimer page. A lot of you suggested small buttons at the top of the page, which is something Temptalia has on her website. I think that's a great idea as it's unobtrusive yet still mentions if the post has affiliate links or not. This is something I'm currently looking into. I'm putting my coding hat on!
Anyway today I thought I'd do something a little fun and sticky beaky. Last week, I showed you what's in my bag (oh and there's a giveaway somewhere for you). This week, I thought I'd show you what's in my phone! I do use my phone a lot to plan my blogging and social media things so technically, it can be a Bloggie Wednesday post, right?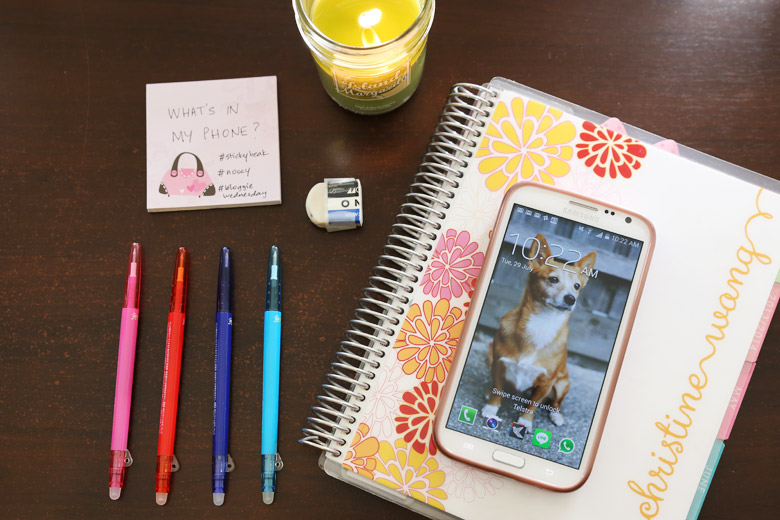 I've seen this topic floating around the blogosphere and YouTube-land (more from the latter) a lot the past year or so. I remembered when I first saw the topic, I thought who the heck would want to know what's in each other's phones? Isn't peeking inside what's in other people's bags more interesting? Still, curiosity got the better of me and I clicked on one video. And the next. And another one. By my 20th video and goodness-knows-how-many blog posts later, I suddenly had close to 30 new apps on my phone to check out. I admit it, the apps people have in their phones are fascinating!
Here's what's in my phone. I don't have any games in there because I don't play games on my phone (you should see the games on my iPad. I rule hidden-object games BIG TIME). By the way, the phone I'm currently using is the Samsung Galaxy Note 2, which is why it looks pretty big in my hands.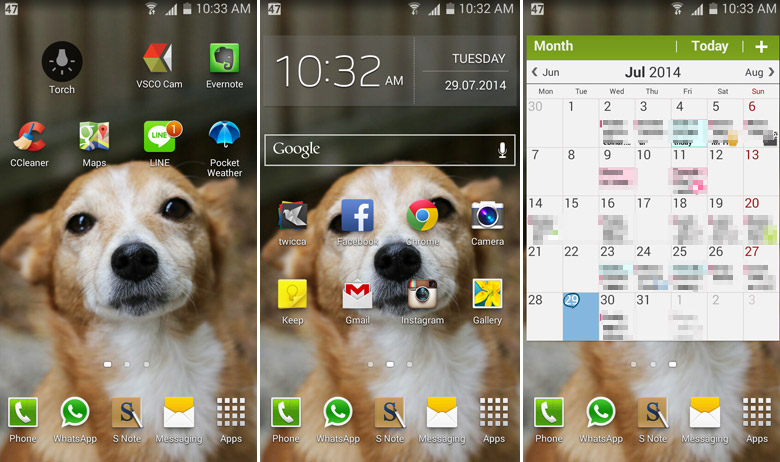 Lock Screen
Nothing fancy here. I have my favourite photo of Janey as my lock screen wallpaper and shortcut icons of the Phone, Camera, Twicca, LINE and Whatsapp. I rarely access these apps via the lock screen.
Home Screen
There are 3 swipe-able screens on my home screen. The main screen after unlocking shows me the date and time, a Google search bar, and 8 of my most used apps: Twicca (for Twitter), Facebook, Chrome, Camera, Google Keep, Gmail, Instagram and the photo gallery. There are also 4 static icons at the bottom of the screen: Phone, Whatsapp, S Note and Messaging.
Swiping to the left, I have a few more apps that I keep on the main screen as I use these regularly too. Here, we have the VSCO Cam (great filters for photos), Evernote, CCleaner (to clean out the junk in my phone), Maps, LINE and Pocket Weather. The Torch icon is a very important widget that I have on my Home Screen that I use as a torchlight. It uses the flash of the phone and the one for the Note 2 is mighty bright.
Swiping to the right, we have a monthly view of my calendar. I've blurred out the details for this post but this is where I see my month in a glance.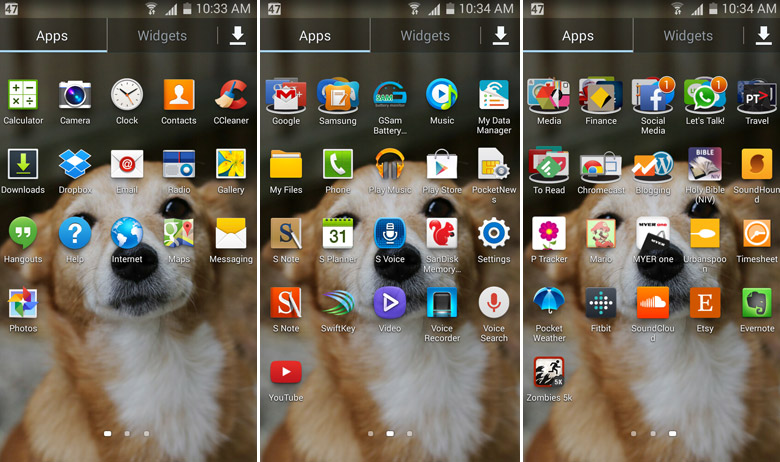 Application Menu
These are all the installed apps in my phone. Again, I don't have any games in there. I won't be going through every single app, especially not the Samsung apps that I can't bloody remove from the phone (unless I root the phone). Those Samsung apps take up valuable space and I don't even use them at all!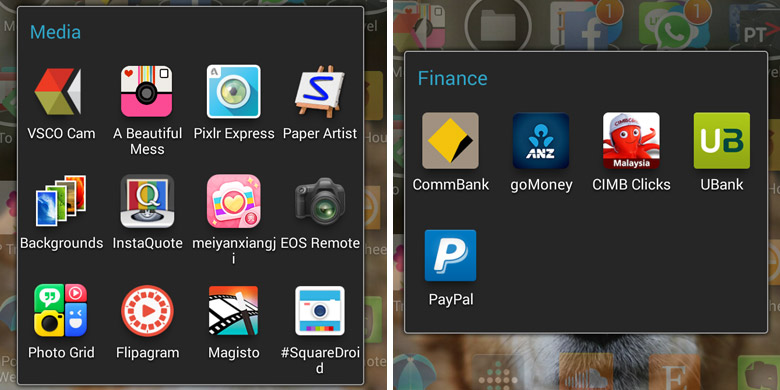 The Media folder is where I keep all of my photography apps. The A Beautiful Mess app is cute for creating collages and the odd doodles. I'd love to use the Little Moments App created by Fat Mum Slim instead but unfortunately, it's currently not available for Android phones. Flipagram is great for creating "photo book" videos for Instagram. I like Magisto for automatically editing my videos. I use EOS Remote with my Canon DSLR. Pixlr Express is great for photo editing, not just filters. Mei Yan Xiang Ji is a Chinese photo editing app that makes your skin look absolutely flawless in selfies. I seldom use this but when I do, it's great for a laugh when I suddenly have no lines below my eyes and my skin looks crazy good. 😛
The Finance folder is pretty self-explanatory. It holds all of my banking apps. The Social Media folder has all of the social media apps I use e.g. Facebook Messenger, Facebook Pages Manager, Pinterest, Buffer, PhotoRepost (for Instagram), etc. The Let's Talk! folder is where I keep apps for communication e.g. Skype, Viber and Tango.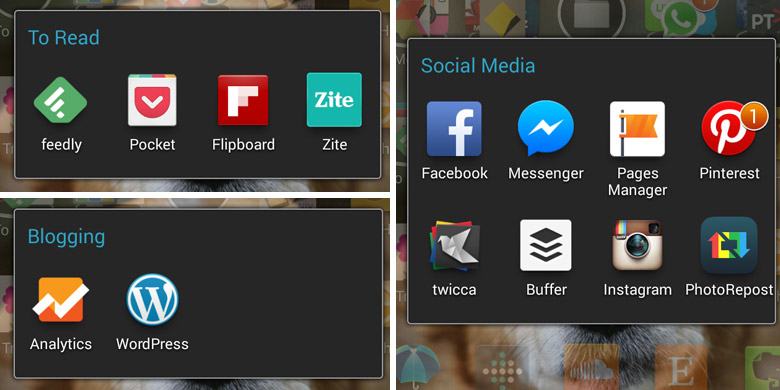 I use the apps in the To Read folder quite often. Here we have Feedly for my blog reads, Pocket to keep articles I've marked to be read later, Flipboard and ZITE for news and other sources. I'm either on Twicca for Twitter or any of these reading apps when I'm on the bus, train or tram.
At the moment, I only have 2 apps in my Blogging folder and that's WordPress and Analytics. I seldom create blog posts using the WordPress app but what it's great for is amending typos and grammatical mistakes when I'm on the go. Analytics is Google Analytics. Again, not a widely used app but I do use it when I'm tired of reading and want to check out my stats.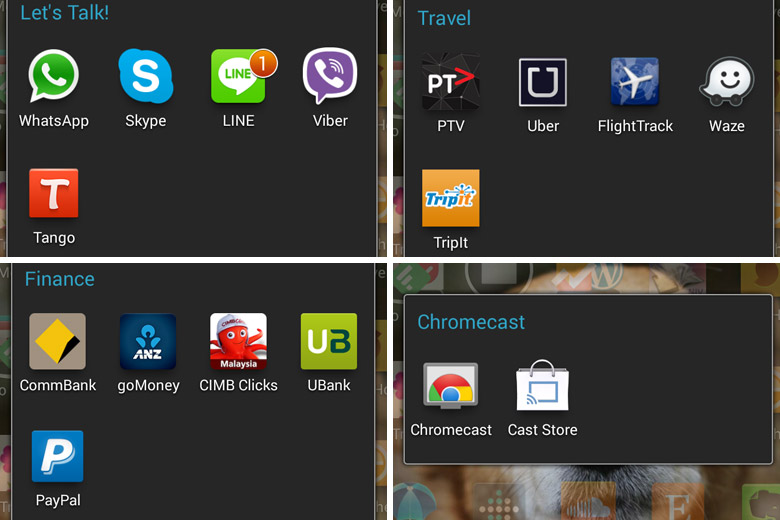 As for the rest, let's see. P Tracker is Period Tracker which is self-explanatory. Ladies, I highly recommend that you have a period tracker app in your phone to keep track of your monthly visits by Aunt Flo. I can't even begin to tell you how useful period trackers have been for me especially when I visit my gynaecologist and he asks me when my last period was. "Hang on, doctor, let me whip out my phone!". It also makes planning for holidays so much easier too.
The Mario app is an app of Super Mario Bros 3 ringtones, which I use for my phone, simply because it's awesome and Super Mario Bros rule. Enough said. 😛
The Timesheet app helps me keep track of billable hours for web-design clients. Urbanspoon helps Tim and I decide where to eat next. The Bible app is, well, a bible (once, I actually got told off by someone in church because he thought I was playing with my phone when I was actually using it to read a passage mentioned by the pastor. *roll eyes*). The Run Zombies 5K app is the newest app in my phone, which will supposedly help me get off my arse and do some running. We'll see. Watch this space. 😛
As for the rest of the apps, again, they're Google and Samsung apps which aren't really worth mentioning so I'll just let the screenshots say the rest.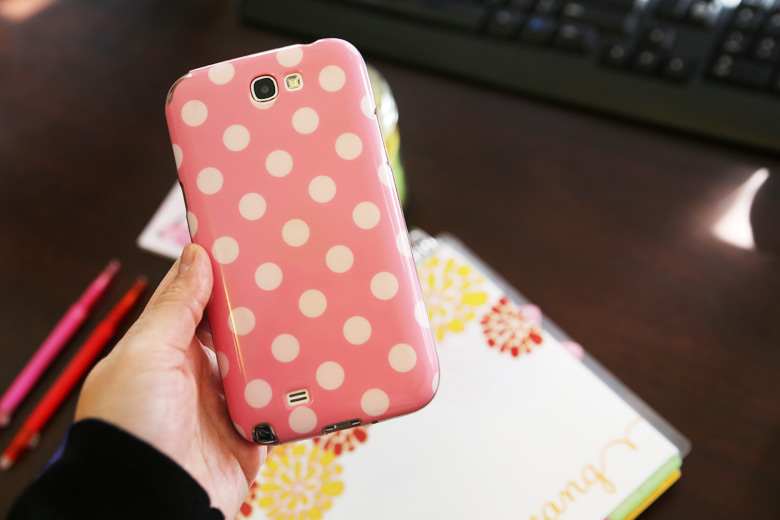 My current phone cover that I got for $2 from eBay
There you have it, a peek into what's in my phone. Next to bags, I now find what's in people's phones fascinating. It tells you a lot about the person too. I wonder what mine tells about me? Hmm. Okay if it's bad, tell me. Wait, don't tell me. Tell me.
Okay I'm shutting up now.
Over to you! What are your favourite phone apps? What's the one app in your phone people wouldn't even think you'd have? I reckon mine's the Run Zombie. Me? Run? You must be joking!
Bloggie Wednesdays
is a series of articles just on blogging. They contain tips, how-tos, discussions about anything and everything you need to know about blogging and how we can be better bloggers. If you have any suggestions, tips and tricks about blogging you would like to share with us, or if you have any questions you would like me to address, please let us know in the comments.