THE GIVEAWAY IS NOW CLOSED. THANK YOU FOR PARTICIPATING!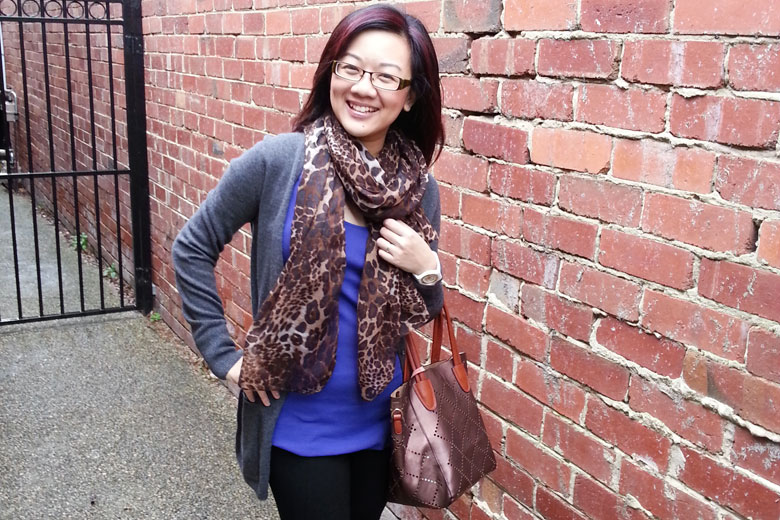 One of my guilty pleasures on YouTube is browsing videos on what people carry in their bags. I find what people carry in their bags highly fascinating. Tells you a lot about a person too, y'know, when you see what they bring around with them when they're out.
I wonder what mine tells about me. 😛
Speaking of which, I haven't done an updated version of What's In My Bag in a year now so I thought oh why not? I have a feeling I'm not the only one with a sticky beak here. Right? *wink wink*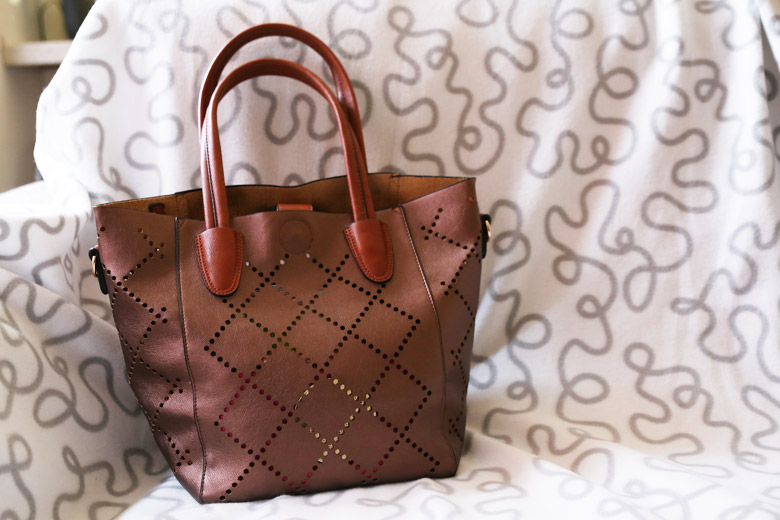 To be honest, what I carry today is pretty much the same as what I carried last year. I change my bag around every now and then (gotta keep the cost per use of each bag to a reasonable low, y'know). For the past month, I've been carrying the Louenhide Baby Bermuda in Copper a lot, which was kindly sent to me by the people at Louenhide.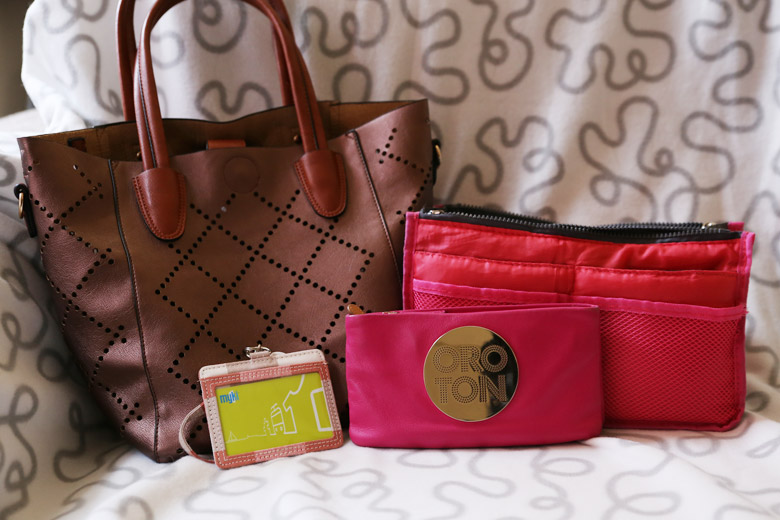 Not that I should be counting here, but this is currently my 4th Louenhide bag. I purchased the first 3 over the past 5 years and while they're not real leather, they're very durable and look good too. The Baby Bermuda has small laser cut hexagons which makes it difficult to see what's in the bag even though you can see through the holes. It actually also comes with a purse and a detachable strap. The purse can be used as a small handbag on its own or as a makeup bag but I don't use it here. The Baby Bermuda fits my iPad perfectly.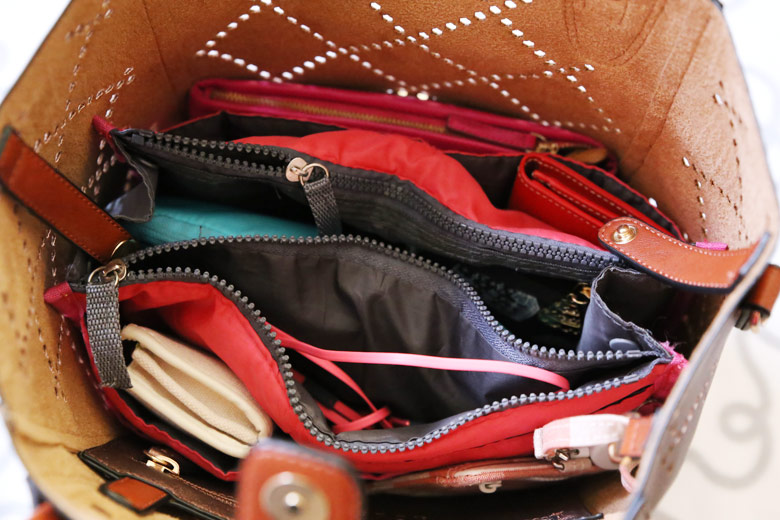 I used to use bag organisers with my other bags and then I stopped because I ended up putting my wallet and other random stuff outside the organiser instead, which makes having one useless. For this bag, I had to use one again because the bag only has one other compartment for my phone. My pink bag organiser fits very nicely in the bag and I've decided to put my wallet outside of the organiser instead. Everything else fitted in their places well and I'm finally organised again without putting random crap outside of the organiser.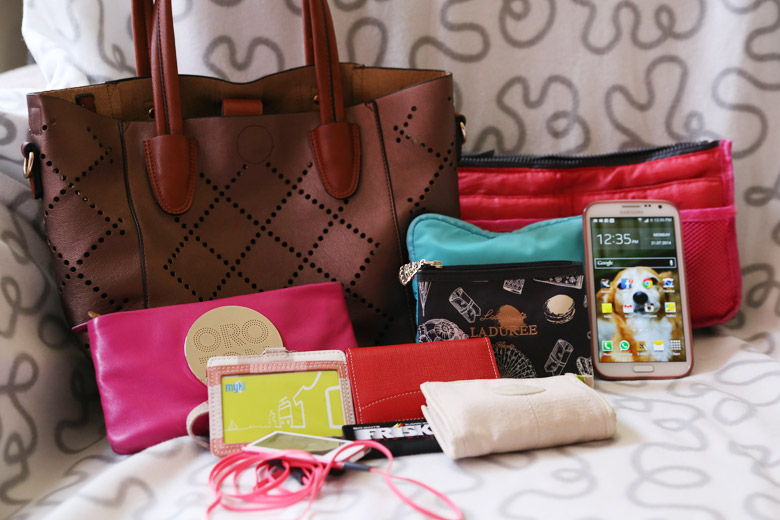 I'll leave the contents of my makeup bag for another day (typically the same ol' stuff anyway) but for now, here's an updated look of what's in my bag.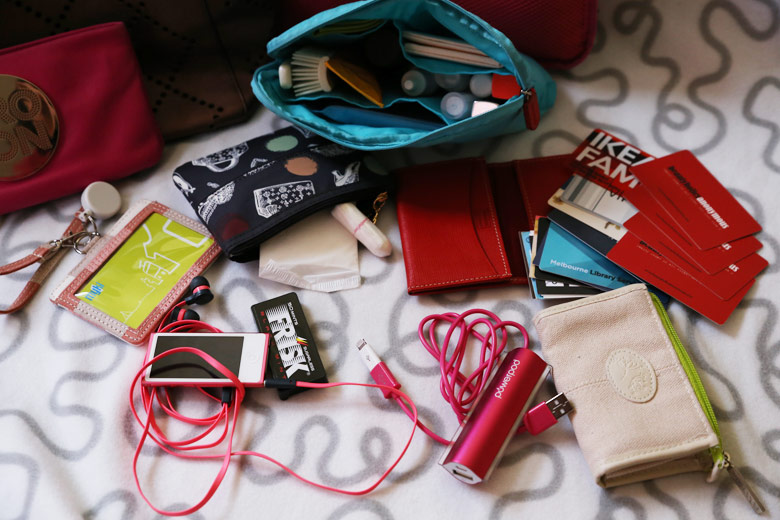 Bag organiser. I got this from eBay for under $10.
My phone, which is the Samsung Galaxy Note 2.
Oroton wallet. This was meant to be a clutch, I reckon but I prefer to use it as a wallet. This was a gift from my lovely sister-in-law.
Powerpod external charger that I keep in an old The Body Shop pouch. 3G usage sucks the battery out of my phone like water so a backup charger is necessary. I got mine from the Powerpod website but you can get them from the Powerpod vending machines in selected train stations. I also have a small microUSB to Apple Lightning adaptor so that I can charge my iPod or iPad too if I need to. The Powerpod I have only has a capacity of 2200mAh so it will only charge my phone to the max of 50%, which is good enough for me to last a commute.
Laduree tissue holder cum pouch. Yes, I'm one of those who needs a holder for her tissues. It also holds my lady things like pantyliners and tampons. This is a very important pouch, y'know. 😉 I got the Laduree pouch from Japan.
Makeup bag that holds lippies, hand sanitiser, hand cream and so on. This one's from Tintamar. It's at least 3 years old now but it's still going strong.
MYKI holder (yes, I have holders and pouches for everything). I got this from Japan as well. I have an emergency $10 stash in the zip pocket just in case I run out of cash and credit in my MYKI.
Red card holder, also from Japan. This keeps my store loyalty cards, coffee cards and business cards.
iPod nano. An essential when using public transportation.
iLuv earphones. Not the best for audiophiles but I love it because it's pink and more importantly, it has tangle-free cables. After using flat, tangle-free cables for the past 3 years, I just can't go back to conventional round cables anymore.
FRISK mints. Can only get 'em in Japan so I stocked up big time!
Here comes the fun part!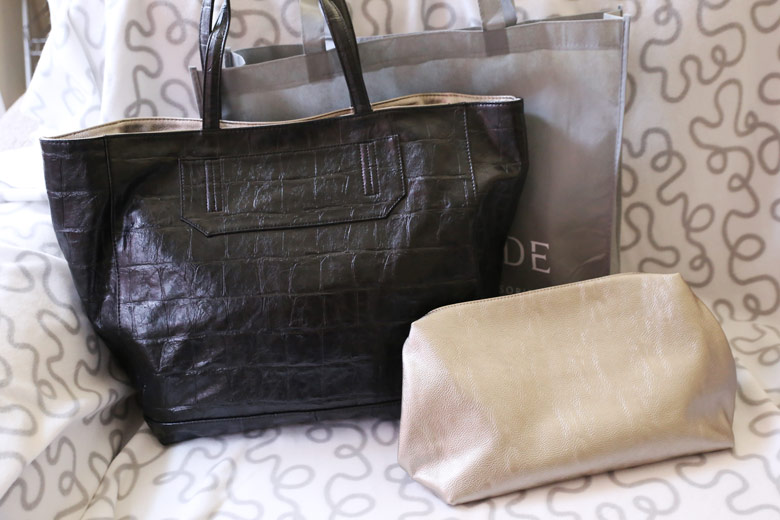 I've teamed up with Louenhide to give away one of their bags to one of you lucky readers! It won't be a Baby Bermuda though but I've got an even bigger one for you. It's the Lambert and it's a huge bag that you can use as a shopping tote, a bag tote (for your school books if you're still studying), a work bag for your files and papers, a weekend bag and heck, an everything-and-the-kitchen-sink bag! Trust me, you'll be able to fit a lot in there. Janey would fit in there perfectly. But don't worry, I didn't. The bag is still brand new. 😛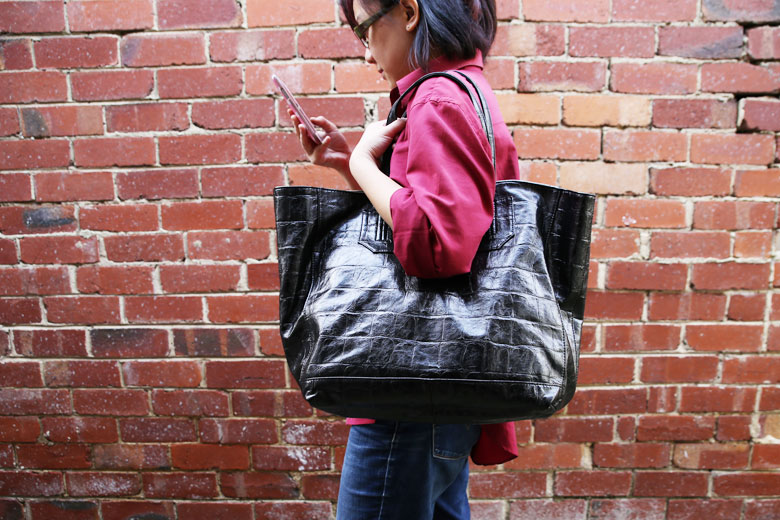 The bag has a black mock-croc skin, removable stiff base and even a pouch you can carry your makeup in. That pouch is also very big; heck, it's more than half the size of my bag!
As this bag is big and heavy, this giveaway will only be opened to Australian residents. Apologies to my international readers for having to miss out on this but do stay tuned as there'll be more giveaways coming your way.
HOW TO ENTER:
Simply leave a comment below answering the question:
"What's the bag you're carrying now and what do you like about it?"
Easy peasy!
TERMS & CONDITIONS:
1. This contest is open to Australian residents only.
2. The value of the prize in the contest is AU$99.00.
3. Anyone can enter the competition regardless of whether you've won anything here before.
4. Only one comment per contestant will be accepted.
5. Please keep it clean and spam-free.
6. The closing date for this giveaway is 5 August 2014.
7. One (1) winner will be selected at random. The winner of the giveaway will be announced in the Competition/Giveaways page. The winner will also be notified via email.
8. The winner will be required to submit his/her name and contact address to Beautyholics Anonymous, who will be sending the prize out (please read Beautyholics Anonymous' privacy statement for more information).
9. The winner must respond to the notification email to claim the prize within 5 working days.
10. Beautyholics Anonymous reserves the right to change the terms of this giveaway at any time.
Good luck! 😀
Disclaimer: The Louenhide Baby Bermuda was provided for editorial consideration.