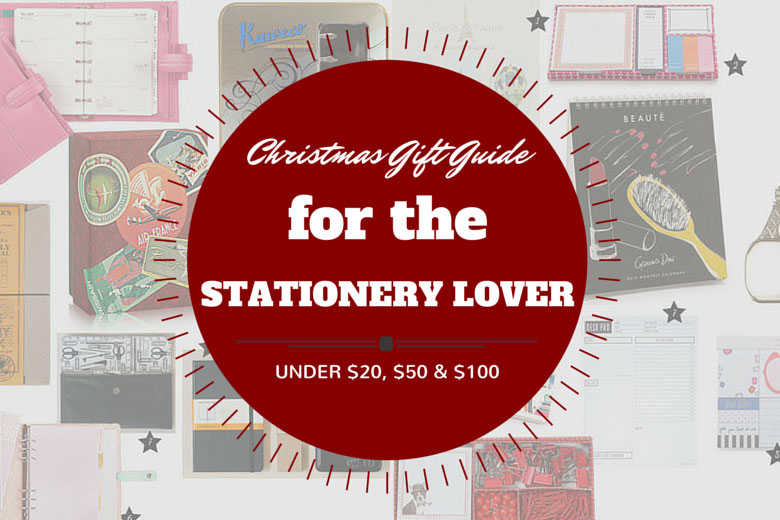 Okay, may I get a show of hands, who here's a stationery lover?
*waves madly*
My cupboard can attest to the fact that I am, indeed, not just a makeup lover but one heck of a stationery one too. It's filled with planners, notebooks, bits and bobs of stationery, etc. I'm obviously running out of space but in my mind, there's always room for one more notebook, one more sticky note pad and one more planner. It's coming up to be an expensive habit, I tell ya!
Today's gift guide is for people like me, the stationery lover. If you know someone in your life who's crazy about pretty stationery, then this gift guide is for you. Perhaps you're nuts about stationery too and could do with a few more sticky notes? More washi tape for you, mayhap? 😉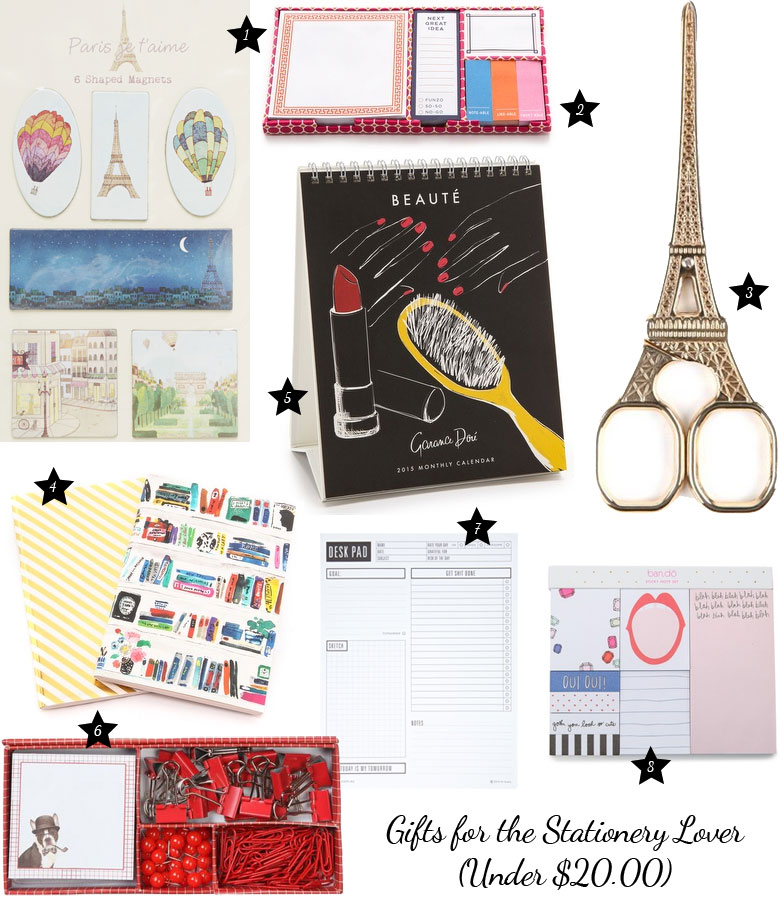 1. Sussan Pais Fridge Magnets (AU$7.95)
2. Jonathan Adler Sticky Note Set (AU$12.21)
3. TYPO Eiffel Scissors (AU$14.95)
4. Kate Spade New York Bookshelf Notebook Set (AU$14.66)
5. Rifle Paper Co Garance Dore Collection 2015 Beaute Desk (AU$19.54)
6. TYPO Stationery Box Set (AU$14.95)
7. Mi Goals Desk Pad (AU$11.95)
8. ban.do Blah Blah Sticky Note Set (AU$14.66)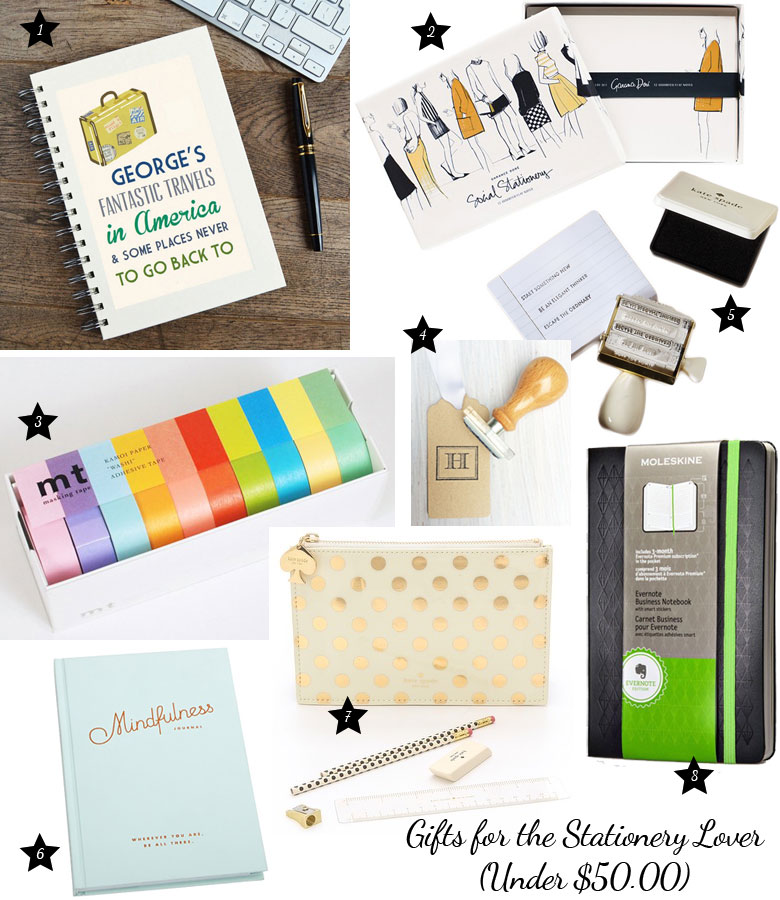 1. Made By Ellis Personalised Communique Travel Notebook (AU$29.95)
2. Rifle Paper Co Stationery Set – Garance Doré – Friends (AU$39.95)
3. MT Japanese Masking Tape 10 Pack – Pastel Colours Box Set (AU$34.95)
4. StompStamps Monogram Stamp (AU$40.00)
5. Kate Spade Rotating Stamp with Ink Pad (AU$40.00)
6. Kikki K Mindfulness Journal (AU$34.95)
7. Kate Spade New York Gold Dots Pencil Pouch (AU$36.85)
8. Moleskine Evernote Business Notebook with Smart Stickers (AU$46.95)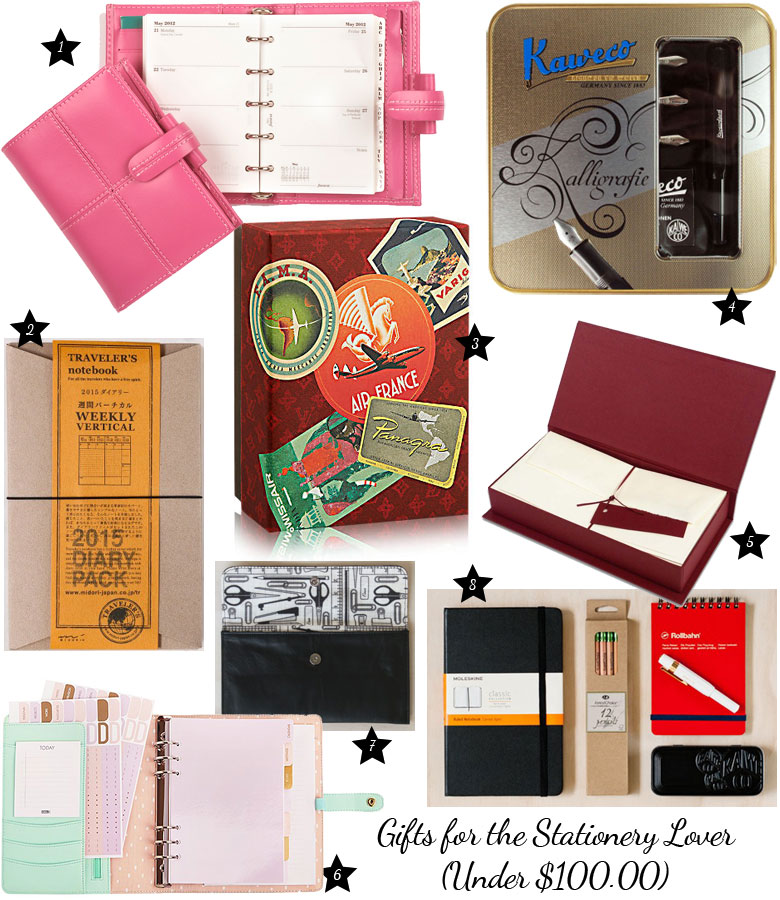 1. Filofax Classic Personal Planner (AU$59.43 – at the time of writing, this is the sale price. The RRP is AU$249.95)
2. Midori 2015 Traveler's Notebook Diary (AU$89.95)
3. Louis Vuitton Postcards Box (AU$86.00)
4. Kaweco Calligraphy Set (AU$99.95)
5. Rossler Papier Writing Set Box (AU$59.95)
6. Kikki K Mint Leather Personal Planner (AU$79.95)
7. Write To Me Leather Travel Wallet (AU$99.95)
8. Writer's Giftpack by NoteMaker (AU$85.00)
This post contains several affiliate links. By purchasing something via these affiliate links (at no extra cost to you), you're supporting Beautyholics Anonymous, which I highly appreciate. For more information, please read our
disclosure policy
.