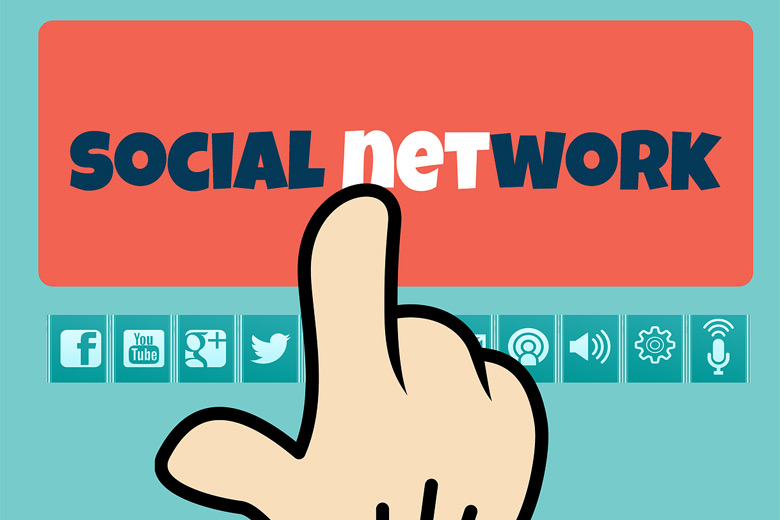 Up to a few months ago, Pinterest had been a major stumbling block for me. I didn't understand why people were obsessed with that social media platform up to the point of wasting hours on end on pinning images. It seems like such first world blogging problems but it really was a struggle for me. I had zero idea on how to use the platform to my advantage. Yes they are pretty pictures but, erm, what else do they do other than allow people to pin them to their boards? How do I use it to drive traffic back to my blog without selfishly pinning only my images?
I had so many questions but I had no answers.
Early last year, I was quite a lucky duck to win a spot in the Secret Bloggers' Business Bootcamp course that was (still is!) run by Kate McKibbin who is the founder of Drop Dead Gorgeous Daily. It's a comprehensive blogging course in which Kate shares her tips, tricks and secrets to creating a smashing blog. In one of her modules, she delved into the subject of growing your social media following and one tip stood out to me: in order to grow your social media followers, focus on just one platform at a time for 1-3 months. Don't multi-task and split your focus. If you want to grow your Instagram followers organically, concentrate on just Instagram and post frequently. So on and so forth.
I decided to try that out on Pinterest. It was time I found out how the platform works and how I could really use it to drive traffic to my blog. For the next month, I concentrated on Pinterest. I placed daily reminders in my planner to "pin images on Pinterest". I couldn't do it during the morning and afternoon because as many of you know, Pinterest can be such a productivity killer so I only did my pinning in the evenings when Tim and I are on the couch watching TV.
MY CASE STUDY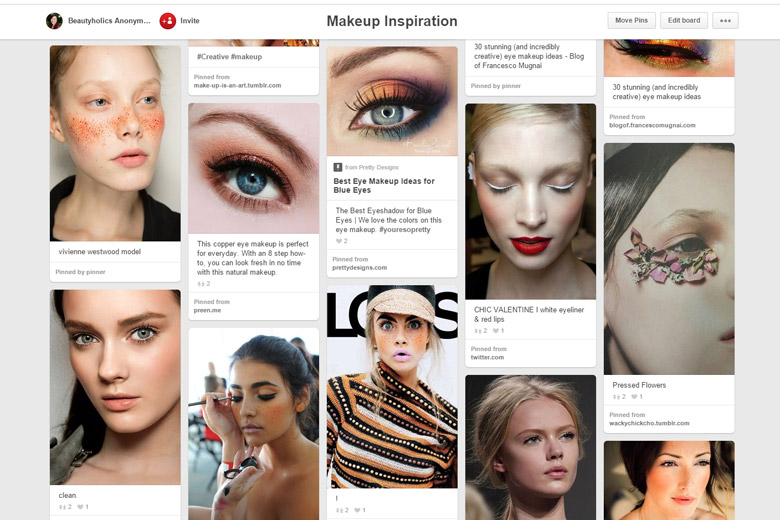 At first, I didn't know what the heck to pin. I repinned a lot pretty images of makeup, fashion, home, food and so on at one go but that didn't really work. My mind went back to the word: FOCUS. So I searched for makeup inspiration, fashion editorial makeup shoots from international magazines, costume makeup and so on and I pinned at least 20 of those each night. I kept my focus purely on makeup inspiration (I have a Pinterest board called "Makeup Inspiration"). That was when I started getting lots of repins and slowly but surely, my followers started to grow.
Now at that point, I didn't pin any of my own content. It was purely about pinning other people's images and checking out their content instead. A couple of months in, I started to add my content as well. My strategy was to pin about 15-20 images of other people's content, pin 1-2 of mine and then pin another few more that aren't mine. This way, I made sure not to flood my follower's feed with just my content.
One of my pinned content did very well. I pinned my Motivational Quotes Printable Stickers Download Freebie post on Pinterest and I have the massive planning community on Pinterest to thank for my surge in traffic. The end of December and beginning of January is always the lowest period of traffic for any blogger as people are usually busy spending time with their family and friends and not on the computer. For the first time in the almost 8 years I've been blogging about beauty, my traffic soared during that period thanks to that post and Pinterest. I was absolutely gobsmacked.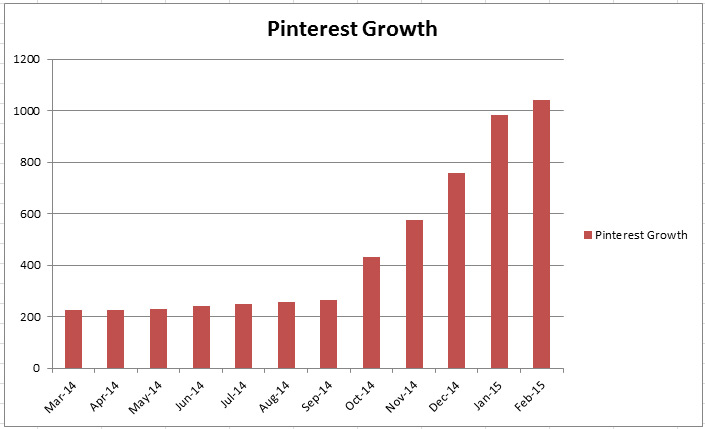 February 2015's figures are based only up to 7 Feb
This post isn't just about how I use Pinterest or how I slowly but surely grew my Pinterest followers. As you can see, my numbers aren't massive. I don't have thousands, tens of thousands, heck hundreds of thousands of followers. What you're seeing is the growth in numbers ever since I decided to just focus on one social media platform to grow in October 2014. I've tried this strategy on Instagram and while the growth percentage isn't as significant as Pinterest, there was an improvement. I stopped concentrating on Instagram because I decided that it isn't a platform I could use to drive traffic to my blog. Whaddyaknow, the social media platform that I was struggling with the most has now given me more clarity than Twitter, Instagram and Facebook.
If you're thinking of joining the Secret Bloggers' Business Bootcamp blogging course but aren't sure if it's worth the money, let me assure you, it is. While I did get in for free thanks to winning their one of their competitions on Instagram last year, I would have gladly paid for it. This tip I learned from Kate in the course helped me tremendously.
There's a Russian saying that goes like this: "if you chase after two rabbits, you will not catch either one". This was a massive lesson I learned when growing my social media following. I was splitting my time amongst Twitter, Instagram, Facebook and even Pinterest and in the end, neither grew. Decide on which platform you want to grow and focus on it at least for the first 3 months. The platform that drives traffic back to your blog the most is the one you should concentrate on. Remember, your social media following numbers don't mean much if they don't drive traffic back to your blog.
Good luck!
Do you have a Pinterest account? Let me know in the comments so that I can check it out! Also, if you have any tips and strategies you'd like to share on how you grew your social media following organically or if you've blogged about it, feel free to share them in the comments!
Bloggie Wednesdays
is a series of articles just on blogging. They contain tips, how-tos, discussions about anything and everything you need to know about blogging and how we can be better bloggers. If you have any suggestions, tips and tricks about blogging you would like to share with us, or if you have any questions you would like me to address, please let us know in the comments.