Note from Tine: Norlin is my "emergency" stylist. She has great style, which I really like, and I often go to her pleas of "how the heck to I style this item of clothing that I need to wear next week?? Help! Ideas please!". The idea of styling a white blazer came when I picked up a white lapel-less blazer from Sussan. The price was significantly reduced and I just couldn't resist a bargain. A shopping mistake to make for when I finally took the blazer out of the shopping bag, I had absolutely no idea how to style it! Most of my blazers are black and now there's this stark white blazer hanging in my wardrobe unloved. I turned to Norlin with my usual "HELP ME!!". Thanks to her tips, I finally managed to wear it and it's such a refreshing change from my boring black blazers!
I hope you enjoy her post as much as I did.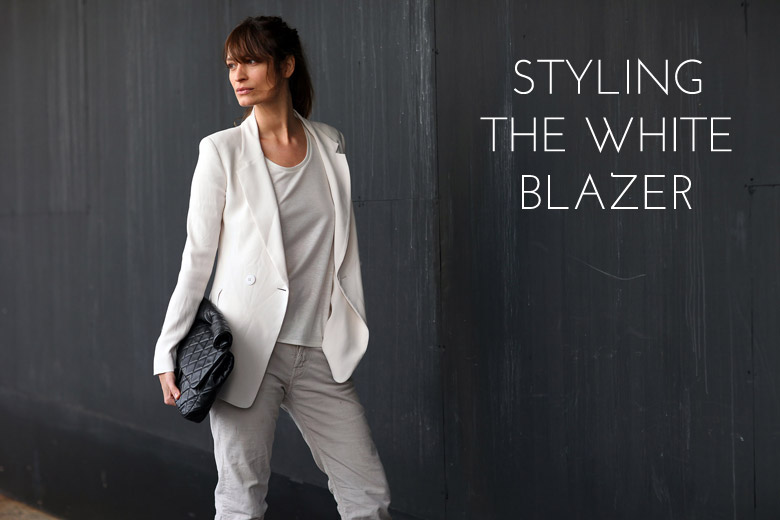 As you can see, I'm jumping in today to fill in for Tine while she's enjoying her holidays – lucky duck! Seeing that my speciality is in the area of styling, I thought I'd help Tine out a little and give her some ideas on how she could style up this white blazer she's bought and has been hanging in her wardrobe since goodness knows when!
When Tine asked me to help give her some styling ideas, she also asked if the white blazer could get stained by the colour from the bag she might be carrying. I've searched high and low for that answer and unless you've waxed your bag, this usually doesn't happen especially if you're carrying a good leather bag. If say, for some unfortunate reason it DOES happen, then let me say this – make Vanish or Napisan your best friend. Actually, you need to have those handy just in case you stain the white jacket any other way for that matter.
As for styling the white jacket, the main thing is to treat it like a blank canvas. It's white so really, it actually IS like a blank canvas. Don't be afraid to embrace patterns, colours and dare I say, pastels. I'm in love with pastels and white! Chambray goes well with white too, but make sure you're wearing it with those lighter chambray pieces, even lighter wash jeans. This is to minimise any rubbing from darker denim fabric onto your white jacket.
Casual Shorts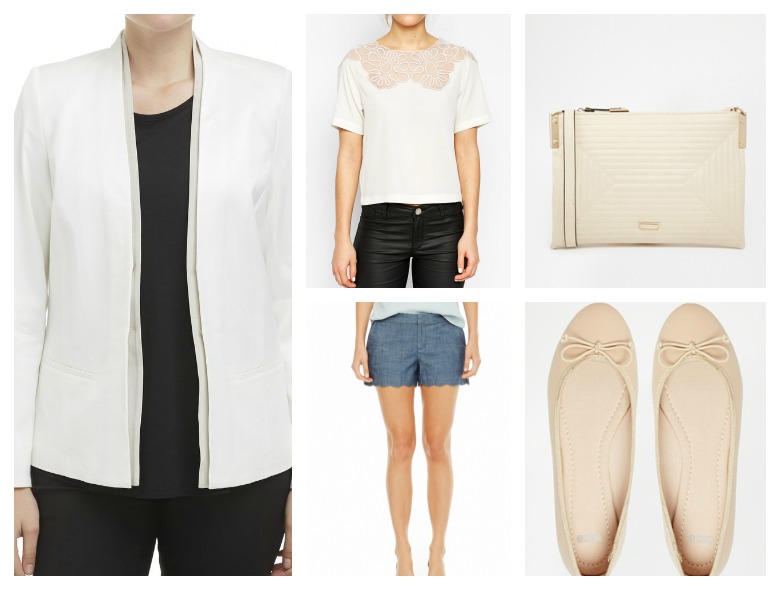 The simplicity of this white blazer would go well with a simple pair of dress shorts. I've chosen this light chambray shorts with some scalloped edging to add a bit of feminine flair. Pick a top that's simple but with some soft pattern, like this white top with lace neckline.
Bold Patterned Dress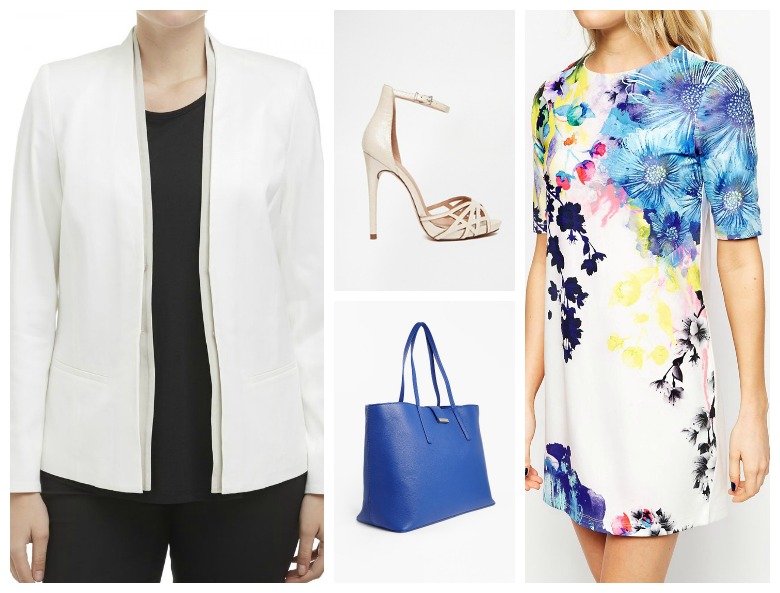 As I've mentioned before, white goes well with patterns and here I've chosen a dress with bold colours. Add a bold coloured bag and pair of nude coloured heels to finish off your look and you're ready for high tea or a lunch catch up with your girlfriends!
Boyfriend Jeans
I love a good pair of relaxed boyfriend jeans and the white blazer helps to smarten the outfit a little. Add a simple striped tee or polka dot shirt for some fun, and you're ready for that relaxed weekend out!
Honestly though, the sky is the limit when it comes to styling a white blazer. Just remember to avoid darker washed denim to prevent any rubbing off and make that Vanish or Napisan your best friend! 😉

Norlin is a stylist, beauty junkie and mother of 3 who believes that while trends come and go, your style is eternal. Her mantra is that style should be effortless and attainable for all. She shares her tips, on style, beauty, health and leisure over at
Baubles, Bubbles & Bags Style File
.