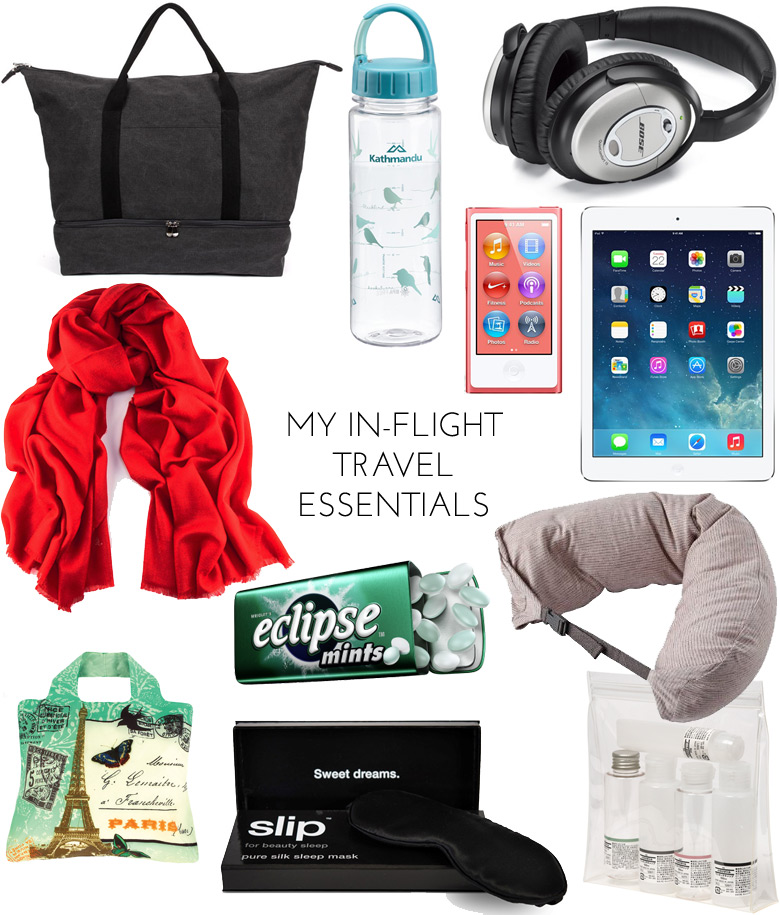 It's a guilty pleasure of mine to watch what people bring with them in their carry-on bags on YouTube. It's almost as bad as watching "what's in my bag" videos, I tell ya. It's like I'm living vicariously through those who are travelling when I'm not. After watching the hundredth "what's in my carry-on" video, I thought I'd show you what I typically pack in my carry-on luggage. In case you're a sticky beak like me. 😛
I have 3 carry-on bags that I rotate. The luggage I use as part of my carry-on highly depends on the destination I'm heading towards. If I'm going to be doing a lot of walking between accommodations (e.g. walk from the bus/train station to the hotel), I'll use my wheelie bag. If I'm going to be bringing a lot of food back from my holiday and I won't be staying at more than one hotel, I'll bring either my Country Road duffel bag or my Lo and Sons Catalina Canvas Weekender. Both of these bags do not have a strap that I can carry on my shoulders (I lost the one that came with the Country Road duffel) so I have to make sure I don't carry heavy items in those bags. Food is packed in my carry-on instead of check-in luggage because it eases Australia's strict customs check.
This is what I'll typically bring with me when I'm flying:
Electronic equipment e.g. phone, iPad, iPod nano and one external charger in case any of my devices run out of juice mid-flight. If it's a day trip, I'll bring my Kindle with me instead of the iPad but if it's anywhere that I'll be staying over, I'll bring the iPad.
Noise-cancelling headphones. The one I have is the Bose QC15. It's expensive but when I had two long-haul flights back-to-back with young children and babies right behind me, it was worth every cent for my sanity. I also bring a set of earphones that I use when I'm not flying. They're very light and take up little room.
MUJI pillow. This is so much better than your typical U neck pillows. You can clip the ends together with the clasp to form a U pillow or you leave it unclipped and use it as a small pillow for your back, neck, face, etc. I also use this as my eye pillow when I'm sleeping.
Empty water bottle. If I'm not flying on a budget airline, as soon as I board the plane, I'll request a flight attendant to fill it up with drinking water. This will keep me hydrated throughout the flight. If I'm able to fill the bottle up with filtered water from a drinking fountain after I've cleared immigration, I'd do so.
A small see-through pouch that contains some beauty essentials e.g. my liquids, gels, aerosols, meds, etc. This usually contains a disposable toothbrush and toothpaste (hoarded from my previous hotel stays), deodorant, a small bottle of rubbing alcohol, antibacterial wipes, a small jar of decanted moisturiser, tiny jar of decanted eye cream (these two are usually placed in contact lens cases since I only need two "containers"), foldable hair brush, hand cream, tiny sample vial of perfume (great for personal use, even better to spray the plane loo after doing a number 2 😛 ), small tube of sunscreen, eye drops and a small selection of medication, just in case.
Silk eye mask. I have one by SLIP and it's the most luxurious eye mask I've ever used.
Mints
Large cashmere scarf. I can use this as a blanket to keep warm or even rolled up as a back pillow if necessary. If there's one thing to splurge on for your travels, it's a cashmere scarf. I got mine on sale from Shopbop years ago. Keep a lookout for Shopbop sales; I once bought a 100% cashmere scarf for US$30.
Envirosax bag. I don't like putting my handbag on the dirty airplane floor and it doesn't matter if you're carrying an expensive designer handbag; if the flight attendant insists that you have to put it on the floor in front of you during take-off and landing, that's what you'll have to do. I've seen women putting their Chanel classic flaps on the floor. I place my bag into the Envirosax and then leave it on the floor.
This isn't in the picture but it's important nonetheless. Earplugs. Another sanity saver against screaming children. I once had earplugs on and the Bose headphones over my ears. I had babies screaming around me AND a lady snoring so loudly that I could hear here clearly from a few rows away if I hadn't had any earplugs on. These didn't bother me at all.
I don't bring snacks with me as I'm not a snacker. Sometimes I'll pack some jelly snakes to munch on during take-off and landing of the plane but I can do without them.
As you can see, I don't bring a lot with me in my carry-on. I don't need a laptop; my iPad (encased with a Bluetooth keyboard) works as one. It contains my magazines, books, movies, TV shows and games that can keep me entertained throughout the flight. I bring my iPod nano along when I don't want to be holding my iPad when I want some shut-eye.
I hope you've enjoyed this post. If you've blogged about what you bring in your carry-on bag, please let me know in the comments so that I may check it out. I love seeing what's in other people's carry-on bags when they travel. So many interesting things!
What are some of your in-flight travel essentials? Do you have any tips on packing your carry-on?