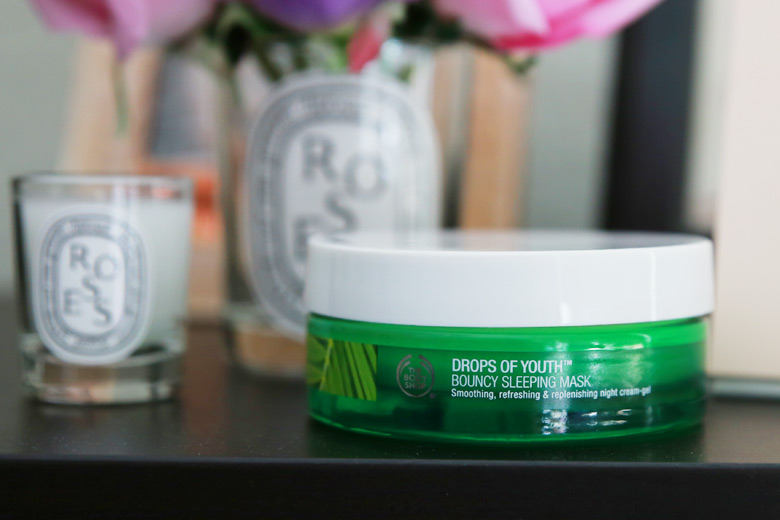 When this sleeping mask first launched in the UK, boy was it talked half to death. So many British beauty bloggers and YouTubers waxed lyrical about this and even though I read so much about it, you'd think I'd be bored to my eyeballs about it, right? Nope, it made me want to try it out even more. What the heck is this strange, pillowy texture that they kept talking about? I must find out!
When I found out that The Body Shop in Australia has finally launched the Drops of Youth Bouncy Sleeping Mask, I was very excited. When a jar of it landed on my desk for review, well, let's just imagine that level of excitement going on overdrive. Yes, I do get excited over the littlest things. 😛
By now, a lot of you would probably already know what a sleeping mask is. If you're unsure, it's something that was made very popular by the Korean beauty brand, Laneige, when they came up with their sleeping mask years ago. Basically, you apply the cream product on your face like you would a mask but instead of rinsing it off 15 minutes later, you keep it on like you would night cream. Essentially, you sleep with it on. This is what the Bouncy Sleeping Mask is about too.
Description:
The mask's key ingredient is Edelweiss plant stem cells. This hardy flower thrives in the harshest conditions high in the Alps. The Body Shop carefully and sustainably extract its stem cells, harnessing their powerful resilience and potent renewing properties. The stem cells of Edelweiss slow down the loss of collagen and stimulate skin cells renewal. In addition, the Bouncy Sleeping Mask contains Hyaluronic Acid, a natural component of the skin and a "moisture magnet" trapping up to 100 x its own weight of moisture and delivering maximum level of moisture, so by the morning skin is dewy, plump and bouncier.

The mask comes in a large jar. I didn't expect it to be that big as most masks and even moisturisers that I know come in jars almost half that size. It comes with a spatula, which is useful for those who dislike sticking their fingers in the product. Having said that, I would almost implore you to at least try pressing your finger into the product at least once just to see what it feels like because my goodness, it's bloody fascinating.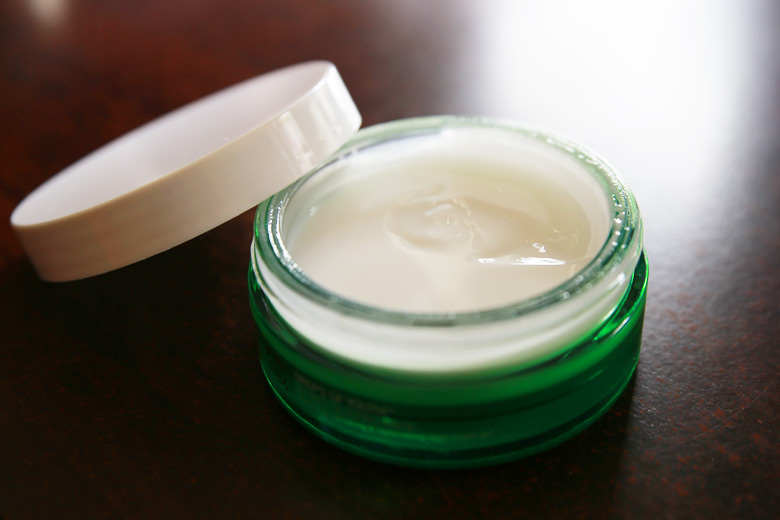 The best way I could describe the texture of this mask in the jar is memory foam. The cream is like a memory foam. When you stick your finger in or even lightly press the top, your finger slowly sinks in almost without breaking the surface tension. When you remove your finger, it leaves a light indentation and then it slowly bounces back to its original pristinely smooth condition. You can use the spatula and stir the heck out of this cream, shake the closed jar until it looks like broken up tofu and watch in fascination at how it slowly but surely settles back to looking like new.
I have never seen any beauty product like that before; it's absolutely astounding!
Even though it looks and at first touch, feels like a very, very thick cream, when you do "break that surface tension", you'll get a slightly grainy light cream. It feels tacky on the skin but it doesn't feel very rich. I've been using this in lieu of my night cream on a nightly basis. It does what a typical night cream would do; it provides a good level of hydration and moisturisation on my skin all night, leaving the skin feeling soft and supple the next morning.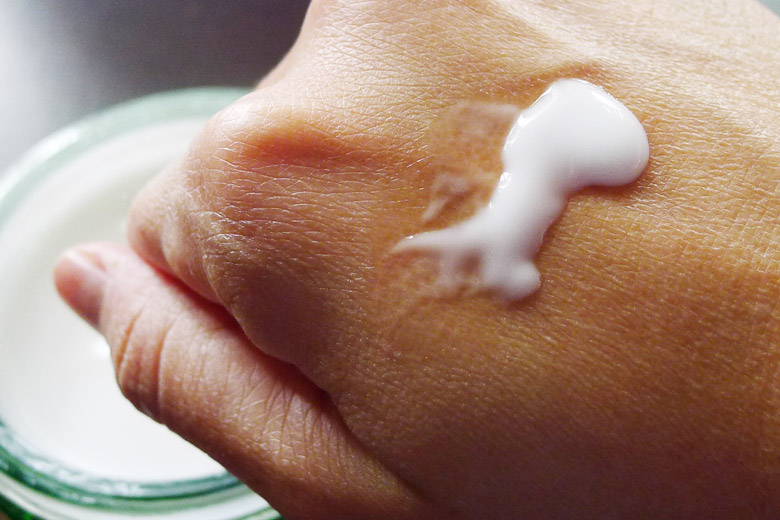 Having said that, I don't like how sticky it makes my skin feel. I'm fine with sticky moisturisers as long as they absorb quickly and I don't feel that stickiness anymore a few minutes later. I'd have this on for a few hours before I went to bed and just before I hit the sack, my skin would still be very shiny and sticky. I'm typically a side sleeper but find myself sleeping on my back more when I have his sleeping mask on for fear of staining my pillowcase. It's also quite heavily scented; it sort of smells like jasmine but I'm not sure. Either way, personally, that sort of scent is not my cup of tea.
Other than that, I find this a very innovative product. Like I said, the texture is mind-boggling and I couldn't stop poking my finger in the cream. Yes, yes, it's very unhygienic but hey, you check it out and let me know if you don't find it fascinating too. 😛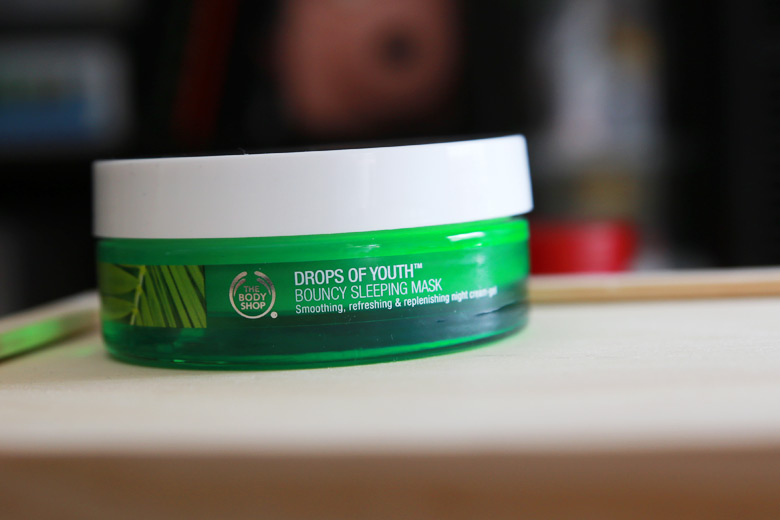 The Body Shop's Drops of Youth Bouncy Sleeping Mask retails at AU$44.95 for 90ml and is available at The Body Shop shops. You can also get it on their website. Given that you'd only need so little product at a time to fill up the whole face, one jar of this will last you a long time.
What I like about it: The texture is highly fascinating and unlike any beauty product I've ever come across. Hydrates and moisturises the skin well throughout the night, leaving it soft, smooth and boing-boing the next morning.
What I do not like about it: It feels sticky on my skin and the stickiness doesn't go away even after a few hours of having it on. Heavily scented; not a fan of the fragrance.
Have you tried this Bouncy Sleeping Mask? What do you think about the texture? So weird yet interesting, right?
This product was provided for editorial consideration. For more information, please read our
disclosure policy
.