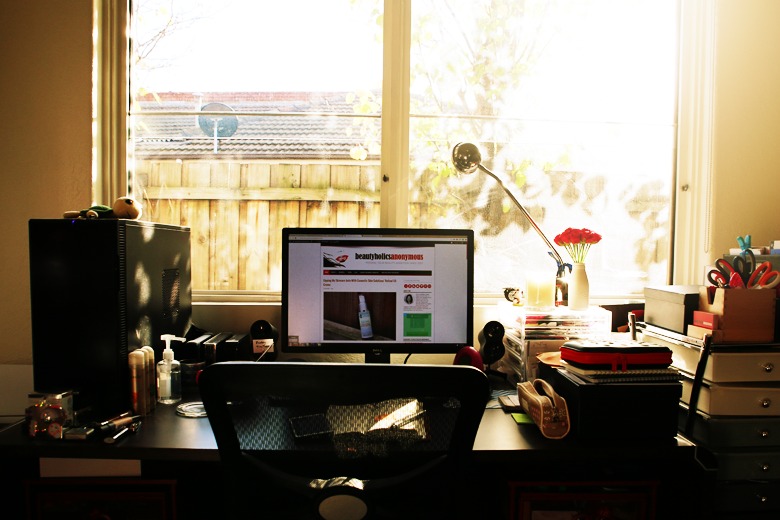 Happy hump day, my lovely chickadees!
Since I'm celebrating my blog's 8th anniversary this month (okay, technically it should have been last month but I, erm, forgot), I thought I'd share with you a personal story on how Beautyholics Anonymous was born. Long time readers will know this so please do bear with me but if you're new to the blog, welcome!
Here's my story.
How it started
In 2007, I was working as a Research & Development engineer in Malaysia at a multi-national company. Even though there was an increasing amount of lady engineers in the department, it was still a male-dominated field at the time. Very few ladies were as interested as me in discussing beauty and cosmetics. The men were about as interested in talking about it as I am in talking about cars and fishing with them.
I started a personal blog in 2006 that I opened to the public and that was when I learned about blogs. Months later, I stumbled upon Paris B's personal and beauty blogs. She had only started her beauty blog a month back and I remember our conversations via comments on her blog about the beauty products that she's tried. She encouraged me to start my own. I didn't know if I could write only about beauty products, but I said I'd give it a go. In May 2007, I launched Beautyholics Anonymous. It wasn't a big deal; it was more like "yeah I started a beauty blog. If you're interested, go check it out" sort of thing. No big shindig like new blog launches these days. 😛
At that time, the project I was working on at work had already gone pretty much full swing and ended so I had a bit of time on my hands. I drafted blog posts at work, photographed what I could during the weekends, and published them during the week. Blogger (or better know as Blogspot) didn't have a scheduling feature back then so everything was done on the fly. Nobody gave a hoot about photography either. I used a simple point-and-shoot camera I had and when I couldn't be bothered to take photos, I used stock images of products instead. Go to my Archives and see the earlier blog posts in 2007. They sure were very different from what I do today.
Moving to Australia
In February 2008, I got married and migrated to Australia (Tim was already a permanent resident in Melbourne). It was a very exciting yet scary move for me and it took me at least a year to finally settle down and call Australia home. The most disheartening thing was that I wasn't able to find a job here. The industry I was in when I was working in Malaysia is very different from what is available in Australia. I tried applying for other engineering positions and I got turned down at every single one.
I've always been quite crafty with my hands so in between looking for jobs, I picked up jewellery-making. Initially, it was just for fun but when I improved and started making more intricate jewellery, I decided to try my hand at selling them. I started a tiny online business called Sweet Contemplation Accessories, which I'm sure some of you know of. It became quite popular at one point; even Tim's colleagues were buying them from me.
I was still running BA at this time. When business was slow, I started spending a lot more time on blogging. After a while, I realised that I was spending way too much time working on the blog than I was on jewellery. A couple of years later, I realised that I've lost the passion for selling jewellery, but I still loved writing and blogging. Unfortunately, by then, I had also neglected the jewellery side of things (see what I mean by I make a lousy businessperson?) and I had to decide if I wanted to continue working on that or fully concentrate on my blog and make blogging a full-time thing. It was one or the other.
It was with a heavy heart that I closed Sweet Contemplation Accessories down. I may have started BA on a whim but it had grown so much over the years and I enjoyed blogging too much than to simply let it go. I knew I wanted to make more of it and thankfully, with growing opportunities in Australia, I'm able to.
How blogging has changed the media game
Beauty blogging was very simple when I started and it's certainly very different now. So much has changed; bloggers are now considered influencers and new media. Back then, blogging was nothing but a hobby for writing. Brands would never have considered any Tom, Dick or Sally blogger to help them grow. Now, blogging has become a career. Bloggers are going on front rows at Fashion Week, appearing on front covers of international women's magazines and so much more.
It's funny how people think that since I've blogged for 8 years that I must have worked in the beauty industry some time or rather. I've never worked in the beauty industry. People I meet are often very surprised at my background and how I became a beauty blogger from working as an engineer, and writing about topics that I don't have official training in. I've learned a lot about beauty through experience and through education by experts. It's a journey of ups and downs, and even though it's bloody hard work (I'm never not thinking about the blog in everything I do), it's a joy and a passion that I have found that I never did when working as an engineer. I've put in so much more hours of work a week as a blogger than I did as an engineer for far less and unpredictable pay. And I love it.
What's even funnier is that when I was working as an engineer, my father, who also started out as an engineer, had never once told me he was proud of me. When I started putting a lot more effort and time into BA and started blogging full-time, I'd show him my achievements and accolades. One day, he texted me saying he's damn proud of me (his words!) and what I've done and that I'm able to do what I love. I still keep that text message to this day.
I wish I could show you pictures of the transition of BA, how it started from Blogger and how it became what it is now. Silly me, I didn't save screenshots of previous designs. I didn't pay anyone to create any of the designs. I used what was available and made it mine. My motto in life is "don't reinvent the wheel. Make it better". That's how I work on BA. Over the years, I've shed blood, sweat and tears over the technical and not-so-technical parts of BA. I've learned a lot through experience.
Learning from you
I had coffee with a PR from a well-known beauty brand the other day and she asked me a very good question "how do your readers fit with your blog?". I thought about it and while I could have said that they're aligned with my content, that they learn about products that I've tried, so on and so forth but instead, I answered "I grow with them as they grow". I learned a tremendous amount from you too.
There are many things that I wished I did when I started BA in May 2007 like start growing my mailing list back then or secure all my social media platform names to just one, but in hindsight, I'm glad I didn't do all that. I may see it as a business now, but it didn't start off as one and I'm glad it didn't. I don't think I would have enjoyed nor continued with it till today if it did.
I hope you've enjoyed a little blast from the past as to how I started BA. I could still remember my hesitation in clicking that Publish button on the very first blog post I wrote.
I'm so glad I did.
Bloggie Wednesdays
is a series of articles just on blogging. They contain tips, how-tos, discussions about anything and everything you need to know about blogging and how we can be better bloggers. If you have any suggestions, tips and tricks about blogging you would like to share with us, or if you have any questions you would like me to address, please let us know in the comments.