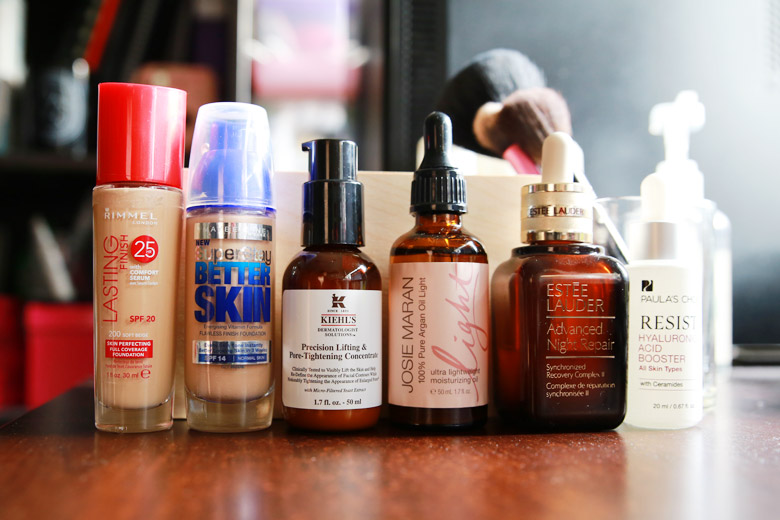 I'm not sure if you've noticed, but there's a growing number of serum foundations in the beauty market lately. We have Rimmel's Lasting Finish Foundation With Comfort Serum, Bourjois Healthy Mix Serum Gel Foundation, Bare Minerals BareSkin Pure Brightening Serum Foundation, Bobbi Brown Intensive Skin Serum Foundation and many more. Some of them have the word "serum" in their names for the serum-like texture and some of them actually have serums with skincare ingredients in them. And then we also have Estee Lauder's Perfectionist Youth Infusion foundation, which actually has their Perfectionist serum's ingredients infused with the foundation.
With all these serum + foundation thingamabobs, I smelled an experiment coming on. So I gathered a few bottles from my foundation stash and a few serums that I have, and I wanted to know: does mixing serum with foundations work? Does mixing of serum with foundation actually make the foundation better? Does it help improve our skin?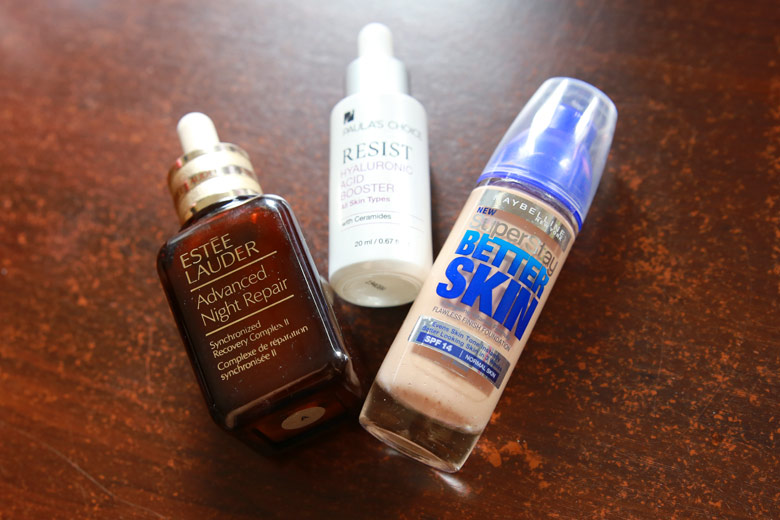 Now bear in mind that I'm no cosmetic chemist so I'm just playing around with what I have here on a physical level. This is simply an experiment I wanted to try out. I can't tell you the science behind what it is that I did, but I can show you the results.
Ingredients
Foundations: Maybelline Superstay Better Skin, Rimmel Lasting Finish Foundation With Comfort Serum
Serums: Estee Lauder Advanced Night Repair, Paula's Choice's Resist Hyaluronic Acid Booster, Kiehls' Precision Lifting & Pore-Tightening Concentrate, and to throw in a face oil for good measure, Josie Maran's Argan Oil
Let's get started!
1. I mixed 2 pumps of the Maybelline foundation with one drop of the Estee Lauder ANR. Blending the serum and foundation made the foundation split. I blended it as much as possible, creating a bit of a gooey mess and applied it on my skin.
Results: Foundation split. The serum thinned the foundation reducing coverage on the skin. It didn't make my skin feel any better.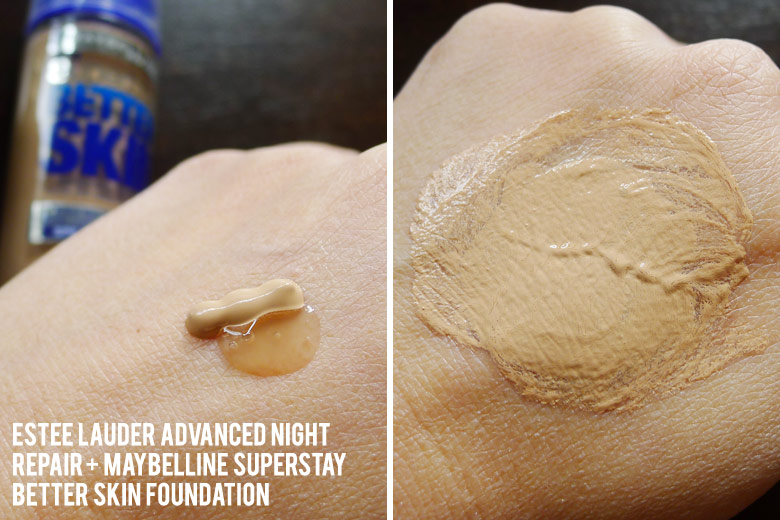 2. I mixed 2 pumps of the same Maybelline foundation with one drop of the Paula's Choice Resist Hyaluronic Acid Booster.
Results: Same as #1. Split foundation; serum thinned the foundation out, doesn't look good on the skin.
3. I mixed 2 pumps of the Maybelline foundation with one pump of the Kiehls' serum.
Results: Foundation didn't split, blended well with the serum. Again, the serum thinned the foundation out, reducing the amount of coverage.
4. I mixed 2 pumps of the Maybelline foundation with one tiny drop of the Josie Maran Argan Oil. I was expecting this to give me the worst results.
Results: Foundation didn't split but it took a while for the product to blend. Foundation appears dewy on the skin. I didn't notice any significant reduction in coverage compared to the rest.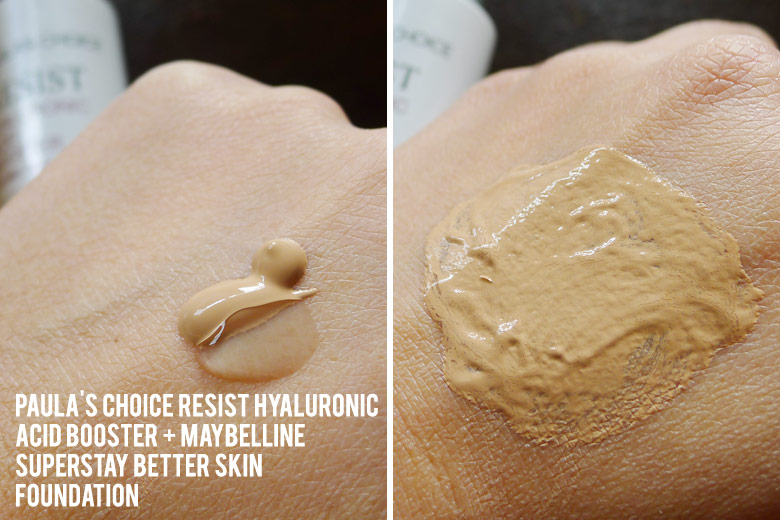 I tried all this with the Rimmel foundation and it gave me the same results as the Maybelline foundation. I didn't just test this on the back of my hand; I applied this on my face as well. The one that looked and felt the best was surprisingly the ones mixed with the face oil. It made my skin look fresh and dewy and better yet, it didn't even split nor fade, even after having it for a good number of hours.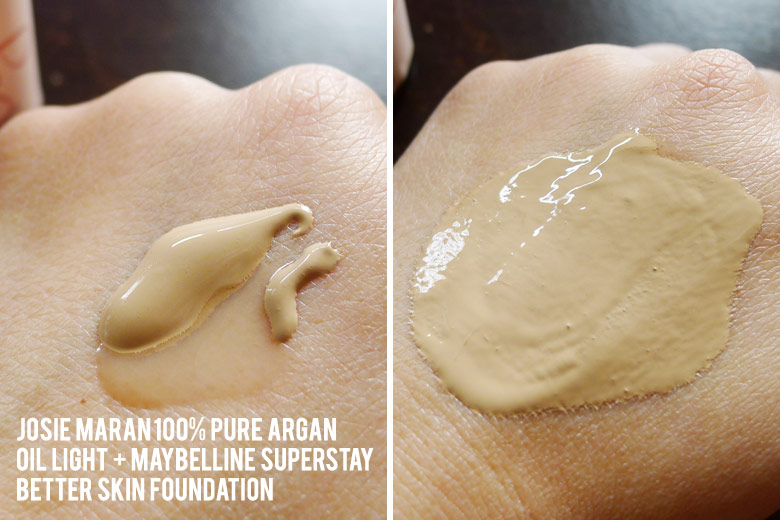 My conclusion for the beauty experiment? Don't bother mixing serum with foundation. The jelly-like serums like Estee Lauder's ANR made the foundation worse. Even though I used very little of it (I added more for show in the pictures but in real life, I used even less), it thinned the foundation out and reduced the amount of coverage significantly. Even when I used a creamy serum, it gave me the same results. The ones mixed with the face oil rendered the best results but even so, I don't think I'm going to continue with it.
By the way, just a bit of a side note here: y'know what they say about mixing a bit of moisturiser with a foundation that's too dark for you to make the foundation lighter? That does not work, at least not with the foundations and moisturisers I've tried. All the moisturiser did was thin the foundation out, giving it much lower coverage. It doesn't actually lighten the foundation.
Anyway, I'm much happier to stick to foundation that has already been formulated and manufactured with the added serum than adding it myself. The Estee Lauder Perfectionist Youth Infusing foundation is a firm favourite of mine. I much prefer to apply the serum on my skin in my skincare routine and have it separate from my makeup.
There you go, a little beauty experiment for you. Give it a go and let me know what you think. Doesn't hurt to give it a go, and at least you'll know that it doesn't work and that it has satisfied your curiosity. Well, it certainly satisfied mine. 🙂
Have you tried mixing serum with foundation before? Did it work for you?