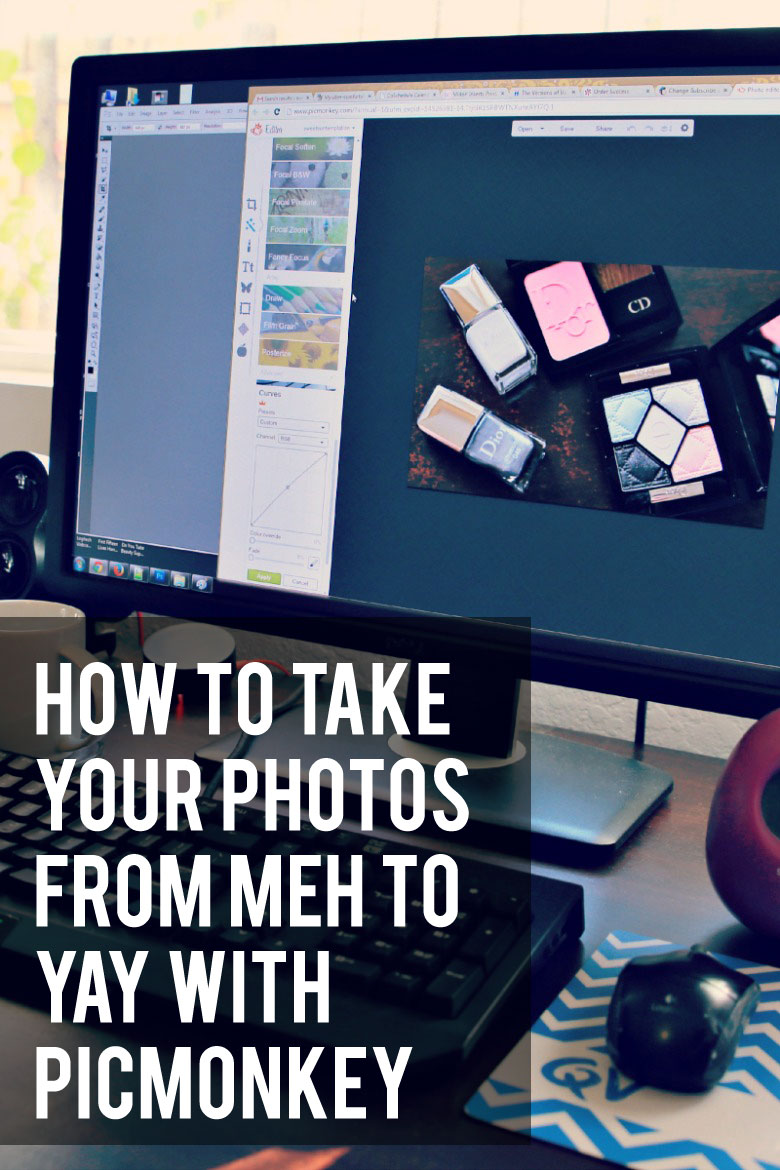 I'm a Photoshop junkie. Ever since I discovered the program 7 years ago, I don't use anything else to edit my photos. It's a program I use daily to edit any sort of photos I use for myself, the blog, social media and so on. By the way, there's nothing wrong with editing your photos for your blog. Good quality photos are important and if you can make yours stand out, by all means do it.
Anyway, where was I? Right, Photoshop. Love it, use it daily, my blog is nowhere without it. That is until I discovered Picmonkey. I found out about it from lovely Kaye's blog and when I started using the free version, I knew I had to jump on the Royale options and pay for a premium subscription. It's far cheaper than paying for Photoshop and you can get pretty damn good images with Picmonkey alone too without needing to learn about layers and so on with Photoshop. If you use Photoshop, you know what a pain in the bum that can be.
Today, I'd like to show you how you can take your photos from meh to yay with Picmonkey. This is not a sponsored post for Picmonkey by the way. I am an affiliate, but I wouldn't even bother recommending it to you if I don't love it myself.
Okay, now that we've gotten that disclaimer out of the way, let's get started!
I'm going to use a photo of a Diorsnow palette. This is not a review, mind you, but it's too pretty not to photograph. If you're a long-time reader of BA, you'll know that I don't typically use the very popular white background style of flatlay for my products. Not that there's anything wrong with that style of photography but given that 1) I don't have any fully white table nor surfaces in the house, 2) I have a beautiful desk of dark wood and 3) I don't like to jump onto convention if I don't have to, I tend to use dark backgrounds a lot.
The problem with dark backgrounds is that it dulls the photographed product. As you can see below, nothing about that Dior compact stands out amidst all that darkness. It's boring and quite frankly, looks ugly just like that. Not enticing you much there, am I?
What I'm going to do is edit that photo to make it pop. I'm going to be using Picmonkey's free and premium options for this one.
Let's get the tutorial started!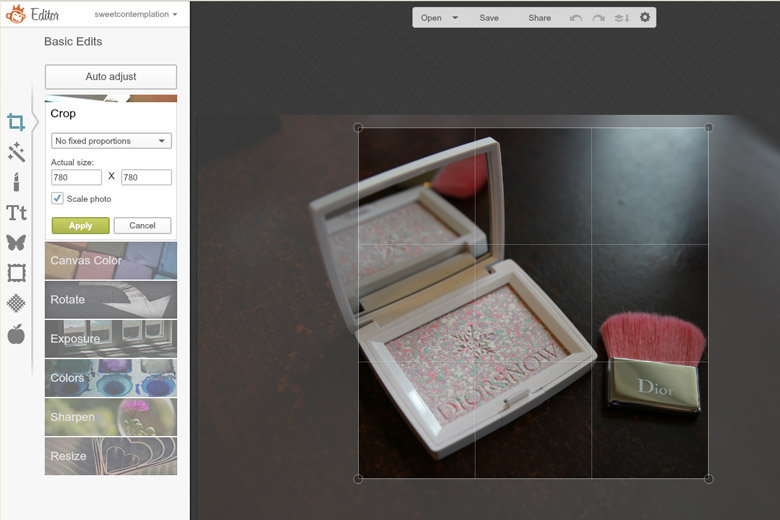 1. Resize and crop the original photo. I had to resize the photo for the post but the original one is 5472 x 3648 pixels and there's no way I can publish that on the blog. I wanted the photo to be a square this time so I cropped and resized it at the same time.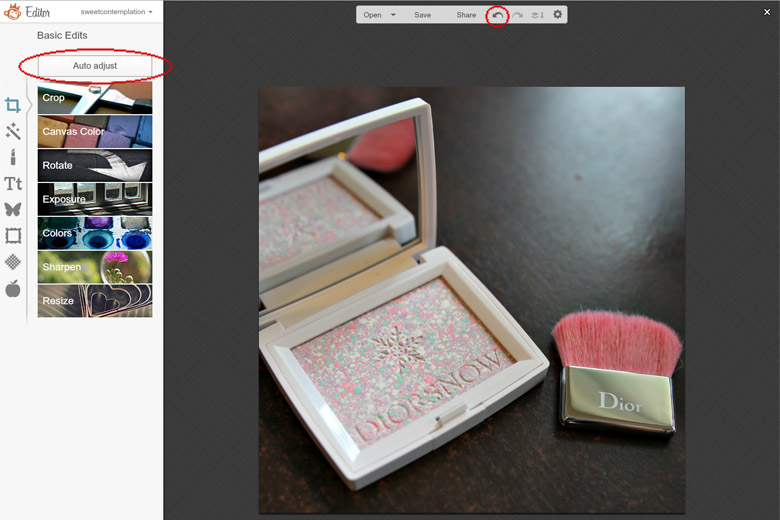 2. You can click on the Auto Adjust button if you want. This is what I call the "cheat" button. Sometimes the photo can turn out nice; sometimes, it can look awful so don't rely on it 100%. If it looks awful, simply click on the Undo button. My photo looks quite all right, but I still want to take it up a notch so I'll keep it auto-adjusted for now.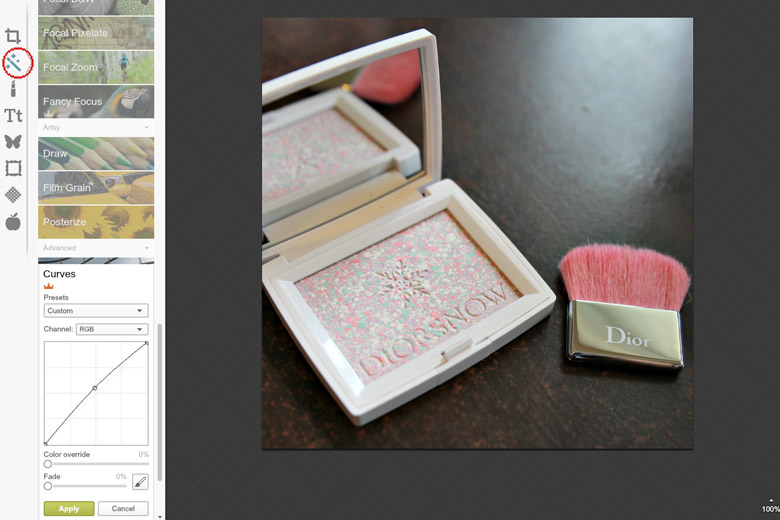 3. Go to Effects (second option on the left toolbar), scroll all the way down and click on Curves. This option is very similar to the one in Photoshop and I use this often to tweak the brightness of my images. I wanted to take the Dior palette's brightness up a notch but not too bright as to over-expose it so I only did a minor tweak.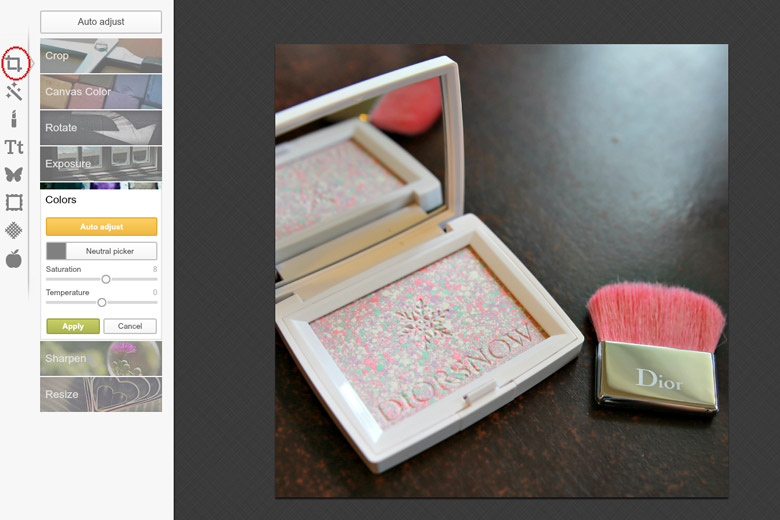 4. I'd like to add a bit of warmth to the photo so let's go back to Basic Edits (first option on the left toolbar) and click on Colours. I added just a tiny bit of Saturation to the photo to boost its warmth but not too much. I want it to look as much as the original product as possible while making it appear even more enticing. Call it a bluff if you like but realistically speaking, if I had used the original photo instead, it's not going to be very pleasant to look at because it looks so bland.
5. Click on Save (top toolbar) and I'm ready to use that photo!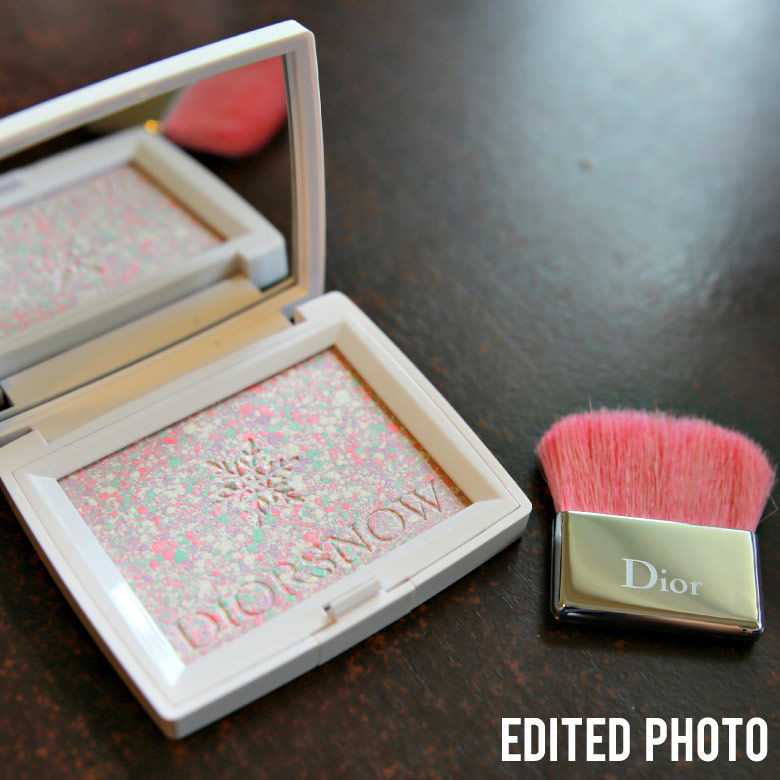 Picmonkey is really easy to use compared to Photoshop and you can get very good images out of it. When I'm away from my desk and I don't have Photoshop with me to edit photos, I'll jump online to Picmonkey and use it to sort my photos out instead. I particularly enjoy using the filters that Picmonkey has to jazz my photos up a little.
You don't have to use Picmonkey to edit your photos if you don't want to. There are other free image-editing programs out there. GIMP is a good one. I love using Picmonkey for the fun factor. Plus just using the free version alone can take your photos to another level. PicMonkey Royale's pricing options are US$4.99 a month or US$33 a year, which is a whole lot cheaper than Photoshop, I can tell you that. There are also heaps of tutorials for you to take your photos to whole new dimension.
Whatever you do, don't believe in all that "editing photos for your blog is cheating and a sell-out" crap. It's far better to give your readers clear and precise photos than very dark or over-exposed ones. Oh, and I love catching up on YouTube videos while I'm editing photos. When you've edited your 20th photo in silence, you gotta have something fun playing in the background, don't you think? 😛
Have fun!
Do you use Picmonkey or any image-editing programs for your blog's images?
Bloggie Wednesdays
is a series of articles just on blogging. They contain tips, how-tos, discussions about anything and everything you need to know about blogging and how we can be better bloggers. If you have any suggestions, tips and tricks about blogging you would like to share with us, or if you have any questions you would like me to address, please let us know in the comments. This post also contains an affiliate link. By purchasing something via these affiliate links (at no extra cost to you), you're supporting Beautyholics Anonymous, which I highly appreciate. For more information, please read our
disclosure policy
.