THE GIVEAWAY IS NOW CLOSED. THANK YOU FOR PARTICIPATING!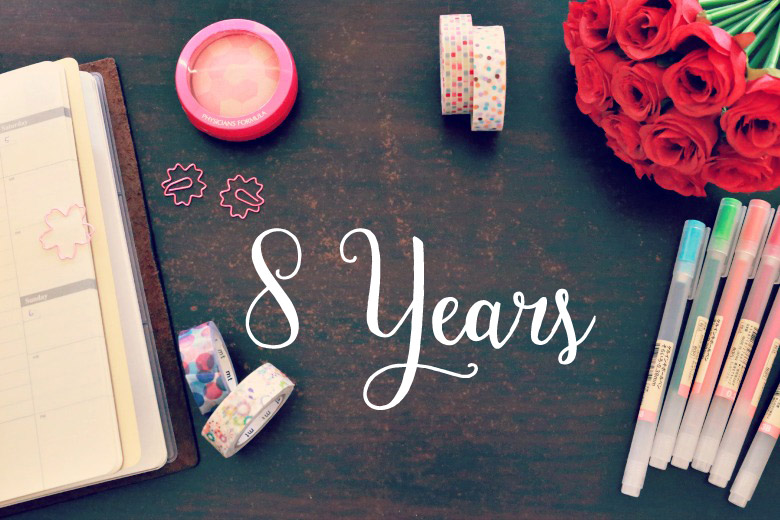 Okay you know how when you've been blogging for so long that you forgot your blogging anniversary? Erm that happened to me. BA's anniversary was actually last month and I, erm, forgot about it. What can I say? Oops? 😛
Oh well, as they say, better late than never!
So, whaddyaknow. Eight years of blogging. Where did all that time go? I still remember that one blog post that made me try out beauty blogging (it's the one on how to get rid of cracked heels, which was on my now defunct personal blog). I remembered raving about Paris B's blog posts when I left comments on her blog (I was a blogging fangirl of hers for that many years. It also means that I've known her that long!) and she told me I should start my own. I had a personal blog back then, wrote that post on cracked heels, enjoyed it so much, started a new blog on Blogger a few days later and the rest, as they say, is history.
BA has evolved over the years and I, too, have evolved as a blogger and a person. It has taught me great lessons on writing, photography, technical support and troubleshooting, managing my own time, being my own boss, publishing my own book, growing my own tribe and so much more. It also has its ups and downs; ups when my blog achieved something great and downs when that green-eyed monster comes out every once in a while when I feel as though my blog isn't doing as well as many others.
I have to say though, that the best part of growing a blog from nothing to what it is today, is watching my tribe grow. What's this tribe I'm talking about? Why, I'm talking about you, of course!
It's such an honour to have you readers as part of the BA tribe and community. When I felt like poo, you picked me up. When I celebrated a special occasion, you celebrated with me. Your presence and contribution to BA allowed me opportunities that I couldn't even believe I'd get.
Some of you are new here to BA. I hope I've made you feel welcome here because you always will be. Some of you have followed me since 2007, which was when I started BA. It's hard for me to find the words to tell you how much I appreciate each and everyone of you here, whether it's a fleeting visit or taking the time out of your busy day to leave a comment. Your emails, tweets, Facebook messages, Instagram comments and so on are so very appreciated.
I've checked the thesaurus for more ways to say thank you but truly, from the bottom of my heart, I am so grateful for you. Thank you for coming along this blogging journey with me for the past 8 years.
It wouldn't be any fun without you.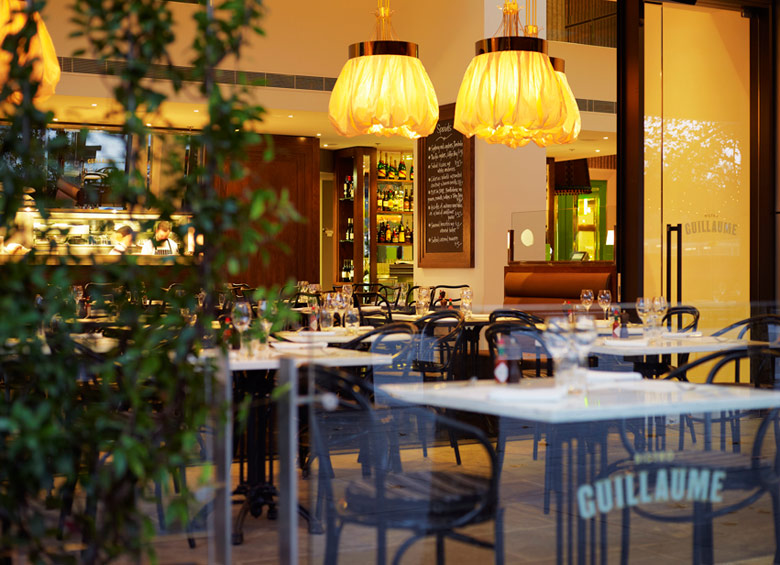 One of the things I've always wanted to do on BA is meet some of you readers whom I've never met before. I don't do "meetups" like they do on YouTube-land because 1) it would freak the hell out of me if many of you showed up and 2) it would freak the hell out of me if none of you showed up. But I'd still love to meet some of you in person, so for this year's 8th anniversary celebration, I'd like to take 5 readers out to lunch on a weekend at Bistro Guillaume in Melbourne. it would be my treat (not sponsored by the restaurant by the way, but hey if the restaurant reads this and would like to comp our meal, I ain't gonna say no!). I don't have an actual date yet because I'd love to discuss with you on the best date and time so let's sort that out later. But I'll say that the lunch will be on a Saturday in August.
I'm really excited about this. I discussed this idea of lunch with my readers with Tim and he thought it was a great idea too. I'd really love to meet some of you!
As Bistro Guillaume and I are in Melbourne, I'm afraid that if you don't reside in Melbourne and you do, for the lack of a better word because I think it's icky, "win" a spot, you'll have to find your way to Melbourne on your own. 😛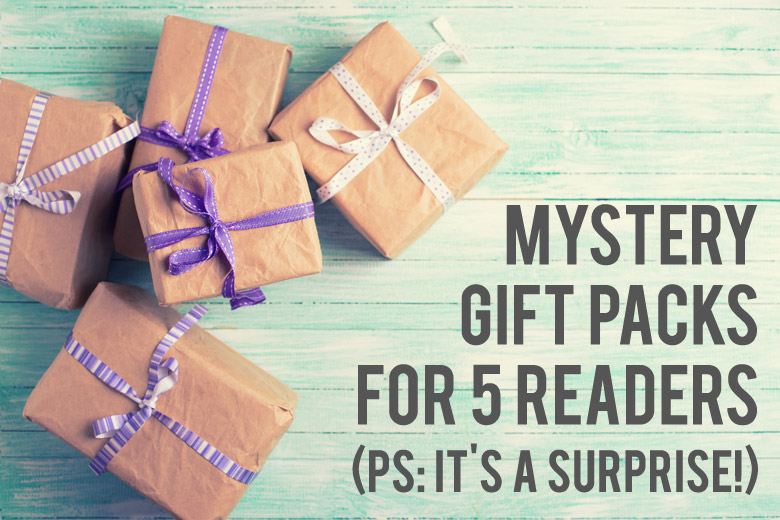 Of course, I can't neglect readers who aren't able to make it to Melbourne so I'll also be giving away mini mystery gift packs to 5 more readers! This giveaway will be available to all international readers as well. I'm not going to tell you what's in the mystery boxes but I hope you'll like them all the same.
To recap, here are the "prizes":
1. A treat to lunch with me at Bistro Guillaume in Melbourne for 5 lucky winners.
2. A mystery gift pack for 5 more lucky winners.
As Oprah would say "You get a prize! And YOU get a prize!". 😀
HOW TO ENTER:
Simply leave a comment below answering the following questions:
1. Which country are you from?
2. Would you be available for lunch? (only if you'd like to. Gosh this is awkward!)
3. If you could have a meal with someone famous (dead or alive), who would it be and why?
That's it!
TERMS & CONDITIONS:
1. This contest is open to Australian and international readers.
2. The value of the prize in the contest is approximately AU$750.00.
3. Anyone can enter the competition regardless of whether you've won anything here before.
4. Only one comment per contestant will be accepted.
5. Please keep it clean and spam-free.
6. The closing date for this giveaway is 11.59pm, 24 June 2015 (Australian EST). Comments submitted after this time will not be considered for the giveaway.
7. Five (5) winners for the lunch will be selected at random. The winners must be able to get to the venue at their own expense.
8. Five (5) winners for the mystery gift packs will also be selected at random.
9. The winners of the giveaway will be announced in the Competition/Giveaways page on 29 June 2015. The winners will also be notified via email. Please ensure that you've entered the correct email address because I'll be using that email address to contact you if you've won (not via social media).
10. The winners will be required to submit his/her name and contact address to Beautyholics Anonymous, who will be sending the mystery gift pack prizes out (please read Beautyholics Anonymous' privacy statement for more information).
11. The winner must respond to the notification email to claim the prize within 3 working days.
12. Prizes are not redeemable for cash and are non-transferable.
13. If for any reason beyond the Promoter's control that the agreed prize is not available, a product of equal or greater value will be provided.
14. Beautyholics Anonymous is not responsible for prizes once they have been dispatched to the winner. Beautyholics Anonymous reserves the right to change the terms of this giveaway at any time.
Good luck! 😀