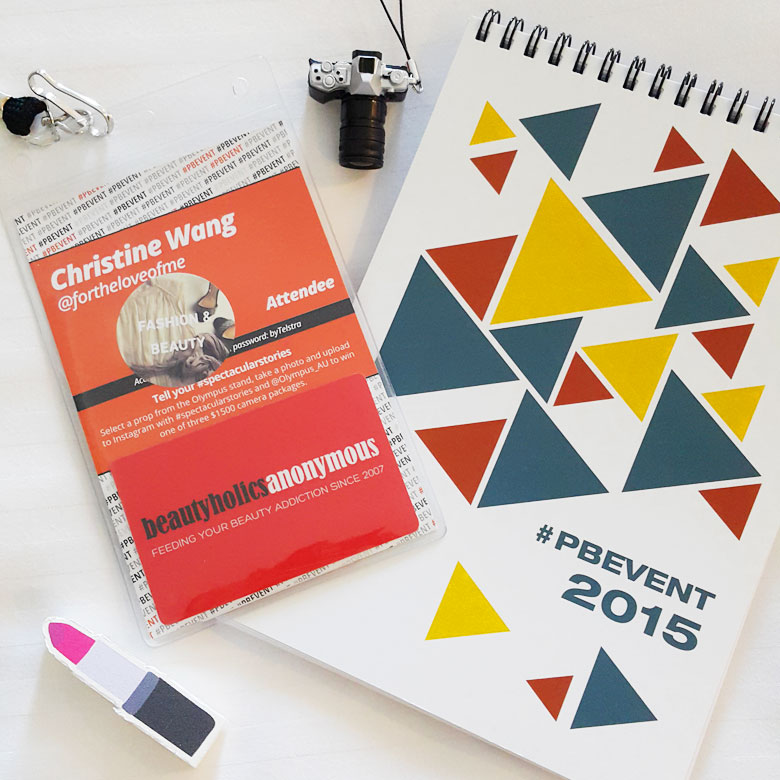 They say that if you want the ultimate high and inspiration for all of your blogging needs, go to a blogging conference. By they, I meant me. It's very hard not to come out of it frustrated and uninspired and right now, I feel like I need to do another major brain dump of all of the ideas that came into my head during and after the conference.
By now you'll know that I have just returned from the Problogger Event conference at Gold Coast. This year's conference is quite different from last year's. Last year's conference concentrated on many technical aspects of blogging e.g. how to grow your email list (not just the usual lead magnets, pop-ups, etc but down to the nitty gritty), building your blog's SEO, how to secure and maintain your WordPress blog, etc. I highly enjoyed the technical talk and thought it was going be similar this year.
However, this year concentrated on the human aspects of blogging. It wasn't the technical sessions that I expected but at the end of it, I realised that I actually loved this year's conference more because of the raw emotions that came out of the speakers and audience, the chord they struck in me and the tears they brought to my eyes.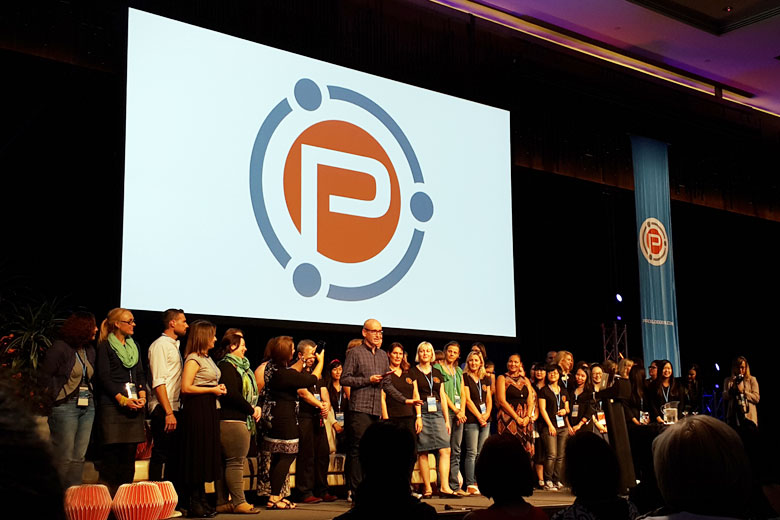 It would not be a blogging conference if there aren't a single bit of rah-rah-ness about it but hey, I went to the event to be inspired and if rah-rah-ness gets me inspired, so be it! 🙂
There are so many things I enjoyed about the conference. The venue, RACV Royal Pines, was absolutely lovely and the food was great. But the people, oh the people!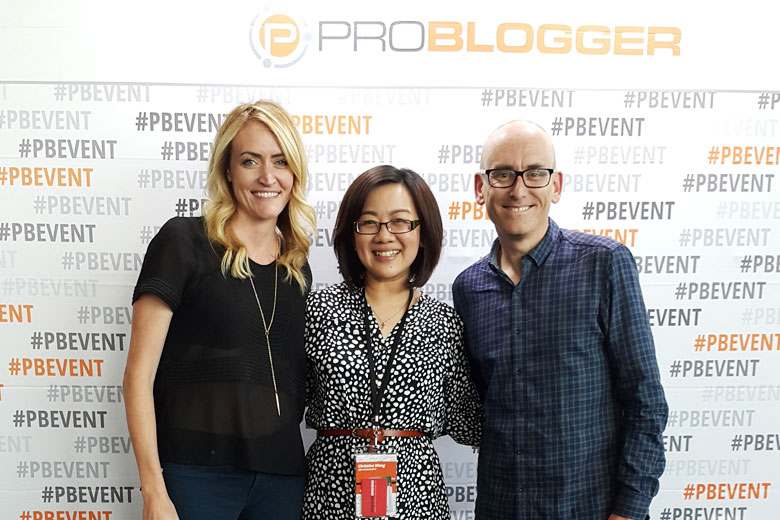 The speakers
The speakers were amazing this year. As usual, we have Darren from Problogger to open and close the conference but I have to give props to the special speakers: Jadah Sellner from Simple Green Smoothies, Heather Armstrong from Dooce, Ruth Soukup from Living Well Spending Less, Brandon Cowen from Crazy Dog Apps (you may also remember him from Beauty and the Geek in 2013) and many more.
The theme of the conference this year was "shine". How do you make your blog shine? Darren talked about the changes he made to improve his health and fitness over the course of the year really struck home for me because just a month before the conference, I started to take charge of my health and fitness too because I was tired of living such a sedentary lifestyle all these years. So I took up running. I started to move more and I started to eat better. I could see the physical changes in me, and I also saw the physical changes in him. It gave me more energy, helped me focus better on the things I was doing and in those moments of clarity, so many ideas came up. So when he talked about how the improvement of his health and fitness has given him such a massive impact in not just his physique but increased creativity, higher productivity and so on, it motivated me even more to continue on my journey to better health.
Jadah's energy was highly contagious and Heather's story and what she had to go through touched my heart. But funny enough, the one that touched my heart the most was someone I had no idea who he was until he got up on stage, and that was Brandon. He reminded me so much of my baby brother (not so baby anymore) when he was speaking and the interaction the audience had with him literally brought tears to my eyes and most of the audience's.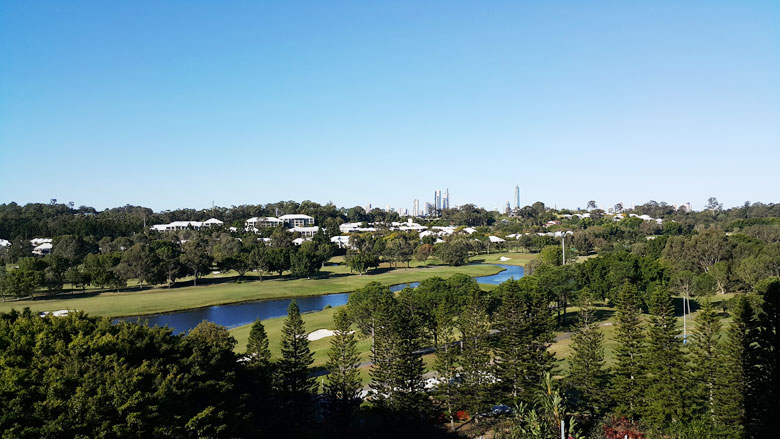 The beautiful view from my room (unzoomed, no filter, all that jazz)
The Problogger team
I can't even imagine for a second what organising a conference is like but the Problogger team did it and they did such an amazing job. It's not a large team of, say, 100, to come up with a conference for 700 attendees. It was a team of 14, excluding volunteers who worked behind the scenes and during the event, who came up with an event of this scale. Questions were answered almost immediately on social media and everyone was made to feel very welcome. I couldn't be more grateful to the team for pulling this off so well.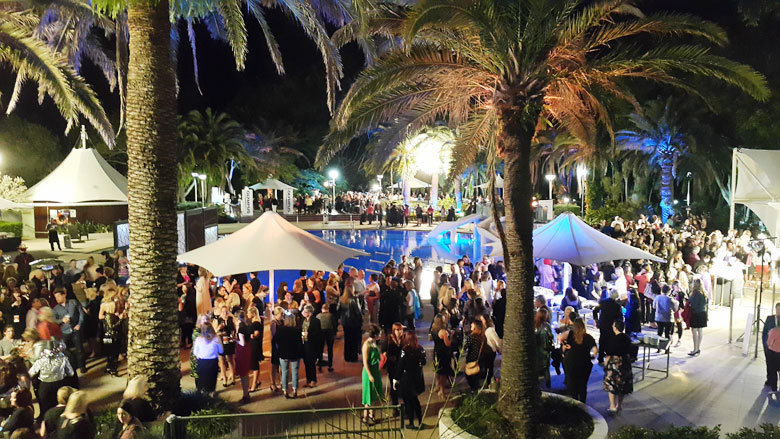 The networking evening on the first day
The lessons
Like I mentioned, there weren't many technical lessons during the sessions this time but even so, there was so much to learn. People think that I'm some sort of veteran blogger when I tell them that this is my 8th year of blogging and that I must know it all, but let me tell you this: I don't. And I never stop learning. There's always something new to pick up that I haven't heard of or haven't implemented on my blog. Blogging is a marathon, not a race.
I picked up so many tips and tricks from the sessions and I cannot wait to get started on them. They've given me so many ideas on how to build my email list and use Pinterest better to drive traffic to my blog. For every new tip a speaker gave, I wanted to stand up and shout "I'M ON IT!". 🙂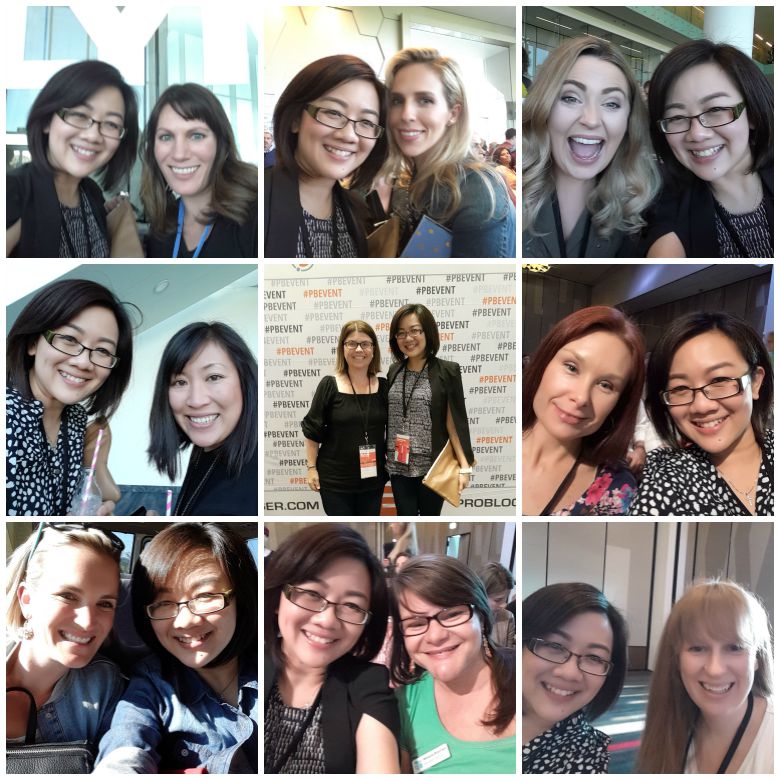 L-R, top row to bottom: Laney, Stephie, Madeleine, Sheena, Deb, Sarah-Jane, Wendy, Mel & Lisa
The bloggers
I went to the conference on my own again this year. I knew a handful of bloggers but in the sea of 700 bloggers in the same venue, it's very hard to even look for them so I pretty much started out the journey on my own. I was really nervous at first and I remembered praying that it will all go well and that I'll have the courage to open my mouth to speak to someone I don't know. Thankfully, my experience in Gold Coast started off very well when I sat next to a blogger (hello Wendy!) on the shuttle going to the hotel. We chatted about blogging for an hour before we reached the hotel and we caught up with each other again during the conference.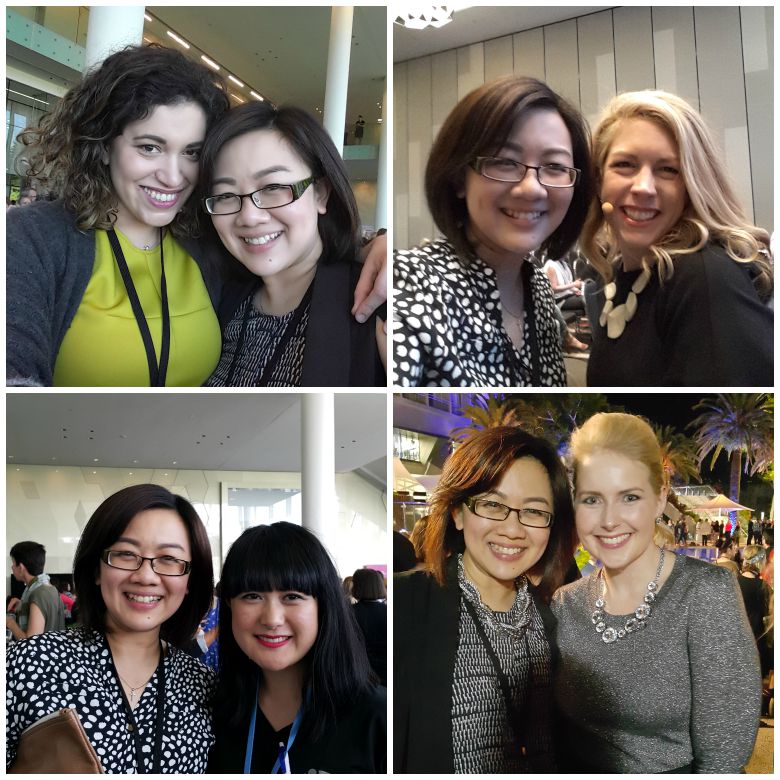 L-R: Luci, Christina, Cheryl & Andrea
Next, I bumped into several fellow Secret Bloggers Business ecourse-mates at the conference and we had such a ball throughout the whole 4 days. Even though we hung out together a lot of the time, I also had the opportunity to chat with many new people whom I haven't met before. Before the conference started, I told myself I'd take a photo with every blogger whom I've chatted with (not just a "hello how are you", but actually having a proper conversation) and I'm so glad I did.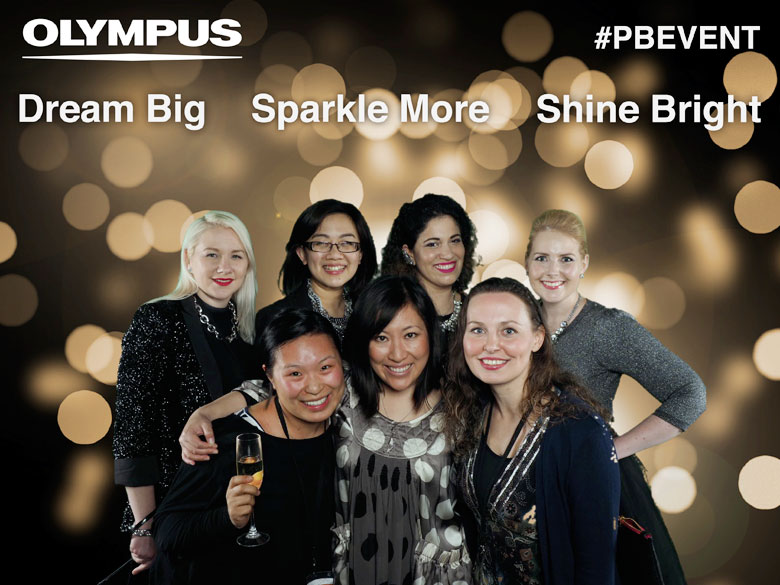 Many thanks to Olympus for the fun photo-op! I missed out last year's photobooth but I'll be damned if I missed this year's!
It wasn't all fun and games though. During one of the early sessions on the first day, I found out that my email account was hacked and everyone in my address book received a dodgy email from me (if you received an email from me regarding a Dropbox link, please don't click on the link! Apologies for the inconvenience) and in the midst of sorting it out, I missed out on a lot of Jadah Sellner's keynote speech. It was frustrating, but I was determined not to let it get me down.
The conference ended with a whole lot of dancing to 80s music, wistful goodbyes and promises to keep in touch and to catch up for coffee. I was sad to leave all the new friends I made and old friends I've caught up with but it was so good to also know that I'll still see them again in a year's time.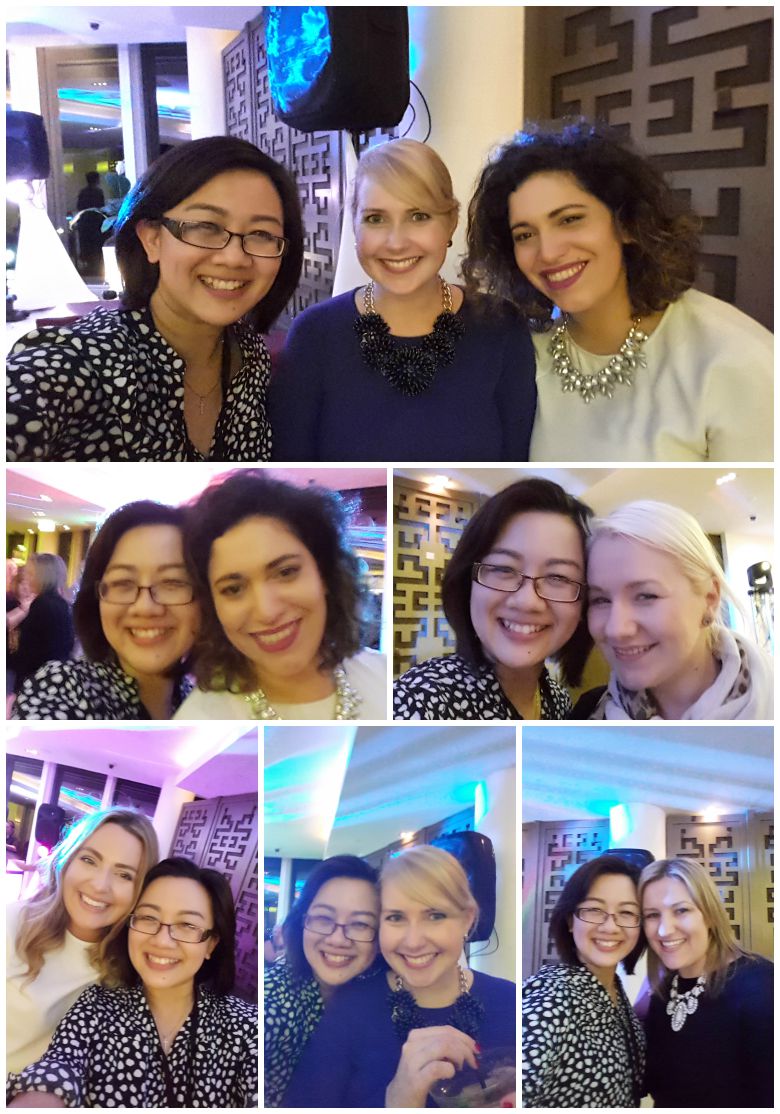 SBB girls unite!
I can't say the same for every other blogging conference since I've only been to the ones by Problogger, but if you're thinking of going to the Problogger Event conference next year and you're not sure if it's worth the money, I want to tell you 100% yes, it is. I'm not being paid to say good things about the conference, nor am I an affiliate of Problogger. It isn't just the things that you'll learn that's important but the people you meet and the friends you make out of it that makes that ticket fee worth every penny. They may call it a "networking" event and yes, while you do network with the sponsors and other bloggers, it's the people whom you'll meet and forge friendships with that makes the conference worthwhile.
So, if you see new features introduced to BA or existing features taken out of BA, you'll know that I've started experimenting with the tips and tricks that I've picked up from the conference. Fingers crossed that everything will work out just as I hoped.
As for those of you whom I've met at the conference last weekend, thank you for being such a highlight for me during those 4 days. I'll be stalking y'all on your blogs and social media!
Did you go to the Problogger Event conference? Did I miss you and not say hello?? How did you find it?
PS: Note to self: wear contact lenses for the next conference. My glasses kept cutting my eyes off!
Bloggie Wednesdays
is a series of articles just on blogging. They contain tips, how-tos, discussions about anything and everything you need to know about blogging and how we can be better bloggers. If you have any suggestions, tips and tricks about blogging you would like to share with us, or if you have any questions you would like me to address, please let us know in the comments.