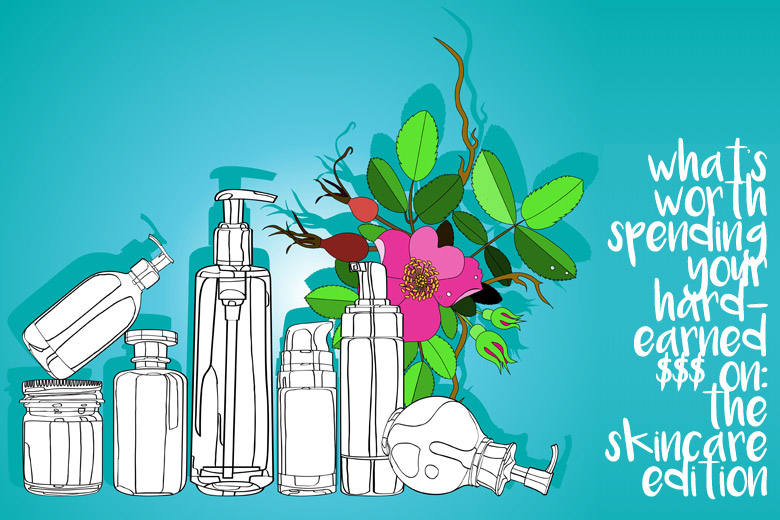 © mayl4ik
I hope you've enjoyed Tuesday's instalment of "what's worth spending your hard-earned dosh on: makeup edition". Today, I'd like to finish up with the skincare edition. Again, I'm going to sound like a broken record here because you'll also have heard me talk about this many times but when the products are that good to worth mentioning so many times, they're certainly worth a try.
I mention serums a lot here because that's where you should be spending more of your money on. Save your money on cleansers, toners and even moisturisers, and splurge on good serums that can and will bring your skin to the next level.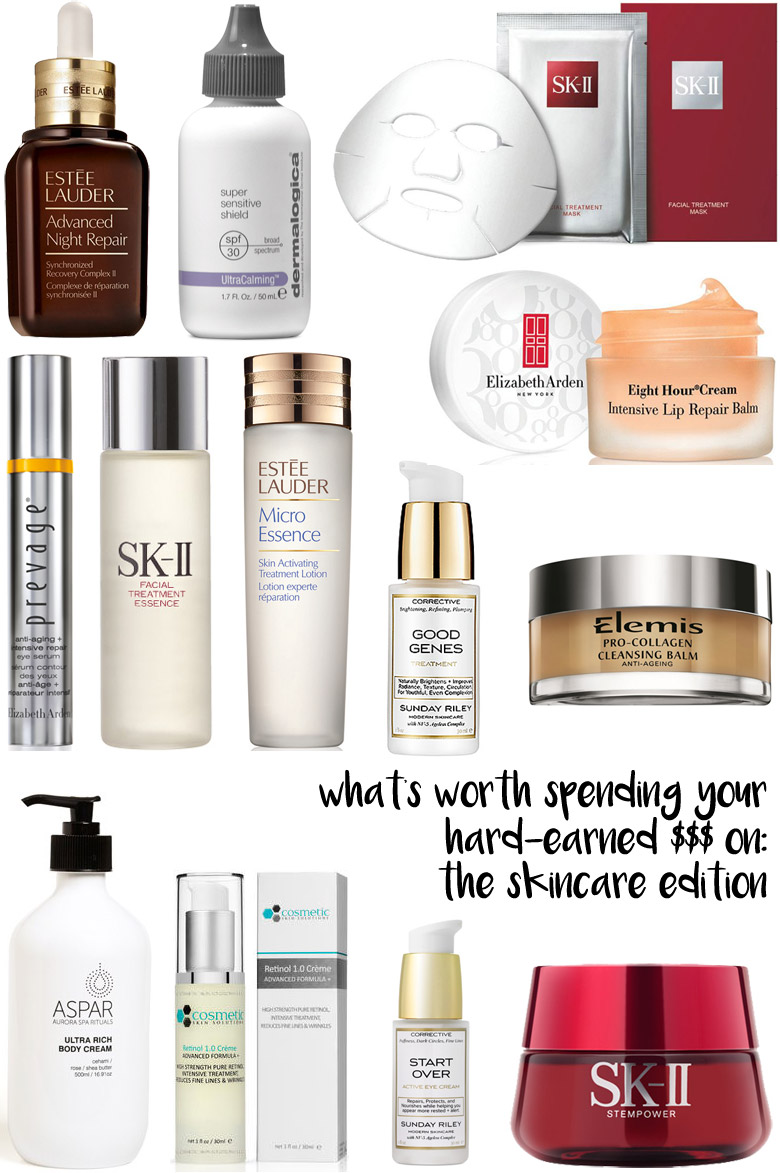 Estee Lauder Advanced Night Repair. There's a reason why this little brown bottle has been Estee Lauder's best-selling product for decades. This is what I call a great all-rounder serum. It softens fine lines, smoothens skin, gives the skin a radiant appearance and much more. Whenever my skin goes to the shithouse due to new products I'm trialling, I'll go back to this serum and lo and behold, less than a week later, my skin will look and feel much better.
Elizabeth Arden 8 Hour Cream Intensive Lip Repair Balm. This isn't very expensive compared to the rest of the skincare mentioned here but for a small pot of lip balm, I think it's a bit of a whopper compared to what you can get from Priceline. I love this lipbalm especially at night before I sleep. This is by far the only lipbalm that can help soothe and heal my cracked lips. Sometimes when I'm dehydrated and don't drink enough water, my lips will start to crack and form a sort of perpetual lip liner on my lips. It hurts something fierce and it's worse when I eat. This balm soothes the cracked skin right away and I'd wake up the next morning with less swelling. I've tried many lipbalms to combat this and so far, this is the only one that heals my cracked lips quickly.
Sunday Riley Good Genes. I resisted using this because of how smelly the serum was but after hearing so many good things about it, I finally took the plunge. This is now my favourite serum of the whole lot of serums I use, mainly because of the almost immediate results I get with it. I'd apply this in the evenings and wake up with super smooth skin the very next morning. If there are only two serums you're able to splurge your money on, get the Estee Lauder Advanced Night Repair and this one.
Elemis Pro-Collagen Cleansing Balm. I love, love, LOVE this cleansing balm. It smells so good and feels like butter on my skin. The Emma Hardie cleansing balm does the same job too but I'm not a fan of the scent so I'd stick to this instead.
Estee Lauder Micro Essence. Expensive as hell for a toner/lotion but boy, does it feel good on the skin and does it work. This makes my skin feel very boing-boing and preps it for my serums. When I'm not using SKII's Facial Treatment Essence, I use this. I've tried other toners/lotions from Estee Lauder and this is by far the best.
Paula's Choice RESIST Hyaluronic Acid Booster. I love hyaluronic acid serums and while I really like Cosmetic Skin Solutions' Hydra B5 Gel, given the choice, I'd go for the Hyaluronic Acid Booster by Paula's Choice instead. It doesn't only have a high content of hyaluronic acid; the addition of ceramides in the serum also gives the skin an added benefit. I also prefer the slightly more viscous texture compared to the more watery Hydra B5 Gel. However, it's more expensive per ml compared to the bulk version of the Hydra B5 Gel so I'll stick to the Hydra B5 Gel for now. When Paula's Choice launches any sort of sales, you can bet I'll snap this one up pronto.
Sunday Riley Start Over Active Eye Cream. It's very hard for me to find an eye cream that actually works for me so when I do, I'll sing praises about it as much as I can. This eye cream by Sunday Riley didn't only help with my puffiness and dark circles, it also helped to soften the fine lines below my eyes (you've seen close-up pictures of my on the blog so you'll know about those dreaded lines). I've seen an improvement on those lines that other eye creams haven't given me. The price point for this eye cream is also good given that it's pretty much up there with higher-end brands (it may seem a lot at AU$100 but it comes in 30ml, not the usual 15ml, which is cheaper than eye creams from Estee Lauder and even Kiehl's).
Elizabeth Arden's Prevage Eye Serum. If Sunday Riley's Start Over Eye Cream is the night version of an eye cream, then the Prevage Eye Serum would be the day version as it contains shimmer (why shimmer is even needed, beats the hell out of me). Shimmer aside, this is another very good eye cream that I've seen good results with. I've seen softening of lines and reduction of dark circles under the eyes with this one.
Cosmetic Skin Solutions Retinol 1.0 Creme. This is not very expensive compared to the rest of the products mentioned as I get this from the US webstore but it's worth mentioning because this serum has done wonders for my skin. I went from a 0.1% retinol (from La Roche-Posay's Redermic R) to this 1% retinol serum and my skin has never been better. If you've never tried retinol serums before, start small with the La Roche-Posay and then slowly move on to higher concentrations.
SKII Facial Treatment Essence. A lot of people find this product confusing and they didn't get any results with this. I must admit that, years ago, I was one of them. I tried this out and thought it did nothing for my skin at all. Plus it smells like bread that has gone bad. After a number of years away from the FTE, I tried it again and for some goodness-knows-what reason, I saw the improvement in my skin. My skin became softer and the FTE made my serums more susceptible to absorption. The smelly water actually works!
SKII Stempower. This is by far my favourite high-end moisturisers. I'm more than happy to use far cheaper basic moisturisers (the ones from Uriage's Aqua Precis line are really good) but when I'd like to treat myself to a luxe moisturiser, I always go back to the Stempower. My skin drinks this up like water!
SKII Facial Treatment Sheet Masks. I've tried many facial sheet masks over the years and while I love the ones from L'Herboflore and My Beauty Diary, when I need a quick pick-me-up that makes my skin glow, I take out my trusty SKII sheet masks. The effect you get out of each mask is skin after a facial. Oh yeah, it's that good. Plus each sachet comes with lots of leftover serum, so you can decant that into a small pot and use that as your serum the next few day. Each sachet is so bloody expensive; nothing must be wasted!
Dermalogica UltraCalming Super Sensitive Shield SPF30. This is the only physical sunscreen I enjoy using. I typically stay away from physical sunscreen because so far, I've not tried any that aren't rich or heavy or casts a grey shadow on my skin. This physical sunscreen from Dermalogica is very lightweight, not at all greasy and doesn't leave a white/grey cast on the skin. Plus it doesn't smell sunscreen-y, which is always a plus in my books.
Aurora Spa Rituals Ultra Rich Body Cream. Not for your face but since we're talking about skin, I thought I'd throw this in quickly. It's my favourite body lotion above everything that I've ever tried. It smells SO good and feels SO good on my skin. A treat for the skin indeed!
If you're wondering why I didn't add cleansing tools like the Clarisonic, personally, I'm not a fan. You can cleanse your face equally well and less abrasively with a wash cloth or face towel.
This concludes the quick 2-day series of what's worth spending your hard-earned money on. Not everything in your skincare routine needs to be high-end and the same goes for makeup too. Select a few worth working on (e.g. for me, it would be serums for skincare and face makeup for, well, makeup) and spend on those instead. But I'd be remiss if I didn't mention a few little extras too, for surely I won't be doing my job as an enabler if I didn't. 😉
What about you? What sort of skincare would you typically splurge on and why?