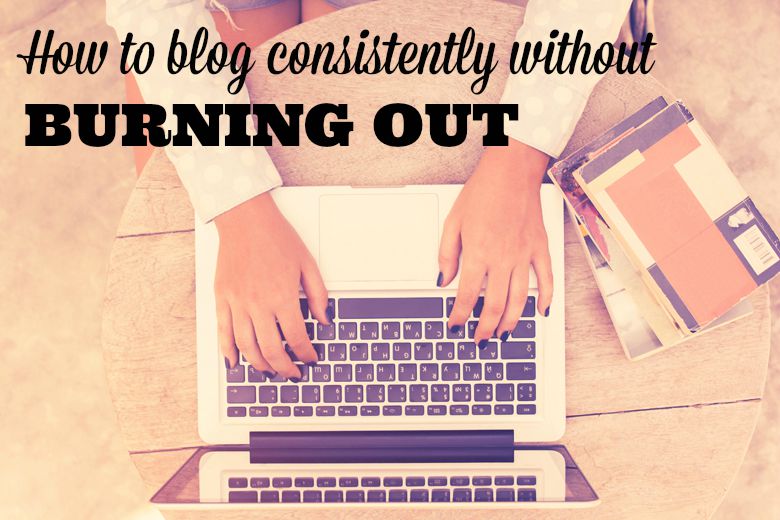 This is a question I often get from readers. I don't blog that frequently anymore (even though 5 days a week is still plenty frequent to me!); I used to publish 7 posts a week for a couple of years. When 2015 came about, I decided to cut down to 5, which was a very good decision because 1 ) it meant that I could create better content without needing fillers and 2) I get less unsubscription notices telling me people have unsubscribed due to too many updates 😛 . In fact, I'm already considering cutting back to 4 a week, but we'll see how that goes, eh?
As blogging is pretty much a full-time job for me, I make it a point to serve content as frequently and more importantly, as consistent as I can. Having said that, frequency and consistency are two very different things. You can be a consistent blogger without needing to blog so many times a week. You can be a consistent blogger with just 2 posts a week. It's how you plan your content out and when you're serving it.
What are your objectives for blogging?
Are you blogging because you want to share a passion that you have with the world? Are you hoping to build a community of like-minded people who can share their passions with each other? Are you blogging because you're tired of your work and need a creative outlet? Are you doing this as a hobby? Are you building your blog to become a part or even your whole business? It's very important to know what your objectives for blogging are and how you intend for your blog to grow. I've said time and time again: it's very easy to start a blog but it's bloody hard work to maintain one. Most of the beauty bloggers whom I got to know from 2010 onwards have already stopped blogging. A lot of them haven't updated their blogs in 1-2 years.
BA started off as a creative outlet for me and back then, I was blogging 1-3 times a week. I didn't know what I wanted to do with it; all I wanted to do was share more of my love for beauty products with likeminded women who didn't find my passion frivolous. However, I didn't know what I wanted to do with the blog as time went on, especially when I moved to Australia from Malaysia. I started to lose interest in blogging and I almost gave up in 2010 (I was blogging 1-2 posts a month then). It was after I started meeting more beauty bloggers that my passion for blogging was reignited. I never did lose interest in beauty but I did for blogging at one point. It was when I realised that there was a steady community growing in BA that I knew I wanted to do this for them. That was when I finally knew why I wanted to continue blogging.
TRY THIS: Write this down on a piece of paper, notebook, journal, etc – "I'm blogging on [insert your blog name] because … ".
Plan, plan and plan some more
There's this saying that you've probably heard to death but it bears a lot of weight, not just in blogging but in life as well: "when you fail to plan, you plan to fail". I don't know about you but the moment I stop planning my content for BA in the next month or so, I'll panic. I'll be wracking my brain for inspiration and I'll write to the early hours of the morning. By the time I'm done, I'd be so tired. If I don't plan my content after this, the whole cycle will repeat and by the end of the month, I'd be so burned out, I'd have nothing more to give.
Like I said earlier, you can be a consistent blogger without needing to blog daily. For example, let's say that you've decided that you're only going to blog 3 days a week, or even 2. Set the days that you're going to be publishing a post. E.g. you'll be posting every Monday, Wednesday and Saturday. Or you'll be posting every Tuesday and Sunday. It doesn't matter if you're just blogging once a week; set a day you'll be publishing a post and stick to it. When you set particular days that you'll be publishing a post, your readers will come to expect a post from you on that day. This is how consistency is built.
You can also set specific categories that you want to post per week. E.g. Mondays are for makeup reviews, Wednesdays for skincare reviews and Saturdays for outfit posts. For me, Wednesdays are specifically for Bloggie Wednesday posts, which are what readers expect to read every Wednesday. Fridays are usually for non-beauty related topics.
TRY THIS: Plan out your content for the next 2 weeks on a piece of paper/notebook/spreadsheet. If you're blogging only 2 days a week, plan out your content for the next 4 weeks. Set the days that you'll be publishg a post and write down the topic you'll be blogging about.
Hold some of the good stuff back
The fun part about blogging is getting hit with inspiration. Suddenly, out of the blue, all these ideas flow in and you're thinking, OMG I need to blog about this right NOW. Yes you do and no you don't. What you need to do when inpspiration hits you is write them down NOW. Heck, write till your hands hurt but write them all out now. But hold your horses when it comes to actually publishing the post.
When you write them down as soon as possible, all of the emotions are translated on screen/paper. They don't have to be published yet. For example, you came up with 10 ideas for your blog posts. Great! Write all of those ideas down and spread them out throughout the month. By the time you revisit those ideas as the weeks go by, you go back to what you've written and relive the moments you were hit with all that great inspiration. If you blog 3 times a week, those 10 ideas mean 3 weeks worth of content, which is pretty damn awesome. By all means write down the good stuff but resist the temptation to blog everything at once. Or else you'll have 10 back-to-back days of great content and then crickets after that.
TRY THIS: Come up with 10 ideas for blog posts but hold 5 of the best ones back for now. Spread the good, meaty posts out throughout the weeks. This way, you don't have to worry about needing to add post fillers to make up the difference.
Automate, automate and automate some more
One of the best ways to avoid burning out when blogging is to batch and automate your work. Make that "Schedule Post" button on your blog and even social media your best friend. These days, it just isn't about blogging anymore; we have to worry about keeping abreast with everything on social media too because that's where most of our audience are hanging out. If everything is done on the fly (e.g. publishing a post, tweeting, updating Facebook, pinning on Pinterest, posting on Instagram), I won't have time to do anything else!
Automate your social media promos using tools like Buffer or Hootsuite. I use CoSchedule to automate my posts for the blog and promotion of those posts on social media.
When you have time to do "blogging things" (that's what Tim likes to refer to what I do), batch your work. If you're going to write, just write. Spend one hour writing out blog post after blog post. Don't do any product photography, don't be spending time on Twitter or Facebook, just write. When you have another spare hour, do your product photography. Photograph several products that you're going to be reviewing in that one hour. Don't edit those photos yet, just snap away. During another spare hour, edit those photos. The idea is to batch your work and not having to write + take photos + go on social media for just the ONE post.
TRY THIS: Spend the next spare hour you have just writing out your posts in draft mode. Switch social media, emails and other modes of distraction (dog tricks on YouTube will be the death of me) and write. Set up an account for Hootsuite and/or Buffer if you haven't already. I prefer Buffer to Hootsuite for the simplicity and lack of distractions of accidentally-on-purpose checking out my Twitter timeline.
Bring in guest contributors
I very rarely take on guest contributors on BA but taking a few on for when I was in Malaysia earlier this year wasn't only a breath of fresh air for my readers, but it took a tremendous load off my shoulders. Usually, I'd be working my butt off preparing content to be scheduled and posted for when I'm away but I thought I'd request help from guest contributors instead. I was so relieved they agreed to help me out because I didn't have to worry about preparing 12 days worth of content in less than 2 weeks before I left. Before taking on guest contributors, I used to write up a storm and schedule content so that it doesn't seem as though I've left. When I finally left for my holiday, I was so exhausted that I couldn't enjoy my time for the first few days.
TRY THIS: Ask your friends if they'd like to help you write a post or two. Or ask a fellow blogger in your niche. It's the matter of "you scratch my back and I'll scratch yours"; you can help promote his/her blog too to your audience.
Take a break!
Even when you've tried 'em all, there's only so much you can do before you really burn out. You'd take time off work for a break so why wouldn't you for blogging? I'll be taking mine in September. I remembered the guilt I felt when I first took time off the blog after having blogged so frequently and consistently because I went from having published a post every day to no posts for at least 2 weeks. But you know something, that break rejuvenated me and I came home with heaps of ideas and inspiration for great content. My readers understood that my brains needed a break from blogging and social media. And so will yours.
TRY THIS: If you've been blogging consistently for a while now but feel like you need a break, take it. You're not letting your readers down by taking a well-deserved break. You'll let them down when you've got no more to give yet try to come up with filler content that doesn't work with your blog.
I hope this answers some of the questions you may have on blogging consistently without burning out. Always remember this: it's not the frequency that matters, it's the consistency. Once you've set up a routine for yourself when it comes to blogging where you plan your content and batch your work, you won't find yourself burning out that quickly.
Good luck!
What about you? If you blog frequently and/or consistently, how do you make sure you don't fry your brains and burn out?
Bloggie Wednesdays
is a series of articles just on blogging. They contain tips, how-tos, discussions about anything and everything you need to know about blogging and how we can be better bloggers. If you have any suggestions, tips and tricks about blogging you would like to share with us, or if you have any questions you would like me to address, please let us know in the comments.