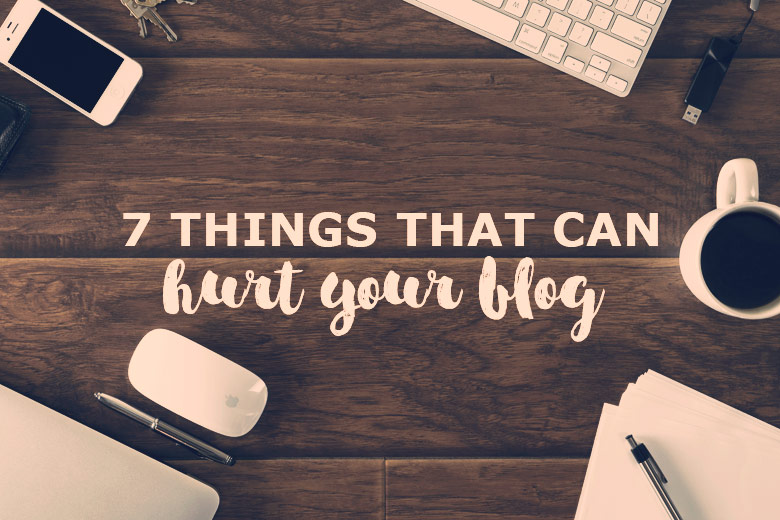 I've learned a lot of lessons, some the hard way, throughout my years of blogging. The time when I accidentally deleted the entire blog (at that time, I had 3 years worth of content) and almost had a heart attack, the time when I didn't back up my content, broke my blog and couldn't retrieve most of what I lost, the time when I didn't reply to a single comment left on my blog … oh, there were many lessons indeed. In hindsight, I've done many things that hurt my blog and I only noticed the problems and consequences later.
One of the biggest advantages of blogging now is that you no longer need to fumble like most of us did when we started blogging many years ago. We didn't know what the heck we were doing back then and there weren't many tutorials that we could Google for. Nowadays, there's a solution for almost everything and I'm very thankful for more and more bloggers on the scene that are able to provide free solutions to the problems I have. That knowledge helps to minimise the mistakes I make that can hurt my blog.
Are you doing any of these 7 things that can hurt your blog?
No share buttons
In this day and age of "everything under the sun must be shared", it's almost a blogging crime not to have any share buttons on your blog. I've lost count of the number of times I wanted to share great articles I've read to Twitter only to find that there wasn't any options for me to share the posts. Of course, I can do it manually but it would be a waste of time out to copy and paste the title and link, especially if it isn't just one article to share. There are plenty of share button widgets and plugins for every blogging platform that you can try out.
If you do have share buttons, make sure they're working! I didn't realise that up to the point when I changed my sharing buttons to Social Warfare's, the previous ones I was using weren't working at all. I had no idea because I didn't test them out periodically. Goodness knows how many missed sharing opportunities I had because of that!
Missing search bar
Out of all of the pet peeves I have with blogging, this is my biggest. I can overlook many things on a website (even auto-playing music and video) but the one thing I cannot abide that makes me leave the website quicker than you can say "Howdy!" is the lack of a search bar. You need to have the capability for people to be able to search for anything they want on your blog. It doesn't matter if you don't have the content they want because you can always offer suggestions on your search results page to something similar to what they want. The point is to allow them to be able to search. As I'm writing this, I'm on a blog that doesn't have a search bar when there's something I really want to find on that website and it frustrates me to no end. If I have to go to Google to search instead, then rest assured I won't be coming back to the website. Don't annoy your readers/potential subscribers by not having a search function on your blog. Google has a good search bar widget that you can use on your blog.
Cluttered sidebar
Have you seen blogs that have sidebars that seem to go on forever? If your sidebar is much longer than the content you offer, then it's time to rethink if everything that is on the sidebar is necessary. Your sidebar is valuable real estate, especially if you're monetising your blog. If the affiliate ads/banners aren't making you any money, I'd recommend removing them and providing the space for those that will actually make you money. Exchanging of blog links might be fun but if you're not seeing any increase in traffic, followers and subscribers after some time, it's time to rethink that strategy. Sidebar content must be monitored frequently to make sure what you have in there is valuable to your readers and potential advertisers. If your sidebar is already very long when viewed on a desktop computer, imagine how it would look like on a mobile device. It would be a neverending scrolling!
Too many ads
Personally, I'm not a fan of too many ads on a blog, particularly ads that reskin the entire website (i.e. it changes the background of the blog to show the ad) or auto-play video. Ads can make or break the blog. An example of too many ads would be if there's one above the header, below the header, between each blog post, many on the sidebar and a couple more on the footer. Ads are distracting (imagine the ones with video or blinky, flashing ones) and the more ads you have, the more options you're giving to your readers to click AWAY from your blog. Too many ads also make your blog look spammy. Mind you, there's nothing wrong with having ads on your blog, but discern what's important and what's not. It's also crucial to monitor the types of ads you don't want to show on your blog. Google Adsense allows you to not display ads of a certain nature (e.g. adult content, gambling, etc).
Too many sponsored posts
This is a bit of a tough one. Back in the day when you can write a short 2-paragraph irrelevant sponsored post for $20 and get away with it, it's not so easy these days. These days, people can sniff out a sponsored post from a mile away and if there's too many of them, you can be sure that readers will call you out on it when your blog ends up becoming a commercial zone. I've read really, really good sponsored posts (Styling You and Smaggle do the best sponsored posts in my opinion) and unfortunately, I've also read ones that insult the intelligence of the blogger's readers. It's all right to have sponsored content on your blog as long as you 1) keep them relevant and 2) give value to your readers. Decide the maximum number of sponsored posts you'd do per month and spread them out with more free valuable content.
Not having your own domain from the start
If you're intending to blog seriously (maybe not enough to give up your day job but enough that you're spending a lot of your free time working on it), then I'd highly recommend you get your own domain from the moment you decide to publish your first post. Domains are really cheap these days and really, it's fun to have your own dot com! You can have your own domain and still blog on free platforms like Blogger and WordPress. SEO can be a nightmare if you blog on, say, a Blogspot address and decide to switch to your own domain later. Google isn't kind to those switches. It's best to start with your own domain and move forward from there.
Not having a mailing list
This was the biggest mistake I made on my blog, and that was not to start a proper mailing list until after 7 years of blogging. I spent so much time trying to grow my social media platforms like Twitter, Facebook, Instagram and Pinterest when I could have spent just half that time starting and growing my mailing list that ultimately belongs to me. I cannot recommend builing your mailing list enough. It doesn't even have to be a weekly newsletter; it could just be an email subscription to your blog posts where subscribers get an email of your latest blog post each time one is published. You just need to get your reader's name and email address for that. And if you want to do a proper newsletter, why not, it's fun! However you go about it, just get it started. And don't wait 7 years like me to get on it. Sigh.
There's no judgement at all if you do do any or all of these. Blogging is a journey, not a destination. You'll stumble and fall some time but you'll pick yourself up again and chug along. You too will be able to share your experience and help newer bloggers who come along, stumble and fall, and they in turn will help even newer bloggers, and so on. That's the beauty of the blogging cycle. 🙂
What about you? Have you done any of these that may potentially hurt your blog? What lessons have you learned along the way?
Bloggie Wednesdays
is a series of articles just on blogging. They contain tips, how-tos, discussions about anything and everything you need to know about blogging and how we can be better bloggers. If you have any suggestions, tips and tricks about blogging you would like to share with us, or if you have any questions you would like me to address, please let us know in the comments.