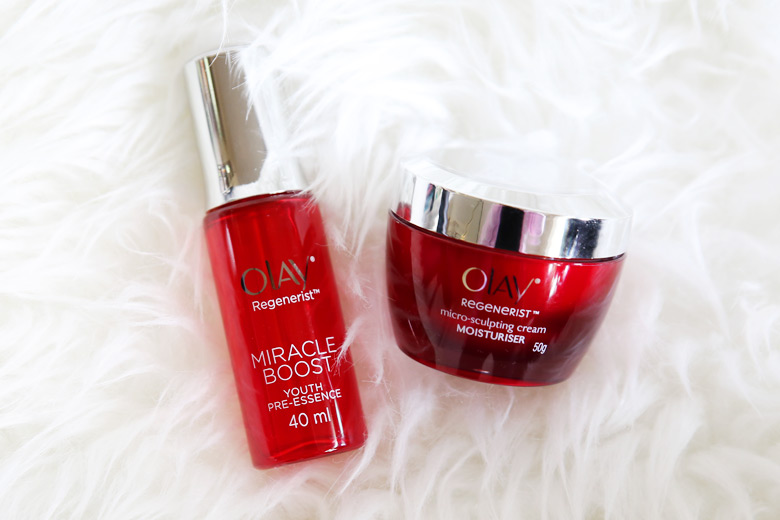 Olay has always been one of those brands that I like, constantly recommend but seldom actually use myself. It sounds strange, I know, that I would be raving about products from a brand that I don't actually use much of myself. It's a highly-established drugstore brand that is somehow quite underrated compared to de rigueur of French pharmacy beauty brands these days. They're one of the few drugstore skincare brands that offer a good percentage of useful anti-aging ingredients like peptides and niacinamide, often even more than what a number of high-end skincare brands offer.
I've stopped using Olay for a number of years because I found the creams a tad rich for my liking back then. As they were heavy on my younger combination skin, the creams tend to feel greasy and all-round icky on my skin. However, I have no qualms in recommending it to people with older skin than mine or to those with dry skin because I've seen the results. My grandmother has been using Olay moisturisers for possibly 70+ years now and her skin still looks great. I've seen good results on younger skin too.
I recently wrote about the changes in my skin when I entered my 30s and while I still have an oily T-zone, the rest of my face is no longer "normal". It's slowly changing and it's getting dry and dehydrated far more often than I like. Light gels and lotions no longer work for me at night. I find myself reaching for richer creams and noticed my skin drinking them up like quenching thirst in a desert. That was when I decided to give Olay a go once more, specifically a couple of items from the Regenerist range.
Oh my skin is in love!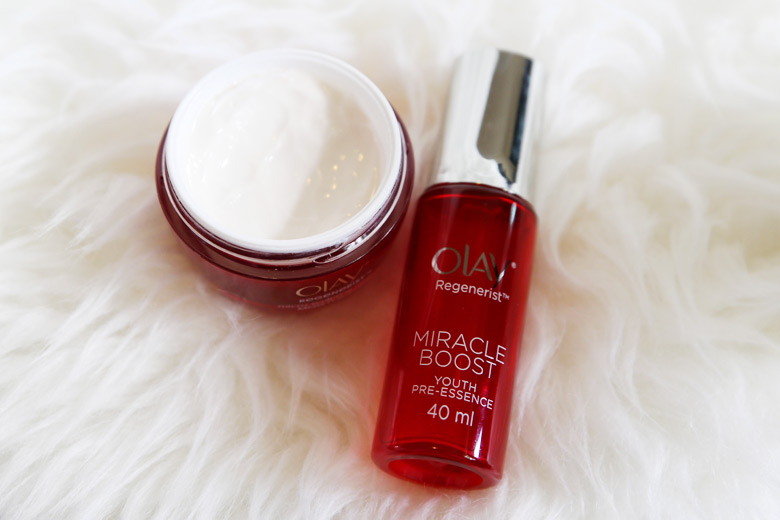 Pre-serums are getting more and more popular these days, as I'm sure you're starting to notice. Beauty brands are eager to market an extra step to consumers claiming that pre-serums will allow the serums that you're currently using to work better as they absorb better. Whether or not you think it's phooey, it's worth giving it at least a go. Prior to this, I used hyaluronic acid serums as a "pre-serum" before my retinols and AHAs, and I find that the latter serums work better. As I had already used up my last hyaluronic acid serum, I thought I'd give this a go.
This isn't a HA serum and while it's as watery as most HA serums I've tried, it still absorbs very well and feels great on the skin. My serums are still performing optimally when I use this with them. As far as pre-serums go, this is a good one. From the list of ingredients, this contains quite a high percentage of niacinamide (Vitamin B3) that is a good anti-aging ingredient that can help improve skin's elasticity, enhance its barrier function, help erase discolourations and revive skin's healthy tone and texture. I didn't use any other Olay serums after this and I still see positive results on my skin.
The only problem I have with this serum is how quickly it depletes. Olay recommends a 2-pump dosage per use and as I use this twice a day, that's 4 big pumps gone per day. I've been using just a 1-pump dosage per use and already it's half gone by the time I've reached a month's use. If I used the recommended 2-pump dose from the beginning, I'd have finished an entire bottle by the time the 4th week is over. Personally, I think a 1-pump dosage suffices.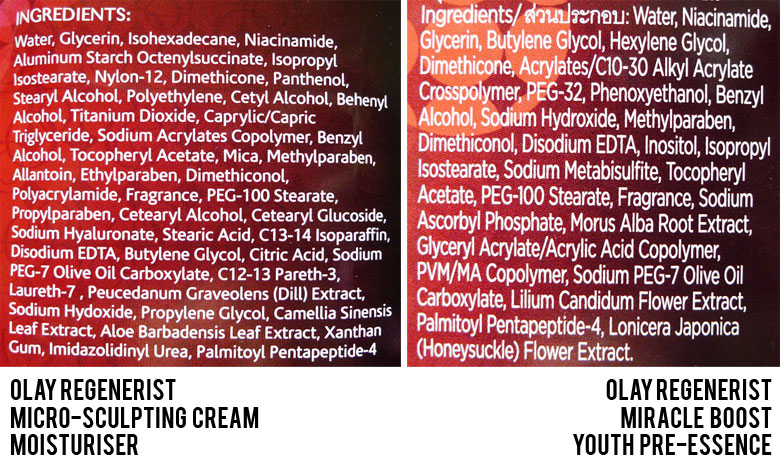 I've tried the Regenerist Micro-Sculpting Cream Moisturiser several years ago. Back then, I didn't like it. I thought it was too thick for my skin and that all it did was leave a greasy sheen on my skin. Now that my skin is, well, aging, it's becoming drier and it's no longer content with light creams and gels, particularly in the evenings. When I first tried this again after years of staying away from it, it was like a skin revelation. My skin absolutely loves it! It drinks this up like water. I didn't see nor feel that greasy sheen I encountered years ago.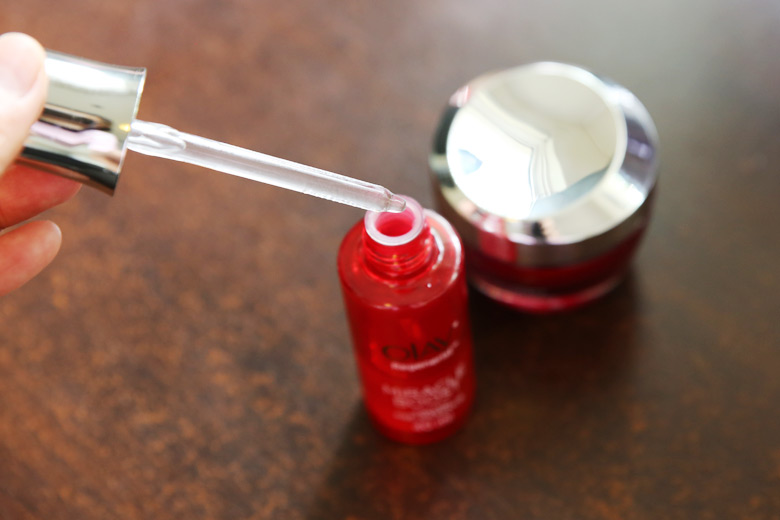 As far as moisturisers go, it doesn't really matter to me if all it does is keep my skin well moisturised and hydrated because the bulk of the skincare work is done by my serums. However, this moisturiser also contains a good amount of niacinamide and peptides that are great in improving my skin's overall tone and texture. I've used this for a month now and I can see the difference in my skin.
Even though I know that my skin is changing due to age, in a way, I'm glad for the change because it means that I can finally give different types of skincare now that I normally couldn't have done before. I've recommended this to my Mum and she'll be getting these to try out too. I'm glad I've fallen back in love with Olay and I'm very keen on giving their serums a go as well now.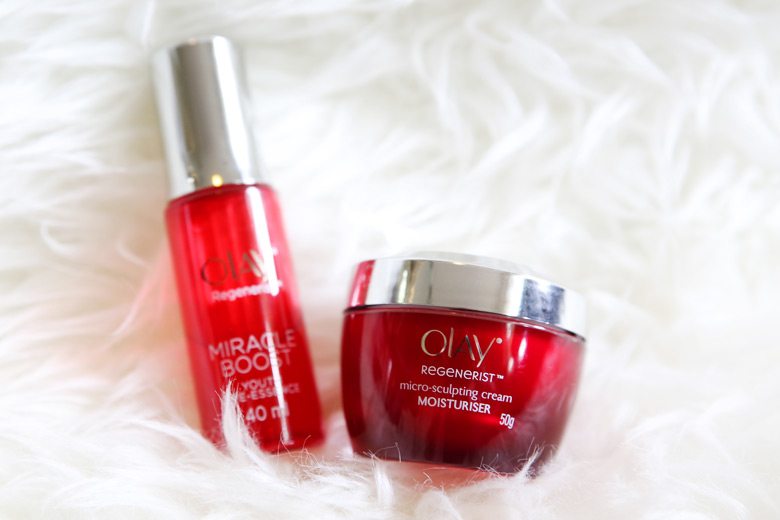 If you haven't tried anything from Olay before, I highly recommend the Regenerist range. The other ranges are all right but for quicker results, you can't go wrong with the Regenerist range. Olay's Regenerist range is available at pharmacies and supermarkets nationwide. Keep a look out for sales in supermarkets; they often do sales for Olay. Unless they're on sale at Priceline, Chemist Warehouse offers the best prices for Olay as far as I've noticed.
What about you? Have you used any of these Regenerist products from Olay? Have you fallen back in love with a product that you've used before but not liked at first?
These products were provided for editorial consideration. This post contains several affiliate links. By purchasing something via these affiliate links (at no extra cost to you), you're supporting Beautyholics Anonymous, which I highly appreciate. For more information, please read our
disclosure policy
.