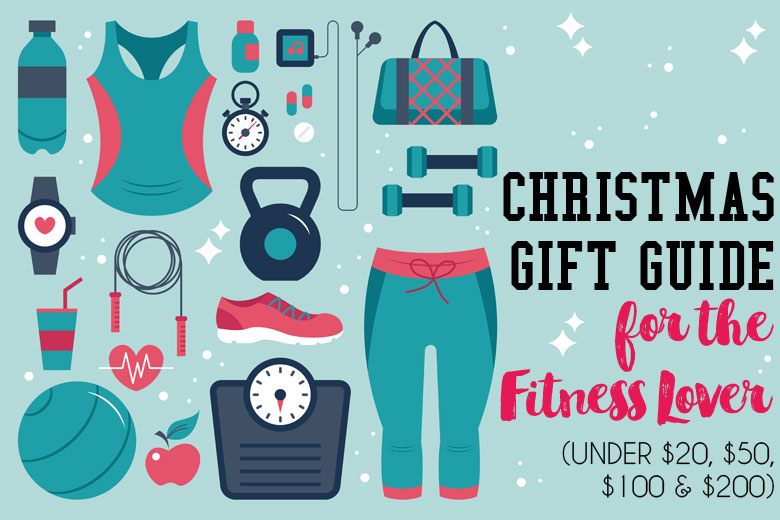 Happy hump day! Today's 3rd installment of Tine's Christmas Gift Guide for 2015 extends to all you fitness lovers!
Now up to about 6 months ago, I don't think I would have bothered much with activewear and fitness gear. But now that I've started running and am exercising more regularly, let me tell you, buying activewear is crazy addictive! I can't explain it at all. I thought a pair of shorts, ratty old T-shirt and at most a good sports bra would do the trick. But I find myself getting extra motivated to exercise once I've had nicer gear on. Please tell me I'm not the only one!
These are all of the fitness gear and apparel that I would absolutely love and I think the fitness junkies in your life would too. In fact, if you're a fitness lover yourself, you might even have more than 1-2 of these, right? 😛
The gift guide is split into 4 price categories: under $20, $50, $100 and $200. Let me just say, major supermarkets like Target, Kmart and Big W have seriously stepped up in their active gear department. They have plenty of high-quality items and they're very reasonably-priced too. In fact, my favourite sports bra (out of the goodness-knows-how-many I have) comes from Big W and it's under $30!
Happy shopping!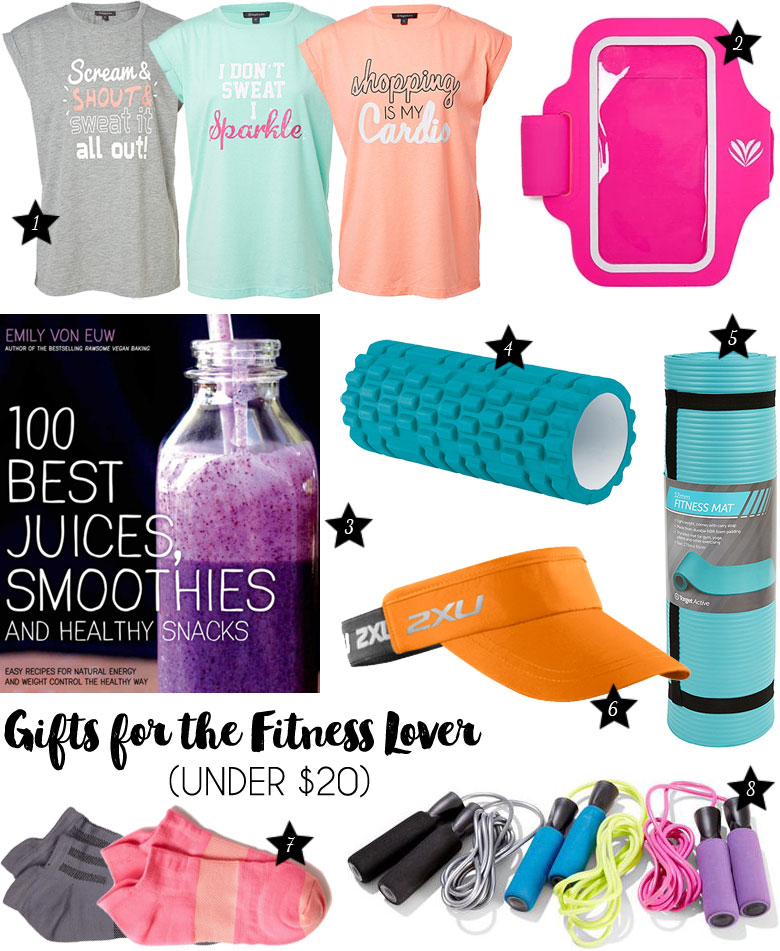 1. Target Active T-shirts (AU$15.00 each)
2. Forever 21 Phone Arm Band (US$10.90)
3. 100 Best Juices, Smoothies and Healthy Snacks (AU$18.00)
4. Target Foam Roller (AU$15.00)
5. Target Active Fitness Mat (AU$8.00)
6. 2XU Performance Visor (AU$20.00)
7. Cotton On Tab Sock (AU$4.95 per pair, 3 pairs for AU$10.00)
8. Kmart Weighted Jump Rope (AU$4.00)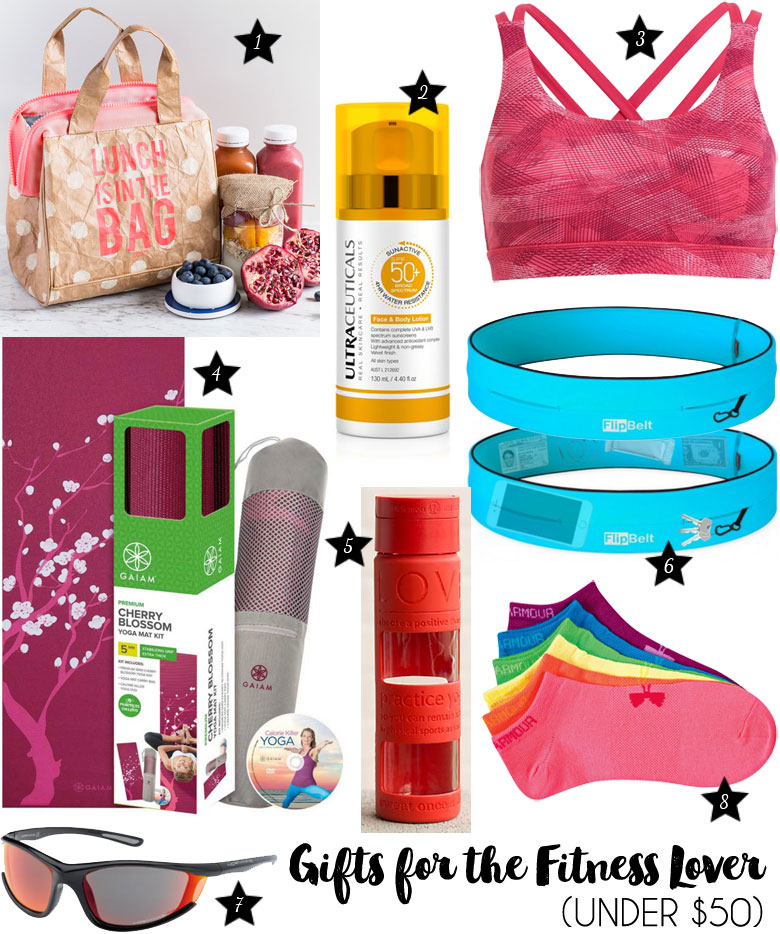 1. Lorna Jane Insulated Lunch Bag (AU$39.99)
2. Ultraceuticals SunActive SPF50+ Face & Body Lotion (AU$49.00)
3. Michelle Bridges MB Active Crop Top (AU$25.00)
4. Gaiam Cherry Blossom Yoga Mat Kit (AU%49.99)
5. Lululemon Pure Focus Glass Water Bottle (AU$35.00)
6. Flipbelt (AU$40.86)
7. Northwave Predator Perfomance Sunglasses (AU$43.58)
8. Under Armour No Show Socks (AU$24.99)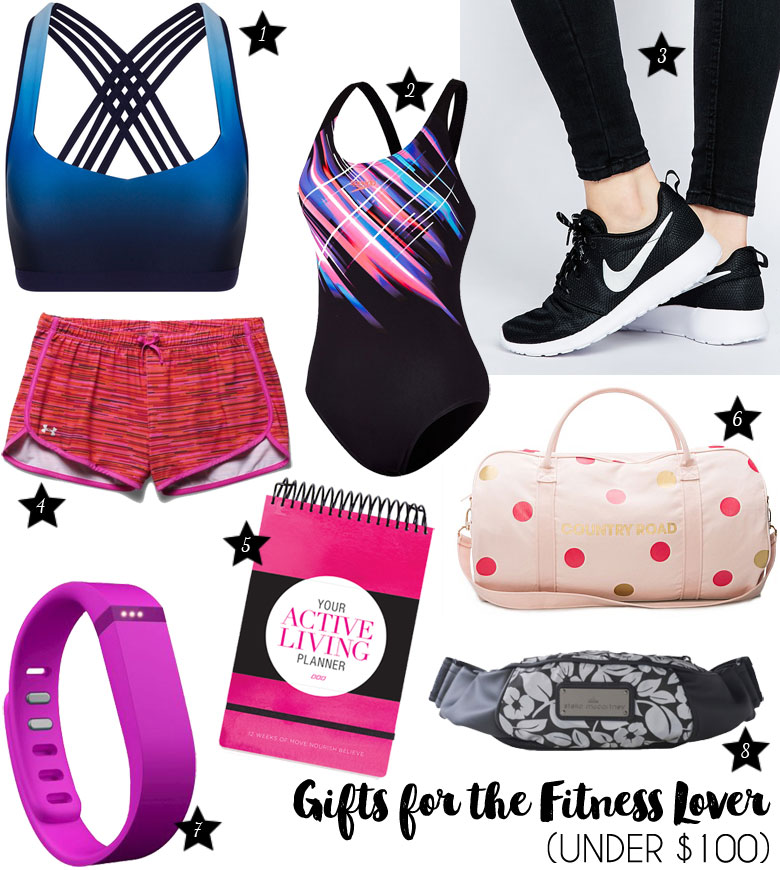 1. Lorna Jane Element Sports Bra (AU$69.99)
2. Speedos Women's Leaderback One Piece (AU$100.00)
3. Nike Roshe Run Black Sneakers (AU$99.95)
4. Under Armour Printed Shorts (AU$69.40)
5. Lorna Jane Active Living Planner (AU$34.99)
6. Country Road Polka Dotted Tote Bag (AU$79.95)
7. Fitbit Flex Wristband (AU$89.00)
8. Adidas by Stella McCartney Run Bum Bag (AU$80.00)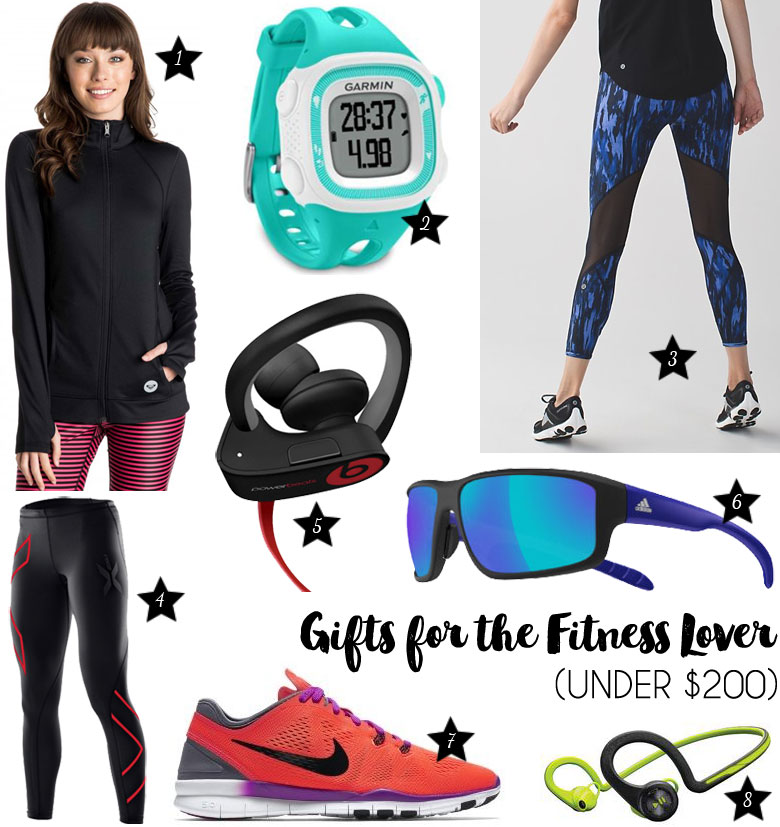 1. Roxy Get It Fleece Zip Jacket (AU$109.99)
2. Garmin Forerunner 15 (AU$199.00)
3. Lululemon All Meshed Up 7/8 Tights (AU$129.00)
4. 2XU Compression Tights (AU$144.99)
5. Beats Powerbeats 2 Wireless Earphones (AU$180.00)
6. Adidas Kumacross 2.0 Mirror H Sunglasses (AU$195.00)
7. Nike Free TR 5 (AU$160.00)
8. Plantronics Backbeat Fit (AU$179.95)
This post contains several affiliate links. By purchasing something via these affiliate links (at no extra cost to you), you're supporting Beautyholics Anonymous, which I highly appreciate. For more information, please read our
disclosure policy
.