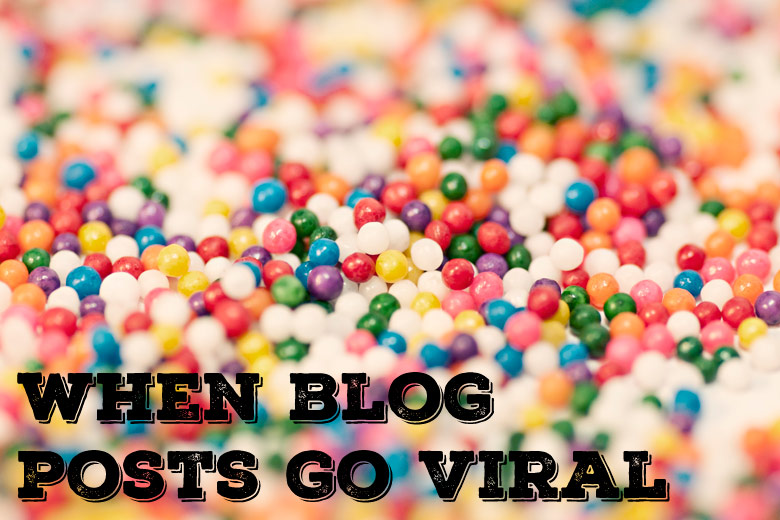 When a blog post goes viral, it's like hitting the blogging jackpot. Your blog traffic skyrockets and it can remain high for some time before it starts to plateau and bring you back down to earth. The key is to keep the blog post viral as long as possible. But how do we do that?
By the way, when I talk about viral posts, I'm not talking about the ones that gained negative publicity. That is a tough one to tackle and I'm very thankful to say that I don't have any experience with that. I've seen how blog posts that went viral and attracted all sorts of negative publicity tear the blogger apart, making him/her shut down all of their social media accounts and in the end, shut the blog down altogether. I really wouldn't want to be in their shoes and cannot even imagine how they must feel when everything happened so quickly just because a blog post of theirs went viral, but went viral the wrong way.
Today, I'm talking about viral posts that attract a lot of positive responses from your current readers. I'm talking about blog posts that do extremely well, the ones that bring in a lot of traffic from Google search, Pinterest, etc and most importantly, the ones that not only attracted traffic to your blog but converted that traffic into actual subscribers.
What makes a blog post viral?
It's hard to pinpoint exactly what makes a blog post viral. Most people are onto the trickery of click-baiting now so even though that was once popular and can make a blog post viral, it's not enough anymore these days. There are a few factors that can contribute to making a blog post viral.
You've managed to solve a problem people are having. Blog about the problem and more importantly, a step by step solution and bam! You've gotten yourself a viral post because it's most likely going to be shared repeatedly.
You've given your audience a really good freebie, so good that it's better than what people would pay for. Everyone loves freebies. Everyone.
The photographs are so well taken that the blog post cannot helped but be shared.
The story is very well-written and it strikes a chord in your audience.
A couple of years ago, I shared a free motivational quotes printable on BA. I was using an Erin Condren Life Planner at that time and since I used those images for my planner, I thought I'd share it with my audience as well. After I published that blog post, I pinned an image from that blog post on Pinterest. That blog post increased my traffic significantly. Even though it was over the quiet end-of-year holiday period when blogs' traffic are usually the slowest, mine didn't drop. In fact, it rose even higher than before. To date, that blog post has been pinned on Pinterest 28,000 times. I shared another similar printable for free on BA and it's currently been pinned 18,000 times. The blog posts with freebies that I share on BA are still the most-accessed pages on the blog.
Unfortunately a year and a half later, I was hit with copyright issues with those blog posts (my fault entirely) and I was faced with a dilemma: do I take them down, especially when those blog posts were doing so well? Keeping them up would be pointless because those freebies wouldn't be available for download anymore. So, instead of removing all that "viral juice", I kept the posts up but offered an alternative similar freebie that was completely legit to offer to my readers on those blog posts. I didn't only retain those viral juices; the alternative freebie went viral as well.
I know that it's strange that it wasn't a beauty article that went viral on my beauty blog. One beauty blog post did do far better than the rest and to be honest, I still have no idea why as it was written on the spur of the moment. It's funny how blog posts that require so much research don't attract the amount of traffic you wish, but the ones that you pulled out of a hat do so well instead.
How do you retain all that viral juice?
What do you do when a blog post of yours go viral? First of all, congratulations! You've hit the jackpot! But don't spend too long celebrating, for there's work to do to keep that blog post going as much as possible. Here's what I've done to keep the viral posts alive as long as possible.
You share the heck out of it. Tweet it, Facebook it, Instagram it and whatever else sort of social media platforms there are out there, you share it. Don't overload on the sharing though. Share it at least once a week for 3 months and then see how the traffic is still going for that blog post.
Harness the power of Pinterest and pin the heck out of that post. If your images are only just so-so but that blog post is doing well, consider redoing the images for the post. Make the images pinnable and pin them.
Come up with a similar blog post again. If you shared a great freebie that many people loved, consider creating a similar freebie and sharing it with your audience again. Be that generous blogger who loves to give, give and give some more. I'm not being sarcastic here but again, everyone loves freebies.
As much as a blog post can go viral, there will also come a time when it's time for the bubble to burst. It's inevitable and there's really not much else you can do about it but keep sharing that blog post whenever you can. In the meantime, it's a good idea to brainstorm for ideas to come up with similar blog posts that attracted all that traffic to your blog and converted a percentage of them into subscribers. When one bubble bursts, another grows and rises.
Good luck!
Do you have a blog post that went viral? Do share it with us in the comments below. How did you keep it going as much as possible?
Bloggie Wednesdays
is a series of articles just on blogging. They contain tips, how-tos, discussions about anything and everything you need to know about blogging and how we can be better bloggers. If you have any suggestions, tips and tricks about blogging you would like to share with us, or if you have any questions you would like me to address, please let us know in the comments.