A favourite blogger of mine, Stef, does a monthly list of what she's been up to, her favourites, etc. It's something I enjoy reading, and as I'm also a big fan of lists, I have, erm, nicked the idea for the blog too, with slight adjustments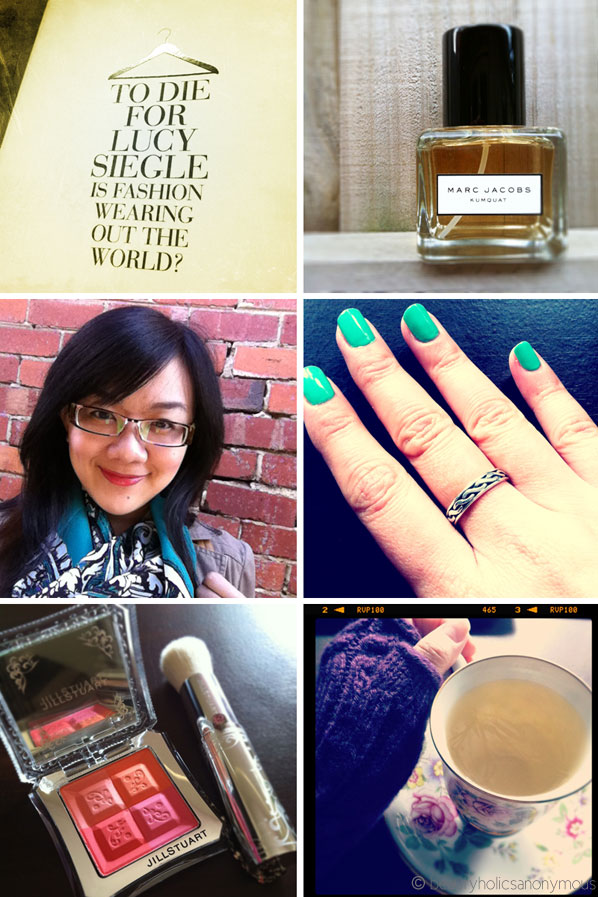 Currently reading: To Die For: Is Fashion Wearing Out the World by Lucy Siegle. It's a fascinating read about ethical fashion, disposable fashion, and a pretty graphic look into sweatshops in China, India and South America. It really made me think and question my choices when shopping for clothes. What's the story behind the dress I'm holding? Who made it? A recommended read.
Currently watching: A long marathon of Criminal Minds with Tim. Didn't really think the show was interesting when it was on TV, but when you begin a marathon, by golly you just have to finish it.
Perfumes I'm loving: Marc Jacobs Tropical Splash in Kumquat. I have a thing for citrus fruits

Frequently worn outfit: I've been wearing a lot of scarves lately. The weather is getting colder and a scarf helps keep my neck and chest warm. Plus it's a good pop of colour with all the black I wear.
Frequently worn jewellery: A silver ring Tim bought me the first month I moved to Australia. We saw it at a craft market and I fell in love with it. I thought I lost it a couple of years ago, until I was doing some spring-cleaning for the blog sale. I found a few makeup palettes stacked on top of the ring! It was badly tarnished, but after a quick wipe with a silver polish cloth, it's as good as new.
Makeup I'm currently loving: Jill Stuart's Mix Blush compact. I've been lusting after this gorgeous blush for a long time now. I'm pleasantly surprised at how pigmented this blush is, given that most of Jill Stuart eyeshadows are very sheer. It's a beauty, on the cheeks and the dresser.
Currently eating: Toast with peanut butter. Yum!
Currently drinking: Madame Flavour's Green, Jasmine and Pear tea. A favourite herbal tea of mine.
Currently loathing: Mean girls on the blogosphere. Nobody made them queens of the Internet.
Currently excited about: Our holiday to Hong Kong! Nothing's confirmed yet, but I'm very excited nevertheless. It's been 4 years since our last big holiday, and I'm really looking forward to it.
Images from my Instagram. Find me! I'm sweetcontemplation