Last week, I reviewed a beautiful mascara that does not clump on me and ticks all the right boxes. Today, I'm going to show you another mascara which I discovered and love, and that's the Australis Voluptulash Mascara.
Description:
The ultimate volume and building mascara! The curved silicon brush tapers to evenly coat each lash, even in the inner corner of the eye. Delivers natural looking, defined lashes.
I have to get this off my chest first. In comparison to the Face of Australia Impact Curl mascara, this one clumps like a son of a biscuit. It does. My lashes stick together and I get odd bits of mascara at the ends of my lashes. Whenever I use this mascara, I have to use a mini steel comb to separate the lashes and remove the clumps.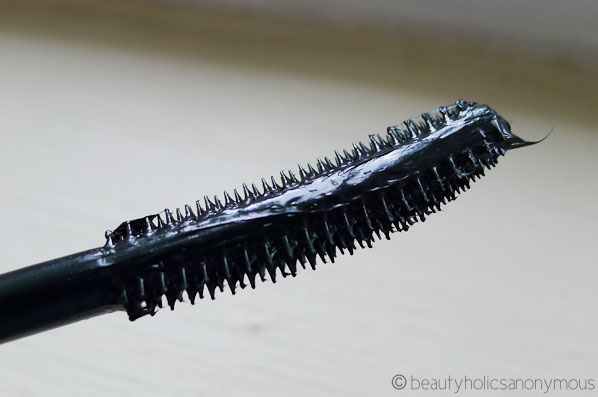 So why do I love this mascara despite its shortcomings? Two words. Volume. Length. Big emphasis on the latter. All of a sudden, I have thick, long lashes. Somehow the formula also makes the lashes maintain their curl, although I suspect that could also be partly due to my plying on 3 layers of mascara on my lashes.

This mascara has a tube-formulation that "tubes" every lash. It's long-wearing without smudging (I once had this on for over 10 hours and not a single smudge in sight), and removal isn't difficult.
I love this mascara, I really do. I don't even mind the extra step of combing my lashes to remove the clumps. I've been using it on an almost daily basis, which is something I rarely do because I hadn't really been a fan of mascara before. A lot of women swear by mascara and lipgloss alone; something I never quite understood why. It's a revelation all right.
*cue heavenly chorus*

Along with Face of Australia's Impact Curl mascara, well, I believe I have found The One. I can have two "The Ones", can't I? 😛
Australis Voluptulash Mascara retails at AU$10.95 and is available at Priceline, Kmart, Big W and Target stores nationwide.
What I like about it: Gives my lashes great volume and length. Long-wearing, no smudges
What I do not like about it: Clumps. Clumps. Clumps.