Let's just say, I've been coveting the Makeup Box organisers for the longest time. Ever since I saw pictures of their makeup boxes on other blogs, the green-eyed monster leapt right out and poked at me "how come you didn't get one?" You know how he's like. Hmph.
I was all ready to buy one until I saw the prices, which were a little out of reach for me, especially for small storage solutions. Plus I didn't know what the quality was like, and if it was worth paying so much for them. In the end, I resorted to IKEA. It was all right, but the Makeup Box organisers never left my mind.
So when I found out that I would be given a Makeup Box organiser at the Beauty Bloggers Utopia, I was beside myself with excitement. Finally! After almost 2 years of coveting, I was finally getting one!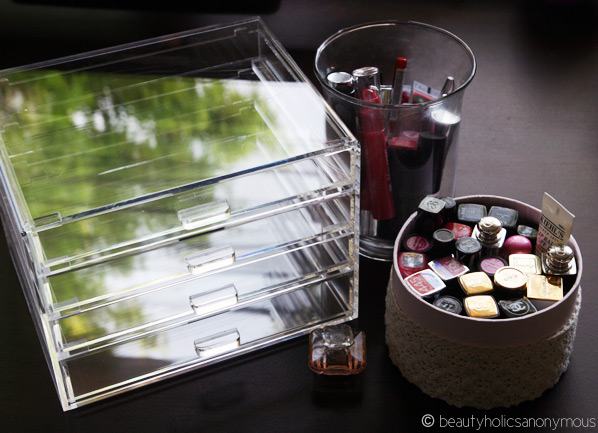 Oh and what a beautiful box it is.
The one I was given was the Mini Original Makeup Box. It's about 2/3 size of the other makeup boxes in the Makeup Box Shop.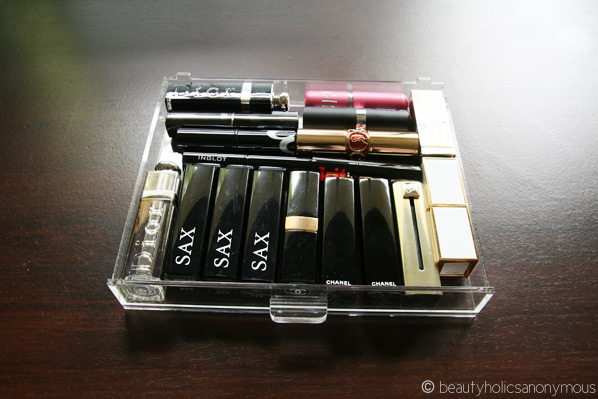 I finally realised why these boxes are expensive. I thought it was going to be made out of cheap plastic, but it's not. It's very sturdy acrylic and certainly feels expensive. Each side is quite thick. This is not $2 shop material, people.
As the Mini Original Makeup Box is small and each drawer rather shallow, the most suitable items to store in it are lip products. This was perfect for me as I've been looking for storage solutions for all of my lipsticks and lip glosses.
Voila! I've found a proper home for you, my lovelies.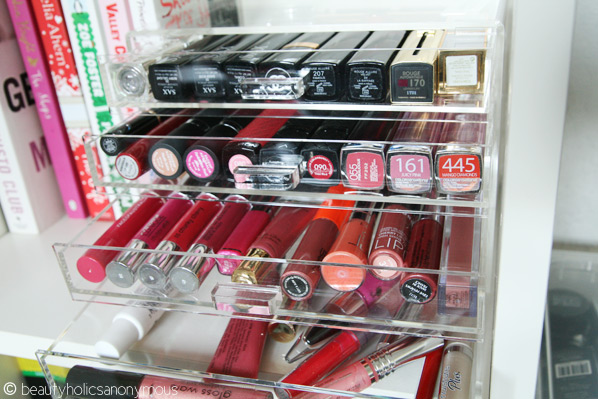 It's so easy to locate my lipsticks and lipglosses now. No more rummaging in a small box, trying to get the lipstick I want. Plus it looks very cute alongside my books, does it not?

Officeworks also sell similar organisers, but in terms of quality, they just cannot beat the ones by the Makeup Box.
Does this mean I've changed my mind about buying a proper-size Makeup Box now? You bet your bottom dollar I have. As in I want it even more now. I have my eyes set on this and it shall grace my dresser soon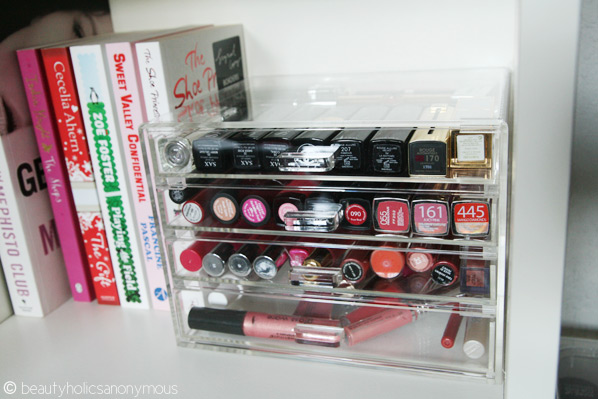 The Mini Original Makeup Box retails at AU$49 and is available exclusively at the Makeup Box Shop
Have you tried any of the Makeup Box Shop's makeup boxes? What's your lippie storage solution like? Do tell. I'm a sucker for storage solution stories.