I was going to blog about the entire Beauty Bloggers Utopia weekend on one post, but when the word count came up to 1290 words, it was time to split the post to two days. What can I say? I talk a lot!

When the organisers of the ABBW announced that they weren't doing one this year, most if not all of us were shattered. Not long after that announcement, Sara-May from Makeup Utopia announced that she'd like to organise something on a much smaller scale, but a similar weekend when beauty bloggers in Australia can get together to catch up, learn more about blogging and to have a fabulous time together. Thus, the Beauty Bloggers Utopia was born.
As the event was to be on a much smaller scale, unfortunately not all beauty bloggers were able to make it. This time, it was by invitation only. I was stoked when I received mine (and to be called a *ahem* delegate

) and proceeded to make travel arrangements to Sydney.
This year, my travel buddy and roommate was Norlin. She was an absolute hoot to room with. We stayed at the Mercure Hotel on George St, which is a great location to the Central Station and Chinatown.
The first day of the BBU started off bright and early at the Guylian Cafe at Darling Harbour. It was so good to catch up with my fellow bloggers again, most of whom I haven't seen since the ABBW last year.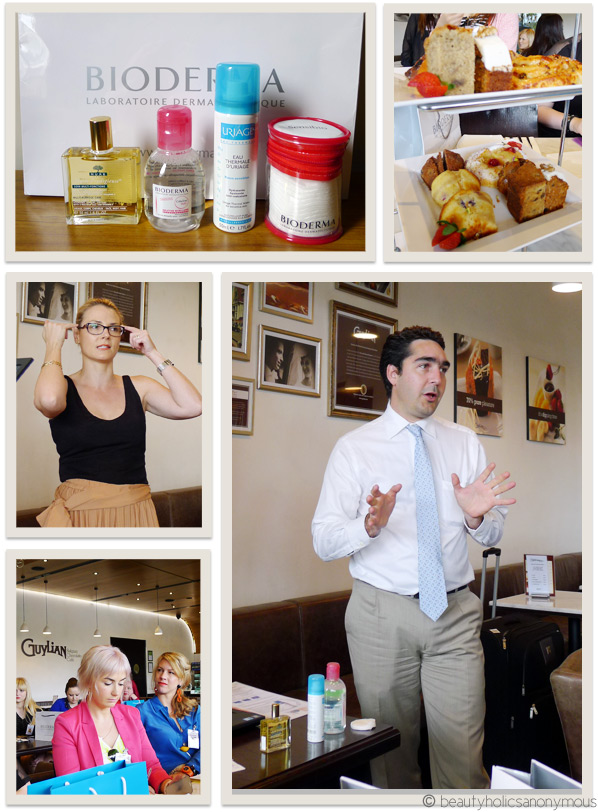 It was a quick registration for all bloggers before we sat down to a presentation by Cosmetiques de France, who introduced Bioderma, Uriage and NUXE to us. After the presentation, we dug in to our breakfast (kindly sponsored by Cosmetiques de France). After all, we need our energy to shop our brains out at the IMATS!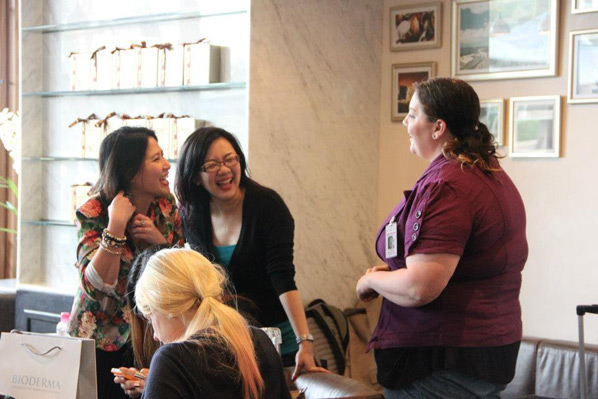 I've already blogged about the IMATS, so I'm not going to mention more of it here. After the IMATS, a few of us headed off to lunch. I'm guessing all of us must have been starving because when the food came, after photographing our food (we are bloggers, after all

), there was a silence when we just ate and savoured the newfound energy. With that, some of them headed back to the IMATS for more shopping. As for Norlin and I, we were happy to head back to the hotel and relax (that and a nanna nap for me).
© Norlin | Baubles, Bubbles & Bags Style File
Evening came, and it was time for us to dress to the nines and head out to the Star casino. I found out earlier that morning that … wait for it … we were going to watch Legally Blonde The Musical that evening! To say I was happy is an understatement. I went absolutely bonkers with excitement. I adore musicals, and to watch Legally Blonde was just the perfect end to the lovely day I was having.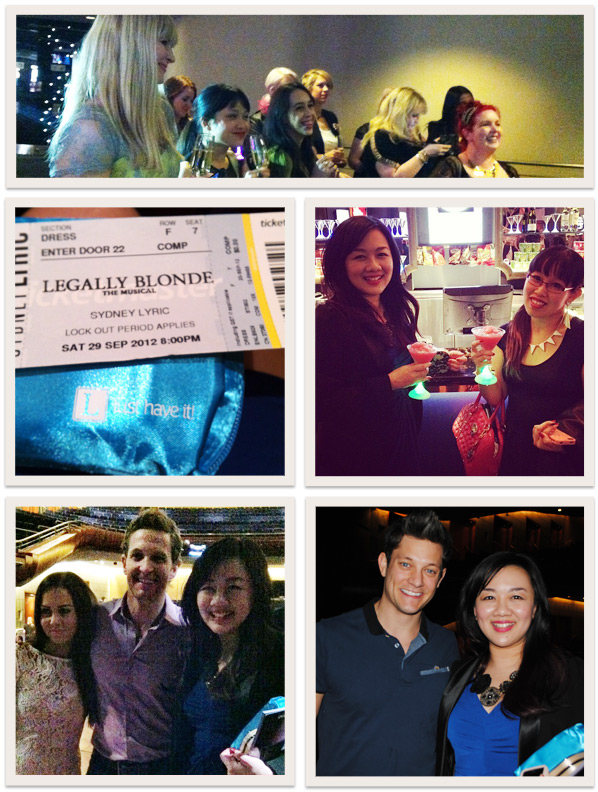 Top L-R clockwise: Enjoying pre-show drinks | Thanks for the tickets, Lust Have It! | A raspberry-vodka slurpee with Celeste | Starstruck moment #1 with David Harris (snapped with Rosemary) | Starstruck moment #2 with Rob Mills (© Megan | Beauty in the Sky)
The musical was indeed hilarious. The lines are similar to the movie's, but to watch it live on stage was even better. And you know what the icing to the already perfect cake was? Thanks to Lust Have It, who not only sponsored our tickets to the show, we also got to go backstage to see the sets AND meet some of the cast! Oh I felt like such a starstruck groupie that night.

Stay tuned tomorrow when I recap what happened on Day 2!