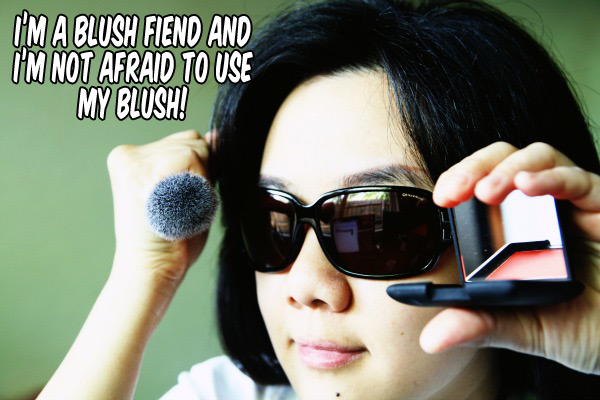 I'm not one to talk much about eyeshadows. I'm the sort who sometimes can't be arsed to wear a lippie out of the house. I don't do a lot of Face-of-the-Day blog posts nor write much about lip colours. But I'll be damned if I don't write about the one thing I love more than anything about makeup: the blush.
Introducing Blush Fiends, a small collective of bloggers who came together to fight the world against pastiness. 😛
Our first mission is to introduce the blush that started it all. The one that started that passion for colour on our cheeks. The one that began that towering collection of blushes.
For me, there were two blushes that did that. The very first one that started my putting a bit of colour on my cheeks and the second that brought that colour to a whole new level.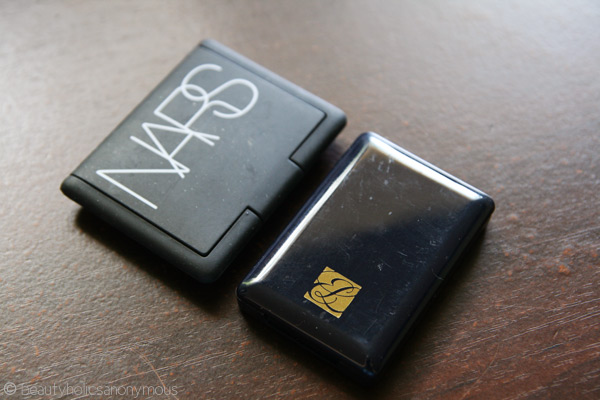 The First Blush
My very first blush was something by Estee Lauder. It was a gift-with-purchase and handed down to me by my mother. This was 10 years ago. It's been so long; I can't even remember the name of the blush. Needless to say, the blush has been discontinued for years. It wasn't a bright shade; in fact it's one of those ubiquitous dusky pink shades that are so sheer, you probably wouldn't see any difference to your skin unless you really paint stripes on your cheeks.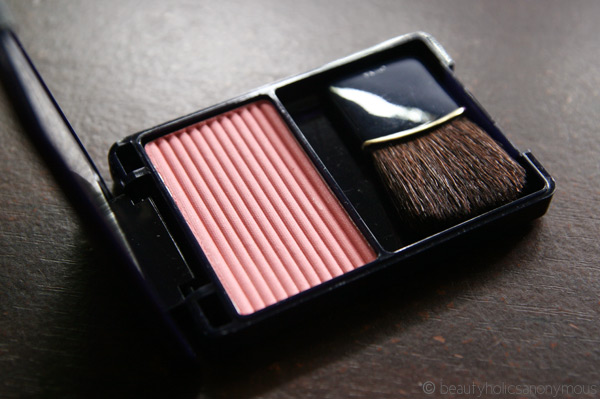 My mother was not a fan of rouge on cheeks. In fact, she still calls it rouge today when everyone else is calling it blush. When the blush was given to me, I had no idea how to wear it and she wasn't too keen on teaching me. I remembered turning to CLEO magazines for help. I was fresh out of university then and was about to start my first job as a junior engineer in an office dominated by men. I didn't want to look girly. I wanted to be taken seriously.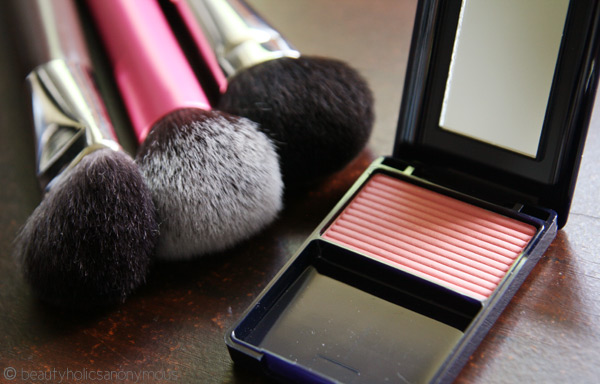 So I used very little blush per application. In hindsight, it made no difference to my face whatsoever. In time, I started to try out more blushes but they were usually similar in colour. They were almost always dusky pink. When more beauty blogs came out, I tried out even more blushes, adding a little more rouge to the cheeks but always keeping it safe.
As the blush has been long discontinued, I managed to find something similar from Estee Lauder to show you. It's the Signature Silky Powder Blush in Pink Kiss (also no longer available). It's slightly pinker than the original blush and I've used a lot more in the picture to show you what the shade is like. Ten years ago, I would never have applied it as much as you see in the picture below. In fact, you probably won't be able to see it on my face at all.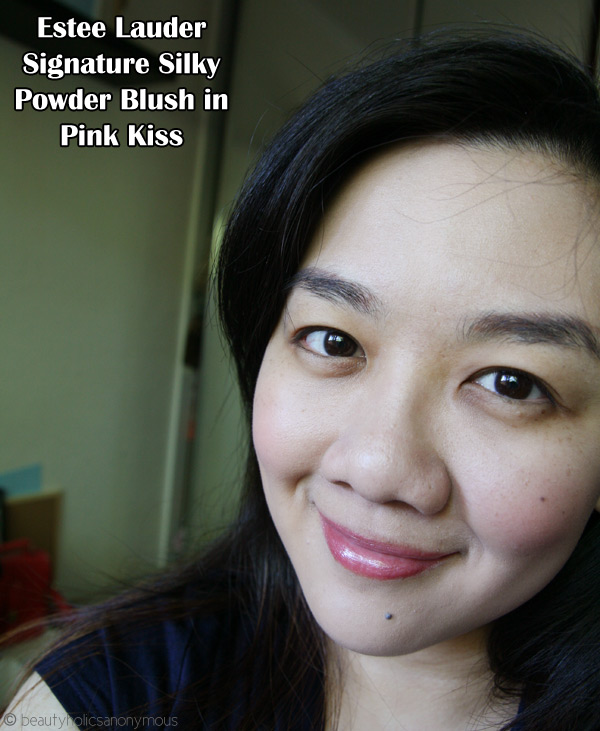 The One That Got Me Out of my Comfort Zone
I moved to Australia early 2008. Finally I had access to brands like NARS, something I could only see online but never in person. Back then, NARS prices haven't gone down yet so it was something around $60 for a blush. It was a lot of money for someone who had just moved here and was unemployed. Still, I was intrigued. One day I went to Mecca Cosmetica to try out this very popular NARS blush that many beauty bloggers and magazine editors raved about – the Orgasm.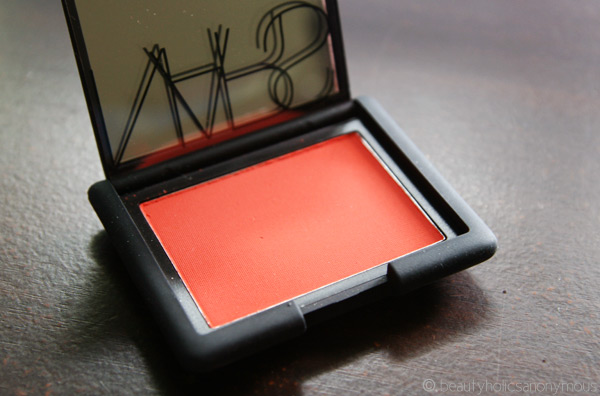 When I told the makeup artist I wanted to try out the Orgasm, she took a good look at me.
"Honey, I don't think the Orgasm would look good on you. It's not as universal a colour as most people think it is. You need a pop of colour".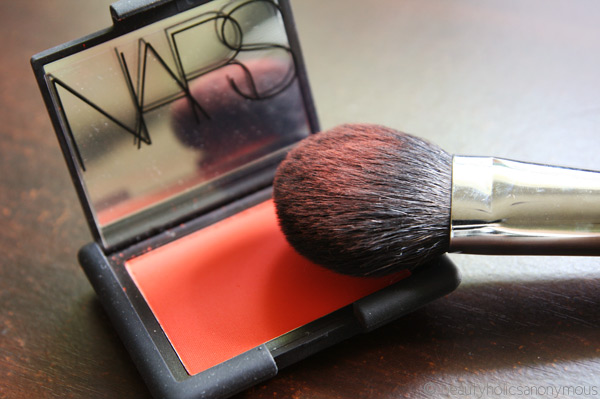 Then she took out the most outrageous colour of makeup I've ever seen. I wouldn't even wear that shade on my lips, let alone my cheeks! I would look like a baboon's ass! That's right. She took out the NARS Exhibit A.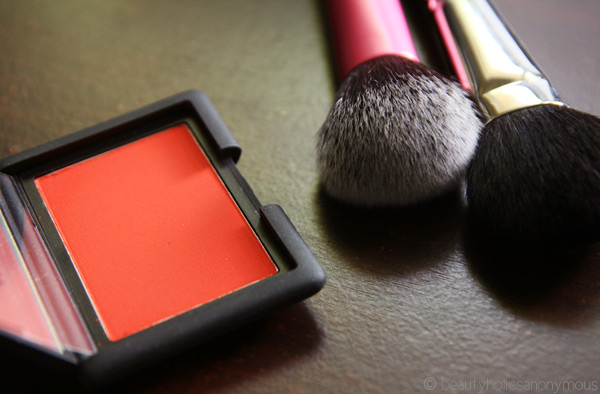 Holy batman. The horrified look on my face amused her greatly. I told her I've never ever worn such an insanely bright shade before and was adamant on trying the Orgasm instead. To prove me wrong, she applied the Orgasm on my cheeks and she was right. Even under the bright white lights, I looked bland. I looked boring. Defeated, I told her to might as well make me look like a baboon's behind with the Exhibit A whilst fully prepared to wipe all that bright slap of orange off my face once I stepped out of Mecca.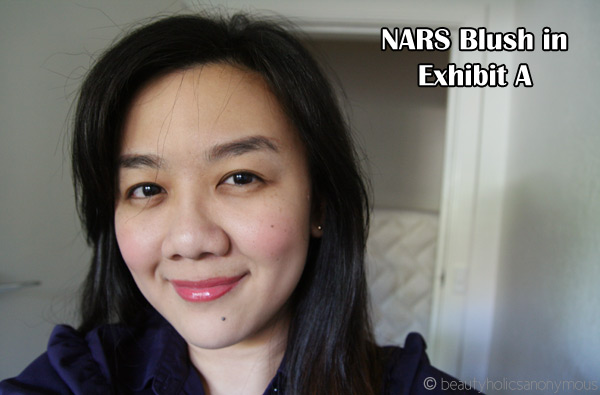 Whaddyaknow. It was beautiful. After years of dusky pink, I was actually wearing orange on my cheeks and, oh what the hell, I looked pretty damn good. She didn't go all 80s crazy painting stripes on my cheeks. She used a very light hand with the blush and the bright pop of colour gave my pale face an amazingly great flush. It didn't look over-the-top, it was definitely brighter and heavier than how I'd normally wear blushes but I absolutely loved it. I didn't even have to think twice; I snapped the Exhibit A up in a jiffy and left Mecca that day feeling like a million bucks.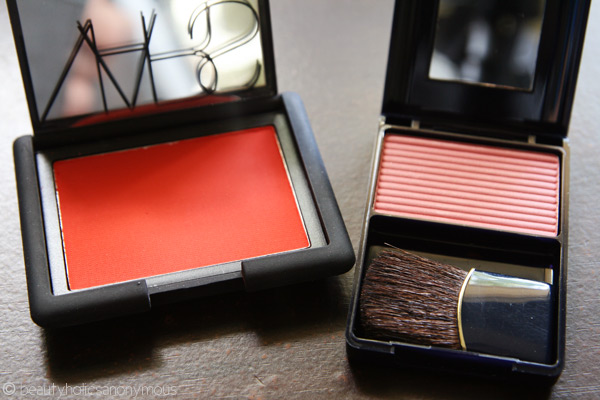 From then on, it's pigmented blushes for me all the way. I no longer purchase sheer blushes. Give me strong pigmented blushes like Ben Nye's Powder Rouge in Fuchsia, Tom Ford's Narcissist, etc or give me nothing at all. Sheer Japanese blushes (with the exception of Jill Stuart) don't interest me much anymore.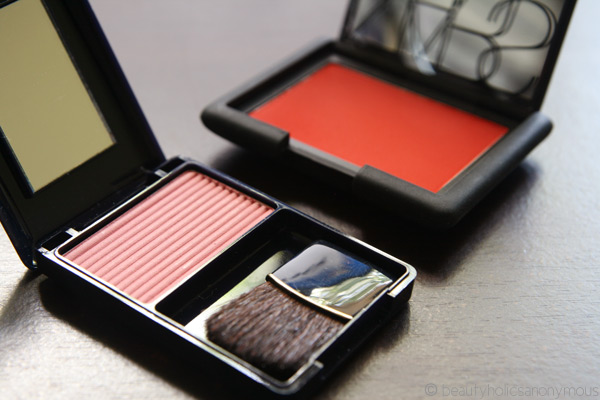 It's funny how my love for blushes started from something you can barely see on the cheeks and moved on to something so intensely bright, it'll knock your socks off. What started out as a blush or two in my makeup collection grew to well over 30 compacts and powders in my makeup drawers. It's a love I cannot describe. Pastiness died in Mecca Cosmetica that fateful day and never will it resurrect.
Enough about me. Do check out my Blush Fiend comrades as they tell you their stories of the blush that started it all.
Stay tuned for Blush Fiends: Issue #2! 😉
If you're a blush lover too, what's that one blush that started it all for you?