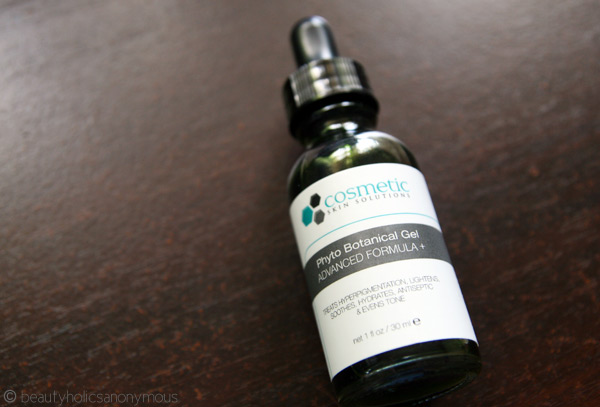 Do forgive my paltry efforts in coming up with snazzy yet SEO-friendly titles eh? 😛
When I bought the Vitamin C+E Serum from Cosmetic Skin Solutions, I picked up another serum as well, which is the Phyto Botanical Gel. I figured heck if I'm going to be paying shipping fees, I might as well throw in a few more items into the shopping cart to try out.
As much expectations as I had for the Vitamin C+E serum (and it did meet and exceeded those expectations), I didn't have much for the Phyto Botanical Gel. I wasn't familiar with the ingredients and what they do. Still, anything that says it helps with hyperpigmentation and soothes the skin, I'm game for it.
Description:
This botanically-based formula is an advanced lightening gel to treat hyperpigmentation by evening the skin's tone and reducing skin discolouration. Botanical extracts cucumber and thyme help reduce skin redness and irritation, providing calming, soothing, anti-inflammatory and antiseptic properties. Kojic acid, alpha-arbutin and uva-ursi induces skin lightening and depigmenting properties. Hyaluronic acid deeply hydrates for smooth, firm and hydrated skin.

Ingredients:
Water/Aqua/Eau, Kojic Acid, Alpha-Arbutin, Glycerol, Arctostaphylos Uva-Ursi (Bearberry Extract),Magnesium Ascorbyl Phosphate, Thyme Extract, Cucumber Extract, Algae extract, Pullulan, Hyaluronic Acid, Phenoxyethanol,Tetrasodium Edetate, Fragrance
At the moment, I have a light case of hyperpigmentation (darkening of an area of skin or nails caused by increased melanin, e.g. freckles and sun spots). I have a sprinkling of freckles on my cheeks. My mum however, has a severe case of hyperpigmentation (think freckles that mate with each other to create bigger, uneven spots). It's genetic and something I can't run away from. Although I don't have any problems with the freckles on my skin now, if I can keep it under control, I would.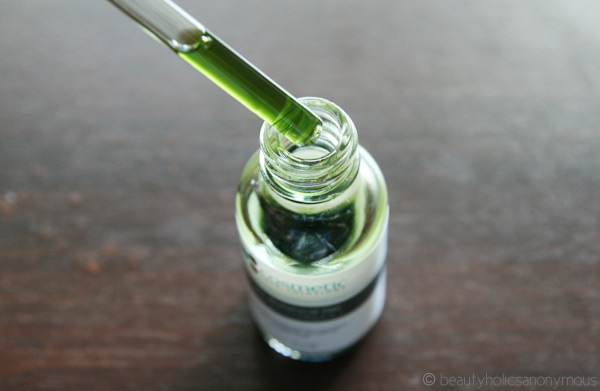 The serum is a light gel that spreads slightly sticky on the skin. The texture is somewhat similar to Dr Lewinns Super Hydrator serum or Hada Labo's Moisturising Lotion (just not as thick) whereby it leaves a slightly tacky feel to the skin. It absorbs quickly to the skin and when it does, I'm left with nice, bouncy skin.
Even though the liquid is green and it does go on the skin green, the colour disappears to the skin. If you're wondering if this will turn your face green, I'm happy to assure you it will not. 😛
The only problem I have with this serum is the scent. I don't find it particularly pleasant. Every time I use it, it reminds me of the chlorophyll supplement juice I used to take and gag on (as though the colour's not enough to look like the juice). Thank goodness it's not very strong because I can't be stuffed using something on my face that will make my gag reflex go on overdrive.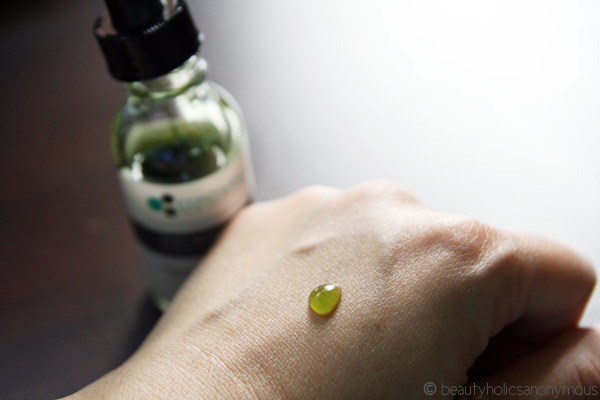 I've been using this serum for a number of months now and while I can't say I noticed any reduction in the colour of my freckles yet, I did notice a more even skin tone. It didn't brighten my skin but it does hydrate it well.
What I also like about the serum is that it soothes the skin whenever my skin acts up and the sensitivity around my cheeks and chin increases. I usually count on Trilogy's Very Gentle Calming Fluid to remedy that, but now I find that the Phyto gel does the same thing as well. Its anti-inflammatory properties help heal my breakouts quicker too.
All in all, I'd say it's a decent serum to use. It's good for skin hydration and great for calming redness and sensitive skin down. It's the kind of serum that will not work miracles nor give you instant physical results but does the work behind-the-scenes slowly but surely.
Cosmetic Skin Solutions haven't disappointed me thus far, and I'm looking forward to my next order with them to try out yet another serum and to restock my depleted Vitamin C+E.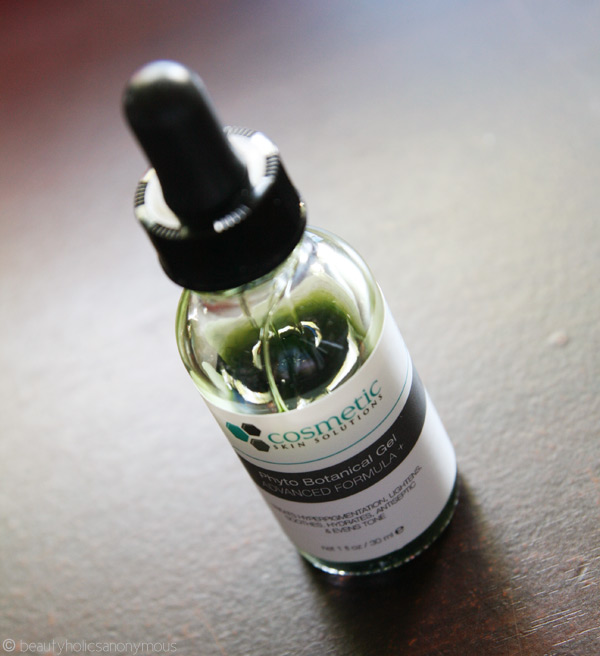 The Phyto Botanical Gel Advanced Formula + retails at US$29.85 for 30ml and is available on the Cosmetic Skin Solutions website.
What I like about it: Soothes the skin when it's sensitive and hydrates it well
What I do not like about it: Not keen on the scent. Smells a little and looks a lot like chlorophyll juice which I'm not a fan of.