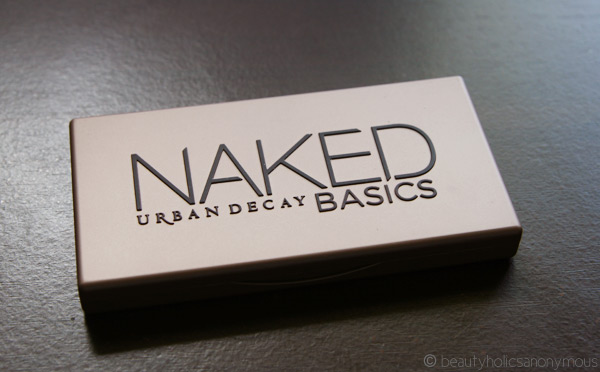 Last month, I reviewed the Urban Decay NAKED SKIN foundation and found it a pretty good foundation. Along with that foundation, I also purchased the NAKED Basics eyeshadow palette on Boxing Day last year.
First of all, I have to say, I love the NAKED 1 eyeshadow palette. I didn't review because frankly, it's been reviewed to death. I don't need to show you anymore of the swatches than you've already seen ages ago when it was launched. I don't have the NAKED 2 palette but I truly, truly love the first one. Some say it's overrated, some say the colours are too boring, but for me, it's the best palette I've used and is the only one I use on a regular basis.
When I saw the review of the NAKED Basics eyeshadow palette on Temptalia, I wanted one too. Temptalia rated it with an A+ and gave it a "Temptalia Recommends". She's usually spot on on most reviews so naturally it ended up 0n my to-buy list too.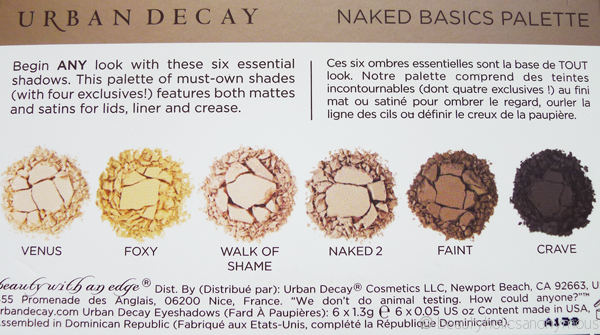 Ingredients:
Venus/Foxy Ingredients: Talc, Caprylic/Capric Triglyceride, Zinc Stearate, Sodium Dehydroacetate, Phenoxyethanol, Sorbic Acid, Ethylene/Acrylic Acid Copolymer, PTFE.
W.O.S./Naked 2/Faint Ingredients: Talc, Ethylene/Acrylic Acid Copolymer, Caprylic/Capric Triglyceride, Zinc Stearate, Sodium Dehydroacetate, Phenoxyethanol, Sorbic Acid, PTFE.
Crave Ingredients: Talc, Zinc Stearate, Silica, Ethylhexyl Palmitate, Sodium Dehydroacetate, Phenoxyethanol, Sorbic Acid, Boron Nitride.
All shades may contain: CI77019 (Mica), CI77891 (Titanium Dioxide), CI77491/77492/77499 (Iron Oxides), CI75470 (Carmine), CI77742 (Manganese Violet), CI77007 (Ultramarines).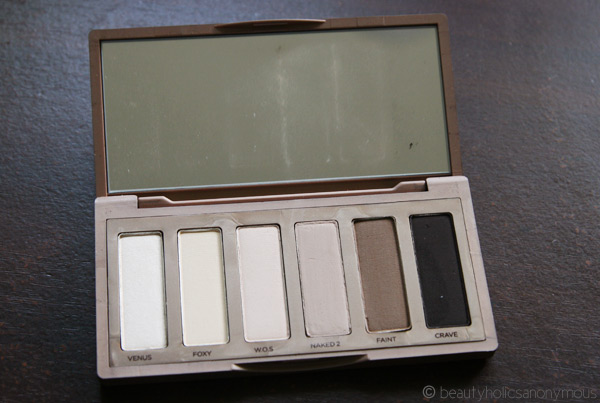 Since it's mostly a matte palette, there are no duplicated shades from the NAKED 1 palette. It's good because this means I didn't waste my money buying something I may already have.
The packaging is simple and minimalistic. The outer shell has a rubbery feel to the plastic, which is similar to NARS palettes. I like that it doesn't attract dust or fingerprints like the regular NAKED palettes do. The only thing I don't like about the packaging is that it's a pain in the ass to open. Sometimes, two thumbs aren't strong enough to open it and you'll need to use your nails. Very manicure-unfriendly, I'd say.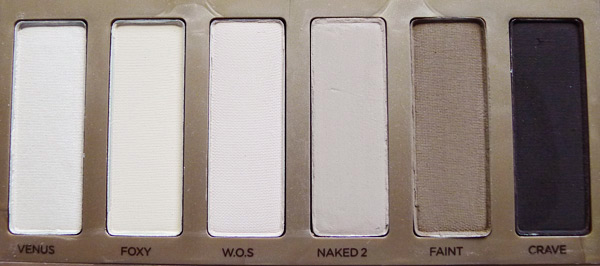 As for the shades, I'm lousy at describing colours so here's an excerpt from Temptalia's description of the shades (except for W.O.S):
Venus: White-shimmered creamy white. More satin than full-on frost.
Foxy: Yellowed beige with a matte finish
Walk of Shame (W.O.S): Pink-beige with a matte finish
Naked 2: Soft taupe (a little brown, a touch of gray) with a matte finish
Faint: Medium-dark brown with a hint of warm and a matte finish
Crave: Dark black with brown undertones and a matte finish.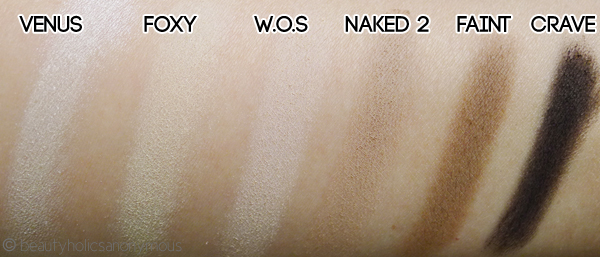 The texture of these eyeshadows are soft, smooth and oh-so-buttery. I cannot fault them at all. The palette has excellent textures and colour payoff. They're not gritty nor powdery. I experienced no eyeshadow fall-out when I applied them on my lids.
As for longevity of the eyeshadows on the eyelids, they're exactly like the NAKED 1 palette for me, which is fantastic. I have just about the oiliest eyelids EVER, and even with eye makeup primer like the Urban Decay Primer Potion or Too Faced Shadow Insurance, most eyeshadows don't last long on me. The NAKED 1 does though (which is why I love it to bits) and now, so does the NAKED Basics. With primer on, the eyeshadows wouldn't budge. At least 80% would remain as they originally were well after 7 hours. Love.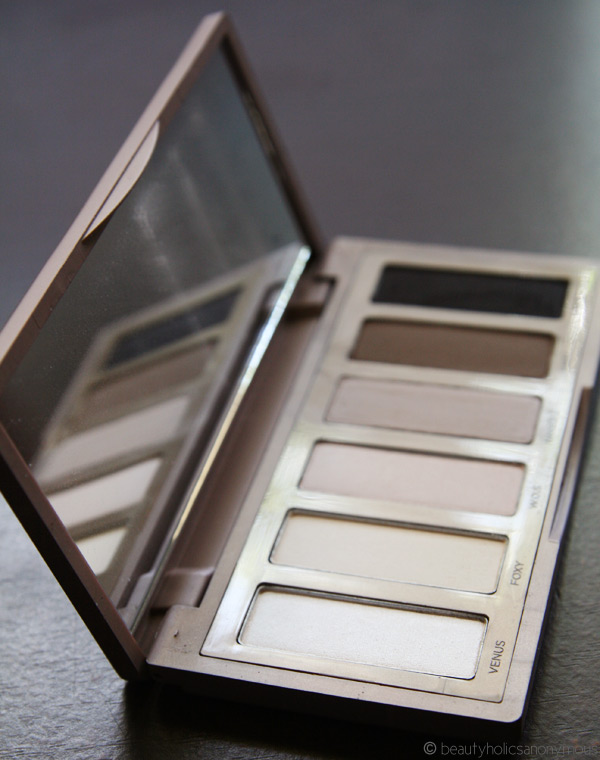 Sadly, there are also disadvantages to the NAKED Basics. For the palette to be used on its own, as beautiful as the textures are, I find the matte shades alone a tad too flat. It lacks depth and dimension for Asian eyes. The combination of the shades on deepset eyes will still look good because of the depth of the eyes but on Asian eyes (especially for those with monolids) it's not as easy to work it enough to show a bit dimension on the eyes as you could with shimmery eyeshadows. If you're not careful, it can look muddy.
I think Asian eyes need a bit of shimmer in the eyeshadows to create that depth that we lack. I'm not a fan of glittery eyeshadows, but at the very least, slightly-more-shimmery ones would make the eyes pop.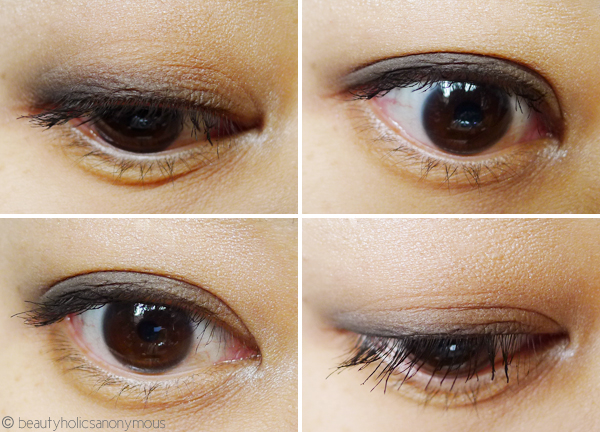 However, I do like this palette for its base shades. The way I like to use this palette on its on is to apply a wash of the NAKED 2 or W.O.S on my eyelids (Venus is too pink and light as a base on my eyelids; I look like a raccoon), add Venus on the arch of the brow to highlight the area and the black matte Crave to line and "wing" the eyes if desired. I don't like Faint because I find the colour too dirty on my lids.
Is this a must-have palette? If you have deepset eyes and are looking for work-friendly eyeshadows, then you'll love this. If you're looking for something that gives you great base shades, you'll love it too. But if you have Asian monolids and am thinking of using this palette on its own, then I'm afraid you might be disappointed because when using the palette alone, the colour combinations may be a bit flat.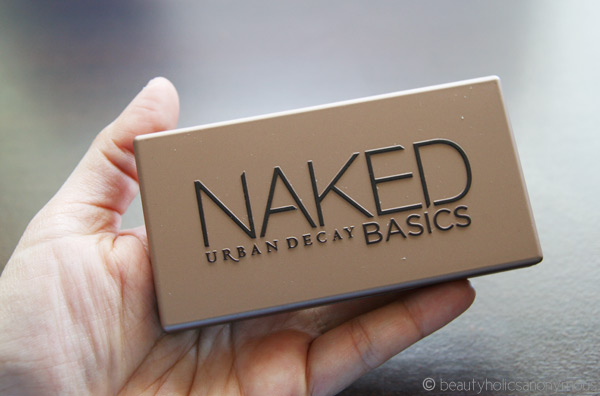 Urban Decay's NAKED Basics palette retails at US$27.00. I purchased mine from BeautyBay.com (theirs retail at AU$28.89).
What I like about it: Excellent textures and longevity of eyeshadows, great base colours
What I do not like about it: The combination and use of the matte shades alone lacks depth on Asian eyes (especially for those with monolids)