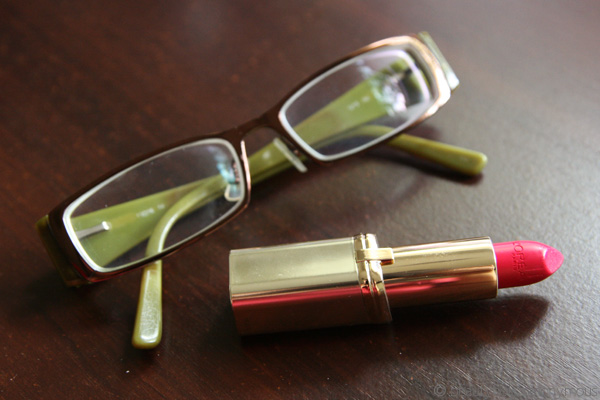 I've been wearing glasses for 2/3 of my life. Blame my stubborn young self for preferring to read while lying down, which led to poor eyesight at a young age. Kids used to call me "four eyes". It never bothered me because it just meant I could see a whole lot more than them. That was my theory and I'm sticking to it.

Most of the photographs of me on the blog are without glasses but in real life, I prefer them to contact lenses. It's just a lot more comfortable for me to wear for long periods of time compared to contact lenses. I save my contact lenses to be worn on special occasions, but most of the time, you'll see me in glasses.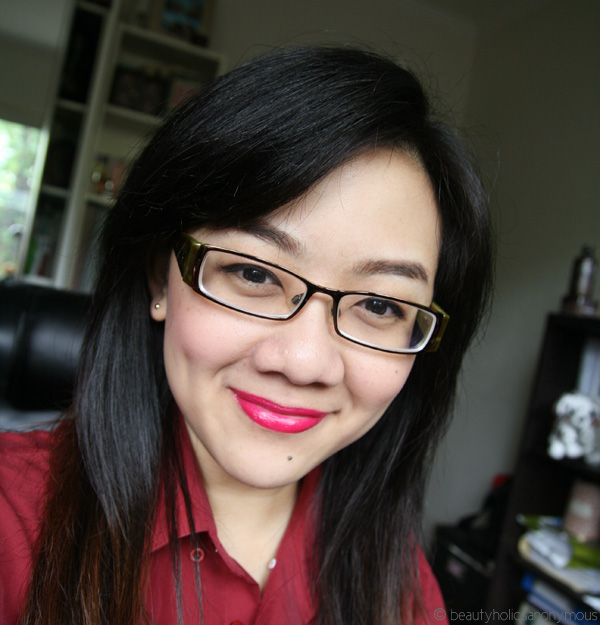 I've been wearing thick plastic full-frame glasses for many years now and I prefer them to delicate metal ones. I'm quite a clumsy person and the chances of me dropping my glasses on the floor are high. Flimsy glasses just don't work for me because I've dropped them on the floor, dropped them in a pot of curry while cooking (true story!), sat on them, squashed them and so on. I needed something a lot sturdier and thick plastic ones work much better for my clumsy hands. Thank heavens they're quite in fashion now because back in the day when I first started wearing glasses, trust me, they were FUGLY.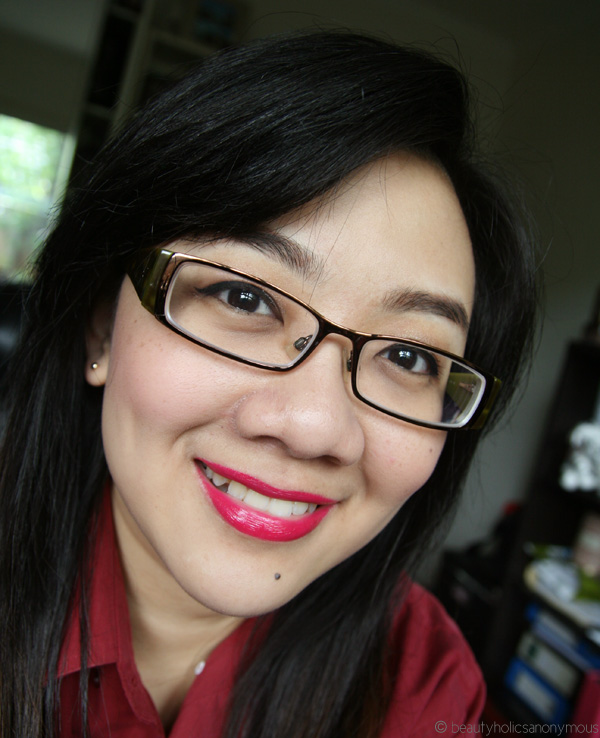 I've attended major functions and events with glasses on. It took me a while to work makeup around the glasses because I wanted it to still look chic without hiding behind the glasses. The problem with full-framed glasses, especially with thick frames like mine, is that eye makeup often gets lost under the frames. I've done intense smoky eyes but when I put my glasses on, most of it "disappears" behind the thick frames.
There are a lot of videos on YouTube showing you how to wear makeup with your glasses. Here's how I like to wear it. This works for full-framed glasses. Rimless glasses is like not wearing any spectacles at all so any form of eye makeup will still be clearly seen.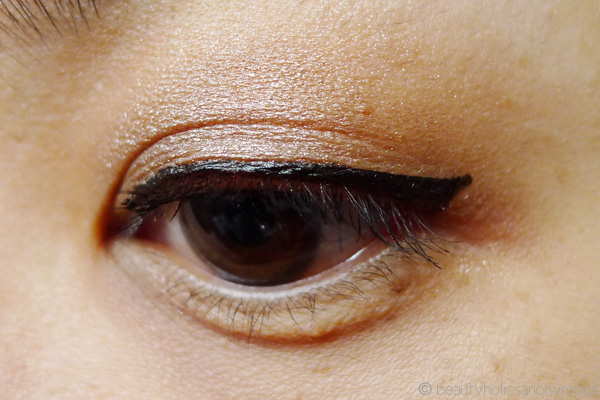 As my frames are quite thick, I can do away with much less complicated eye makeup.
Just a single wash of eyeshadow would suffice. My favourite method is to apply Maybelline's Colour Tattoo in Bad To The Bronze all over the lids with my index finger.
Line the upper lash line with liquid eyeliner, creating a flick at the outer corners.
Use lengthening and voluminising mascara. I like Australis' Voluptulash.
Apply blush. Be slightly more liberal with blush. It might look a tad too much without glasses but when you put thick frames on, the lower frame casts a shadow on the cheeks. If you apply very little blush, the shadow pretty much voids the blush. This is why I tend to apply more blush when I have my glasses on.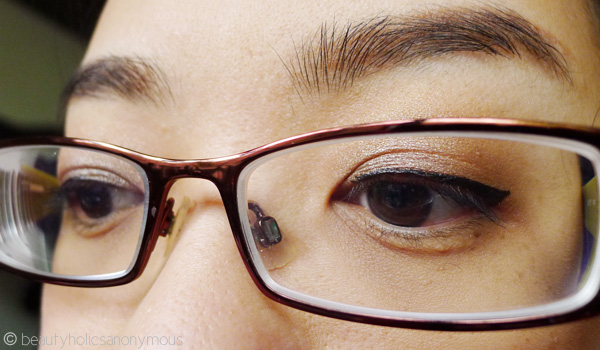 And now, here comes the kicker – bright lips. When the glasses go on the face, the thick frames covers a lot of the eye makeup. It's not that the makeup isn't visible, it's just not as obvious. Under harsh, direct-from-the-top lights, it casts a shadow on your face and lands on the tops of your cheeks, thus slightly shading the eyes. Bright lippies bring that pop of colour onto the face where the glasses cannot hide.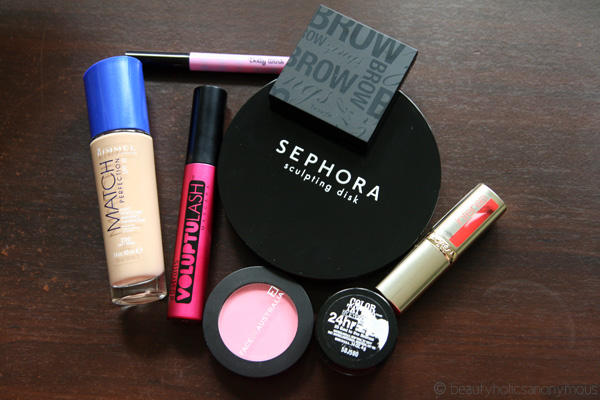 Makeup used for the look:
Face: Rimmel Match Perfection Light Perfecting radiance Foundation, Sephora Sculpting Disk
Eyes: Maybelline Colour Tattoo eyeshadow in Bad To The Bronze, Dollywink liquid eyeliner, Australis Voluptulash mascara, Benefit Brow Zings
Cheeks: Face of Australia blush in Hello Dolly
Lips: L'Oreal Color Riche lipstick in #288 Intense Fuchsia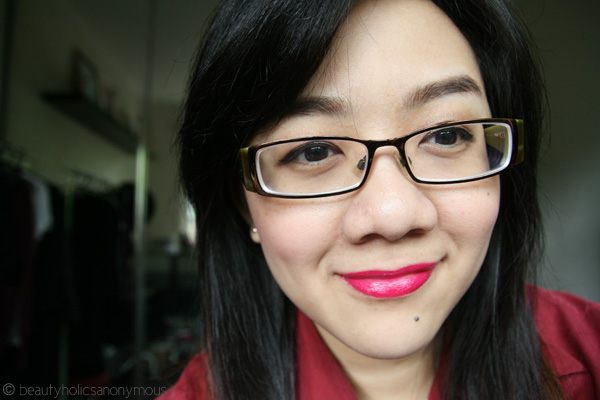 These are just simple tips but they work very well for me. When I'm rushing for time, I can't be arsed with fancy eye makeup so I just do the steps above, put on my glasses and out I go. Easy peasy.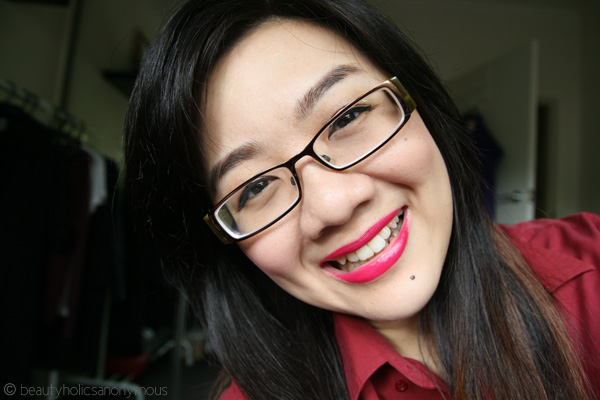 If you have four eyes like me, do you wear full-framed glasses too? How do you wear your makeup with your glasses?