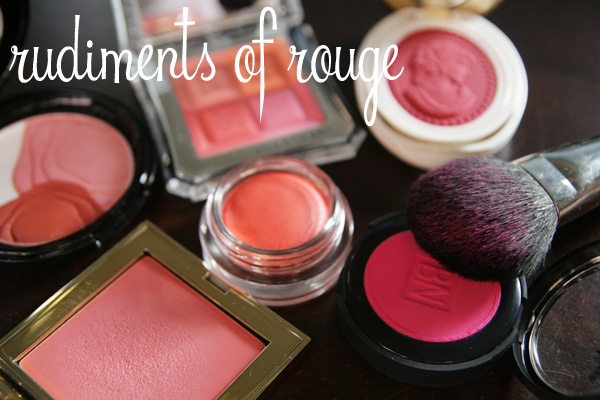 Hello and welcome to the 3rd episode of the mini series, Rudiments of Rouge! I hope you've enjoyed the first two installments on the basics of blush. Today's post is about the two popular types of blushes and that's cream and powder.
Ahh the battle of the blushes begin when powders came to fight with creams. The question I often get is this: Powder blushes vs cream blushes. Which one's better?
Oh boy, that's like asking me if I prefer using a pencil or a pen. If I prefer orange-scented or mango-scented products. If I prefer my left eye or right eye. Hahaha you get the picture :P. Both are equally good. It just depends on what you want your makeup to look like.
Powder blushes give a more matte, polished finish to the skin. You apply it when you've set your makeup with face powder. Many find powder blushes easier to apply (including me) as you just use a blush brush, press it against the powder and then slowly tap the brush on your cheeks to see how much you'd need. You don't have to worry about it setting too quickly like cream blushes. As they're easier to apply, you'll find that the ratio of powder blushes to cream blushes by beauty brands selling in store is significantly higher.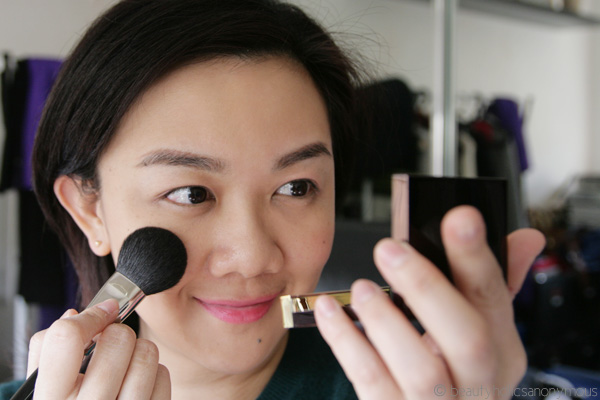 The problem with highly pigmented powder blushes is accidentally picking up too much product, thus putting on far too much colour on your cheeks. Always remember to tap the brush to remove the excess powder before pressing the brush on your skin.
If you want a very natural-looking flush on your cheeks, then try cream blushes. Cream blushes (most of them) give a dewy finish to the skin. It looks more natural on your skin like you've just blushed and that pop of colour appears on your skin. This is usually when you prefer not to powder your face and want to have that glowy, radiant skin. I don't mean a shiny, oily skin, just what your skin would normally look like but heaps better. Cream blushes need to be applied swiftly to avoid it setting too quickly. Once cream blush sets, they're often difficult to remove with tissues alone.
Another question I get asked often is how I apply cream blushes. This depends on individual cream blushes, how they're packaged, it's consistency and so on. In general, if the cream blushes come in a pan (e.g Stila's Convertible Colours, Illamasqua's cream blush, MAC's cream blush, Max Factor's cream blush, etc) and their consistency is slightly tacky and, well, creamy, then my favourite way to apply them is with a stippling brush. I find that it looks very natural on the skin without disturbing my base makeup.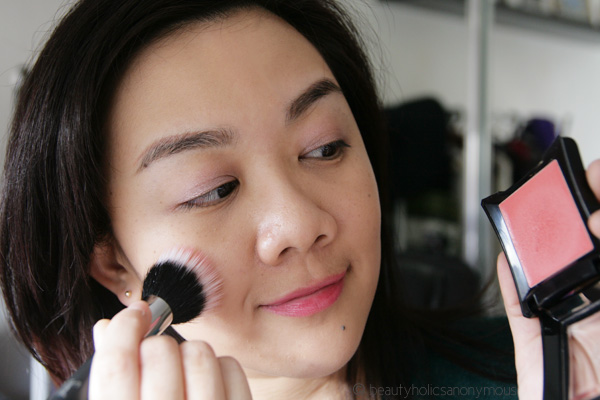 Gently press the tips of the stippling brush on the pan and pick up tiny dots of colour. Don't pick up more than these wee dots of colour because you don't want to start with too much pigment. Then dab the skin with the brush, forwards and backwards. Don't buff the skin with the brush by using circular motions. Forwards and backwards, that's it, like you're dabbing a spot with pimple cream.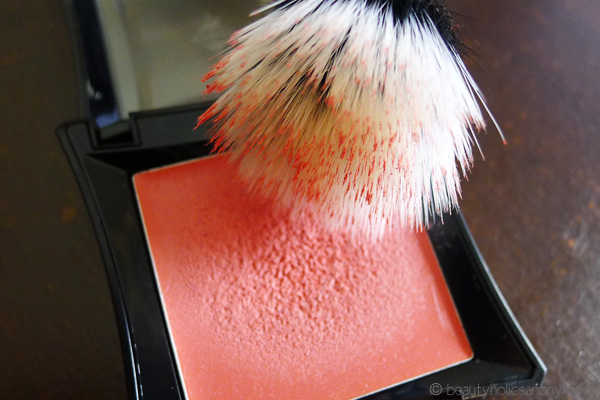 My pock-marked cream blush by Illamasqua, all thanks to the stippling blush

This delivers just the right amount of colour to your cheeks. If it's not enough, do it again by adding more blush to the brush. It's better to have less on the brush first and then add more than having far too much upon first application.
When the cream blush comes in the form of a bottle with a brush (e.g Benefit's cheek tints like Posietint and Estée Lauder's Pure Color Cello Shots), I like to test the consistency and colour on the back of my hand first just to see how well they'll spread. Once I know, I'll use my finger and apply the cream directly on my cheeks. I will not spread it on the back of my hand first then apply because my hand will get most of the colours. By the time I apply it on my cheeks, I'd have nothing left!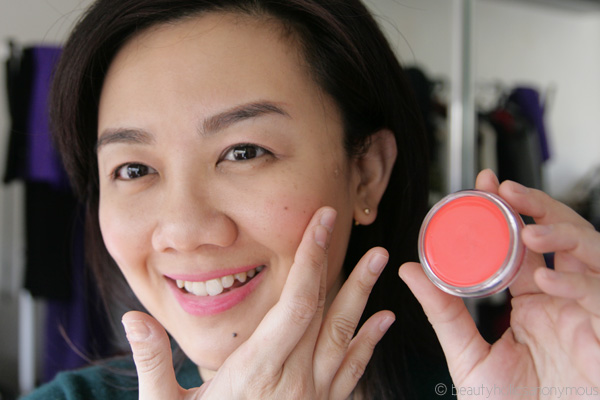 For cream blushes that have a powdery consistency like Revlon's Photoready Cream Blushes, I like to use my fingers as well. I think it gives a beautifully natural finish on the skin. Some prefer to use a regular blush brush with this because of it's non-sticky consistency. Best to find out is to experiment and see which method works better for you.
If you want long-lasting rouge on your cheeks (e.g. at all-day functions, weddings, etc), then a good way to ensure that your blush is going to stay on all day is to use both cream and powder blushes. Use a cream blush as a base and then a powder blush of a similar shade on top of the cream blush. This way, you don't have to worry about missing cheek colour by the end of the day!
As for me, I like powder blushes in during the cooler months and cream blushes in the warmer months. I always prefer a dewy finish on my skin in summer; I love the glow! In winter, my powder blushes work very well as I don't have to worry about them fading from the heat. Then again, I'm the fickle sort so I'll just use whatever that tickles my fancy.

Which do you prefer? Powder blush or cream blush? Which works better on you?
Stay tuned to the next post on how to rouge your cheeks without looking like a china doll!