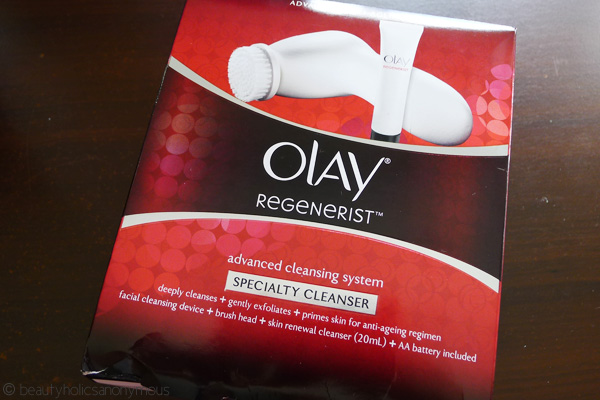 Remember when I blogged about Skin Physics' Derma Sonic cleanser and how incredibly similar it is to the popular Clarisonic? Today I have yet another mechanical face brush to show you and it's even cheaper than the first two!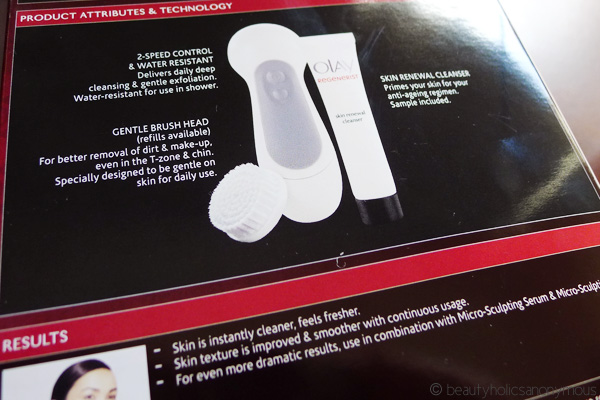 Now, I have to be clear about one thing. This is in no way similar to the Clarisonic or Derma Sonic. Even though they serve the same purpose, they operate very differently to each other. The Clarisonic and Derma Sonic work with very rapid movements at 300 per second. It's so swift that what you feel on the skin are vibrations.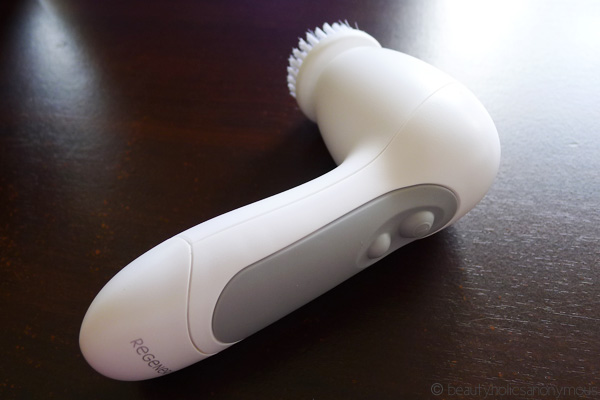 The Olay brush, on the other hand, spins a lot slower in comparison. It's a rotating system with a brush head that revolves at 350 times per minute. You can practically see the head spin whereas you can't with the other two. When you turn the brush on, you have to hold it steady against your skin or else your hand and face will spin along with the brush.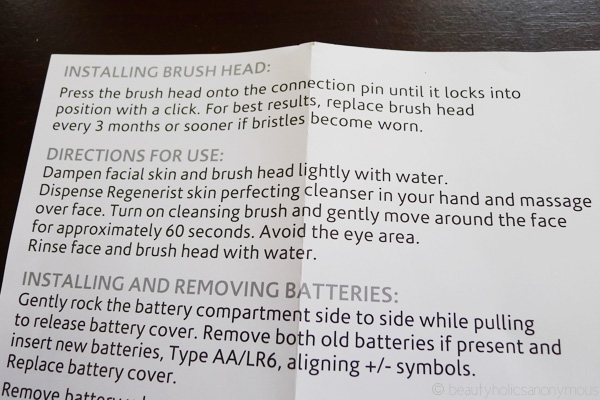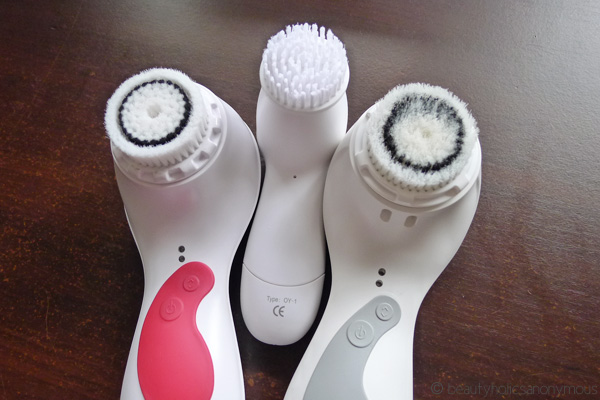 The bristles of the brush are double in length to the Clarisonic and Derma Sonic, are very soft and don't scratch the skin when brushing. There are two speeds to the brush: slow and fast. The quicker speed isn't even close to half the slowest speed of the other two cleaning devices. I actually like that it's not that fast; I do like to feel how the brush spins on my face.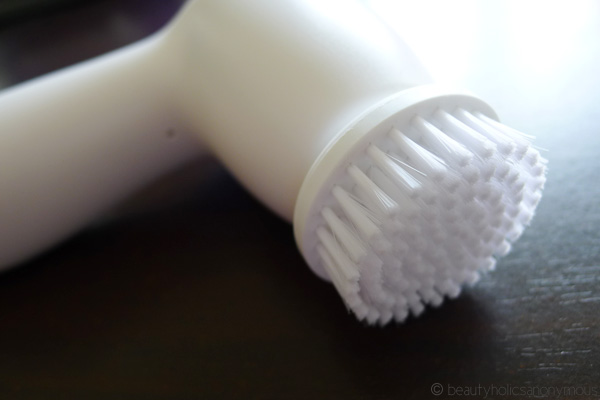 The brush also comes with a 20ml tube of Olay Renegerist Skin Renewal Cleanser. It's nothing spectacular and doesn't have to be used primarily with the brush. I've used my own cleanser with the brush and it works just fine.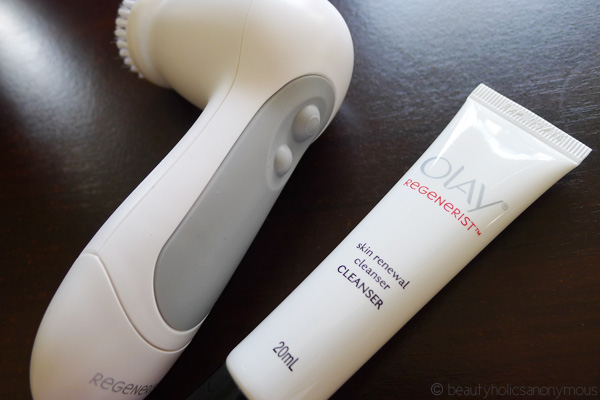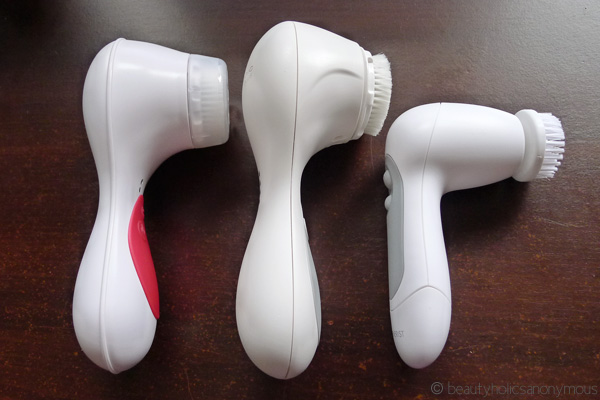 Similarly with the Clarisonic and Derma Sonic, I don't use this daily. You know the issue I have with using these scrubbing brushes daily and whilst I cannot be certain that this Olay brush will give me the same unfavourable results when used daily, this isn't something I'm willing to gamble my skin on. But for a facial scrub that I use twice a week, I'd say this works a treat. I like using this on days when I have a lot more makeup on than usual and it cleans my skin very well. I like to use this on my neck as well (don't forget to scrub your neck!) and sometimes, even behind my ears.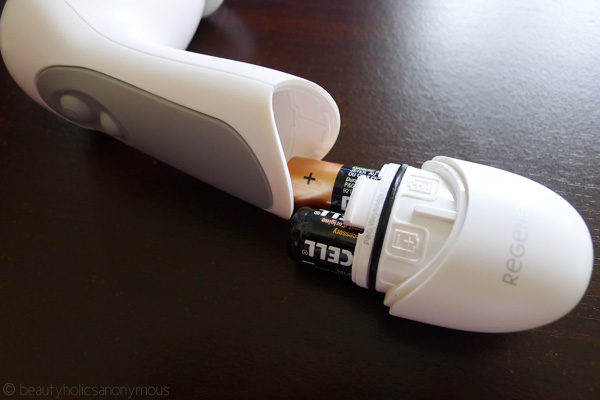 Battery life-wise, I've used this about 10 times and so far, the battery is still going strong. This isn't a rechargeable device so there's no charging deck for you to put this on. Even though the pack comes with a pair of batteries, the more economical and environmentally-friendly way to power this would be to use rechargeable batteries instead of the use-and-throw ones. This is also very handy for travelling as it's not only smaller but also lighter than the Clarisonic and Derma Sonic.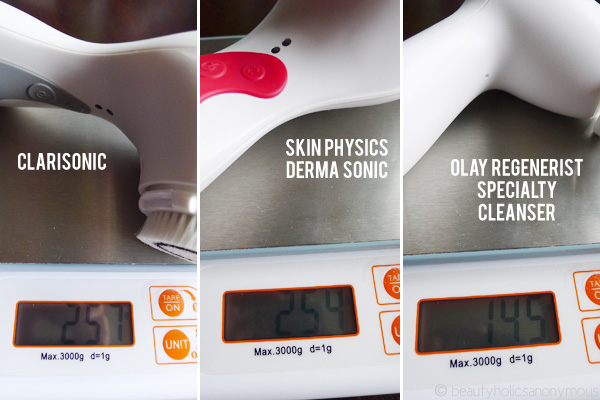 Now comes the all-important question: is this a must-have? I get asked a lot of questions on whether the Clarisonic is worth investing in. When the Derma Sonic came about, I recommended that if you really want to try out the Clarisonic, then get the Derma Sonic because it works exactly the same but without the hefty price tag. However, the Olay brush isn't in the same league as the Clarisonic and Derma Sonic, simply because they don't function the same. I must say though that the results I got out of the Olay cleanser are exactly the same as I did the Clarisonic and Derma Sonic. So, if you're looking for a mechanical face brush that cleanses the skin very well without over-scrubbing or stripping it dry, then the Olay cleanser is one to try because it sure is a lot more affordable than the other two. But if you asked me if it completely replaces the more sophisticated face brushes, I'll say it doesn't because different skin types and age may prefer a brisker brush like the other two.
Even so, it's a very good brush to use and it's definitely something to check out. I give it a good thumbs up.
Here's what Olay Regenerist Australian ambassador Rebecca Gibney has to say about the cleansing brush.
Eh, close enough to what I said.

Olay Regenerist Advanced Cleansing System Specialty Cleanser retails at AU$32.99 and is available at Woolworths, Coles, Priceline, Target, Kmart, Big W, Chemist Warehouse and selected pharmacies nationwide. Replacement brush heads are available at AU$9.99 (2 pieces per pack). At the time of writing, Chemist Warehouse is selling this at AU$22.69, which is at least 10 bucks cheaper!
What I like about it: A good cleansing brush that gives similar results to pricier cleansing brushes but at a fraction of the price. That's the reason why one device is sold every 3 minutes in the US!*
What I do not like about it: It's non-rechargeable. Bugger, where did I put the rechargeable batteries?!
Over to you. What are your thoughts about this cleansing brush? Is this something you might like to try out? Do you think that cleansing brushes work better than regular scrubs or even a face flannel?
Note: This product was provided for editorial consideration.
*US sales August 2011 to June 2012