Do you know that to date, I've only stepped into a LUSH store twice? It's not that I have anything against the beauty products; how can I when I barely even know what they have? Non-LUSH fans may agree with me here but that strong scent that wafts out of the store every time you walk past it … it's almost unbearable. Like walking past a fragrance or candle shop, you almost have to hold your breath to walk in, get what you want and get the hell out.
Now don't get me wrong. The smell isn't bad. It's not like rotting rubbish or the toilet after you've done a number 2. If you separate each product and scent out, they're actually pretty good. But most LUSH stores I've walked past are usually quite small and when you have so many heavily scented products in one tiny, contained area, your senses are bound to be hit, and hit hard.
So why am I even reviewing LUSH products today? Well, a few weeks ago I was kindly sent some LUSH products to try out. I'll be very honest with you; my first reaction was: "Aww man, do I have to?". Terrible, I know. Sounds absolutely ungrateful, even. When I was unpacking my mountain of mail, I opened the LUSH box and suddenly, I was intrigued. So many people love LUSH products. There must be something about them that must be that good for them to get past that strong smell of a shop to walk in and peruse the products. Hell, I wanted to try them out too. So I took out two bodycare products from the box, gingerly unscrewed the tops and give them a whiff. And you know what? They actually smell pretty damn good! That evening I started to use them and now, oh boy, am I hooked or what?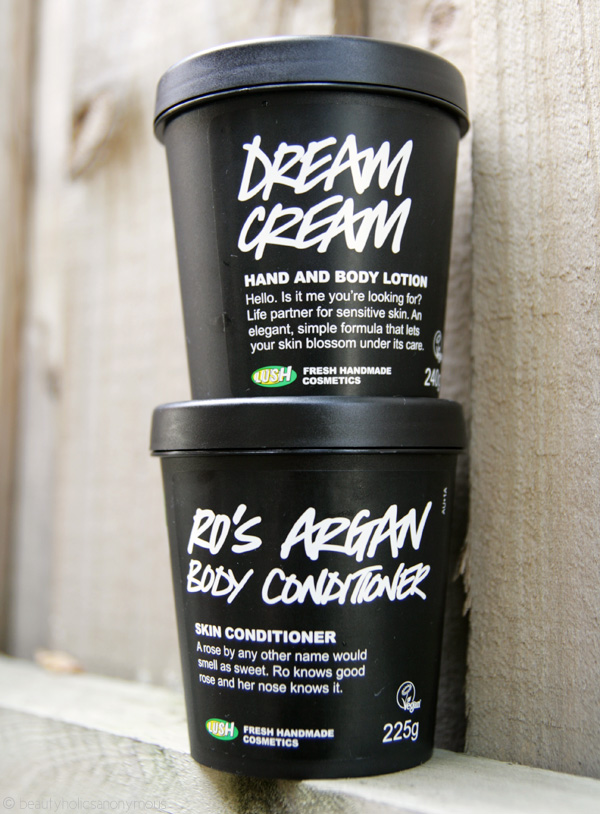 The body care products I tried out are two of LUSH's bestselling ones and they're Ro's Argan Body Conditioner and Dream Cream Hand and Body Lotion.
Ro's Argan Body Conditioner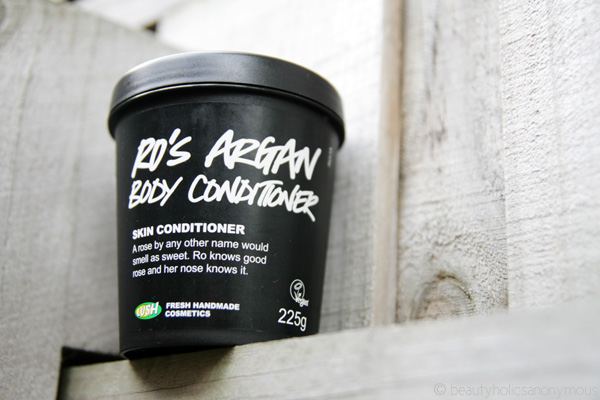 This is similar to NIVEA's In-Shower Body Lotion. What you do is that while you're in the shower, when your skin is still wet, you apply the Body Conditioner and then rinse off. The texture of the lotion is very smooth and light. It's not as rich as NIVEA's, not even when compared to their Light version. As it's very light, it leaves only just the barest residue on the skin after rinse-off. NIVEA's In-Shower Body Lotion does leave a somewhat waxy residue on the skin but the LUSH Body Conditioner does not.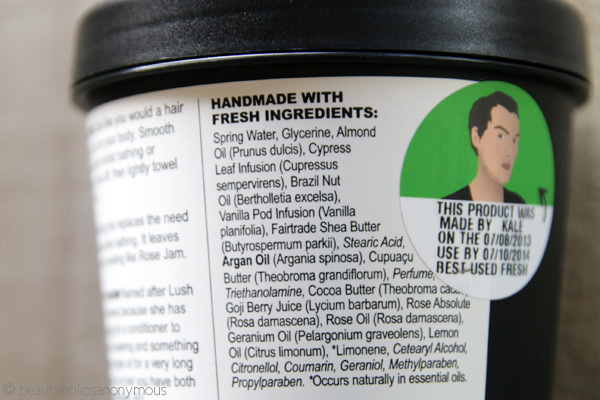 The tub of Body Conditioner smells of roses. It can be a tad strong, particularly if you're not a fan of the rose scent. Surprisingly, it doesn't bother me at all. In fact, after you've rinsed the lotion off, all that's left behind is a subtle scent of roses which is quite sexy.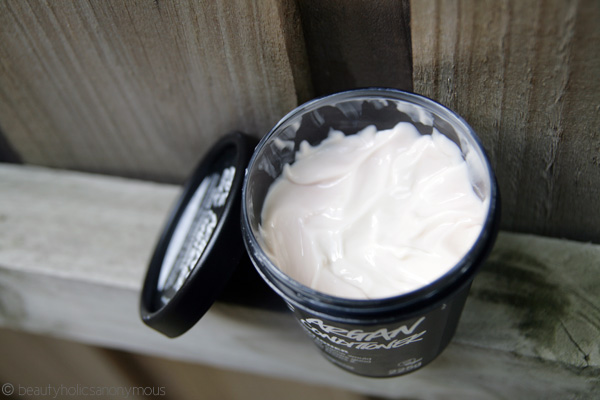 As it's not as rich as NIVEA's In-Shower Body Lotion, I'll have to say it's not as effective either. Even though it states that it replaces the need for an extra body lotion, I find that I still prefer to have it an exta layer on for more skin hydration. This is not required of NIVEA's as I find that even the lighter version of the cream sufficed in providing sufficient hydration without an extra layer of body lotion. Having said that, it's not bad at all. What I like to do is combine it with the Dream Cream after shower as the combination of scents works very well.
Dream Cream Hand and Body Lotion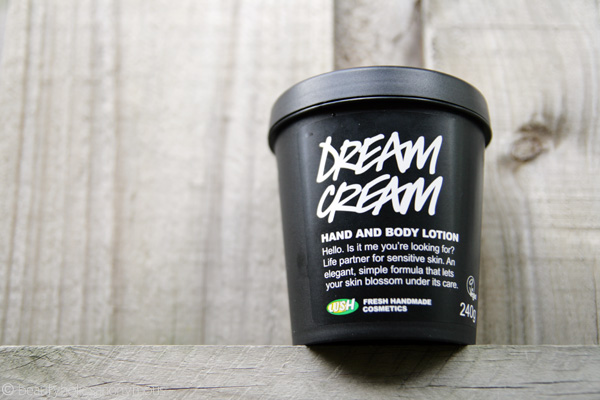 This is a regular body lotion that can be applied anytime outside the shower. It's just slightly thicker than the Body Conditioner. In terms of the fragrance alone, it's not strong. I can't pinpoint an exact scent; it's somewhat a mixture of roses and lavender. On its own, it smells good but when I combine it with the Body Conditioner, the result is even better.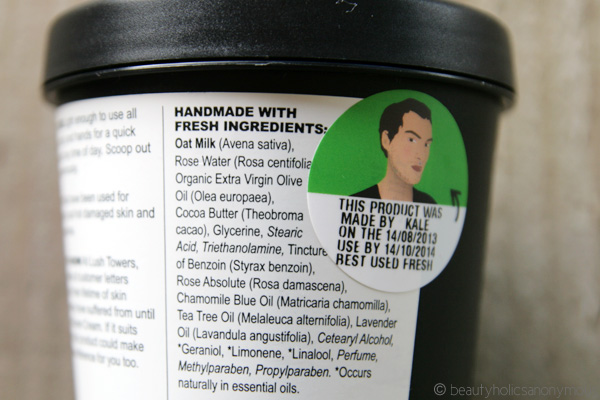 The Dream Cream is non-oily and doesn't leave a greasy residue on the skin. It absorbs quickly and keeps my skin well hydrated for hours. I've used it on its own a few times but I find that when I use it after the Body Conditioner, my skin feels even better.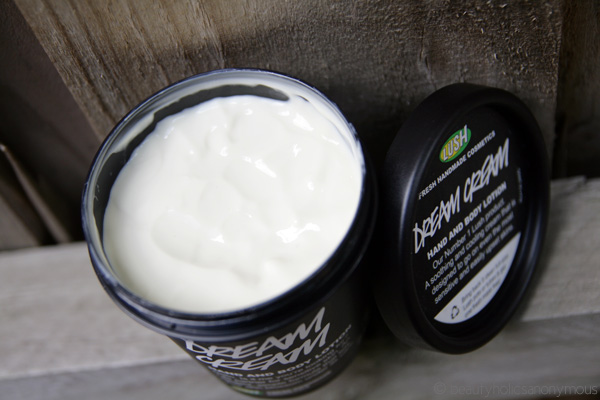 If vegan products are your cup of tea, then these will be right up your alley. I've been using these two products every time I take my twice-daily showers and I can't be happier with them.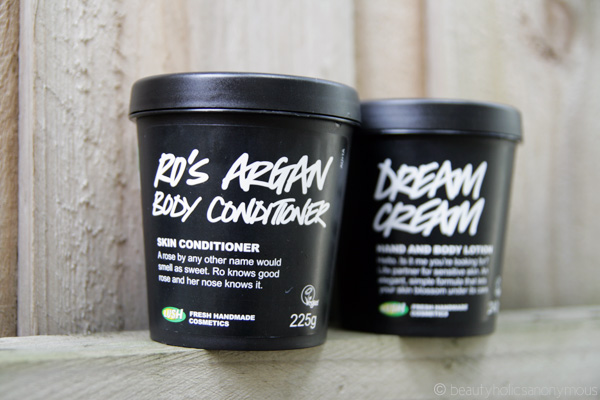 LUSH, what can I say? I take my hat off to you. Hell, I'll even eat it along with some humble pie because you certainly have impressed me. I'm afraid I still find the smell of your store incredibly in-your-face but after trying out these two amazing products, you've changed my mind about never stepping into your stores again. If I wasn't sent these products to try, I probably wouldn't even know that you do come up with quite awesome things for the skin. I'm definitely keen on trying out more LUSH products now. I'll do quick in-and-out dashes, how about that? If that fails, there's always your online store.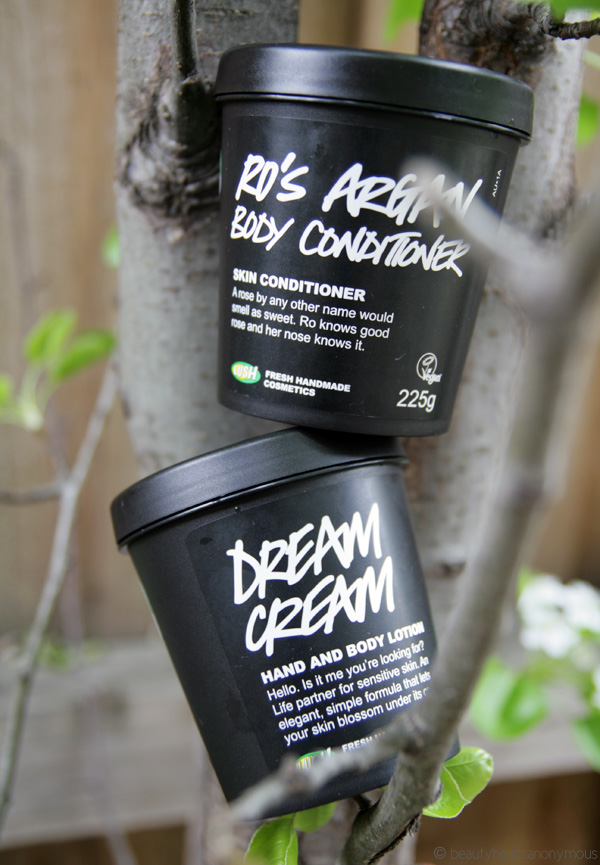 Ro's Argan Body Conditioner retails at AU$32.50 for 225g and the Dream Cream Hand and Body Lotion at AU$29.95 for 240g. These are available at LUSH stores nationwide. If you can't deal with the strong smell that comes out of LUSH stores, try getting them online instead. The Dream Cream is a good start as the scent isn't strong and is quite lovely.
Are you a fan of LUSH products? What's your favourite product? Is there something that I must try out? Give me something good to brave the store with!

Note: These products were sent for editorial consideration. Good thing too because to tell you the truth, I really wouldn't have figured LUSH does pretty amazing stuff.