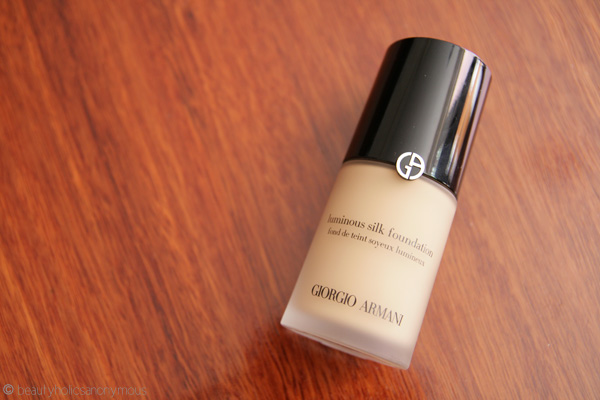 A few weeks ago, I was checking my stash of foundations (as we beautyholics do ;)) and realised that I don't actually have any foundations that doesn't contain any sunscreen in them. It didn't come across my mind earlier that the reason I look rather ghastly (and ghostly) when photographed in the evenings with flash photography was because I tend to use base makeup with high SPF. Duh.

Base makeup (foundations and BB creams) that contain medium to high concentrations of zinc oxide and titanium dioxide tend to reflect light from the camera's flash, making our faces look grey and washed out. This is the reason bridal makeup uses HD foundations or foundations without sunscreen on the big day so that the skin looks as good as possible in photographs.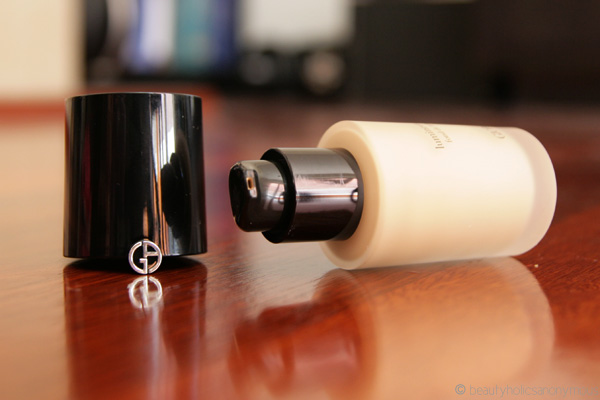 So I reached out to my readers on Facebook on what their recommendations were for foundations without sunscreen or foundations that would look great even with flash photography. The consensus was Giorgio Armani's Luminous Silk Foundation.
Now I've heard a great deal about this popular foundation and how it's the Holy Grail of many a beauty blogger. I haven't checked it out earlier because boy oh boy, this foundation is expensive (as expensive as my Chanel Vitalumiere Aqua foundie, which is a whole lot of yikes). Since I had enough foundations and BB creams to paint my entire body many times over, I decided not to jump on that bandwagon. Until now.
I finally bit the bullet and picked up a bottle from David Jones. I had my shade matched to #6. I thought it was initially a tad dark for my skin tone but it actually blended very well.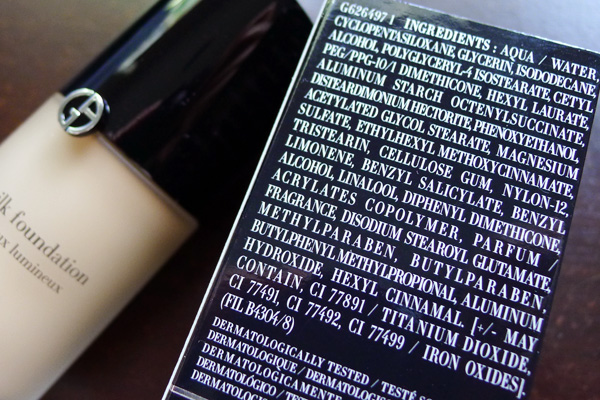 Just as the name suggests, it looks luminous on the skin. It leaves a satin, dewy finish on the skin that doesn't appear moist but radiant. The coverage is about a medium but it's lightweight enough to be buildable without feeling heavy or looking cakey on the skin. In fact, the longer I had it on, the better it looked as the hours went by. It's oil-free and doesn't leave any greasy residue on the skin. I didn't experience any breakouts nor did the foundation emphasise any fine lines. In fact, it covered the pores on my nose well enough without the need for primer. Now that's saying something. *silent grumble about giant nose pores*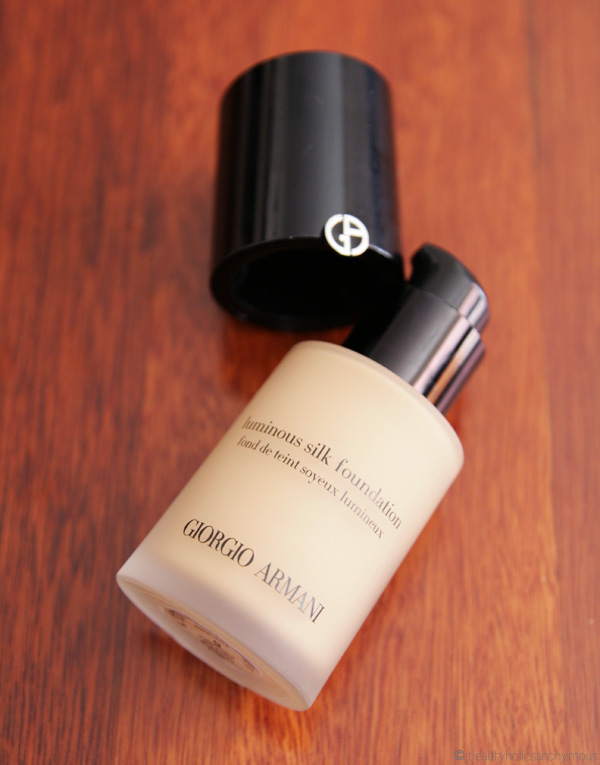 When the makeup artist at David Jones matched my shade and applied the foundation on my face, she used a flat foundation brush and applied what I thought was way too much foundation on me, far more than I'll usually wear. It ended up looking rather cakey around my nose with fresh brush strokes apparent on my skin. When I went home to try it out again, I applied it with my fingers and buffed it out with my Shiseido foundation brush. The results were so much better: my skin looked fresh, beautifully luminous and it didn't feel like I even had foundation on.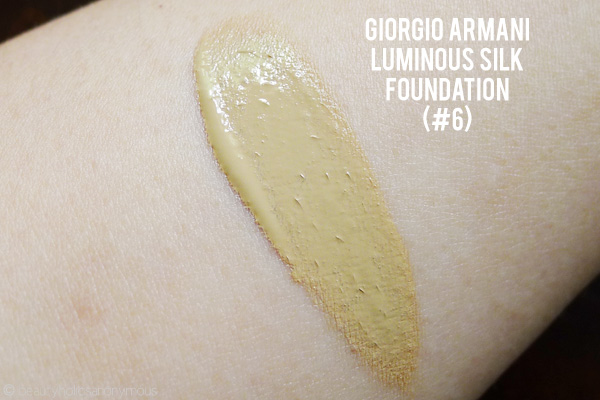 I tested flash photography on myself and while I really don't like using flash if I don't have to, it didn't look bad at all. The list of ingredients states that it may contain titanium dioxide (which I suspect it does) but it doesn't seem to affect how my skin photographs with the flash on. Which is, of course, awesome possum.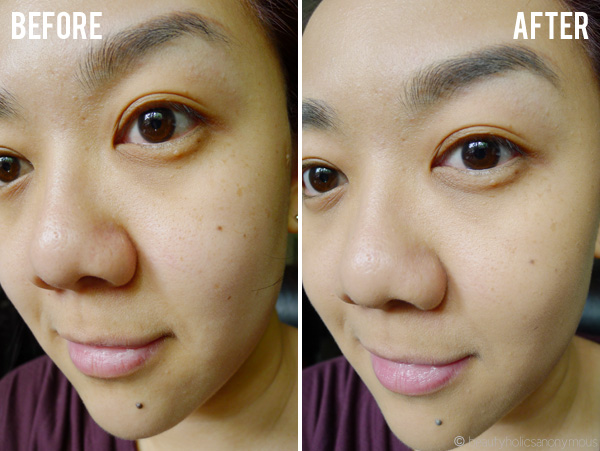 Was I glad to finally bite the bullet for the Luminous Silk Foundation? You bet I am. Now I know what you ladies were going on about with this beautiful foundation and all I could think was "why the heck didn't I get this earlier??". While I don't think this has shot up to Holy Grail status for me yet (believe it or not, mine is a toss-up between Bourjois' Healthy Mix Serum and Rimmel's Match Perfection foundations. Both are really good cheapies), it's very close. I'll say it's the best high-end foundation I've used thus far.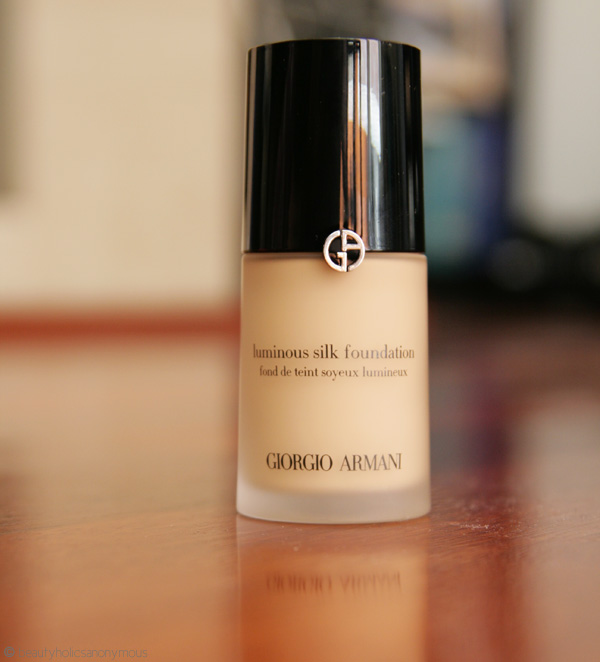 Giorgio Armani's Luminous Silk Foundation retails at AU$90.00 for 30ml and is available at Giorgio Armani counters at David Jones nationwide. It's expensive but it's worth the $$$ in my books.
What I like about it: Leaves a gorgeous luminous finish on the skin, lightweight, looks good in photos. The last point alone is a big winner.

What I do not like about it: Pricey for a foundation. Lord, it's pricey.
Have you tried the Giorgio Armani Luminous Silk Foundation? What did you think? Is it a Holy Grail foundie for you too like it is for many?