An email I get often from international readers goes something like this:
I'm visiting Australia for the first time and would love to check out the beauty products that you have there. It doesn't only have to be Australian brands. What would you recommend?
To be honest, the last thing I'd recommend are non-Australian brands even if they can't get them back home because things in Australia are generally more expensive (I'm not talking about a 10-20% markup. It can come up to a 100-300% markup). For international brands, you can get most of them cheaper online anyway.
On the other hand, I'm happy to recommend Australian (or Antipodean ones, since you're already Down Under) beauty brands to you because hey, you're visiting Australia!

Instead of doing a whole post on skincare and makeup, I thought I'd divide the topic into 2 (or more) posts to concentrate on each topic. Today I'll share with you my top picks for skincare and the next part will be on makeup. Please bear in mind that these skincare products suit my skin type which is combination skin. If you have dry skin, some of these may not work for you.
Here are some of the brands and products I'd recommend you check out in no particular order. Most can be found at Priceline (that's my second home, people).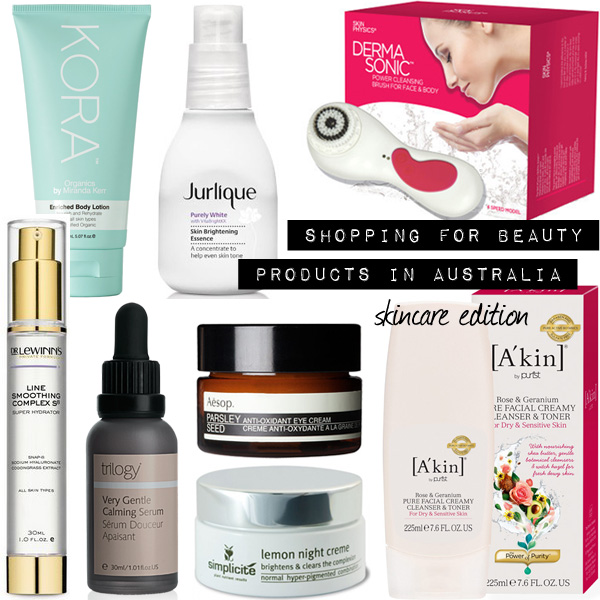 Dr Lewinns
Great brand with lots of amazing products. You can find them at Priceline, MYER, David Jones and selected pharmacies nationwide.
I've only tried the concealer from their limited makeup range but I wouldn't really recommend it. What I highly recommend is their skincare.
My top picks: Line Smoothing Complex S8 Super Hydrator, Facial Moisturising Lotion SPF30+, the Reversaderm range (only for those without sensitive skin), Puressence Day and Night Fluid
Trilogy
I've always thought this was an Australian brand since it's so popular here but it's actually from New Zealand.
They have a good skincare range and there are a few products that I love, which I'm more than happy to recommend to you. You can get Trilogy products at Priceline pharmacies.
My top picks: Rosehip Oil Antioxidant +, CoQ10 Booster Serum, Very Gentle Calming Serum (my absolute favourite from the range)
Simplicité
This brand came highly recommended by Tina from Chasing Elixir. I bought the travel pack with smaller-sized items to try and fell in love with a few of their products. They're not cheap but they're good. I recommend the Travel/Trial pack to begin with.
You can get Simplicité from MYER.
My top picks: Gentle Plant Cleanser 2 for oily/combination skin, Exfoliating Face Treatment, Lemon Night Cream
KORA Organics by Miranda Kerr
I have to say, I didn't think I'd like her range of products at all. I'm not a fan of Miranda Kerr and usually think that celebrity endorsed or created products are usually quite substandard.
I haven't tried her skincare range so I cannot comment on them but the body care range is actually pretty impressive. The body lotion is fantastic and the range smells really good.
Again, not a cheap range but I recommend getting the gift packs as they're cheaper than buying them separately. KORA Organics by Miranda Kerr is available at David Jones and selected pharmacies.
My top picks: Essential Body Wash, Enriched Body Lotion, Daily Hand Cream, Rejuvenating Foot Balm
Aesop
Aesop is such a popular brand worldwide that I often forget that it's actually from Melbourne.
Tim and I have this game where we judge how fancy a restaurant is by the handwash they have in the loo. It doesn't matter if the restaurant looks dingy; if they have Aesop handwashes in the bathrooms, then they're all classy and cool to us. He calls it the "high class handwash".
I haven't used a lot of their skincare products but I'd say that their Parsley Seed range is pretty good. When it comes to Aesop, it's body care all the way for me.
Aesop is available at Aesop stores, MYER, David Jones and selected stores nationwide.
My top picks: Resurrection Aromatique Hand Wash (the "high class handwash" that I also have in my home. See, I too have a cool establishment :P), Resurrection Aromatique Hand Balm, Resurrection Rinse-Free Hand Wash (my portable "high class handwash" sanitiser), Parsley Seed Cleansing Masque, Parsley Seed Anti-Oxidant Eye Cream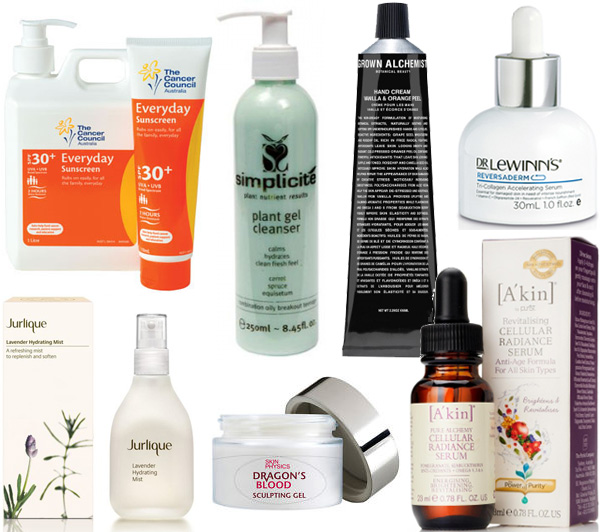 A'kin by The Purist Company
The Purist Company is Australian-owned and have been around for the past 15 years. All of their products are paraben free, sulphate free, toxin free, harsh chemical free, certified vegan and animal ingredient/testing free.
I mostly use their body care and haircare products but there are a few skincare items which are good. One of them is now my mum's Holy Grail serum that I have to buy for her every time I'm back in Malaysia.
My top picks: Rose & Geranium Pure Facial Creamy Cleanser & Toner (love using this when travelling), Lavender & Rose Antioxidant Facial Night Cream, Revitalising Cellular Radiance Serum (mum's HG serum), Aromatherapy Lavender Body Wash, Unscented Hand Nail and Cuticle Treatment
Grown Alchemist
It's so hard not to liken this to the (slightly) poor man's Aesop because their packaging and products are so similar to each other.
I've not tried their skincare range but their body care range, oh my, the similarities to Aesop's is uncanny. Grown Alchemist is available at Priceline and I recommend that you check it out and compare the two if possible. You'll know what I mean.
My top picks: Vanilla and Orange Peel Hand Cream, Sweet Orange, Cedarwood and Sage Hand Wash
Skin Physics
Skin Physics is a cosmeceutical range that targets wrinkles, blemishes, age spots and more. They don't have a wide range of products but their products, especially skincare gadgets, are pretty spot-on.
If you're looking to try the Clarisonic cleansing brush but don't want to fork out over $200 for one, Skin Physics has one that is so incredibly similar to the Clarisonic that you have to wonder if they encountered any copyright issues there. But I'll leave it up to them and try not to open a can of worms here.
Skin Physics is available at Priceline pharmacies.
My top picks: Dragon's Blood Facial Sculpting Gel (currently using this as my day moisturiser, review coming up soon!), Derma Sonic Power Cleansing Brush.
Cancer Council Australia
If there's one skincare item you must get from Australia, it's sunscreen. Australia has very strict regulations when it comes to sunscreens and don't roll out SPF numbers willy nilly. A lot of skincare products that are sold as sunscreens in other countries cannot be sold as such here and cannot be named as sunscreen, only moisturiser. The highest SPF you can get here is SPF 50 (unlike Asia where SPF 130 is not unheard of).
Cancer Council Australia has great sunscreens for the family. I always have a travel-sized one with me when the warmer months come along. You can find Cancer Council Australia products in Priceline and most pharmacies.
My top picks: Day Wear Light Tint Face Sunscreen, Everyday SPF30+
Jurlique
This is one skincare brand that people visiting Australia tend to target. I've lost count of the number of times I've been asked what Jurlique products to buy since it's from Australia.
I think it's important to point out that while Jurlique may be cheaper here than back in your home country, it's still quite a high end brand to begin with and that their products are certainly not cheap. Having said that, they do have marvellous products that are worth checking out.
My top picks: Purely Age-Defying Night Lotion, any of their toning mists (I'm partial to the Lavender), Soothing Herbal Recovery Gel, Calendula Cream, Purely White Skin Brightening Essence
There are plenty more brands and products I'd love to recommend (e.g Invisible Zinc, Natio, Lanolips and so on) but this post will never end if I don't stop now. I'll save more brands and skincare products for another time. I'll do a part 2 post next week (fingers crossed!) on makeup. If there's anything else you'd like me to recommend, please let me know in the comments.
If you live in Australia too, what are your top picks that you'd recommend to visitors wanting to check out Aussie beauty products?